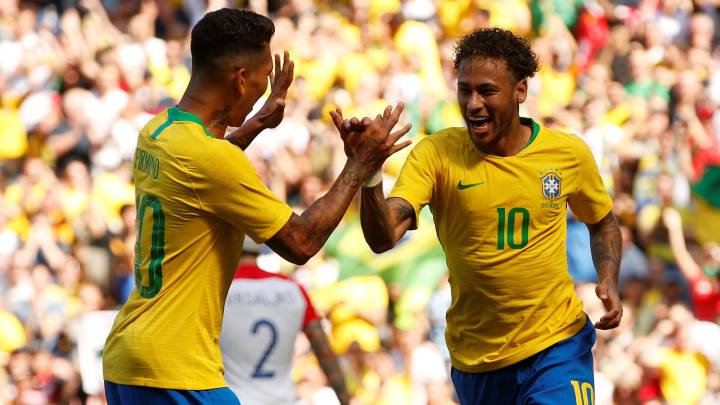 It was all about Neymar before the match, and it was inevitably all about Neymar on the day after the PSG star made his eagerly awaited return to action at Anfield as Brazil beat Croatia 2-0 in a World Cup warm-up game.
There was a decent turn-out in Liverpool for a match that delivered less than it promised but the second-half introduction of the Brazil captain lifted proceedings above a first half of lukewarm action with both sides approaching the game at a testimonial pace in the opening 45.
Croatia coach Zlatko Dalic will have been left with plenty to ponder ahead of the World Cup as his side rarely threatened Alisson Becker and failed to find much coherence between midfield and attack. Ivan Rakitic operated in a withdrawn role and Luka Modric failed to exert any influence on the game before being withdrawn on the hour mark, although the length of his season with Real Madrid is the only cause of concern for Dalic ahead of the tournament, the Croatia boss electing to spare his captain the full 90 at Anfield as he explored other options.
Eintracht Frankfurt winger Ante Rebic put in a lively performance on the left and Hoffenheim striker Andrej Kamaric showed flashes of menace but Croatia barely located second gear as a unit and eventually succumbed to one of the favourites for the title in Russia after the arrival of Neymar on the scene.
Neymar provides star quality at Anfield
Brazil had failed to muster anything of note in the first half, with Gabriel Jesus in particular not rewarding his coach's decision to start him ahead of Roberto Firmino and hand him the armband with Marcelo and Thiago Silva more obvious choices to assume the role permanently in Russia. With Neymar came a more spirited and urgent Canarinha performance and the PSG forward moved to within a goal of Romário's total for the Seleção with a fine solo effort 25 minute into his cameo.
Picking up the ball on the edge of the area there appeared to be little danger with three red and white shirts shadowing Neymar but he skipped though two challenges to bury a vicious effort into the roof of Danijel Subasic's net to break the deadlock and gave the fans inside Liverpool's historic stadium something to cheer. It was not quite an "I was there" goal, but not far off either.
It also sparked a reaction from Croatia, who showed a little more attacking intent having tested Alisson only once up to that point, the Brazil keeper making a fine reaction save from Rebic shortly before Neymar's strike. The best chance to level fell to debutant Duje Caleta-Car, who rose higher freely above the Brazil defence but saw his effort glance off his shoulder rather than making decisive contact with his head.
A late flurry of substitutions took the blunted the brief competitive edge and it appeared as though both sides were willing to call it a day until a final Brazil attack reaped a second. Casemiro found himself in space in midfield and lofted a ball to Firmino, who probably couldn't believe his luck when substitute Tin Jedvaj swung a boot at the innocuous delivery and stumbled backwards, leaving the Liverpool striker in familiar territory in the Anfield box, with only the onrushing Subasic to beat, Firmino lifted a composed chip over the Croatia keeper to embellish the scoreline.
Brazil vs Croatia live: as it happened
90'+3' And that's it! Brazil run out 2-0 winners at Anfield. Thanks for joining! We'll be back later with the Spain-Switzerland game from the Cerámica at 21:00 CEST.
90'+3' Goooooooooooooool! Well, well. A hopeful ball forward finds Casemiro, who takes advantage of a bit of a mix-up to feed Firmino, who chests Casemiro's cross down, evades a wild challenge in the area and lifts the ball daintily over Subasic. Terrible defending from Croatia, who must have thought the whistle had already gone. No other explanation for a switch-off like that. Dalic will not be a happy man.
90'+2'   Brazil winding it down, playing it across the back. It won't go down as a famous win, but it's a win and they're not going to chuck it away now.
90'+1'   Three minutes added.
89'   Neymar looks for a way through but is forced to play it back. A long ball to Taison is brought down as easily as plucking a pear from a tree by the Shakhtar man, who showed a golrious touch there. Brazil work the ball to Neymar, who shoots into the packed red and white shirts. Casemiro leaps on the rebound but hits a poor shot by his standards well over Subasic's bar.
88'   Filipe apologises after clipping Pjaca, who was on a galloping run. A wily foul from the old Atleti campaigner there.
87'   Taison and Danilo combine to put Firmino through and the Liverpool forward narrowly fails to ripple a familiar net, firing just wide on the run.
86' Vrsaljko off now, Leverkusen defender Tin Jedvaj on in his place.
86'   The PSG forward hits it reasonably well but it lacks a bit of fizz and bounces once before heading wide of Subasic's near post.
85'   Free kick to Brazil now within Neymar range....
84'   Caleta-Car rises above the Brazil defence, perhaps sensing a glorious cherry on top of his debut, but the delivery hits his shoulder and drops harmlessly in front of Alisson.
83'   Firmino flattens Kovacic and Croatia have a decent set-piece opportunity from the right...
82' More subs than football now as Rakitic makes way, hands the armband to Vida and Bradaric comes on to earn his fourth cap for Croatia.
81' Willian off as well after a decent performance, Shakhtar winger Taison on for just his seventh Canarinha cap.
80' Coutinho off to warm applause, with a couple of boos barely audible, and Fred comes on.
79'   Brazil fall apart a bit at the back and a Filipe clearance opens up a chance for Croatia, but as has been the case all afternoon the final ball is AWOL and Brazil lump it upfield.
77' Rakitic apologises after scything through his Barça teammate Coutinho and earns a yellow for that challenge, which was a bit rough for a friendly and won't have amused his bosses at Camp Nou in all likelihood.
76'   Rakitic aims a ball at Vrsaljko but the Atleti man can't control it and it's out for a Brazil throw. Croatia have lacked a bit of precision this afternoon.
74'   Kramaric pings in a dangerous cross but Silva, who has been a rock at the back, is there to meet it. There weren't too many red and white shirts attacking it anyway in fairness.
72'   Brazil come forward afresh, a little more adventurous in their attacking play now, but it breaks down again as Danilo fails to clear his marker with a cross again.
70'   That's what Brazil wanted, that's what the fans at Anfield paid to come and see and Neymar does not disappoint: 25 minutes into his comeback from three months out and he adds a 54th goal in 84 appearances for the Canarinha.
68' Gooooooooooooal! A fine pice of skill and of course it's Neymar who breaks the deadlock. Brazil work it forward swiftly and decisively, Neymar turns one defender, then two, and hammers a shot into the roof of the net. Unstoppable that. 1-0 to Brazil!
67'   Neymar is flattened by former teammate Rakitic. It seems as though he has been fouled more than any other player already despite only coming on at half time.
66'   Perisic whips in a decent cross and Silva does well to cut it out for a corner. Brazil clear the delivery easily enough.
65'   Croatia go route one but Danilo is across like a whippet to put in a fine sliding tackle.
64' Marquinhos on for Brazil as well.
63' And it's Rebic, who has been one of Croatia's better players on the day, off for Marko Pjaca, the Juve striker who was on loan at Schalke for the second half of 2017-18. 
62'   An Atleti on Atleti clash as Vrsaljko checks Filipe's run on the left. Another change coming up...
61'   A heart-in-mouth moment for Brazil as Neymar goes down under a challenge from Vrsaljko, clutching his ankle. He springs straight back up though.
60'   Willian and Danilo combine on the right but the Manchester City full back can't beat the first man with his attempted pull-back.
59' Marcelo off for Filipe Luis now, with Firmino on for Gabriel Jesus, who hasn't done much this afternoon to nail down the wide-open starting striker spot for Brazil.
59'   Rebic! The Frankfurt striker draws a fine save from Alisson with a powerful header. Best chance of the game so far.
58'   Kovacic may add a bit of drive to a Croatia midfield that has been pretty flat this afternoon.
57' A Madrid-Madrid change now, Modric off and Kovacic on.
56'   Marcelo buys a yard in the area, has a look, thinks better of it and taps it back to Neymar, whose shot is straight into the paws of Subasic.
55'   Brazil try a training ground routine, Willian knocking it back to the edge of the area and a lay-off for Danilo, who blasts it into orbit. Good idea, not very well-executed.
54'   Lovren flattens Willian and Brazil have a free kick out on the right. Could be a dangerous one for Croatia to defend.
52' Corluka off for Croatia, Caleta-Car on. Central defender for central defender and a first senior cap for the Red Bull Salzburg youngster.
51'   The clearance falls to Marcelo, who rolls the ball a few inches to his left and lets fly. It's close, but not close enough for Subasic to get too concerned.
51'   Corner for Brazil, Willian trotting over to deliver...
50'   Neymar immediately in the thick of things, linking up in a number 10 role and finding Willian on the left. The Chelsea midfielder squares but Croatian clear.
48'   Brazil start the second half as they began the first, workig it around the back. Let's hope the introduction of the PSG forward livens things up a bit.
45' And that's the half! Few chances of note in the opening 45, both sides approaching the game like a teenage first date in the cinema. Who'll perform the old stretch-and-arm-around-the-other routine first? We'll find out after the break.
45'   Rakitic releases Rebic with a long ball and it seems for a moment that he might just beat Alisson to the punch but the Brazil keeper is quicker to the mark and clears, while also flooring Rebic for good measure.
44'   Now Vida and Danilo are down after clattering into each other. Thiago Silva is holding a conference with some senior teammates while the game pauses and little wonder. This is hardly a classic Brazil performance. 
43'   Rebic rightly aggrieved as he beats Marcelo in a foot race. The Brazilian tries a shoulder barge and flies off the Frankfurt forward, earning a free kick. Rebic nonplussed by that decision.
41'   He's fine to continue though, trotting off for a splash of water on the face and another once-over by the medical staff. Now he's back on, sporting a wrap-around bandage.
39' Fernandinho joins the names in the ref's book for a high boot on Vrsaljko. The Atleti man remains down and the docs are on the scene, appearing to bandage the full back up. 
37' Rebic picks up the ball on the left and tries to cut inside but wins a throw for his troubles. Perisic goes in the book for a spot of Van Damme action on Jesus. He protests his innocence but clearly chopped the striker in the chest when there was little need to. 
35'   Paulinho has the chance to break on the right but Vida stands firm and easily dispossesses him.
34'   Willian sneaks a short cross towards Paulinho but it clips a Croatia defender and flaps into Subasic's waiting glove instead of finding the Barça midfielder.
32'   Brazil starting to find their groove now with some quick passing moves and quick transitions from side to side. Casemiro and Paulinho go for the same ball and Croatia break through Perisic but when he looks up to see who's there in support, he finds he's on his jack jones. No support at all. That is what's hindering Croatia at the moment. They're sitting too deep and not getting forward when the opportunity presents itself.
30'   Willian works his way into the box and has options for a pull-back but decides to switch to his left and have a go, which is tame and easily dealt with by the Croatia defence. Brazil pressing a bit more now as Paulinho tries his luck but Lovren is there to make the block.
28'   Thiago Silva lumps one forward towards Willian, who loses out in the air. Rebic picks it up on the Croatia left and tries to find Kramaric but fails. Perisic then almost gets on the end of a second attempt but Marcelo is there to nick it off his boot.
26'   Rakitic is playing something of a holding role for Croatia, which is leaving the rest of the midfield with a little too much to do. Modric has barely had a touch yet and Kramaric is looking a little isolated. Let's see if Dalic decides to tweak that as the game unfolds.
25'   Another effort from Coutinho, another shout of "duck!" in the stands. You'd think he'd never found the onion bag at Anfield before. It's where it always was, Phil...
24'   Davor Suker looking on from the stands. Get him on!
22'   Willian, who looks the most likely to make something happen for Brazil, turns on the afterburners but is checked in midfield. Coutinho picks up the ball from the ensuing free kick, turns, shoots and watches his effort fly over Subasic's bar.
20'   Coutinho loses out to club teammate Rakitic but Marcelo mops up the danger on the halfway line. Lovren then thunders into Paulinho and Brazil have a free.
19'   Croatia build an attack and eventually work it out to Vrsaljko. The Atlético defender shapes to sling one into the area but turns to find the lino's flag aloft instead. He scowls his disagreement and trots back downfield.
17'   A glorious cross-field pass from Marcelo almost sets up Willian to drive into the area but the Chelsea man is called a shade offside.
16'   Brazil up the tempo a bit, fizzing the ball around the Anfield turf, but Croatia are well set-up and there aren't too many spaces for the Canarinha to exploit. Back it goes to square one.
15'   Kramaric jumps on a defensive mistake and looses one from about 20 yards out but Alisson isn't going to be beaten from there and makes a routine save.
12' Ouch! Kramaric goes into Thiago Silva with a very high boot, studs showing, and cracks the PSG defender in the knee. He gets a yellow for the challenge but that was more of an orange. If this wasn't a friendly... we'll put that down to youthful exuberance. Anyway, Silva is up and grimacing but ok to continue. 
11'   Croatia win a corner on the right, Modric delivers and Lovren gets a firm head on it, but fires wide.
9'   Brazil moving the ball about crisply and Croatia unable to get a boot on it at the moment. When they do, the first attempted pass is straight out for a throw. Not a great start from The Blazers.
7'   Brazovic is clipped in midfield and Croatia have a free in a dangerous area, Modric standing over it... but it's not the finest delivery from the Real Madrid man and Brazil break through Willian. Danilo gets to the byline and slides a cross in for Willian but the Chelsea midfielder's attempt at a flick is misjudged and he watches the ball fly past him.
6'   These are two tough midfields and Brazil lay down a wee marker on Modric, clattering the Croatia captain to the turf. Nothing much comes of the free kick through and Brazil are back in possession.
5'   Willian, who has looked the liveliest on either side so far, shows a turn of pace and fires a ball towards the half-crescent but Croatia hoof it clear.
4'   Brazil work it back to Alisson and the keeper belts it into row z. No messing there from the number one.
3'   Croatia tire pretty quickly of that through and concede a free-kick in midfield. Ot doesn't take long for Brazil to get it back under theri thrall but a wild attempt to find Marcelo on the left hands Croatia a throw on the right.
2'   Brazil happy to stroke it around the back at the moment to see what Croatia intend to do in terms of the press.
1'   Kick-off! Croatia get the game underway.
The handshakes and photos are out of the way, and here we go...!
We're enjoying Croatia's shirt as well. A throwback to the classic 1998 strip.
We quite like Brazil's... it's got a touch of the epic about it. Let's hope the game follows suit. Plenty of colour in the stands on a balmy arvo in Liverpool. Looks like an impressive turn-out as well.
The teams are out and here we go with the anthems!
Much of the pre-match focus on Brazil has been centred on whether Tite would go with Gabriel Jesus or Roberto Firmino up front, and the Manchester City striker has won that duel for now.