Portugal 3-0 Algeria: World Cup 2018 warm-up result, report
In their final game before heading to Russia for the 2018 World Cup, Portugal claimed a comfortable victory over Algeria in Lisbon. Cruz Azul vs America: Liga MX, live online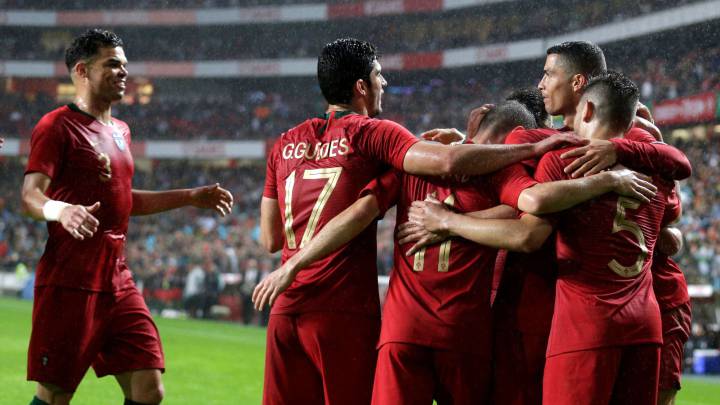 Portugal got back to winning ways ahead of the 2018 World Cup by comfortably beating Algeria in Thursday's friendly in Lisbon.
Portugal end winless run against meek Algerians
In what was their final warm-up before the finals in Russia, Fernando Santos' men ended a run of three games without victory courtesy of a double by Gonçalo Guedes and a maiden international goal for Bruno Fernandes.
In the 17th minute at Estadio da Luz, Guedes pounced on Bernardo Silva's smart knock-down to fire past Abdelkadir Salhi, before Fernandes nodded in Cristiano Ronaldo's pinpoint cross shortly before half time.
Guedes then rounded off the scoring after 55 minutes by powering in a header from Raphael Guerreiro's cut-back.
World Cup campaign starts against Spain on 15 June
Portugal now go on to face Iberian neighbours Spain in their opening World Cup match on 15 June in Sochi.
Portugal vs Algeria: as it happened
93' Peeep peep peep! And that's that! Gonçalo Guedes grabs a brace, either side of Bruno Fernandes' first goal for his country, and Portugal head to Russia having got back to winning ways against an Algeria side who in the main were ropey in the extreme.
91' Three minutes of added time in Lisbon.
90'   No sooner do Algeria show a little bit of attacking threat than Portugal steam up the other end and almost plunder a fourth on the counter, Quaresma attempting to dink it in over Salhi from an angle, but directing said dink wide. 
89'   Brahimi has a shot blocked, before moments later Rui Patricio does well to tip over a powerful Bounedjah header at the back post! Algeria's best chance by a mile, although that ain't saying much.  
85'   Oh dear Salhi! Quaresma crosses, and it's meat and drink for the goalkeeper - or at least it should be, but he lets the ball squirm between his legs. Just before it can spin over the line, though, he is thankful to grab hold of it at the second attempt, and avoid embarrassment.
83' Algeria make another change, Slimani exiting and Soudani coming on. 
80' Four to Por... no! Mario knocks it home from close range, but then in comes party-pooping VAR to tell the man in the middle that Guedes handled in the build-up. He did, to be fair. 
73' Portugal make a double sub: André Silva for Cristiano Ronaldo, Joao Mario for Joao Moutinho. No goals for Ronaldo on his 150th appearance but, then again, that assist for Bruno Fernandes' maiden international strike was pretty much worth one. 
72'   Moments later, the newly introduced Bounedjah fires a low shot that Rui Patricio deals with fairly comfortably. Still, at least the goalie was finally worked. 
71'   And straight away Algeria win a corner, which Mahrez swings in straight onto a Portuguese head. It comes back out to the Leicester man, who tries to skin Ronaldo, and very much fails. Algeria appealed for a penalty for a foul by Pepe after Mahrez's initial delivery, by the way, but the ref said absolutely not.
70'   Algeria's Carl Medjani comes off for Baghdad Bounedjah. A defender off, an attacker on.
69'  Adrien Silva feeds Ronaldo on the edge of the Algeria box, but he's crowded out before he can pull the trigger. And now it's time for more subs.
66'   Cedric hangs a cross towards the back stick, where Salhi comes and flaps wildly at the ball, but gets away with it.
64' Portugal make a couple more substitutions, Ricardo Quaresma coming on for William Carvalho and Adrien Silva trotting on in place of Bernardo Silva.
61'   Bruno Fernandes stands up a cross to the back post, where Ronaldo tries a scissor-kick! He doesn't connect properly, though.
59' Algeria also made a change a couple of minutes ago, Benkhemassa replacing Boukhanchouche.
58' Guedes is in for his hat-trick, but Salhi keeps it out! Lovely little ball into the box from Silva.
57' Portugal make a double sub, Mario Rui and Jose Fonte coming on for Raphael Guerreiro and Bruno Alves.
56'   Guerreiro gets to the byline and clips the ball back onto the head of Guedes, who plants it firnly past Salhi, who doesn't have a snowball's.
56' And there it is! Guedes heads in his second! 
52'   Portugal win a free-kick on the left-hand corner of the box Ronaldo stands over it, but fires it straight at Salhi. Seconds later, a looping ball into the box has Ronnie is in on the keeper, who just does enough to narrow the angle and keep the forward's low finish out. A third is coming, to say the least.  
49'   Mahrez sets off on a jinking run towards the Portuguese box that is cut off almost as soon as it has started. Portugal go right up the other end and win a corner...from which they so nearly get a third! Bernardo Silva fires it across goal, Salhi spills it right to the feet of Cristiano - but the keeper just manages to stop the home skipper from prodding it in from point-blank range.
48'   Into the wall.
47'   Boukhanchouche loses the ball to Ronaldo, and promptly fells the Real Madrid forward as he sets off towards goal. That's a yellow card for the Algerian, and a chance for Ronnie to have a crack from distance.
46'   No changes for either side.
45' Peeep! Back underway at Da Luz.
  Incidentally, Algeria boss Rabah Madjer - who's currently having his fourth crack at the job - had a stint in Portugal as a player with FC Porto, scoring a memorable, backheeled equaliser for the Dragoes in their 1987 European Cup final win over Bayern Munich. Leading 1-0 in the final stages, Bayern conceded two quickfire goals to have the trophy ripped from their grasp. Now why does that sound familiar...

45' Peeep! That's half time. Portugal have been comfortable, Algeria have been really rather boggin'.
42'   Having enjoyed a minute or two of attacking possession, Algeria are almost caught out on the break, but Bruno Fernandes tries to backheel it to no-one in particular, and succeeds only in hitting it against his trailing leg.
40'   Algeria take a shot! Mahrez finds Brahimi with a lovely little backheel, and the attacker exchanges passes with Slimani before seeing a curling effort fly wide. 
38'   And Bernardo Silva is a whisker away from making it three! Bensebaini utterly halfs Guedes, yet the winger still manages to get the ball to Ronaldo, whose first-time ball finds Silva in space inside the box...  but his angled shot is just wide! Bensebaini gets a thoroughly deserved booking for that hideously tardy lunge on Guedes.
36'   Cristiano Ronaldo is released down the left wing, looks up and sends in a beautiful, left-footed cross onto the head of Bruno Fernandes, who really can't miss. That's his first ever goal for the national team.
36' Goooal! 2-0 to Portugal!
31'   Guerreiro fires in a cracking ball from the left, and all it needs is a touch from Guedes and it's a goal - but he can't connect.
28'  23'   Ferhat swings it in to the middle towards the bonce of Slimani, who can't quite get his head on it. Bensebaini then picks up the loose ball and hoofs over a cross from the other wing that is far too long. Moments later, Algeria finally get Mahrez on the ball in a dangerous area, and the Leicester jinkster ends up winning his side a dangerous free-kick over on the right. A chance to ping one into the mixer, but Portugal get it clear. Still, better from the North Africans.
23'  21'   Algeria enjoy a rare spell on the ball, before giving it away cheaply. On this evidence, it's little surprise they were nowhere near qualifying for the World Cup.
20'   Portugal come again, Ronaldo slipping the ball into Bruno Fernandes's run into the box, only for the Sporting CP man's cut-back to find a white shirt with three waiting in the middle. "Algeria can't get close to Portugal at the moment," says the TV commentator. Well, quite.
18'   Now Cristiano almost makes it two goals in a minute, but thumps his shot against the side-netting. A goal-kick is given, but CR7 reckons goalkeeper Salhi got a touch, and replays appear to bear him out.
17'   The long ball is played forward to the edge of the Algeria box, where Bernardo Silva cushion a perfectly weighted nod-down into the path of Guedes, who makes no mistake. So simple, but so superbly taken.
17' Goal! Guedes gives Portugal a deserved lead.
14'   Slimani receives the ball just inside the final third and looks to dink it in towards Boukhanchouche. Can Algeria do something with their first meaningful attack? No: Rui Patricio is quickly out to snaffle up the ball.
12' Pass, pass, pass, pass, cross, Algeria get it clear, Portugal win it straight back. Repeat.
11'   It's a matter of time before Portugal score.
10'   Cedric Soares swings in a decent old cross for Bruno Fernandes, but he can't quite get his head properly to the ball.
8'   Slimani, who of course had a spell across town at Sporting CP, gives it away criminally cheaply in his own half - but Moutinho can't capitalise. Ronaldo then has the ball in the back of the net, but he's flagged off. Looks a correct decision, despite the Real Madrid man turning up the corner of his mouth in I'm-not-convinced-about-that-call fashion.
6'   Moutinho delivers a dangerous cross towards Gonçalo Guedes, but it's cleared. Portugal come right back at Algeria, though, Ronaldo scampering towards the guests' penalty box and hitting a shot which, in the end, trundles rather harmlessly wide.
5'   Riyad Mahrez has a chance to scuttle forward in what is really Algeria's first meaningful moment of posession. But as soon as I write that, the visitors give it away with a whimper.
3'   Algeria haven't had a sniff of the ball thus far. Ronaldo draws a few oohs and aahs with a bit of skill which was pretty enough, I guess.
2'   Bernardo Silva immediately wins a free-kick in Cristiano Ronaldo Territory. Can Ronnie give the hosts an early lead? No. It richochets off the wall, Joao Moutinho almost getting on the end of the loose ball, which is finally cleared for a corner. Which comes to zip.
1'   It's absolutely bucketing it down in Lisbon.
Peeeeeeep!
The Algeria XI, ICYMI:  Salhi, Ferhat, Bensebaini, Mandi, Medjani, Benmoussa, Bentaleb, Boukhanchouche, Mahrez, Slimani, Brahimi.
A reminder of the Porgtugal XI: Rui Patricio, Soares, Pepe, Bruno alves, Guerreiro, Carvalho, Moutinho, Fernandes, Silva, Guedes, Ronaldo. 150 caps tonight for Cristiano.
The Portugal anthem is very enjoyable.
The teams are out in Lisbon! Anthems time.
After facing Spain, Portugal play Morocco in their second game in Russia, and few could accuse them of not getting enough practice in against North African opposition: after all, that 2-2 draw with Tunisia came two months after a 2-1 victory over Egypt - the last game that Fernando Santos' men managed to win.
Having qualified in 2010 and 2014 - where they reached the last 16 - Rabah Madjer's side won't be at this year's World Cup after finishing bottom of their African qualifying section, a whopping 12 points behind group winners Nigeria.
  Algeria. meanwhile, are on a ropey run of form of their own, having gone down in their last three friendlies: a 3-2 defeat at home to Cape Verde on Friday followed losses to Saudi Arabia and Iran in May and March, respectively.
That home loss to the Netherlands in March was the first of a run of three friendlies that Portugal have failed to win, with the Iberians held 2-2 by Tunisia late last month before playing out a goalless stalemate with Belgium last Saturday.
While former Portugal midfielder Deco reckons the European champs are among the chief contenders for the World Cup, Cristiano, it would appear, begs to differ. "We know we are not the favourites, we have to be realistic," he said this week. That's what a 3-0 home defeat to the guffest Dutch side in memory will do to you, I guess.

By the way, if you are seeking to park yourself in front of a TV screen for tonight's clash at Estádio da Luz, you may wish to peruse our useful guide on how and where to watch.
Portugal vs Algeria: international friendly preview
European champions Portugal host Algeria in their final warm-up before getting their World Cup campaign underway against neighbours Spain on 15 June.
Cristiano starts for out-of-form Portugal
Having joined up with the squad on Monday, Real Madrid's Cristiano Ronaldo starts in Lisbon as Fernando Santos' men bid to prepare for their Group B opener against La Roja by putting an end to an underwhelming recent run of form.
Since beating Egypt in March, the Portuguese have gone three games without a win, losing 3-0 at home to the Netherlands and, over the past 10 days, drawing 2-2 and 0-0 with Tunisia and Belgium, respectively.
Algeria also on a run of disappointing results
Visitors Algeria, who failed to make this year's finals in Russia after finishing rock bottom of their third-round African qualifying group, also head into tonight's clash in poor form, having lost their last three.
The latest defeat for Rabah Madjer's side came last Friday, when they went down 3-2 to Cape Verde on home soil.
Portugal vs Algeria: confirmed line-ups
Portugal XI: Rui Patricio, Soares, Pepe, Bruno alves, Guerreiro, Carvalho, Moutinho, Fernandes, Silva, Guedes, Ronaldo
Head coach: Fernando Santos
Algeria XI: Salhi, Ferhat, Bensebaini, Mandi, Medjani, Benmoussa, Bentaleb, Boukhanchouche, Mahrez, Slimani, Brahimi
Head coach: Rabah Madjer