Halep beats Stephens to win 2018 French Open final: live stream
After losing the first set, Simona Halep fought back against Sloane Stephens to win the first Grand Slam of her career.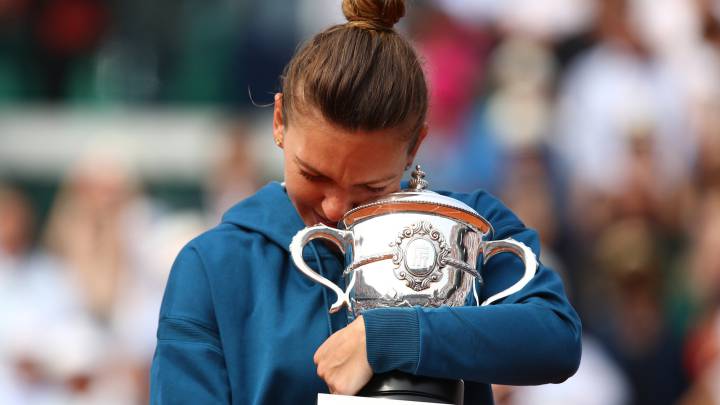 Simona Halep finally ended her wait for a maiden Grand Slam triumph at the French Open on Saturday as she recovered from a set and a break down to defeat Sloane Stephens 3-6, 6-4, 6-1 in a titanic tussle on Court Philippe Chatrier.
The world number one, who became the second Romanian woman to win a major after Virginia Ruzici triumphed on the same stage in 1978, admitted after the game that she thought she had blown her chance in her fourth Grand Slam final appearance when Stephens, whose power had been causing Halep considerable difficulty in the opening set, carved out a 2-0 lead in the second. Until Saturday, the American had never lost in a final.
The Romanian had spoken earlier in the fortnight about how she felt mentally stronger going into this year's tournament and she drew on all of her available strength to win four games on the bounce from that position, with memories of last year's final no doubt encroaching on her game plan.
A fight to the end.@Simona_Halep rebounds to capture the second set 6-4. Don't go anywhere.

Elle est de retour ! Simona Halep remporte le 2e set 6-4, sur une faute en revers de Sloane Stephens. A suivre, le troisième et dernier set#RG18 pic.twitter.com/01U4I25tHZ

— Roland-Garros (@rolandgarros) 9 June 2018
A year earlier, Halep had held a set and a break advantage against Jelena Ostapenko but eventually lost in three. On Saturday, the table were turned as Stephens suddenly lost her way despite being firmly in the driving seat. The 10th seed's unforced error count hit 15 in the second set as Halep started to mix up her approach to draw her opponent more into the court and out of the baseline comfort zone Stephens had enjoyed such profit from in the opening set.
At the same time, the unerring accuracy the American displayed when aiming for the lines deserted her, especially off the backhand side, while Halep's defence often left her opponent staring in disbelief over the net.
Although Stephens rallied to claw her way back to 4-4 with another break the wind was in Halep's sails and the American's radar was well off in game 10 of the second. Serving to stay in the set, Stephens missed an inviting forehand into unguarded court and then another down-the-line backhand to cede the game and the set.
From there it was merely a matter of when, not if, Halep would lift the title as the world number one raced to a 5-0 lead in the decider. Stephens avoided the ignominy of losing the third set of a Grand Slam final to love by holding in the sixth game but that merely delayed the inevitable and despite furious resistance from the American, Halep held her nerve and her serve – her first ace of the match was providentially timed – and sealed victory when she sent down a whiplash delivery on match point that Stephens could only dump into the net.
Breaking in style.@Simona_Halep takes a 4-0 lead and inches closer to her first Grand Slam title.

7e jeu consécutif remporté par la Roumaine, qui prend à présent les commandes du match dans ce 3e set. Simona Halep qui se rapproche d'un premier titre ici à Roland-Garros#RG18 pic.twitter.com/mQDTZQKBKp

— Roland-Garros (@rolandgarros) 9 June 2018
Simona Halep vs Sloane Stephens live online: as it happened
  A huge serve and Stephens can only clip it into the net. Game, set, match, championship! Simona Halep is the 2018 French Open champion! Her maiden Grand Slam title.
A wonderfully worked point from Halep, a smash at the net and it's match point!
Stephens back to 30-all with a booming forehand winner.
Ace! What a moment to find her first of the game! 30-15.
A hammer of a serve and Stephens into the trams. Halep overcooks a forehand and Stephens moves to 15-15. She's not letting this one go easily.
And Stephens holds! 5-1. Halep will have to serve this one out...
Advantage Stephens as she digs deep to force Halep into the net.
The American goes for that corner again, elects to play it safe and aims a foot inside the line and Halep is across to hammer it back for deuce.
Stephens finds another cracking serve out wide and Halep does well to even get a racket on that... 40-15.
Huge serve, Halep frames the return and we're at 30-all.
Stephens finds the line on the other side though and Halep can only clip it back wide. 15-30.
The Stephens curse with that corner on the Halep forehand side continues and it's 0-30.
A backhand long from Stephens and Halep is three points away...
And the crowd sense how close Halep is with chants of "Simona, Simona" ringing out around Philippe Chatrier again....
An increasingly rare error from Halep gets Stephens back in the game at 30-15. But another unforced error into the tape and it's 40-15. A huge serve, Stephens punches it long and Halep moves to 5-0 with worrying ease for the American's prospects. 
It's a long, long road back from here for Stephens and everything seems to be working against her now. Halep plays her like like a harp and brings up 15-0 then the American goes long again for 30-0.
And what a point! An amazing exchange at the net ends with Stephens finding it and Halep goes 4-0 up!
Stephens so unlucky! She works her way into the net and it looks like an easy volley coming her way to punch into the open court but it clips the net, pops up and although she adjusts she can't get it down and it's game point....
But Halep is in a state of grace now, throwing everything back at Stephens with interest. However hard the American hits it the Romanian has an answer and she picks a forehand winner out of her locker to move to deuce.
Long from Stephens and Halep back to 30-all. Halep goes all out on a second serve but punches long and Stephens is a point from getting off the mark in the decider...
And what a start... absolutely hammering the ball. They might as well take that one out of commission. But Stephens looks ruefully to the heavens as she racks up her sixth unforced error of the set. But she's back as she finds a glorious winner off a Halep forehand down the line. 30-15.
A colossal rally, both players pummeling the backhand side, and Stephens is bang out of luck as a forehand whaps the tape and flops back on her side of the court. Halep holds for 3-0.
A more patient approach from the American forces Halep long and it's 30-all. A huge serve and a belter of a forehand and it's game point for the number one.
Stephens seems out of sorts now and is glancing up at her box with increasing desperation. More unforced errors, Halep 30-0 up and the tide has turned. Can Stephens do a King Canute and keep the Romanian at bay? She gets on the board anyway, her seventh point of the last 21.
And takes it! A couple of thumping forehands and Stephens nets. 2-0 Halep!
This time Stephens measures a forehand perfectly after forcing Halep into a weak return and it's 30-all. But she goes for that same corner, with the same result, and Halep has break point....
Stephens finds another belter in her armoury and moves to 15-0. Another long rally ends when Stephens aims for the Halep forehand baseline and misses by an inch. She may be feelig that it's personal between her and that particular corner. A 33rd unforced error from Stephens and Halep moves to 15-30.
Both players landed 80 percent or more of their first serves in the second set. Those are some pretty incredible numbers.
Stephens grabs the early advantage but Halep lands a forehand winner to move to 15-30. Stephens drops another one a bit short and Halep says thanks very much and piledrives a winner for 30-all. She then moves to game point and wins an incredible point, with a little help from the net cord, to hold.
So, here we go with the deciding set, Halep to serve first.
And Stephens misses a backhand by a mile and hands Halep the set! We're level and going to a third in Paris.
And there's the 30th as she works a beautiful point and only has to hit the open court with her most formidable weapon but misses. 15-30. Halep repays the gesture and it's 30-all. Set point Halep as she blasts another winner off the forehand side...
Halep goes for the wrong-foot backhand but it misses by an inch. Stephens' unforced error count creeps towards the 30-mark as she clubs one long and it's 15-all.
It's worth remembering Stephens has never lost a final in her career and despite a bit of a switch-off there she won't relinquish this one lightly. She's serving to stay in the second set now though.
She lands a defensive backhand in the service court though and that's all the invitation Halep needs as she charges forward and belts a forehand into the middle of next week. And holds on the next point. 5-4.
Stephens back in destructive boding, sending Halep this way and that to bring up 30-all.
  15-15 and Halep is unhappy about a call. She's not getting any joy from the umpire though. The lines deserve some kind of award at the end of this for the battering they've taken. Amazing hitting from both players throughout the match. Halep up to 30-15.
Another artillery range of a rally and Halep blinks first, sending a forehand long and we're back level at 4-4!
Just, just wide from Stephens and Halep's back in the game at 40-30. 
Stephens opens up 30-0 with an ace, the first of the match from either player.
Boom! Stephens finds the line with a cracking forehand and she has three break points... and she converts the first! Stephens breaks back! Tennis eh, bloody hell...
It's a seesaw out there and Halep pops one long to hand Stephens 0-30...
  And Stephens nets! Halep on a roll now with four games in a row. Stephens puffs her cheeks. The Romanian is firmly in control of the second set now. 4-2.
Into the net from Stephens and Halep has break point...
But she breaks that run as Halep belts a forehand long. Stephens spies an opening and goes for a backhand down the line but misses by a whisker. Halep winds up her forehand and slams one across the court, her effort tickling chalk as Stephens can only watch. Big game for the American this, you sense. She pulls it back to 30-all.
11 of the last 12 points have gone Halep's way. 
How will Stephens respond to that? From 0-2 up to 3-2 down and Halep chalking up two love games to boot.
Is Stephens having a little wobble? She sends a backhand so wide the be-hatted spectators in the front row are momentarily concerned, then sends another long for 30-0. Halep works a brilliant point and belts a forehand behind Stephens for game point, to cheers of "Simona, Simona!" And she responds with possibly her easiest hold of the match and a 3-2 lead in the second.
And Halep needs only one! She breaks back to love and it's 2-2, back on serve.
Another long rally, Halep keeps Stephens guessing and unleashes a forehand that foreces the American into the net. Triple break point...
Stephens back on serve, a set and a break up. Halep immediately on the front foot and hammers an overhead after sendin Stephens out wide on the forehand flank. A double fault from the American gives Halep an unexpected opening at 0-30.
Stephens gives the line a long, hard look as Halep lands a cross court belter but clipped the line. The number one works Stephens across the baseline and buries a drive volley for 40-15. But, as has been the case so often this afternoon, she then nets as Stephens forces her hand. A carbon copy of the previous point, with drive volley included, gets Halep on the board. 1-2.
The chair umpire is called to inspect a Halep forehand and the call goes her way. Not much else has so far. She then nets a straightforward forehand for 15-15.
The American is playing a wonderful tactical game here and Halep seems to have no answer.
Halep resonds by bringing up 0-30 but Stephens waits for her moment, pulls her into the net and thrashes a forehand into the inviting open court. Halep can scarcely believe it as Stephens finds the chalk with a slightly miscued forehand for 30-all. Then it's game point as anothe thunderous serve is sent Halep's way. She then nets after a drianing rally and Stephens holds for 0-2. 
And Stephens breaks! Attack, defence, attack, defence, and she sends a looping shot over Halep that the number one does well to get a racket to but she can't find the court and it's 0-1 on the Stephens serve.
Stunning from Stephens! She's pulled into the net and it looks impossible to even reach the ball, let alone send it back at an acute angle out of Halep's reach.
Saved! With a rasping forehand down the line. Deuce.
Halep saves the first as Stephens hits the net. A kick serve out wide does the trick as the American slaps a return into the foot of the net but Halep is on the back foot again and follows suit. Another break point opportunity...
Wham! Stephens turns defence into attack and finds the line with a backhand for break point...
Halep serving in the opening game of the second set and she's immediately in trouble as she goes 15-30 down.
And she takes it! Halep is forced out wide and can't find the court with a backhand. First set goes to Stephens!
Stephens with a hammer of a serve into the body and it's set point for the American...
But it goes begging as Halep wallops a backhand into the net.
Magic from Halep! She draws Stephens into the net and dinks a perfect dropper over the tape. The American gets a touch but can't lift it up. Break point...
Another colossal interchange and Stephens ends it with a ferocious forehand. An attempted drop shot flops into the net though and Halep gets on the board, 15-all. Stephens unleashes another exocet of a forehand for 30 then Halep drags her way back into the game with some crafty work to force the American into an error. 30-30. 
Stephens goes long as Halep comes out firing and the Romanian moves to 40-15. A missed backhand gets Stephens back in it but Halep works an opening and belts a forehand into the open court to hold. 3-5 and now it's over to Stephens to serve it out.
Halep mixes it up a bit and keeps Stephens pinned behind the baseline with some looping forehands to force an error but a blistering forehand from the American makes it 30-30. Stephens sends down a thumping serve to move to 40 and then wrongfoots Halep with an inside out forehand to take the game. 2-5 and Halep will serve to stay in the set.
Halep gets on the board first but is then pummeled into an error and shows her frustration with a howl and a swipe of the racket. 15-15
The number one will have to up her first serve percentage here. She doesn't have many weaknesses but her second serve is not exactly a formidable one.
Game point Halep as Stephens nets. She does so again under little pressure and Halep holds. 2-4
Stephens right back in it though as she finds the line with a cross-court forehand for 30-all.
Stephens on the back foot now as Halep takes advantage of an apology of a return on her second serve to force her opponent long. Same again and the number one chalks up 30-0.
Halep went 0-5 down in her opening game here against Alison Riske so she won't be too concerned just yet but Stephens is making some incredible shots.
This time the world number one finds the perfect line with a backhand and pulls back to 40-30. A bomb of a serve from Stephens and Halep can only clip it into the middle of the net. Game Stephens. 1-4
What a point! Halep looks gobsmacked after getting herself back in it with some frankly impossible defence on the baseline only to net a straightforward forehand. 40-15.
The American has got her eye in now and is finding the back court with ease. 30-0 up in a jiffy as Halep hits the trams with a backhand.
A thumping return on the Halep second serve brings up the first break point opportunity... Stephens jumps on the second serve and builds up to land another forehand that Halep dumps into the net. Stephens a break up! 1-3
There are going to be plenty of long rallies this afternoon and Halep may have to take a few more risks to finish points off. She does just that, sending Stephens scurrying across the baseline before landing a drive volley for 30-all.
What a shot! Halep is pushed out wide on her forehand but whips it back cross court for 15-0. There are few better movers on clay. She nets after a long rally though and Stephens gets on the board.
Halep is known as the Romanian wall and shows why with some desperate defensive play but can't prevent Stephens from unleashing that forehand to take the game. 1-2
Another unforced error from Halep hands Stephens the early advantage on serve. The 10th seed works an opportunity but pushes a regulation forehand long. A deep backhand clips the line and the kick forces Halep long on her return. Another backhand misses the chalk on the baseline and it's game point Stephens. Some smart defence from Halep pulls her back to 30-40 though.
Another lengthy exchange of heavy hitting and Halep holds, not without some difficulty. 1-1
A long rally, Stephens pulls Halep from one side to the other and whacks a forehand in to the open court for 15-15. Halep replies with a club of her own to move to 30-15. Stephens lands another hefty forehand to move to 30-30 after giving Halep the run-around again. She's targeting the Romanian's backhand and getting plenty of joy from that wing. A bit of a framer from the American flies long and Halep has game point. She build a perfect point, hammering the Stephens backhand to open up a down the line winner but it cracks into the tape. Stephens goes long on deuce and it's game point again. 
Halep sends one long to bring up 15-0, then does the same again to gift Stephens 30-0. A third unforced error and it's 40-0. Stephens goes long on a forehand and Halep gets on the board but a cracking backhand that kisses the chalk and it's an easy hold for the 10th seed. 0-1. 
Stephens to get us underway... and we're off!
Stephens has dropped just one set en route to the final and has spent considerably less time on court than Halep, which could be a factor in the outcome. The Romanian has been in excellent for throughout the tournament though and will come out as she did against Muguruza, all guns blazing. There are few better defensive players than the American on the tour though so Halep will find it hard to finish points off quickly.
World number one Simona Halep will aim to land her maiden Grand Slam title against reigning US Open champion Sloane Stephens at Roland Garros on Saturday.