WORLD CUP 2018
Russia vs Saudi Arabia: World Cup 2018 opening game, live!
Saudi Arabia went a goal down early and had no realistic chance after that as Russia tore them asunder on the counter time and time again as they won 5-0.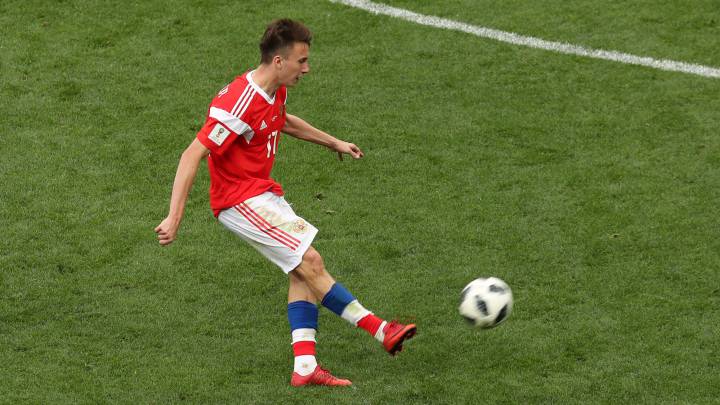 Russia 5-0 Saudi Arabia: match report
It was the biggest margin of defeat since 1934 when Italy beat the United States 7-1. In a game between two sides who many believed would struggle in this World Cup, only one team did so at the Luzhniki Stadium on Thursday night.
After the opening ceremony's festivities, the 2018 World Cup got underway and almost immediately, there was a sense of fear in Saudi Arabia's defence. It was quite a stop-start opening to the game with Russia relying on set-pieces for their best chance and while it wasn't directly from a corner that they got their first goal, it was a cross after a corner.
Yuri Gazinskiy nodded home Aleksandr Golovin's cross from the left after disposing of a would-be tackler at the back post. Russia's World Cup had seen one shot on target and one goal after 12 minutes of action.
It wasn't all good news for Russia, however, as Alan Dzagoev was forced off after 24 minutes on a counter attack. Denis Cheryshev replaced him and he didn't take long to make his mark. He slammed the ball to the back of the next just before the break as Russia's counter-attacking style was becoming even more dominant in a game that Saudi Arabia were chasing.
It was much of the same for the second half and when substitute Artem Dzyube headed home a lovely Golovin cross on 71 minutes, it was a matter of damage limitation for Juan Antonio Pizzi's side.
And they couldn't even manage that as Denis Cherysev curled an outside of the boot shot into the top corner - a goal that will take a lot some beating for goal of the tournament - to make it four before the man of the match, Golovin, bent a free-kick home with almost the last kick of the game.
It's Egypt and Uruguay next for these two sides and while Russia have tougher days ahead, they dealt with Saudi Arabia convincingly in the opening game and give themselves a fighting chance to qualify out of their group as the World Cup continues.
Russia vs Saudi Arabia live: minute-by-minute
90'+3'   GAME OVER! What a nice finish to that one. 
90'+3'   GOAL! Golovin. That's 5-0 and Saudi Arabia have completely and utterly collapsed. Curler of a free-kick and the keeper had no chance. 
90'+3'   What a finish.
90'+1'   Cheryshev! WHAT A GOAL! 
90'   Three minutes of added time. Can Saudi Arabia nab three goals? Nah didn't think so.
88'   Cleared and Golovin picks up a yellow card for pulling down a Saudi player on the break after he lost out. 
88'   A rare chance for Saudi Arabia. 
87'  Kuzyaev with a foul as Saudi Arabia survive another assault.
87'   Saudi Arabia need to keep this at three. Another one and it gets embarrassing. 
86'   Zhirkov sends a free in from the left and that's put behind for a corner by Saudi Arabia.
85' Al-Sahlawi being replaced by Asiri and he immediately runs on and calls for the ball.
84'   Kuzyaev goes out and over the bar. A mile over the bar.
80'   Another Russia counter. Clipped into the box but Saudi Arabia get it away.
77'   Aleksandr Golovin been excellent so far. Three assists so far. 22 years old in his home nation in the opening game of the World Cup. Not a bother on ya, lad!
77'   There's another good delivery into the box. It's for Zobnin this time and he heads wide. 
75'   Slide comes in on Zobnin and Russia win a throw. They're cruising now and no way back into this for Saudi Arabia.
74' Al Shehri replaced by Sultan Babhir as Saudi Arabia start to run out of options. 
71' That's surely his first touch. Golovin clips it into Dzyuba and he heads home. Inspired substitution.
71' Dzyuba on for Smolov.
69'   Saudi with a promising attack and that's cut out by Russia. They have nothing going forward.
67'   Shot comes in from the sub Kuzyaev and Al Muaiouf parries it into trouble. Cleared in the end.
67'   Cheryshev fouls Al Burayk. The Saudi player wants a card or something, he definitely wants something, but all he gets is a free.
65' Kutepov gets a talking to by the referee for something or other. Unclear as to what but Saudi win it and then lose it again. Saudi very disappointing.
64'   Samedov replaced by Kuzyaev.
62' Fahad coming on for Saudi. Otayf being replaced.
59'   There's a foul by Golovin on Al-Faraj.
58'   Indeed he can and Al-Faraj heads it wide. He was offside anyway but I think, maybe, just maybe, Saudi Arabia are getting closer to a goal.
57'   Foul now as Saudi attempt to get into this one. It was Salem Al-Dawsari who was fouled. Al-Jassim set to take from the left. Can he deliver one into the box?
55'   Ball across the box and Taisser comes close as does Al-Sahlawi. Both miss it as Akinfeev is left standing at the will of what happened next.
54'   Yahya Al Shehri fouls Gazinskiy in the middle after winning the ball back and Russia with a free. Saudi have nothing going forward.
52'   Saudi are a frustrating watch. It looks like they have something about them and are quite technically decent but they're sloppy and make poor decisions on the ball. Playing into Russia's hands at the moment.
51'   Ball in Golovin as he tries to get a touch on it. Saudi scramble it away and it rolls to Samedov as he shoots. Always rising but not a bad effort.
51'   Russia in control of this one. 
50'   Golovin takes. 
50'   Smolov on the counter now and he gets caught up with by a Saudi defender. He wins a corner as he strikes and sees his ambitious effort deflected out. 
48'   Just checking in on subs. None made at the break.
47'   Throw for Saudi Arabia. 
46'   Mistake by Osama Hawsaw at the back and Russia start this half off on the front foot.
46'   We are back underway.
    Two teams ready for action. Saudi Arabia first out on the field. Russia follow them soon after. 
  Saudi Arabia with no threat going forward and dodgy at the back. Two of the worst traits a football team can have.
45'+2'   Russia win it now and we have half-time.
45'   Two minutes of added time. 
42' Cheryshev with a goal! Russia had been getting closer. He wins it in the box turns inside and smashes it home. Saudi Arabia absolutely reeling now.
42'   Slip in the end Cheryshev on the counter again. He runs out of real estate after a nice move in the box. 
39'   Russia looking fairly lethal on the break in fairness. Offside that time but the Russian player never touched the ball and the linesman keeps his flag down.
38'   Eight to go now until the break. Pizzi up off the bench and is looking animated. His side have looked good. 
36'   Replays suggest it might have been a penalty but maybe Golovin was waiting for it! Tough call.
35'   Russia win the ball and counter. Foul but the referee plays advantage as Golovin picks it up. He goes down in the box and that was a dive but the referee waves it off. Omar Hawsawi wants a card and he's probably right but referee lets it slide.
33'   Foul in the end by Smolov. Saudi Arabia continue to hold possession and try to make something happen.
33'   Misplaced ball by Omar Hawsawi and he gifts Russia a throw as they speed up an attack to catch Saudi Arabia off guard. 
32'   Saudi have been the better side since the goal. Still yet to trouble Russia's goals though.
31'   A free now for Saudi. Al-Jassim has his knee clipped by Zhirkov.
31'   Offside for Russia in the end. The linesman got that one spot on.
30'   Al-Sahlawi miscontrols a difficult pass.
30'   We have another throw for Russia down the left this time. Saudi win it and counter.
28'   Al Shehri gives it away again.
27'   Cheryshev wins the ball back off Al Shehri and he races forward before running out of steam and kicking it hopefully back towards the box. Saudi win it back.
24' A little fairer now in the last few minutes but Saudi still yet to trouble Akinfeev.
24'   Dzagoev limps off and Denis Cheryshev comes on.
23'   Russia counter and we have a torn hamstring for someone it looks like. Russia's Dzagoev hits the deck and grabs the chunky part of the back of the leg as he hits the ground! Surely his day over.
23'   Weird one. Corner taken and it sounded like a whistle as everyone stopped. 
23'   Another shot. Al-Sahlawi with a strike on his left foot and it's blocked out for another corner. 
22'   Saudi attack with Al Shahrani down the left. Ball crossed in and Al-Sahlawi tries to get something on it. Put out for a corner in the end.
21'   Golovin with a dangerous ball into the box. A couple of Russian attackers rushing in but both of them miss it.
19'   Another attack down the left with Samedov. Into Saudi defender's feet.
18'   Russia improving. They attack again down the right-hand side.
15'   More chaos. Saudi nearly conceded another. Dzagoev gets a shot away. But the deliverer was a mile offside. Shots comes in but the keeper saves it after a scramble.
14'   Another ball deep into Saudi territory and Russia putting pressure on them with those passes in behind. Saudi not very organised.
14'   Always a big worry for Saudi Arabia. They play on the counter and now are in serious trouble.
12'   Hint of a push in the back but no chance.
12' GOAL! GOAL! GOAL! Header from the back post. Gazinskiy with the header. It was sent in by Golovin. 
11'   Russia on the break and it falls to Dzagoev. He slips as he strikes. Hits a Saudi ankle. Corner for Russia.
10'   Ball in behind by Yahya Al Shehri and Al-Sahlawi makes it but it's kicked out off him. Throw for Russia.
10'   Deep and high corner! Saudi counter.
9'   Golovin with thw ball into the box and he is stopped but not before the ball goes into a dangerous area. Yahya Al Shehri wins it back but he's picked off. Corner for Russia.
8'   Saudi Arabia quite chaotic at the back.
8'   They lose it and Russia attack. Ball pulled back from the endline and strikes comes in before Saudi block.
7'   Yahya Al Shehri with a lovely ball in and Saudi attacking with some purpose now. 
6'   Mistake from them almost as Smolov puts pressyre on Al Muaiouf in goals. He comes out and clears. Saudi with a new attack.
5'   Counter attack by Saudi as Al-Sahlawi takes it into his path. They slow it right down and recycle it. 
5'   Al Burayk wins another throw. Saudi look like they're going to struggle. Russia putting pressure on them every chance they get.
5'   Lots of throw so far. Saudi with the latest.
5'   Another launch forward and Smolov is offside.
4'   Zhirkov to take with his left. Headed clear at the front post.
4'   Corner for Russia.
3'   Omar Hawsawi puts it out for another throw and Dzagoev gets it in the penalty area before Saudi win it back. They're pushed back further than they might like now. Russia in control of the ball.
2'   Russia almost win it back and then Samedov is clipped by Omar Hawsawi and they win a free. They have possession now and launch it forward.
1'   That's a throw for Saudi Arabia. Yasir Al Shahrani to take. Saudi attacking down the left.
1'   We are underway!
    Nestor Pitana from Argentina is the referee for the game.
    Akinfeev up with Osama Hawsawi for the toss. Russia win and looks like he decides to defer tip-off. Photo and then action!
    Now Russia with a much more rousing rendition of their anthem, obviously. Russians outnumbering the Saudis in the stadium as you'd expect.
    Saudi Arabia's national anthem is up first.
    Gianni Infantino being booed and he says "I have eyes". That's a weird start for this one.
    Here's what Robbie Williams thought about that!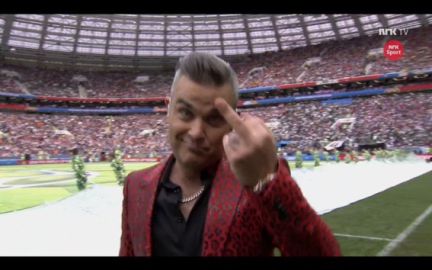 That Robbie Williams gig was relatively quick. We are six minutes away from kick-off now and Putin has just wrapped up. Ready for the national anthems! We are on schedule, folks, we are on schedule.
    Putin about to speak. Basically welcoming everyone. Speaking about all the hard work that has been done for this World Cup.
The teams ready for action now as they emerge onto the field.
Atmosphere building now and the teams are in the tunnel just waiting to emerge.
    I think... I thiiiink, Robbie William is finished. He moved earlier and it looked like he was gone but then he re-appeared to give us another blast of a tune! Think he actually is gone now. 
    You feel if Russia don't win this one, they won't get a win at all. 
Was discussing the Saudi Arabia team and here is something to note on the former Villarreal player in their starting eleven. 
He starts out with Let Me Entertain You, Feel! and now Angels. 
    And now Robbie Williams on the field with a red suit. 
Ronaldo Nazario looking very slick with a goatee. 
    Team news courtesy of Fifa and maybe easier to call upon.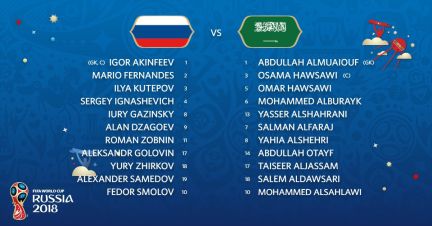 Just a couple of minutes away from kick-off now. 
The teams rushing through their warm-ups now before Robbie Williams does his best to entertain you. Ronaldo Nazario will be here too and a Russian soprano with a wonderful voice by the name of Aida Garifillinam too.
Saudi Arabia team news vs Russia: Al-Maiouf; Alburayk, Os.Hawsawi, Om.Hawsawi, Al-Shahrani; Otayf, Al-Dawsari, Al-Faraj, Al-Jassam; Al-Shehri, Al-Sahlawi
Players out warming up now and a real festival of colours and smiling faces! Pretty excited myself, I must say.
    Russia team news vs Saudi Arabia: Akinfeev, Mario Fernandes, Kutepov, Ignashevich, Zhirkov, Gazinskiy, Zobnin, Dzagoev, Samedov, Golovin, Smolov.
Kanchelskis, the former Russian and Manchester United footballer, says this is the worst Russian team he has ever seen. Quite the boost ahead of the tournament from one of their great players!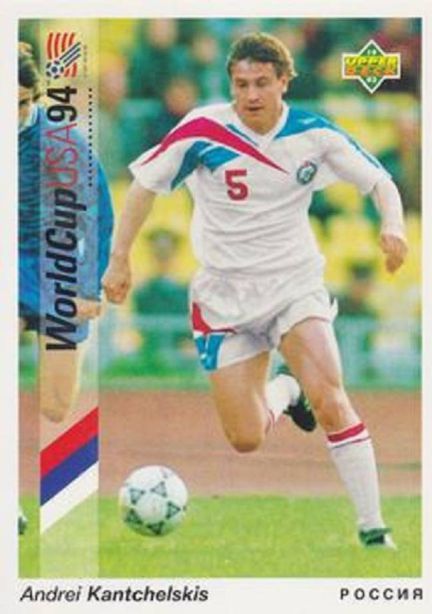 You've found us but maybe you were looking to see where you could watch the game. You can find all of that info right here!
Hello and welcome to our live coverage of the World Cup's opening ceremony, opening game and everything else that happens on the opening day of this incredible tournament. Tonight, it's Russia versus Saudi Arabia which kicks off from Luzhniki Stadium at 17:00 CEST. We will have team news, build-up, and everything in between until the very end right here on AS English! 
Russia vs Saudi Arabia live: preview
The Luzhniki is the location and the World Cup opening game is the event. Russia, the hosts of the tournament will play Saudi Arabia in the 2018 World Cup and excitement has reached fever pitch. This is Russia's 11th time at the World Cup finals. Saudi Arabia's first tournament was in 1984's Asian Cup and since then they have reached five World Cups.
---
Everything you need to know about the World Cup opening ceremony
---
Russia couldn't have asked for an easier group, literally, as they have the easiest possible group according to statistics that they could have been picked alongside. They will still most likely struggle, however, as news that Mo Salah is back for Egypt and Uruguay have the potent combo of Edinson Cavani and Luis Suarez mixed with a staunch back-line. But for Thursday night, they have a very decent chance. They are managed by Stanislav Cherchesov and will be reliant on the rough and tumble Smolov and the lively Golovin in attack to get them goals. Here is a look at their squad.
Saudi Arabia struggled at the Gulf Cup of Nations without their manager Juan Antonio Pizzi at the tournament. They sent a developmental squad too and will be a lot stronger because of that at the World Cup. They rely heavily on Mohammed Al Sahlawi and he top the scoring charts for them during qualifying. Meanwhile, the Saudi players that went on loan to Spain did not make much of an impact but Salem Al-Dawsari came on for Villarreal during a 2-2 comeback draw against Real Madrid.