WORLD CUP
Morocco 0-1 Iran World Cup Group B: match report
A late, late own goal off the head of Aziz Bouhaddouz was enough to see Iran beat Morocco in the opening game in World Cup Group B in Saint Petersburg.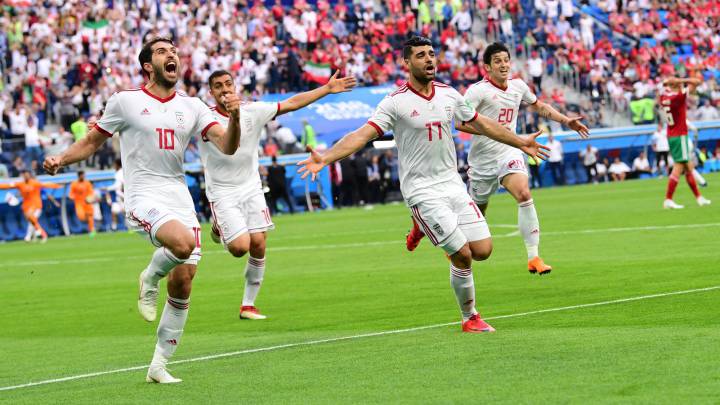 Morocco 0-1 Iran: match report
A stoppage-time own goal from substitute Aziz Bouhaddouz gave Iran a dramatic 1-0 win over Morocco in their World Cup Group B opener on Friday.
Iran left back Ehsan Hajsafi whipped in a free kick five minutes into added time and Bouhaddouz launched himself at the ball, flashing a header past his own keeper Munir Mohamedi.
The Iranians, who had not won a World Cup game since their victory over the United States in 1998, celebrated as if they had won the tournament but they now have a chance in a group where they must now face favourites Spain and Portugal.
Morocco, who enjoyed more possession throughout, began in aggressive fashion, taking the game to their opponents and overloading their right flank as they targeted Hajsafi.
That approach almost paid off when Nordin Amrabat whipped in a dangerous cross from the right but Younes Belhanda's header from an acute angle flashed wide.
Iran were missing the calming influence of suspended holding midfielder Saeid Ezatolahi as Morocco over-ran them in the centre of the park with the clever Mbark Boussoufa directing play as the African side frequently attacked in numbers.
Morocco almost turned that initial pressure into a goal in the 19th minute when following a scramble in the area, Medhi Benatia's shot was well saved by Iran keeper Alireza Beiranvand.
Iran's Portuguese coach Carlos Quieroz had clearly given his side instructions to defend deep and look to break on the counter-attack and two minutes before the break that approach almost bore fruit.
Striker Sardar Azmoun broke clear though the middle but he shot straight at Mohamedi who got up quickly to keep out a follow-up effort from Alireza Jahanbakhsh.
Chances were at a premium after the break but a well-struck effort from Morocco's Hakim Ziyech brought out a fine save from Beiranvand nine minutes from the end.
Morocco vs Iran live stream online: as it happened
90'+6' It's all over. Late, late drama!
90'+4' EDIT: It was an own goal. Bouhaddouz with the header.
90'+4' GOAL! GOAL! GOAL! Substitute Taremi heads home the free-kick.
90'+2'   Foul now as Amrabat takes Ghoddos down. He played for it, did the sub, but it was clever as he was going nowhere otherwise.
90'+2'   A bit of a fight. Ansarifard booked in the end but nothing really happened.
90'+1'   Da Costa down injured after just coming on.
90'+1'   Da Costa tries to send one towards goal. Out for a goal-kick.
89'   Rezaeian is fouled and does 47 rolls on the ground....before getting up and playing on. Ridiculous.
89'   Amrabat with a cross and Hakimi tries to reach it and can't.
88'   This one is destined for a draw. Ziyech shoots from outside the box and it's blocked.
87' Back in action after Ghoddos replaces Jahanbakhsh.
84'   This game has hit a real slump with injuries and subs. Nothing has happened in the last ten minutes.
82'   Jahanbakhsh needs to be replaced
82'   Da Costa coming on for Morocco as Harit is replaced.
80'   Morocco ready to make another change.
80'   Shot from Ziyech and it's saved. Really good effort and good save too. Corner!
78' We have an  We have Iran sub too after quite a lengthy injury. A couple of minutes. Ebrahimi succumbs to the rib injury from earlier and he is replaced by Montazeri.
73' Bouhaddouz replaces Kaabi.
73' Amrabat replaced in the end by Sofyan Amrabat.
72'   He was knocked out cold. He caught a shoulder as his head went down and he was in serious trouble.
72'   Amrabat knocked clean out. 
70'   Rezaeian with a throw now for Iran. Azmoun sends the cross in and Morocco recover.
69'   Jahanbakhsh with a run down the right but he has two Morocco defenders for company. Sends it in but it's blocked for a corner.
68'   Ball into El Kaabi and he can't reach it. Morocco frustrated now. They've run out of ideas. 
67' Shojaei replaced by Taremi.
65'   Morocco had a free but Boussoufa gets it and the ref plays advantage. Sent into the back post but Morocco lack any presence in the penalty area.
64'   Ziyech wqith a kick now on Haji Safi. Maybe a yellow but most likely not! He kind of went through the back of him as the defender tried to see the ball out for a throw. Harmless, really.
63'   Belhanda has a kick at an Iran player, Shojaei, on the ground with the ball between his legs. He's very lucky not to be booked there. 
62'   I saw a tweet earlier with someone saying they call Iran the Atlético of Asia. Fairly apt but they can't break down Morocco this time.
62'   Sent in but Beiranvand punches clear. Iran counter.
60'   Amrabat to El Kaabi but Iran send it out for a corner.
56'   Both manager's keeping their cards close to their chest so far.
56'   Ebrahimi down now grabbing his ribs. He looks okay but we will have to wait and see. This game has been on a knide edge and no changes yet. A change could tip it in someone's favour. 
54'   Harit stealing the show here but still can't make it click for Morocco.
53'   Morocco in control of this one. Harit to Ziyech but they run themselves into trouble. And that's a throw for Iran.
49'   Ziyech with a foul now as Iran win a free and slow things down. Morocco started the frst half in the same fashion and Iran did a good job of taking the sting out of the game.
49'   Another run down the right from Amrabat and Harit gets a foot to it but can't direct his body to make it count. A mile wide but you can't really blame him given how the ball fell to him.
48'   Referee, Cuneyt Cakir, gets control of this one again after a couple of Iran fouls. He has a word and we are back in action.
47'   Jahanbakhsh booked for a foul on Ziyech. Stamp on his foot. Nasty looking one.
46'   Amrabat down the right and sends a lethal ball into the box. Nobody there to meet it.
46'   Launch for the second half!
45'+2'   That's it for the first half. really good half of football. Looked like Morocco would run away with it before Iran came into the game and settled themselves. 
45'+2'   Approaching half-time. 
45'   Harit fouled as he makes his way across the field.
45'   Free as Haji Safi drives a shot over the bar. Iran knocking on the door.
43'   It was Saiss who stepped up and left the gap at the back.
43'   Mayhem at the back for Morocco.
43'   Chance of the game. Ebrahimi really strong and Azmoun is clean through, shoots and Munir saves. the rebound is saved and put wide.
41'   Pouraliganji fouled as El Kaabi chases down a loose ball.
38'   Azmoun back on and ball in behind the bacl with Saiss reaching and clearing as he slides. Throw for Iran.
38'   Decent from Morocco. Sent forward an El Kaabi gets a glancer on the ball but it only helps the ball into the keeper's gloves. Ziyech with the pass.
36'   Currently discussions going on as to whether he can continue or not.
36'   Azmoun down with a left ankle injury. The physio gives a big thumbs up to the bench but I'm not sure what that means.
36'   Morocco's worry now is that they have no control in attacking midfield and no way through with El Kaabi not really offering much up front.
36'   Amrabat picks it up and sends the ball to Harit but he is bundled over with no free coming his way. Iran clear and it's blocked for a throw. 
35'   SHOT! Jahanbakhsh's effort rises up and over the bar.
35'   Slightly too central for a really dangerous delivery but lets see what Iran can muster up. They got a chance the last time. 
34'   There's a yellow for El Ahmadi as he catches Azmoun on the counter-attack. 
34'   Harit been very dangerous too.
34'   Everything Morocco are doing is coming from the left-hand side through Real Madrid's Hakimi.
34'   Long ball from the kick-out and Iran win it back.
32'   It was very dangerous. It bobbles to Cheshmi and he looks to have handled it before striking over. Goal kick and it caught his shoulder.
31'   That's a bad pass by Boussoufa and Iran win it back. Shojaei, the captain, is fouled and Iran have a free to take from a dangerous position on the right for a delivery.
31'   Morocco trying to calm things down for a second to get to grips with this again. Sent down the left and the ball is given to Harit. He glides into the box and shoots with the inside of his right foot but the keeper saves it. 
30'   Foul on Harit again. Jahanbakhsh with the foul this time.
28'   Belhanda with a bit of swinging and kicking and catches the ball, putting it out for a throw. 
27'   Iran have stemmed the tide from the start. They are growing into this one. Morocco the ones doing the chasing now.
26'   Morocco back on the front foot. Ziyech fouls now to give Iran a breather.
26'   Hakimi moves by a tackle and brings it inside before Belhanda strikes. Blocked.
25'   Amiri with a long throw. Dangerous but Ansarifard turns and hits it out after a deflection.
23'   Amiri with a weird throw. How wasn't that a foul throw?
22'   Benatia with a push in the back for Sardar. Free for Iran.
21'   Iran with a really dangerous attack and Amiri gets it on the left. He strikes, but not cleanly, and Saiss kicks it out to touch. Really dangerous counter attack.
20'   Ziyech with the corner. Sent in tantilisingly but it's out for a throw.
19'   Free for Morocco a good bit out and quite central. Clipped into the back post. Belhanda has a chance first and it's blocked. Benatia then, same result. Then Saiss chases it and Iran put it out for a corner. A proper goalmouth scramble.
18'   Belhanda absolutely chopped down now by Amiri. Just a late tackle really. Morocco a yard ahead of Iran in everything they are doing.
17'   Benatia takes a long ball down and pass back to his keeper. Morocco hit restart and build from the back.
15'   Harit fouls Rezaeian and he's really not happy. He's right too as the attacking midfielder puts an arm across his face.
15'   Iran with a rare move up the field......aaaaaand Morocco win it back. This is quite impressive from Morocco but Iran have been really poor.
14'   El Ahmadi finds himself in space down the right and crosses but Iran clear. 
13'   Ball crossed from the left and Numancia's Munir gathers with command.
12'   Throw for Iran.
12'   Amrabat with a fairly obvious push in the back of Haji Safi
10'   Deserved too. No doubt.
10' There's a late tackle now on Boussoufa as Shojaei is booked. Ref wasn't lying about the next one being a yellow.
8'   Amrabat down the right and tries a cross that is blocked for a throw. They keep the pressure on and Iran drive it clear.
6'   El Kaabi takes the ball down after Boussoufa puts pressure on Iran and force a poor clearance. He misses the target.
5'   Cheshmi caught Harit late and the ref would have been within his rights to give him a yellow.
5'   We have an issue here after Harit is taken down by Cheshmi. The referee tells him NO MORE! and even waves his arms twice to really make the point. 
5'   Harit skips by a couple of tacklers and he sends it out to the left. Ball sent out for a throw to Iran in the end.
4'   There's a good effort. Amrabat slides by a tackler and puts it onto the head of Belhanda. He heads it wide at the near post. Morocco have started really brightly.
4'   He was free! Second corner comes in and Beiranvand punches clear.
3'   Dreadful defending but a very smart set-piece from Morocco. Ziyech gets the ball just inside the box and whiffs at it. 
3'   El Kaabi takes one down the left but it's clipped and out for a corner. The big lads up from the back. Benatia and Saiss plotting.
2'   Not a bad effort. That was Harit, who struck that on the volley but it went just wide.
1' We are underway in Saint Petersburg.
We've ben just shown another image of how Morocco will line up and it's completely different from the one we showed. Three at the back?
The Moroccan national anthem blares in St. Petersburg.
Here's Iran's strengths: Iran look far stronger up front than they did in Brazil four years ago, with players such as Sardar Azmoun, Alireza Jahanbakhsh, Karim Ansarifard and Saman Ghoddos in good form.
vs Morocco's weakness: The first-choice goalkeeper, Munir Mohand Mohamedi, started only one league game for Numancia in Spain's second tier and is bound to be rusty.
If you haven't seen the Guardian's guide to all of the players at the World Cup, you really should. 
Just a few minutes away from the first game in Group B between Morocco and Iran. Morocco are ranked 42 in the World and Iran are ranked 36, which is strange as Morocco are many people's heavy favourites for this game. Iran, however, have dominated Asian football and sit top of the rankings there since December 2014.
Hervé Renard was the first coach to win the CAF Africa Cup of Nations with different countries when he won it with both Zambia and Ivory Coast. Could he be the first man to win the World Cup with Morocco? He has a very nice side to deal with in Morocco. Hamza Mendyl looked like a threat at left-back against SLovakia recently too even if he doesn't start today. Romain Saiss starts in his place.
No draws in the World Cup so far after two games! Let's hope we aren't about to see out first in Saint Petersburg.
This is the first time Iran have qualified for back-to-back World Cups and played in Brazil 2014. They drew with Nigeria, lost 1-0 to Argentina and then were beaten 3-1 by Bosnia and Herzegovina. That experience might stand to them as they were competitive in a really tough group. This one isn't much better!
Iran XI: Beiranvand, Hajisafi, Cheshmi, Pouraliganji, Rezaeian, Shojaei, Ebrahimi, Amiri, Ansarifard, Jahanbakhsh, Azmoun.
Morocco XI: El Kajoui, Hakimi, Benatia, Saiss, Ziyach, El Ahmadi, Belhanda, Boussoufa, Amrabat, Harit, El Kaabi.
Hello and welcome to the Morocco vs Iran live feed on the first full day of the World Cup in Russia. We will be bringing you team news, live build-up and everything that happens during the game once it kicks off! It starts at 17:00 CEST from Saint Petersburg Stadium. 
Morocco vs Iran live stream online: preview
For the first time in the history of the World Cup, Morocco will play Iran as Group B starts on the second day of the World Cup from Russia. the two heavy underdogs in the group, which also has Spain and Portugal in it, both sides will need a win today to give themselves a flicker of hope of progressing beyond the group stage. The game kicks off from Krestovsky Stadium in Saint Petersburg at 17:00 CEST.
Morocco are seen as one of the potential surprise packages in Russia this summer and they have plenty of attacking talent to live up to the tag. They have the Bundesliga Rookie of the Year with Schalke 04's Amine Harit and Hakim Ziyech has also turned heads with Ajax this season. Nordin Amrabat was impressive recently in a win against Slovakia, however, and we will keep him as our player to watch against Iran.
Managed by Carlos Quieroz, the former Manchester United assistant to Alex Ferguson, Iran are a counter-attacking side. They have appeared in the World Cup five times without ever getting out of the group stages. Quieroz will walk away after the World Cup and his charges would surely like to send him off by making history. In Group B, however, the odds are most certainly stacked against them.