Brazil 1-1 Switzerland World Cup 2018: match report
A cracker from Coutinho was cancelled out by Zuber's header, along with a hint of a push in the back, but Brazil only pick up a point in their first game of the World Cup.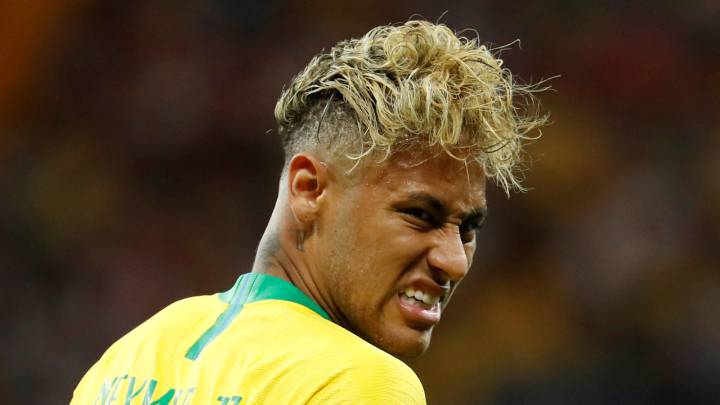 Brazil 1-1 Switzerland: match report
Brazil's World Cup got off to an ambiguous start at Rostov Arena on Sunday night. Their opponents from Group E were Switzerland and they might feel there were moments when they had a chance to steal all three points without ever pushing enough to manage that feat.
It took a wonderful goal from Coutinho after 20 minutes to get things started after some improving play from the pre-tournament favourites. After that though, it felt like Neymar and co. backed off. They never reached the form they showed in that opening spell and suffered for it.
A Steven Zuber goal from a set-piece saw Petkovic's side draw level and while they deserved it, Brazil took over once it hit the back of the net.
They had chances from Neymar, Firmino, a potental penalty when Gabriel Jesus was pulled down and several more close calls but they couldn't break the Swiss' resolves. Yann Sommer, who won the man of the match award, was awesome in goals too with a number of important stops.
Brazil made a number of changes too with the purpose of unlocking the Swiss defence but to no avail. They will leave the game feeling frustrated that they let a commanding start slip through their hands but the Swiss proved to everyone and themselves that they have what it takes for an unlikely run in the World Cup even if their striking options are somewhat limited.
Brazil vs Switzerland live online: match updates
90'+7' GAME OVER! Draw. Switzerland were under the cosh in that one but they get out of dodge with a draw.
90'+7'   That's surely it now?
90'+5'   Foul after the corner.
90'+5'   Neymar clips it towards goal and it's send towards goal after being headed into the box. One last chance for Brazil.
90'+5'   Some time off the clock now and we are into the sixth minute. 
90'+5'   He just kissed the ball. 
90'+5'   Another foul. This is probably the last chance Brazil have. He's shooting.
90'+5'   He's not happy with his treatment so far.
90'+5'   Neymar fouled again.
90'+4'   Ball launched into the far corner. Marcelo wins it back. 
90'+4'   Foul now on Xhaka. Switzerland keen to kill another few seconds. 
90'+3'   Brazil moving forward as Switzerland continue to retreat. Can they find that goal. Ball to Marcelo and he can't make it to that one. More time off the clock.
90'+1'   Taken quickly and Miranda drives a shot towards goal. Just wide.
90'+1'   Renato Augusto wins a corner for Brazil as Lang puts it out.
90'+1'   Five minutes of added time.
90'   Saved by Sommer. Firmino headed that down into the ground and up. Good save and it's just out of the reach of Fernandinho.
90'   Miranda and Silva in the box. 
90'   Lang collides with Neymar and pulls him down. Another chance to send a free in for Neymar.
89'   Shaqiri attacks and shoots. He drives it high and wide.
89' Lang replaced Lichtsteiner.
88'   Cross comes in and Neymar gets a really nice header on that. Saved by Sommer.
88'   Brazil on the attack again.
88'   Free sent in and Sommer saves. Brazil running out of time.
86'   Lichtsteiner down and he needs to come off. 
86'   Neymar fouled by Xhaka.
86'   Neymar into Firmino but it's just out of his reach. Switzerland survive again.
85'   Quite the battle there as Embolo and Miranda battle it out. Miranda wins out in the end on this occasion.
84'   Shaqiri with a move inside. He loses it and then wins it back. He has Danilo one-on-one but he loses it again.
82'   Firmino has an effort. Danilo lets the ball into him and Switzerland don't defend it very well. He's at a tough angle and he drives it over the bar.
80'   We have a Swiss player down grabbing his face. Lichtsteiner is the man who is down. He's signalling that he took an elbow to the face. Miranda the cuplrit.
80' Gabriel Jesus replaced by Firmino.
80'   We have another change. Embolo on for Seferovic.
78'   Neymar has a shot but that's not going to work. Another one from distance. Sommer equal to it.
77'   Firmino warming up.
77'   Brazil resorting to this long shots now. No massive chances in the second half.
77'   Fernandinho strikes over the bar!
76'   Seferovic and Thiago Silva get wrapped up in each other and the two fall over. Ref says play on.
76'   Coutinho fouls Shaqiri.
75'   Brazil knocking on the door a little heavier now.
74'   Gabriel Jesus wants a penalty. He turns Akanji and the Man City striker hits the ground. No penalty. 
73'   Shaqiri with a run down the right and pass inside to Dzemaili. He shoots and Allisson isn't too worried about that one.
72'   Handball by Willian.
72'   Brazil continue to push forward. They've been better since Swiss' equaliser.
71'   He looks to be really hurt. It was Fernandinho who put his foot down on top of the striker's. Another sore one as he limps it off.
71'   Seferovic fouled but Brazil play on. Referee has to bring it to a halt.
70' Zakaria replaces Behrami.
69'   Brazil moving forward again. Coutinho to Neymar. He crosses it and Switzerland head it but only as far as as a yellow shirt. Crossed in and Coutinho chests it down and shoots. Everything was perfect until the finish.
68' Neymar on the ground. Behrami booked for that one. The Swiss player has a laugh at Neymar on the ground. Replay shows he barely caught him.
66' Paulinho is replaced by Renato Augusto.
66'   Behrami blocks a shot from Willian. 
66'   Marcelo sends it towards the box from the left after a poor free from Neymar. Shot again and it's corner. 
66'   Schaer pulls Neymar back and gets a yellow card for the trouble. Free for Brazil on the left now. Not a shooting chance but they'll send it into the mixer.
64'   Switzerland counter again.
63'   Neymar ball into Coutinho. No use. Switzerland win it back.
63'   Seferovic fouls Marcelo.
62'   Brazil under increasing pressure now and a cross field ball is not good from Marcelo.
60' Fernandinho comes on for Casemiro.
60'   Shaqiri fouled.
60'   Brazil trying to build now. But Swiss not easy to play against and they have notions now. 
59'   Casemiro with a shot. Miles over.
58'   Corner. Ball bobbling around.
58'   Neymar shoots and he takes a stud to the foot. He's limping badly. 
58'   Ball comes to Coutinho, he shoots twice and it's blocked twice.
56'   Switzerland moving forward again. Brazil seem to be struggling here.
50'   There's no way that should be ruled out. That happens all the time. Miranda even knew himself. He didn't complain, he just knew he was outmuscles.
50' Zuber GOAL! They deserve that. Header from the corner. Shaqiri with the delivery and it's straight into the box where Zuber finds himself free after a push.
49'   More dangerous from Switzerland. Marcelo steps in and takes it away from them. Lichtsteiner cross but Marcelo blocks for a throw.
48'   Brazil have started this half much better. Ball to Gabriel Jesus in behind but he can't make it to that one. Sommer gathers.
46'   Madre Mia. Casemiro with a really nasty one on Lichtsteiner. The Arsenal full-back touches it by him and he slides in, taking him out of it.
46'   We are back underway.
  Teams back out on the field now. No chages for Brazil, it seems.
45'+2'   Half-time. Coutinho GOL-A-ZO separates the side!
45'+2'   Nah, that won't do it. Ball comes in from a free and it's headed up to Allisson.
45'+2'   Nearly two! Thiago Silva arrives with the header from the corner. He gets it towards goal but it's just over. Nice move and nice delivery.
45'+1'   Marcelo cross is blocked for a corner.
45'   Two minutes of added time. 
43'   Zhaka really adventurous with his pass to Shaqiri but that's too deep. 
43'   Shaqiri with a cross that Casemiro heads back out where it came from. Brazil clear and Sqitzerland win it back.
41'   They can play a bit. That final pass letting them down at the moment though.
41'   We are back underway and Brazil on the ball. They have cooled down since that goal. They are throwing it around reall well but the Paulinho pass to Gabriel Jesus sees the Man City player lose out. 
39'   Switzerland with no chances yet. Shot comes in from Zuber and catches thiago Silva straight on the head. He hits the ground and we will have to stop here, it looks like.
37'   Dzemaili down the right and he played it to Seferovic. He tries a sneaky backheel but that's not really even to anyone. And he doesn't connect anyway. Brazil recover.
36'   Ball sent in and Brazil clear. Still no threat from them. 
36'   Switzerland keep the ball again. 
33'   Corner comes in and it's offside from Neymar as it came back out to him.
31'   Corner for Brazil.
31'   Free comes in and it's headed out by Seferovic.
31' No, wait, he didn't. Lichtsteiner booked.
31'   Lichtsteiner avoids a yellow on this occasion.
31'   Neymar absolutely clattered by Lichtsteiner. He grabs him around the neck and pulls him back. Absolutely no need for that. There'll be lots of yellows and potentially reds if that's the only way to defend Neymar.
30'   Paulinho has his legs taken out from under him. Brazil have a free. 
30'   Switzerland dominating possession now. 
30'   Neymar runs down the left now but his touch is out for a throw.
29'   Brazil haven't had it all their own way.
29'   Swiss attack again but Brazil defending quite well. Still no real chances given up. 
28'   Switzerland on the ball. Xhaka with a ball down the left but that's over the line.
27'   Back in action!
27'   Delays are good here because we get to see replays of Coutinho's goal.
26'   He wags his finger to the sideline that is to tell them he's okay.
26'   Looks like Casemiro caught it on the ear and he wags his finger, saying he's okay.
26'   Headed clear and Casemiro clashes headed with Schaer.
25'   All the big lads up. Corner coming in from Rodriguez.
24'   Switzerland attack down the left. Ball inside to Dzemaili and he wins a corner. 
22'   They lose it again. Switzerland do look rattled though. Not in a traditional way but they just seem afraid of what Brazil could possibly do. They don't want to be embarrassed here early on.
22'   Swiss take the ball now and try to move forward. Schar loses it and Gabriel Jesus drives forward.
22'   Brazil really in control.
21'   That's exactly where you can't let Coutinho get a free shot from. He has scored that identical goal so many times before. That's something none of the other big teams in this World Cup could do yet!
20' WHAT A GOAL! Coutinho with the finish. He curls it beyong Sommer. Marcelo sends it in, it's headed out to the Barca star and he curls it in. Perfect hit.
19'   Shaqiri out to Rodriguez and he goes backwards. Swiss holding the ball well now. That's before Zuber sends it towards Seferovic and it turns out that it's nowhere near him.
18'   Danilo to Willian but Behrami wins it back. Swiss back on the ball now.
17'   Gabriel Jesus breaks free and sends it across the penalty area. Sommer out and gathers. Paulinho arriving late into the box there.
17'   Switzerland under increasing pressure.
16'   There's only one man taking this. Neymar hits it into the wall.
15'   Neymar with a nice pull-back and Behrami takes him down. Free to Brazil in a dangerous position.
14'   Yann Sommer with a goalkick now.
12'   Neymar with one of those weird foot shakes. Plays a simple pass inside.
10'   Chance for Brazil. Neymar sends it in from the left and Paulinho swings a leg at it. It dribbles wide. So close though! Brazil getting into their stride now.
9'   He takes off across the field but gets stopped. He lays it off and grabs his jaw. Looks like he took an arm to the face.
8'   Rodriguez in at the back but Thiago Silva steps in and wins it back. Brazil counter. Neymar has it. 
6'   Rodriguez and Willian set for quite the battle out on that side of the field.
6'   Brazil attack. Willian with a stepover and then a cross but there's far too much pace on that.
5'   Brazil doing a lot of chasing now.
4'   Thumbs up all around from the Swiss. The move was right but the execution at the end wasn't.
4'   Ball sent in by shaqiri and Dzemaili chances an acrobatic shot. It goes flying over the bar.
2'   Sqitzerland on the ball to start. Brazil try to win it back and Willian fouls Rodriguez.
1'   Countdown reaches zero! Let's go. We are underway.
    Allisson with a quick prayer to the skies before he starts! 
  We are ready for action as Tite paces up and down the line. Lichtsteiner and Marcelo up for the toss.
    Brazil's national anthem sung. They are really up for this one.
Here's a closer look at Switzerland's potential tactics.
    Embolo was helped back from injury by Basel-born Roger Federer. The striker recently said, "I was lucky that Roger also comes from Basel and was often in the stadium. When I was injured he invited me to one of his matches and gave me tips - even offered me help. You always look up to athletes like that. You treasure every second with them and listen carefully."
    Seferovic is said to be struggling lately. Embolo, who was linked with a move to Manchester United before he suffered a serious ankle injury, could be an option and while he has been under the radar for a while, no bigger stage to announce himself!
    Much of the focus has been on Brazil, and as favourites, that is understandable but the Swiss won't be pushovers here. They showed that against Spain in a recent friendly when they made it really difficult for their opponents.
    Vladimir Petković has been managing Switzerland since 2014 with 40 games played, he has a record of 25 wins, 7 draws and 8 losses.
Here are some stats to back up the fact that Brazil are favourites according to Opta.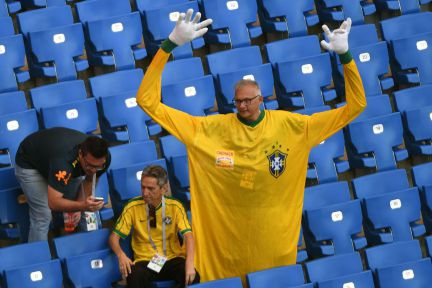 I am also not sure if this is a humblebrag or now? Neymar says he is the best player in the world because Ronaldo and Messi are from another planet!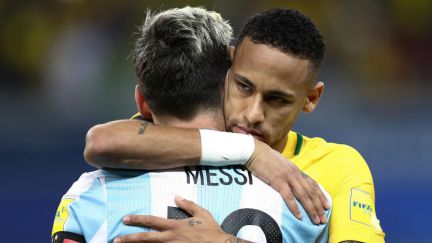 Neymar says he has "no fear of dreaming big" ahead of a World Cup which he is supposed to shine in.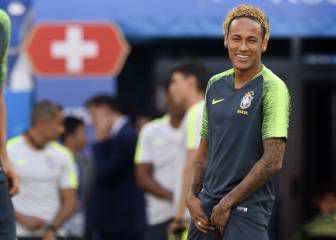 It might be smarter now for Brazil to finish second. They play the second placed team in Germany and Mexico's group. Incredible victory for Mexico. Although Brazil would love to get revenge on Germany in the last 16 when they are reeling.
    Switzerland XI: Sommer, Lichtsteiner, Akanji, Seferovic, Xhaka, Behrami, Rodriguez, Zuber, Dzemaili, Schar, Shaqiri.
    Brazil XI: Allisson, Silva, Miranda, Casemiro, Jesus, Neymar, Coutinho, Marcelo, Danilo, Paulinho, Willian.
Hello and welcome to our live coverage of Brazil vs Switzerland as they kick-off from Rostov Arena at 20:00 CEST on Sunday night.
Brazil vs Switzerland live online: preview
Brazil are back. Well, that's what we have been told and that's what most people think too. They have a team of world class talent and have tongues wagging heading into the World Cup. They play Switzerland on Sunday night with kick-off at 20:00 CEST.
Neymar has returned from the injury he suffered in Ligue 1 and the one that ultimately derailed his debut season with PSG. After months of rehab and recovery, he came on in a friendly against Croatia and scored as if he hadn't missed a minute of action. Tite is missing Dani Alves after he suffered an unfortunate injury to rule him out of what looks like his last World Cup. Gabriel Jesus has a chance to do what Ronaldo last did in 2002 when he finished as the tournament's top scorer while winning the thing. He has been compared to the former Barcelona and Real Madrid striker but says he is not focused on the Golden Boot. Meanwhile, they have a team smattered with talent indcluding Manchester United new lad, Fred, and the Real Madrid-linked Roma goalkeeper Allisson, who is currently being looked at by Europe's biggest and best clubs with a bidding war set to take off over his services.
Switzerland lost to Spain recently but they have the kind of attacking talent and defensive discipline to really trouble Brazil. Stephan Lichtsteiner and Ricardo Rodriguez are two exciting full-backs, even if the new Arsenal man has racked up 100 caps and is slowing down. Xherdan Shaqiri has a knack for big goals and has the capacity to outshine Neymar as outrageous as that might sound. It's hard to know what way Vlad Petkovic will set up his side but it will likely be a 4-2-3-1 and just how attacking they will be against one of the tournaments liveliest sides remains to be seen.