Russia - Egypt
Russia 3-1 Egypt: Group A World Cup Russia 2018 goals, report
Russia are all but into the knockout stages after a second-half flurry saw off Egypt, for whom the returning Mo Salah scored from the spot.
Hosts Russia have one foot in the World Cup knockout stages after a 15-minute flurry of second-half goals saw them defeat Egypt, for whom the returning Mohamed Salah scored a late consolation from the spot.
Salah returns, but Egypt undone by 15-minute blitz
Egypt were boosted by Salah's return from injury for Tuesday's Group A clash in Saint Petersburg but, after a scoreless first 45, found themselves 3-0 down on the hour mark thanks to an Ahmed Fathy own goal and strikes by Denis Cheryshev and Artem Dzyuba.
In an encounter played at a frenetic pace throughout, Salah got one back with 20 minutes left when he converted a penalty awarded for a Yuri Zhirkov foul on the Liverpool ace - after a VAR review had led referee Enrique Cáceres to reverse his initial decision to give a free-kick on the edge of the box.
Russia as good as through, Egypt as good as out
Russia, who have now hit eight goals in their two World Cup games, move onto six points from six and will be through to the last 16 - for the first time since the break-up of the Soviet Union - if Uruguay win or draw against Saudi Arabia on Wednesday.
Meanwhile, pointless Egypt's group-stage elimination will also be confirmed if the Saudis fail to beat Uruguay.
Russia 3-1 Egypt, World Cup 2018: as it happened
94'   Peeeeeep peeep peeeep! Russia see off Egypt with a second-half, three-goal flurry, and have one foot and a half in the next round. The Pharaohs pulled one back late on through the returning Mohamed Salah, but it was too little, too late, and they have one foot and a half on the plane home.
93'   So Russia will move onto six points and, unless Saudi Arabia surprise us all by beating Uruguay tomorrow, the hosts are through to the last 16. Meanwhile, Egypt will remain pointless, and their elimination will be mathematically confirmed if Uruguay either beat or draw with the Saudis.
90'   Four minutes of added time.
88'  Samedov's backheel almost gets Golovin in on goal for a fourth, but a white shirt is there to clear. Up the other end, Salah tries to bundle his way through the Russian backline and, when the ball is cleared, it falls straight to Warda in shooting space - but he drags a tame effort wide of the near post. 
87'   Warda crosses, Ignasevich clears. Egypt get the ball back into the box, Samedov clears. It's sent into the mixer for a third time, and Kupetov's clearance is only as far as Salah... but he can't find the target!
85' Russia make their third change, Zhirkov coming off for Kudryashov.
83' Smolov is the second man into the book, for an offence that I must confess I missed.
82' Egypt replace Mohsen with Kahraba.
80'   Russia break at pace and, when the ball reaches Smolov, he has time to look up on the edge of the area and roll it into Golovin in yards of shooting space. It's just too easy for the hosts. Thankfully for Egypt, Golovin's first touch isn't what he'd have hoped, and the chance is lost.
79' Off comes goal hero Dzyuba for Smolov, to a richly deserved ovation.
78'   Egypt are calling for another penalty after Mohsen appears to be dragged dwon by Kutepov, but the referee is not interested, and replays seem to suggest the striker was halfway down before coming together with his marker.
75'   Salah swings a menacing ball towards Sobhi at the back post, but Akinfeev is there to scoop up the ball at the second attempt. Egypt look decidedly heartened by that goal. Another now would really set the cat amongst the pigeons.
73'   Russia come back at the Egyptians and Dzyuba hangs highest at the back post to head one towards goal, but El Shenawy gathers comfortably.
71' Which he does! He buries it past Akinfeev. 3-1!
70'   Penalty to Egypt! Salah drops to the deck inside the box, the Egyptians appeal for a spot-kick, and the referee awards a free-kick on the edge of the box - but a short spot of VAR consulation later, and Salah has the chance to pull one back from 12 yards!
69' The ball falls to El Said 25 yards out, and he fires a wild effort well over.  
68' And that's Trezeguet's last involvement of the night. He's brought off for Stoke City's Ramadan Sobhi.
68' Trezeguet should make it 3-1! Salah lays it off to the forward in yards of shooting space on the edge of the box, but he side-foots it just wide!
65'   That was a seriously lovely goal by Dzyuba. Chest, control, bang.
63' Egypt make a change: Warda on for Elneny. The Pharaohs are shellshocked.
61'   It's another fine goal. Dzyuba pulls a high ball down on the edge of the box, makes a mug of Gabr and fires past El Shenawy from just inside the area! Cúper is fuming on the touchline.
61'   Three!
59'   Samedov feeds the run of Fernandes advancing towards the byline, and the right-back produces a cheeky drop of the shoulder to carve out the space to cut the ball back for Cheryshev to side-foot beneath El Shenawy and into the back of the net!
59' Gooooal! 2-0 to Russia and it's that man Cheryshev!
55'   There's another chance for Salah! The ball is played into the box and plops down to the Liverpool star, who just takes a moment or two to get it out of his feet before shooting from 12 yards or so, and in that time Fernandes scurries back into position to block.
53'   Zhirkov whips a ball into the box from the left, and Gabr scrambles it behind for a corner. One corner becomes two, before Egypt get it clear. Cúper's typically defensive side have to go for it.
49'   Russia have their tails up, and Golovin skips into position on the left before dinking over a cross that Hegazy desperately clears.
48'   As it stands, Russia are on six points out of six, Egypt are staring down the barrel of a first-round exit.
47'   Golovin sends in a cross that El Shenawy punches clear, only to see the ball come straight back into the box - and as he tries to hold off Dzyuba, Fathy only succeeds in turning the ball into the corner of his own net!
47' Gooooooal to Russia! It's not a pretty one.
46'   No changes.
45' Peeep! Back underway.
The teams are making their way back out in Saint Petersburg. Russia will probably be happy enough with a draw; for Egypt, anything other than a win is pretty much no good to their hopes of staying in the tournament beyond the group stages.
45' Peeep! Mr Cáceres blows his whistle and that's half time in Saint Petersburg. That was an enjoyable, if goalless, half of football. 
43'   "Only a little bit of Salah can be a lot for Egypt," purrs the commentator on Spanish TV. Meanwhile, Elneny feeds one into the run of El Said on the edge of the box, but he can't collect and the chance is lost. It's been a most watchable half of football. 
40'   There's a shooting chance for Salah! He receives the ball just inside the box, with Zhirkov blocking his path to goal. After taking a touch, he swivels and curls one towards Akinfeev's right-hand post, but is just wide of the target!
38'   Elneny gets himself into a pocket of space outside of the Russia box and floats a ball towards Mohsen, who nods a tame header straight into Akinfeev's arms, and is penalised for fouling his marker anyway. Moments earlier, Cheryshev took another potshot at goal, but was denied by a great block by the ref.
36'   Cheryshev sends in a lovely cross from the left, the type of ball which is asking for Dzyuba to launch himself at it. He doesn't.
33'   Abdul Shafy arrows an outside-of-the-boot cross towards the Russians' far post, where Salah is waiting to gobble it up - but Zhirkov is there in the nick of time to turn it behind for a corner. Mohsen then heads wide, but the Egyptians can take heart from the last couple of minutes.
32'   And that they promptly do. The Pharaohs enjoy a couple of minutes of ball time - pretty much exclusively in their own half or no more than ten yards across the halfway line, admittedly. But then Salah is almost in at the far post!
30'   Gazinskiy pings a ball from the left (where else...) towards Egypt's back post. The North Africans clear, but the hosts win it straight back. Egypt just need to get a hold of the ball once more after the past couple of minutes that Russia have had.
28'   Golovin scampers forward down the left and floats in a lovely ball towards Dzyuba... but Abdul Shafy clears! Russia are causing a little bit of mayhem down that Egyptian right flank, and a shot of Héctor Cúper on the touchline would seem to suggest that he knows it.
26'   Cheryshev flights a cross into the middle, and El Shenawy and Hegazy get in each other's way - but it's a mishap that Egypt survive.
24'   Salah brings down a long ball easy as you like and cuts inside, but as the space opens up for a shot he opts instead to lay it off to Trezeguet, who is advancing inwards on the left. He takes a touch and looks to find Akinfeev's far corner, but he's crowded out by red shirts and it's blocked. Might have been quicker about getting his shot away.
21'   Russia are really playing some rather decent stuff. Gazinskiy gets the byline and sends a dangerous ball into the box that Dzyuba can't quite get his head onto. Moments later, Gazinskiy has the ball at his feet once more, but slaps his effort off target from range. 
18'   Cheryshev picks the ball up on the opposite wing, and is deemed to have been tugged back by Fathy. Samedov stands over it once more, and though Egypt clear his delivery, it's only as far as Cheryshev waiting just outside of the box. The Villarreal winger wastes no time in getting it out of his feet and pinging one at goal.. but it's just over!
17'   Now it's Russia's turn to flight a dead ball into the box - but Samedov's free-kick delivery from the right is meat and drink for El Shenawy.
16'   Now Trezeguet curls one just past Akinfeev's far post! It's been a decent old game thus far.
14'   Egypt come back at the hosts, winning one corner, then another - and from the second, Fernandes has to be quick to take it off Mohsen's toes, with the striker ready to pull the trigger from six yards. It's been a promising response from the Pharaohs.
12'   Salah gets himself properly onto the ball for the first time. He cuts in from the left and looks to exchange passes with El Said, but is just run off it when he goes to take the return inside the box.
11'   Russia are fimly on top now. The hosts knock it about with evident confidence until Samedov gets himself into a crossing position on the right, but Dzyuba can't connect with it. Salah has had one (fleeting) touch of the ball, by my count.
8'   ...and it's cleared for a corner, which comes to nought. A lively few minutes from the hosts.
7'  8'   Russia come again, and earn a free-kick in swing-it-into-the-mixer territory on the left. Samedov to take...
6'   Just as I write that, Russia push forward and earn a corner that Ignasevich gets a firm head to - but can only direct into El Shenawy's hands. Immediately afterwards, Elneny gets himself in a terrible tangle just in front of his box and has his pocket picked by Golovin, but breathes a huge sigh of relief when the Russia midfielder's shot trundles wide.
5'   That Cheryshev-Dzyuba moment aside, Russia haven't seen anything of the ball. Egypt have had all the possession, albeit it in innocuous areas.
2' Egypt pop it about nicely for the first 60 seconds or so, before giving it away to Cheryshev, who quickly zips an angled ball into the box that Dzyuba can't quite get a hold of. If he had, he'd have been in on goal.
1'   Russia in red and white, Egypt in their white and black change strip. 
Peeeeep! We're underway!
Our math referee is Paraguay's Enrique Cáceres.
Anthems time! Egypt up first!
The teams are out in Saint Petersburg!
And Egypt's: El Hadary, Ekramy, Samir, Ashraf, Morsy, Gaber, Elmohamady, El-Wensh, Shikabala, Warda, Kahraba, Sobhi.
Btw, here's the Russia bench: Semenov, Kuzyaev, Smolov, Lunev, Kudryashov, Granat, Al Miranchuk, An Miranchuk, Gabulov, Erokhin, Smolnikov.
What else has been a-happ'ning in the World Cup today? Well, Japan kicked off the proceedings by earning themselves a surprise win over the much-fancied Colombia - who did, admittedly, have to play 86 minutes with ten men - before the day's other game in Group H saw Senegal beat Poland 2-1 to join the Japanese on three points.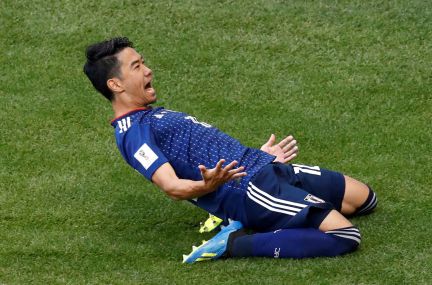 The warm-ups are well underway at Saint Petersburg Stadium: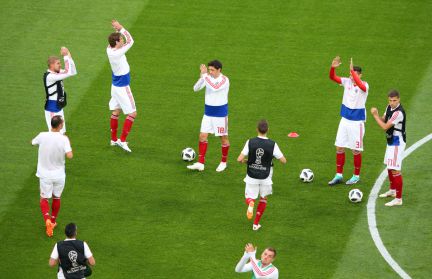 This is Russia and Egypt's first ever meeting, by the way.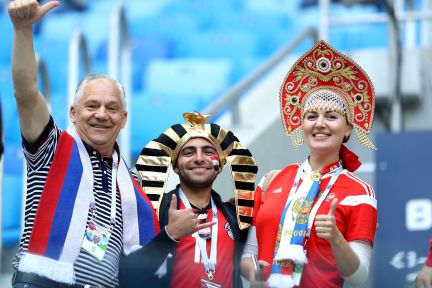 Incidentally, if you're looking to park yourself in front of a TV screen for tonight's game, you may wish to peruse our dashed useful guide on how and where to watch Russia vs Egypt: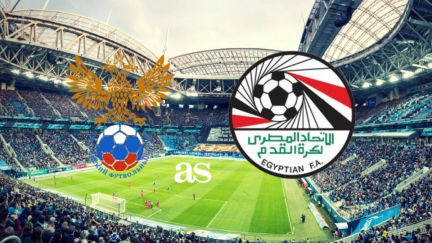 While Russia are suddenly dreaming of their best performance at a World Cup since the break-up of the Soviet Union, Egypt are still searching for their first ever win at the tournament finals - but their chances of doing that have just been upped considerably, it would be fair to say.
  So, a win today for Russia, coupled with any other than a victory for Saudi Arabia against Uruguay tomorrow - which, on the evidence of the other day at least, would be something of a turn-up for the books - and the hosts will be in the knockout stages for the first time since the Soviet era: Mexico 1986, to be precise.
Stanislav Cherchesov makes two changes to the team that boshed Saudi Arabia on the opening day: as expected, two-goal hero Denis Cheryshev comes in for the injured Alan Dzagoev, while striker Fyodor Smolov drops to the bench after misfiring on Thursday, and Artem Dzyuba, who scored within a minute of coming on for Smolov at Luzhniki Stadium, is handed a start.
  Here is that XI again, in old-school format: Akinfeev, Fernandes, Kutepov, Ignasevich, Zhirkov, Gazinskiy, Zobnin, Samedov, Golovin, Cheryshev, Dzyuba.
  The introduction of Salah is the only change to the side that lost to Uruguay.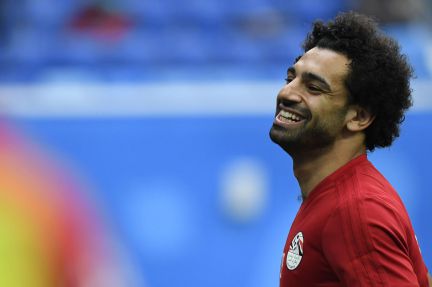 And here is that Egypt XI in straightforward text format: El Shenawy, Fathy, A. Gabr, Hegazy, Abdul Shafy, Elneny, Hamed, Salah, El Said, Trezeguet, Mohsen.
  As for Egypt, meanwhile, the Pharaohs come into their clash with the host nation having lost to Uruguay in agonising fashion in their opening game on Friday: after frustrated Óscar Tabárez's men for 89 minutes on Friday, they were undone at the death by a José María Giménez header. Ahead of today's game, all the talk has - unsurprisingly - revolved around the fitness of their star man, Mohamed Salah. Speaking in the build-up, coach Héctor Cúper had said he was "optimistic" that the Liverpool star, who missed the defeat to Uruguay, would be fit. And...
  Russia had been getting a jolly good slating in the lead-up to the World Cup - with some suggesting they were the worst side in the country's history - but, fresh from giving Saudi Arabia a thorough walloping in the tournament's opening game, the hosts are feeling really rather good about themselves. Indeed, a win tonight and they will have one foot (and a half) in the knockout stages.
Hello and welcome to our coverage of the Group A game between Russia and Egypt, live from St Petersburg. The match kicks off at 20:00 CEST, but we'll have plenty to keep you amused here. You can also follow Johnny's live coverage of the entertaining match between Poland and Senegal, where a a Brazilian born player's own goal has given Senegal the lead. So World Cup...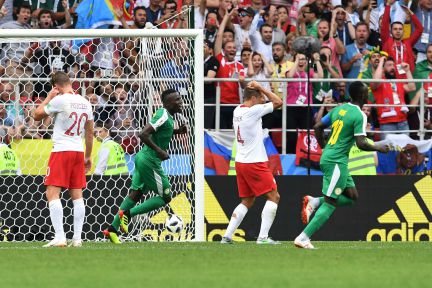 Russia vs Egypt, World Cup 2018: preview
Hosts Russia have the chance to leave themselves with one foot in the World Cup knockout stages this evening (20:00 CEST) as they face an Egypt side who are expected to welcome star man Mohamed Salah back into their line-up.
The expectactions surrounding Stanislav Cherchesov's side were not high coming into the finals, but a thumping 5-0 win over Saudi Arabia in the tournament's opening match on Thursday has left the Russians riding a wave of euphoria and within reach of progessing from the World Cup group stage for the first time since the break-up of the Soviet Union.
A victory tonight, coupled with anything other than an unexpected win for the Saudis over Uruguay in Group A's other round-two fixture tomorrow (16:00), would send Russia through to the last 16.
Denis Cheryshev, who scored two fine goals in the hammering of Saudi Arabia, is set to come into the side in Saint Petersburg in place of the injured Alan Dzagoev, while Yuri Zhirkov is fit despite having to train alone at the weekend.
Egypt expect Salah
Meanwhile, Egypt's Salah is to have a late fitness test after missing Friday's last-gasp 1-0 loss to Uruguay with the shoulder injury that he suffered in the Champions League final, with Pharaohs coach Héctor Cúper saying he is "optimistic" that the Liverpool forward will be able to play.
Ahmed Fathy and Tarek Hamed are both available to Cúper despite coming away from the defeat to Uruguay with injury issues.