Uruguay 1-0 Saudi Arabia: World Cup 2018 Group A goals, result
Luis Suárez celebrated his 100th cap by getting the only goal as Uruguay reached the last 16, and confirmed Russia's qualification from Group A.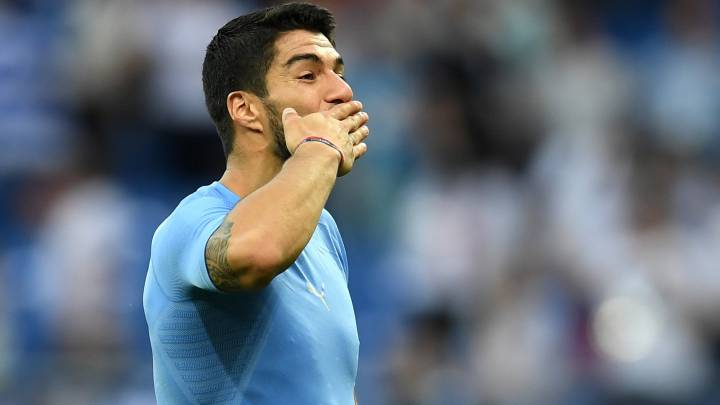 Uruguay beat Saudi Arabia 1-0 on Wednesday thanks to a goal from striker Luis Sáarez, propelling the South Americans and hosts Russia into the knockout stage and eliminating the Saudis.
Suárez marks 100th cap by sending Uruguay, Russia through
Suárez, making his 100th appearance for the national team, became the first Uruguayan to score in three different World Cups after a mistake by goalkeeper Mohammed Al-Owais following a corner in the 23rd minute.
But Uruguay's largely tepid performance against Saudi Arabia, the second-lowest ranked side of the tournament, did not calm fears that Suárez, 31, is not on his best form and may not be able to carry the two-time champions far in Russia.
The result also knocked out Egypt, who lost 3-1 to the Russians on Tuesday.
Uruguay, Russia to meet qualifiers from Group B in last 16
Uruguay and Russia from Group A will face Spain, Portugal, or Iran from Group B in the second round.
Uruguay vs Saudi Arabia live online | World Cup 2018: as it happened
90'+4' GAME OVER. Uruguay progress thanks to a Luis Suarez goal in the first half.
90'+4'   They do, it's cleared and that's it for Saudi Arabia's involvement in the World Cup.
90'+3'   Strange free. Suarez has the ball in the corner and he looks to have been fouled but the ref blows a free against him?! Not sure what he did, and neither is he. Saudi Arabia with 20 seconds to launch an attack.
90'+2'   Shot from Saudi. Takes a deflection and Muslrea is light enough on his feet to change direction and grab it. Time ticking now on Saudi. 
90'+1'   We are into the first minute of 4 minutes of added time.
90'+1'   Kanno with an effort but Muslera catches it. He hasn't really been tested today. Can't see Saudi Arabia changing that now. 
89'   Cavani on to Laxalt and he whips one towards Suarez. Really good pass that Suarez swings a foot at. Always going to be hard to execute and he slices that one wide.
86'   Cavani through but can't sore a tough one on the counter.
86'   Chance for Saudi Arabia. It bounces awkwardly and they can'ttake advantage.
85' Nahitan Nandez on for Carlos Sanchez.
85'   Saudi Arabia have five minutes to save their World Cup.
83'   As soon as they get close to goal, Uruguay close them down and win it back. Goal-kick on this occasion.
83'   Saudi Arabia on the ball now and looking to create a chance. 
81'   Uruguay taking over this one. kanno fouls Bentacur.
79'   Nearly two. Cavani has an effort with his head. Shot came in and Cavani hit it with his head but he couldn't do much with it. He has a smile on his face as he knew if that went in it would have been a pure fluke.
77'   Al-Sahlawi comes on for Al-Muwallad
77'   Free comes in from Sanchez and it's hit by Caceres even if he didn't know a whole lot about it. It hits Godin and he is offside.
77'   Another Saudi player coming on. Pizzi giving him instructions with the help of a translator.
77'   Tabarez up off the bench and giving directions. He wants five in midfielder by the looks of things.
75' Bahbri comes off and is replaced by Kanno.
74'   Pizzi bringing on a sub as he tries to wrestle the score back in Saudi's favour. They have 15 minutes to stay in the World Cup.
74'   Cavani goes down under a fairly heavy challenge from Osama. No free as the referee points for a goal-kick, which infuriates Cavani. 
72'   Uruguay with a throw now that Varela takes. They move forward up the field and Laxalt wins a throw. Really poor second half here. No make or shape to things and very few chances.
70'   Muslera hits the ground. Al Mogahwi collides with him. Godin leaned into the Saudi player and pushed him into the path of the keeper. He held onto it and looks okay.
69'   Carlos Sanchez with another chance to send in a free. Martin Caceres meets it with his head but that's over. Decent effort.
68'   Suarez hauled down by Al-Dawsari
67'   Really nice area to send it in. And it is fizzed in with plenty of speed. Headed out and then it comes back in. Muslera gathers. 
65'   Carlos Sanchez sends it towards the penalty area but it's blocked up into the air. Saudi Arabia counter. Fahad fouled and wants a card. 
64'   Carlos Sanchez fouled out on the side after whipping in a cross. Late tackle from Al Shahrani.
63'   Hasn't had too many chances in the second half though as Uruguay try to take the life out of this game.
63'   He stays on the ground and Uruguay take a quick free. Cavani puts it on Carlos Sanchez' head but he heads over the bar.
62'   Cross comes whizzing in and it's cleared by Uruguay. Luis Suarez fouled now.
61'   Long ball to Fahad now and he has no chance against Varela. It was just launched in his general direction.
59' Times for a change for Uruguay though. Laxalt replaces Rodriguez. Torreira replaces Vecino.
59'   A few times now the ball has burst with Adidas probably getting on the phone to their manufacturer.
59'   Strange thing. The counter for Saudi brought to a halt because the ball was burst. That was a really good break too. 
57'   Uruguay move forward again but a poor Suarez touches gives it back to Saudi Arabia. They have disimproved recently. No chances for them and less possession than before too.
55'   Luis Suarez loses the ball high up the field.
55'   Al Owais recieves the ball and he tries to flick the ball to Al Burayk. Cebolla Rodriguez putting pressure on and that's out for a throw.
54'   Saudi Arabia pushing forward again. Fahad ruled offside, by a mile. He has looked dangerous for Saudi even up against the rock that is Diego Godin.
53'   Ball lobbed up into the air that Muslera gathers. Saudi still haven't broken down that Uruguay defence. 
52'   Suarez tries to win the ball in the penalty area but is a little too eager with a foul on Osama Hawsawi. 
51'   Suarez is lining this up and he does shoot from way out. Takes a dangerous deflection and Al Owais punches it away down to his left.
50'   Free for Uruguay. Carlos Sanchez was fouled and Saudi Arabia aren't happy. Salman with a kick to the midfielder's thigh. Salman pointing at the place where a different foul was committed earlier. Doesn't matter. Free for Uruguay as Suarez stands over it.
48'   They work it short but that's cleared in the end by Cavani.
48'   This is the World Cup of set-pieces so not a bad thing for Saudi Arabia.
47'   Varela can't keep that one in as Saudi Arabia win a corner. 
46'   No changes for Uruguay. Or Saudi Arabia for that matter. Just the injury before the break that forced a change. 
46'   Back underway for the second half. 
45'+2'   Two minutes of added time are up! Uruguay lead thanks to a goal from a corner. 
45'+1'   Muslera gathers a through ball. Fahad and Godin were vying for that one and Godin ran across the striker's path, clearing him out in the process. Referee says no penalty. Just smart defending, you have to think he was saying. Maybe.
44' They still haven't replaced Taisir Al-Jassim as Uruguay get a kind of power pla. They eventually kick it out and replace him. Al Mogahwi comes on in his stead. 
44'   Uruguay putting pressure on now as we approach the break. Cross from the left is headed out. 
41'   No, he can't continue as he limps off. That's probably his World Cup over.
41'   Taisir Al-Jassim was on the ground before that counter. He lost the ball and looks like he can't continue. He slipped and did the splits almost. Looked like there was definitely a muscle damaged but he's back up. 
41'   Counter for Uruguay with Suarez. Sliding tackles comes in. Uruguay throw.
40'   Better from Saudi Arabia as it's sent into the box. Fahad takes it down but slips before he can get a second touch. Uruguay clear. But Saudi Arabia back on the offensive.
40'   Saudi drive forward.
40'   Carlos Sanchez sends one towards Luis suarez but Saudi Arabia clear. Even if it landed to him, it's all too tight there for Uruguay to do anything. 
38'   Cacares taken down by Hattan. No free as Saudi restart. 
37'   Saudi Arabia with a chance now Al Burayk sends a cross in from the right. He launches it out of sight and across the goals. Nobody anywhere near it.
36'   Uruguay back in possession now. Varela with a twist and then lets the ball go out for a throw.
34'   There's a nasty one now with Salem hauling Vecino down.
33'   Saudi Arabia continue to put pressure on but no breakthrough just yet. They have struggled to create chances during this spell but holding onto the ball.
30'   Cavani down after suffering a fairly heavy challenge from behind. Referee let one go on Saudi Arabia earlier and he couldn't really blow it but both were fouls. Otayf the man who felled the PSG striker.
28'   Switched across to Yasir and he swings one in. Two men jump for the ball and Godin misses it. It falls to Hattan and he drives over. Ball came to him very quickly and he did what he could, which was ultimately not enough.
28'   Uruguay playing the long game now with their passing around the middle. They're being picked off by Saudi too easily though. Another dispossession and Saudi Arabia attack down the right. 
26'   Shot from Saudi. It's Hattan and Muslera just touches that over the bar. 
25'   Edinson Cavani with a strike now and it's half-blocked and pops up to the keeper. Saved. Uruguay have settled into this now and that goal takes the edge off for them.
23' Luis Suarez on his 100th appearance for Uruguay as Al Owais swings a limp hand at the ball. Suarez taps it home. Easy for Uruguay.
23'   Rodriguez with another cross and it's blocked for a corner. Referee halts proceedings with a talking to for a few lads pushing and shoving.
21'   Fahad up the other end and he strikes over. Al-Dawsari found him out on the right. Awkward shot from an awkward angle and he probably should have come back with that. Too late now.
20'   Corner comes in byt Al Owais is equal to it.
20'   Sharp from Uruguay. Suarez to Caceres, and he offloads it before a cross comes in with Suarez as the target. Cleared for a corner.
19'   Uruguay lose out again and retreat. Saudi looking for a way through now. Fahad out to Babhir. They finding spaces in the final third but Uruguay closing them down where it matters.
19'   Goal-kick for Saudi.
18'   Godin put under pressure but he's as calm as you like as he feigns a pass to the keeper before turning and leaving the attacker behind him. Long ball now into Cebolla Rodriguez but that's too far for him and even reaching, he can't get to it.
17'   Throw for Uruguay. Varela with the toss into the middle and Vecino handles the ball.
15'   Suarez is raging. He has reason too.
15'   Varela chases what looks like a lost cause. He kept the ball in fairly obviously even if it looked like he hadn't. He clips it towards Suarez and he shoots from the tighest of angles. Put out for a corner but the referee says goal-kick.
14'   Saudi put under pressure as Carlos Sanchez closes the man with the ball down and forces a throw. Uruguay have settled into this one a little more. Two teams fighting for the ball but sitting deep when they lose it. No problem soaking up pressure.
13'   Cacares down the left hand side. He made a really nice run, chested it down and sent it towards Cavani. The PSG man shoots but that's well over. First time effort was always going to be hard to keep down.
12'   Luis Suarez fouled by Al-Dawsari. He just caught him late with a clumsy challenge.
11'   Saudi win the ball back and attack. They're on the right hand side now. They come inside and then Rodriguez steps in front of a ball back out to the right.
8'   Al-Dawsari with a foul on Varela as Uruguay think about attacking now. They'll start by throwing it around at the back.
8'   It's taken short and Salman sends it towards goal. Catching practice for Muslera so far. Nobody near him as he catches without having to move.
8'   Shot does come in but Vecino puts it out for a corner.
7'   Muslera trying to figure out where to put his wall.
7'   Outside the box and maybe a little too far out for a strike. Not ruling it out though.
7'   Al Owais with a free now from the back and Saudi win a free in a dangerous area. Hatan fouled by Vecino. 
6'   Ball into the corner and that's a throw for Saudi as Uruguay haven't started very well either. 
5'   That's a fairly woeful pass from Al-Dawsari and Uruguay recover. His intended target was three yards away and he missed him by two! Not good enough.
4'   Cross sent in by Al-Dawsari, the former Villarreal loanee, and Muslera gathers with no hassle.
4'   Cebolla Rodriguez with a foul and Saudi launch an attack.
3'   Ball into Cebolla Rodriguez and he heads it onto Suarez. He takes it down with his studs and drives a shot into a Saudi defender. Good effort and he caught that very well.
2'   Uruguay settle in quickest here as they throw the ball around with little or not pressure. Saudi Arabia sitting very, very deep.
1'   We are underway as Saudi kick-off and launch it into the corner. Goal-kick for Uruguay a Muslera gets an early kick.
    Let's see if their players can give them something else to cheer about. Luis Suarez with a look up into the crowd and looks to have found him family where he blows a number of kisses. Or else, he is just sending them up to some random fan, which would be weird.
    And now it's the Saudi Arabian national anthem.
    It's French man, Clement Turpin, who will whistle this one for us today. 
    Wonderfully sunny day in Rostov. And that's a rousing rendition of Uruguay's national anthem.
    Uruguay's national anthem is up. 
    Uruguay have the chance to end Saudi Arabia's hopes tonight, which would make their game against Russia a matter of who finished first or second. Egypt were knocked out last night with their loss to Russia and Saudi Arabia could be next.
    Teams are in the tunnel and ready to head out onto the field! Uruguay in their light blue strip and Saudi Arabia in their white jersey with a hint of green.
    Maxi Pereira, Diego Forlan, Diego Godin, Edinson Cavani and Cristian Rodriguez are the other players to play over 100 times for Uruguay. Luis Suarez joins their illustrious company today.
The Omar Hawsawi and Osama Hawsawi duo is broke up at the back too as Osama is replaced by Ali Al-Boleahi, their clubmate from Al-Hilal Riyadh. 
    Abdullah Al-Muaiouf replaced by Abdullah Al-Muaiouf after he conceded five goals in that opener against Russia.
    Juan Antonio Pizzi rings the changes for his side. He changed the keeper, centre back and a number of players in attack.
Giorgian de Arrascaeta and Nahitan Nández swapped out of Tabarez' starting eleven today. In come Carlos Sanchez and Christian Rodriguez to give them more muscle going forward.
Luis Suarez wins his 100th cap for Uruguay today. He is just the sixth player to have done so. He has also scored 51 goals in the 99 that went before today. He made his debut back in 2007 agains South Africa and didn't score that day but did score in his next outing against Bolivia in a 5-0 win. He hasn't stopped scoring since then pretty much.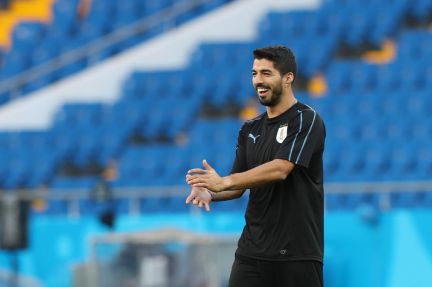 Saudi Arabia XI: Alowais, Osama, Ali, Alburayk, Salman, Hatan, Yasser, Otayf, Taiseer, Salem, Fahad.
 Here is Uruguay's XI to play Saudi Arabia: Muslera, Varela, Dogín, Giménez, Cáceres, Sanchez, Bentacur, Vecino, Rodriguez, Suárez, Cavani.
    Here is an interesting look into Oscar Tabarez and how he has turned them into a really good side again!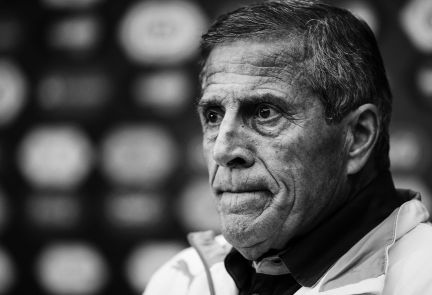 Hosts Russia made light work of the Saudi's in the tournament's opening game. Can they respond to avoid being the tournament whipping boys?
The South American side came into this group licking their lips as clear favourites but struggled against a weakened Egypt in the opener fixture.
Hello and welcome to our live coverage of Uruguay vs Saudi Arabia in Group A. We'll be building up to kick off with plenty of insight to keep you entertained...
Uruguay vs Saudi Arabia live online | World Cup 2018: match preview
Uruguay landed a last minute goal against Egypt in their first game and Suadi Arabia were disposed of by the hosts, Russia, in their first encounter. That Egyptian side, with Mo Salah starting in his first World Cup, were beaten by Russia on Tuesday and Uruguay struggled desperately past them as the jury is still out on their credentials in the World Cup. Saudi Arabai, on the other hand, were slapped with the "worst performance of the first round" after they tried and failed to overcome Russia on a scoreline of 5-0.
Uruguay's attack is world class but Oscar Tabarez plays a very practical style, counting on his defence, anchored by Atletico Madrid due Jose Gimenez and Diego Godin. One of their standout performers in the first round was Rodrigo Bentacur and you would expect a more dominant and self-assured performance from La Celeste against Saudi Arabis. A goal for If and he will become his country's joint-second top scorer at the FIFA World Cup beside Diego Forlan.
Juan Antonio Pizzi was criticised for his approach against Russia as they tried to play the ball out from the back and not stick to their strengths. He insisted he was doing what he felt was best but is considering shoring up his back line in an effort to prevent Suarez and Cavani running roughshod over his rattled forces.