Spain's Carvajal slams Iran antics: "I don't think that's football"
Dani Carvajal was not impressed by the Iranians' gamesmanship in Spain's 1-0 World Cup win over Carlos Queiroz's side on Wednesday.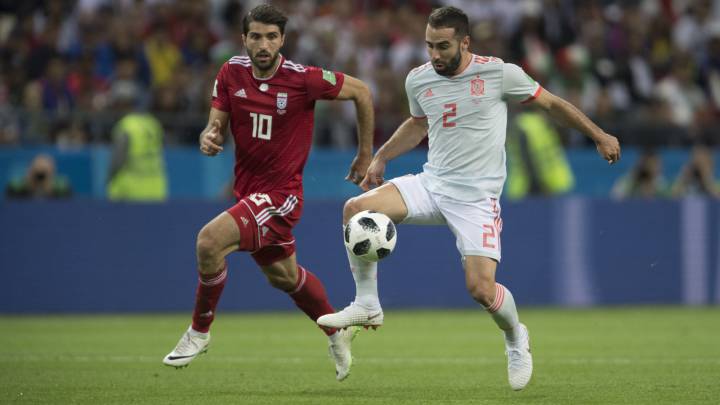 Iran 0-1 Spain: Dani Carvajal's post-match interview
Narrow win in Kazan: "We found it difficult. We knew it was going to be like this. Iran have a very clear game plan. The main thing is that we won the game, and we know exactly what we need to do to top the group."
Iran: "The way they set up their side to shut up shop is part and parcel of football, but all the time-wasting and feigning injury ruins the game. I don't think that's football; it's not in the spirit of the game."
Iranians' time-wasting: "Their players repeatedly went down for no reason, even when they weren't hurt, when they hadn't been fouled."
Iran's approach: "It's hard to play against a side that sits back and defends in numbers. These are the types of games that win World Cups. They're obstacles you have to negotiate; you just have to find a way to get those three points. Now what's most important is that we go on and top the group."
Spain display: "We went after the game that bit more in the second half."
Iran chances: "We had such a tough time getting our goal that I think the team kind of subconsciously looked to protect it. They created danger from dead balls, but we managed to keep a clean sheet."
Return from injury: "I'm really happy to have played my first game [at the World Cup] and helped the side to get the win. I feel fully fit and completely over my injury."