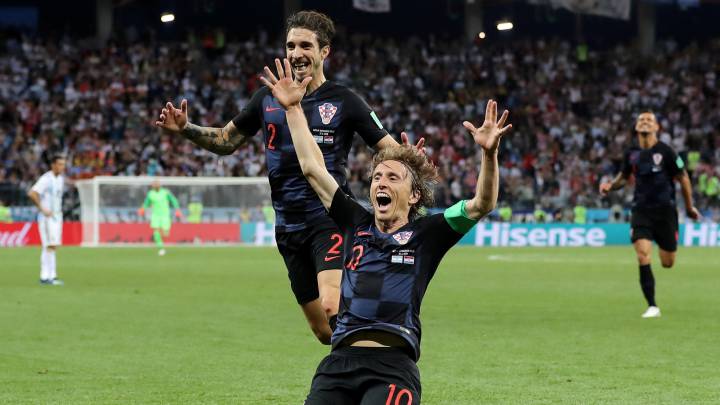 Argentina 0-3 Croatia: match report
Argentina's World Cups hang by a fraying thread after being thumped by Croatia in a Group D showdown that was billed as a game where Jorge Sampaoli's side had to show their credentials. From the start, they looked like a confused, nervous side with no cohesion and even fewer ambitions after the final whistle.
The opening half was a rollercoaster adventure with foul play more frequent than the flowing football many expected when Sampaoli took over the Argentinian side. Ante Rebic for Croatia was throwing his weight around and was lucky not to be sent off but Lionel Messi wasn't. He touched the ball less than Willy Caballero in the first 45 in a system that didn't seem to exentuate his qualities.
It was Rebic who got Croatia off the mark when a routine clearance was fluffed by Caballero as he tried to chip it over the attacker. The burly Rebic turned a struck a beauty past the keeper and a dagger to the heart of Argentina's chances.
It got worse from there as Sampaoli threw on Higuain but little changed. Croatia were looking increasingly dangerous on the break and Luka Modric struck on 80 to make it an even more bleak last 10 minutes. His curler into the bottom corner a expression of the game as he twisted and turned before striking beyond the reach of Caballero, who was at full stretch. This was Croatia in total control of an Argentina team who were gassed and never going to get where they needed to with how they were set up.
Ivan Rakitic, who was impeccable on the night and who had hit the crossbar from a free earlier after a nasty kick on the ground from Otamendi, really piled the insult on top of the injury. Kovacic squared him the ball and he rolled it home to make it 3-0 as time expired.
Messi and Argentina have Nigeria left and can still qualify but you have to wonder if it's even worth it for them if they stand a chance of being embarrassed again in the knock-out stage. Croatia took what Argentina had to throw at them and hurled it back in abundance and with two wins in two can look forward to the last 16 with confidence.
Argentina vs Croatia live online | World Cup 2018: as it happened
90'+4' GAME OVER! Croatia convincing but what happened to Argentina.
90'+4'   Another nasty one. Subasic caught by Tagliafico as he gathered the ball.
90'+4'   A lap of honour now for Croatia. Foul on Messi but no harm really.
90'+1' Three! Rakitic with the finish. Save by Willy Caballero into the path of Kovacic and he unselfishly pass to Rakitic. He slots home.
90'   Shot from Meza but that's blocked. No chance they score now at this stage.
89'   Kovacic with a cross into Mandzukic again. He strikes but it's blocked.
88'   A couple of minutes now for Argentina. A quick look at their bench and that is utter desolation on the faces of the players.
86'   Rakitic absolutelyrattles the crossbar. What a strike. Willy lost there. No chance for him but it rebounds back out.
84'   Otamendi booked as things kick off now. Lovren and Otamendi involved. He kicked the ball at Rakitic's head. Really nasty.
84'   Curtains for Argentina. Kovacic with a pass into Mandzukic's chest. Free now as Otamendi fouls. 
82'   Sampaoli doesn't know what to do on the sideline.
82' Perisic replaced now for Kovacic.
81' Modric with a goal. That should do it now for Argentina and Messi. The midfielder strikes from outside the box. He twists and turns and strikes into the bottom corner.
79'   Shot from Rakitic and it's blocked and cleared.
79'   This is dreadful from Argentina. 
79'   Foul by Perisic and Argentina counter.
78'   Corner for Argentina.
75'   Rakitic the man injured. He collided with Otamendi. His ribs in trouble.
75'   Mesis drives up the field and Dybala wins it before the ref stops it. Injury on the field.
74'   Lord. What was that? Acunña with a cross and it's way back at the back post. Nowhere near anyone.
73'   Messi fouled by Strinic and they get tangled up together. Messi really not happy.
73'   Mascherano falls over as he tries to back into Mandzukic. He sends it across the field and there's a mix-up. Almost another Croatia goal. Argentina recover.
71'   Kovacic coming on for Croatia. Argentina in real trouble now.
71'   Dybala takes the ball down on the right hand side, cuts in and shoots on his left! Curls that one well over.
70'   Croatia might need a change now. They look exhausted.
70'   Long ball over the top and Caballero grabs it.
68'   Dybala fouled immediately.
68' Dybala on for Enzo Perez.
68'   Foul now as Vrsaljko is booked. He goes through the back of Acuña and caught his back and shin. 
67'   Argentina trying to figure out a way through here. Messi really deep now.
66'   Ball out to Vrsaljko. He plays it to Mandzukic and he hits it into the side netting.
65'   Otamendi in over the top of Mandzukic. Free all day. 
65'   Vida slides in on Pavon, who is streaking clear. They don't even get a corner out of it. Brilliant defending from the Croatian.
63'   Otamendi climbing all over the defender's back from the corner. He heads it over.
63'   Higuain through, cuts it back and Meza shoots. He sees it saved, Messi follows up and it's out for a corner. So close. 
63'   Mesis is going to have to do it on his own. He tries to run through a whole pile of Croatian bodies and he nearly does but he's eventually stopped.
62'   Argentina attack and Pavon sends a cross into the box low and hard. Messi waiting in the box but too many Croatian players in the way. Cleared and Argentina have to think again.
61' Rebic replaced by Kramaric.
61' Mandzukic with a yellow card now.
60'   Messi biting his nails in the VIP area.
60'   Argentina with a half an hour to find something.
59'   Mandzukic with a knee into Meza's leg and he pulls him down. 
57'   Punched away by Caballero. 
56' Salvio off for Pavon.
55'   Perisic with a cross now and Mandzukic at the back post. Corner in the end. 
55'   Argentina haven't been at the races anyway.
55' Aguero off for Higuain.
55'   What an incredibly poor effort from Caballero. That was diabolical. You have to feel sorry for the chap but that was awful.
53' Willy Caballero with a chipped pass into the path of Rebic. GOAL! GOAL! GOAL! What an incredible howler. 
53'   Argentina on the ball. Messi cuts inside but he is closed down and he lays it off. Ball into Aguero from Salvio. Aguero shoots and Subasic saves.
51' Meza pulls it back to the edge of the box but Modric recovers. Rebic gets it and Mercado with a fairly dirty kick up around the shins. How is that not a red? He gets booked.
51'   Ball into Acuña and Lovren puts it out for a throw. 
50'   Ball across the box and Argentina clear. Just about. Messi fouled now in the middle.
49'   Argentina just a really nervous side.
49'   Argentina win it back and Messi pops it forward. Hand ball. They take the free quickly but Croatia defend it and clear. 
49'   Acuña tries to turn a defender and run but his touch is poor. 
48'   Argentina on the ball for the first time now in this half and they lose it just as quick through Aguero.
47'   Otamendi fouled by Mandzukic, who shields the ball a little too aggressively.
46'   Croatia win a throw down the left hand side through Rebic. Surprised he wasn't hooked at the break. He is one foul or so away from a red.
46'   We are back underway! No changes for either side.
    This is bad for Messi and Argentina. Even if they do make it to the knockout phases, in what shape will they get there? They'll be hammered.
    Argentina with no shots on target but 56% of possession.
    Aguero barely a factor.
    Messi barely a factor. The only bit of luck Argentina have had was down the left. 
45'+2'   He blows the whistle for half-time.
45'+2'   The referee doesn't go back to the scene of the crime.
45'+2'   Surely a yellow for that tackle on Vrsaljko. 
45'+2'   Vrsaljkotaken clean out of it. Croatia break and Rebic wins it. turns inside, shoots and curls it over! Argentina dodged a bullet there. 
45'   A weird and wacky half of football.
45'   We will have approximately two minutes of added time. 
45'   No cards and no free dished out. 
45'   Vrsaljko down now and in some pain. Yeah, Meza caught his foot and he stood on his ankle with the ball in the air. Nasty one but not sure it was on purpose. Vrsaljko asks what the.....
44'   Hand ball by Messi as he tries to close down a defender.
43'   Rebic with a hand across Salvio and gives away another free. He needs to be careful. Ball across the box and he took it down, almost. 
42'   Argentina pushing for the breakthrough. Messi plays it to Aguero and he lets the ball beat him before losing possession.
40'   Acuña versus three Croatians and he does quite well before just lobbing the ball out of play.
39' Sampaoli wants VAR! Rebic backs into Salvio and catches him with his studs. Yellow for the Croatian.
38'   Ball into the box and that's saved by Subasic.
36'   Mercado down and looks like he got winded in that collision.
36'  Mercado in a heap on the ground. He collided with Rebic and Rakitic and Croatia were away there.  Ref saves Argentina from a decent looking counter there.
35'   But Croatia giving them little space when they have a chance to set themselves up. Messi being marked out of it.
35'   Enzo Perez dispossessed. Argentina win a throw and keep the ball. They's progressing.
34'   Argentina back on the ball. This game has been mayhem. Two side who really want the ball, aren't comfortable off it and with ambition. A couple of sitters too and dreadful defending.
33'   Could have been the opener! Into the back post for Mandzukic. He was onside. He heads it wide having to stoop down. Made that more difficult than it needed to be.
31'   More pressure. Strinic the target this time as Salvio closes him down. Croatia throw is the result.
31'   Messi with a foul on Rakitic.
30'   Mistake again. What's Lovren doing now. He lets the attacker get goalside of him and Argentina get a shot away. Golden chance. Wide.
29'   Rebic ends up on the ground from a pass down the channel. Referee, quite clearly, tells him to get up.
28'   Messi with a ball into the box. Even he knows that's not good enough. 
27'   Naaaah. Argentina corner with Meza. Into the side netting.
26'   Long ball to Mandzukic. Salvio wins it back. Croatia pressing now and Argentina look nervous. They do break free though. Aguero with a nice move and he clips one into the box. Strinic gets back and heads clear.
26'   Subasic gets the ball caught under his feet. Meza nearly recovers. Croatia win a free instead.
25'   Strinic with a cross. Too far away from Mandzukic.
24'   Croatia pushing further up the field. Not good news for Argentina. 
23'   He's back up now and Croatia win the free.
23'   Mandzukic fouled by Otamendi. Good strong challenge by the defender. The Juve striker upturned. 
22'   Acuña hits the crossbar. He sends a cross in and Subasic lets it go over his head. Hits the bar! Very close. Subasic wasn't expecting that.
20'   And another dodgy pass at the back.
20'   Argentina get themselves in all sorts of trouble. Caballero gives a pass to Tagliafico and he's very lucky that Mandzukic fouled him. What are Argentina doing????
20'   Getting heated now as we expected it would.
19'   Foul by Mascherano on Modric. That came after Enzo Perez looked to have been fouled. Argentina players up in the ref's face.
19'   Croatia back on the ball. Subasic closed down by Aguero and Messi wins it. 
19'   Argentina with more possession but in the wrong places. Otamendi gives it away at the back now.
18'   Rebic with another foul. Ref tells him no more. He is full of adrenaline.
16'   Enzo Perez slides in. Rebic had caught someone with an elbow just before that. Rakitic the man who is hurt. A few really meaty ones in the last few minutes.
15'   Mascherano with a nice ball into Acuña but that's too far for him. A little bit ambitious and forced from the former Barca midfielder.
14'  Strinic with a foul.
14'   Argentina forced all the way back from the corner. They still have the ball though.
13'   Really lively start here. Messi sets it up for Salvio and Meza strikes. Blocked by Lovren for a corner.
12'   Ball clipped over the top and Messi tries to get a kick on it. What a pass that was. Outside of the boot.
11'   Modric heads on but Mandzukic was coming back from an offside position.
10'   Modric through to Perisic. Rakitic picks it up and Croatia through way too easily. Into the back where Vrsaljko knocks it into the middle. Argentina survive.
9'   Revenge on Mandzukic. Tagliafico stands on the Croatian's foot. Free for Argentina.
8'   Argentina throw. Messi hasn't had too much say so far.
7'   Mandzukic catches Otamendi late. He stood on his ankle and knew exactly what he was doing.
7'   Comes in and then it's cleared. Not entirely convincing but Argentina won't really mind. 
6'   Modric to take. The referee having a word in the middle. No BS, he says.
5'   Perisic with a shot across goal. Willy Caballero gets a hand to it. Corner Croatia.
3'   Argentina passing around at the back. Otamendi, Mercado and Tagliafico throwing the ball around trying to draw Croatia out. They do but almost lose it in the process.
2'   Argentina play it around the back. Ball sent straight up the field and touched on to Aguero. Croatia recover.
2'   They win it back again. Croatia very slopp in possession.
1'   Argentina win the ball back early on. They're on the attack now. Passing the ball around to settle themselves in. Croatia sitting deep.
1'   We are underway!!!
    First blood: Modric. He wins the toss. 
    Messi and Modric up for the toss. 
    And now Croatia! Those checkered flags waving proudly in the wind.
    Argentina's national anthem up first. Sampaoli looks really rattled. I think he might always look like that but tonight especially. In fairness, the camera person got right up in his grill. That would make anyone nervous.
    There were reports that Pavon would start tonight but obviously Sampaoli had different plans. He came on and Banega did too with both of them almost changing the game against Iceland but neither start.

    Some info on the best players at the World Cup so far. All of your stats here.

    Probably doesn't help when the likes of Hernan Crespo is comparing Messi to Maradonna. Those comparisons will get worse if they don't win the World Cup.

    General conception is that Messi has been let down by his teammates. 

    Luka Modric says he would swap all of his Real Madrid glory for World Cup win with Croatia.

    One man we 100% won't be seeing tonight is Croatia's Nikola Kalinic. He was sent home at the start of the week after refusing to come on for Croatia during their win over Nigeria.

    Diego Maradonna recently had a go at Sergio Ramos and said he wasn't a "crack". Ramos responded by saying Messi is light years ahead of the Argentine that he is so often compared to.

    Nobody really focusing on Croatia, who disposed of Nigeria in their first game. They had it fairly easy in that game but weren't excellent themselves by any means.
    Sampaoli's "mini-revolution" starts in one hour. After the Iceland game, they were saying he needed to change things and he has a little bit. Enzo Perez starts. He starts in place of Biglia and Acuña repleaces Di Maria.
    Croatia XI: Subasic, Vrsaljko, Strinic, Perisic, Lovren, Rakitic, Modric, Bozovic, Mandzukic, Rebic, Vida.
    We have an Argentinian XI: Caballero, Mercado, Otamendi, Tagliafico, Salvio, Acuña, Mascherano, Enzo Pérez, Meza, Leo Messi, Kun Agüero.
Both sides have their stars and the two that grab the most headlines play for LaLiga's big rivals: Barcelona's Lionel Messi and Real Madrid's Luka Modric. Much is expected from these creative geniuses, but coming out on top today is more likely to involve their supporting acts. 
Croatia come into this game in a much better situation. A 2-0 victory over a very disappointing Nigeria means they sit pretty at the top of the group and know that what ever happens in this game, a win over Iceland in the final game will guarantee a place in the next round. Beating Argentina, however, would ensure progression, with a game to spare.
Argentina come into this game surrounded by serious concerns about the possibilty of them not qualifying for the Last 16. A draw with little Iceland in their opening fixture has put real pressure on Sampaoli's team to avoid defeat (absolutely) or find a way to three points (likely required if they are to top the group).
Hello and welcome to our third game of the day as Argentina meet Croatia in Group D of the 2018 World Cup, the second match for both of these sides and one which could decide a whole lot.
Argentina vs Croatia live online | World Cup 2018 Group D: preview
Leo Messi's labyrinth
The labyrinth in which Leo Messi tends to lose himself every time he plays with Argentina sees him on yet another tricky route in Russia. The slip-up against Iceland in their opening game needs to be quickly corrected against Croatia. This Croatia side of Modric and Rakitic no less. The team who changed Spain's fate at the last European Championships and now see themselves as title contenders rather than mere participants. It's not going to be an easy afternoon for Argentina, for who anything less than a win makes life very difficult for them in their bid to top the group.
The criticism has been fierce since Argentina made their debut against Iceland. Messi came in for it too. His penalty, saved by Halldorsson, a film director, well reflected the match. It's not the Messi who plays for Barcelona, they say in Argentina. He never has been for his country. The '10' ran 7,617 on his World Cup 2018 debut, changed pace 17 times and took 11 of his side's 26 shots. He finished up with a success rate of 79% in the actions he attempted. That's to say a lot better than most, according to InStat data. Not enough say the critics.
Sampaoli's group management doesn't help either. The coach is so impulsive some of his decisions seem like shots into the sky. Against Iceland he put out an incomprehensible defensive double pivot (Mascherano-Biglia) against a rival looking to park the bus. Today he'l make changes - a constant search for solutions that never fixes the problem. The main difference today will be a change of set-up - moving to three central defenders with Rojo, Biglia and Di María missing out.
Croatia for their part come into this very differently. The win over Nigeria was built on the maturity of the team. Two goals from deadballs, and the idea to free up Modric as much as possible just a couple of examples of the fact they have a strategy. Luka scored, set one up and made another three goal scoring opportunities that weren't taken. As if that wasn't enough, Rakitic brought leadership, Madzukic the fight, Perisic the drive and new boys Rebic and Kramaric the freshness…