What Argentina need to qualify for World Cup 2018 last 16
It all seemed so bleak following the 3-0 disaster against Croatia, meaning Sampaoli's men had just one point from two games, but Nigeria have opened a door. USA vs Mexico: FIFA Friendly live online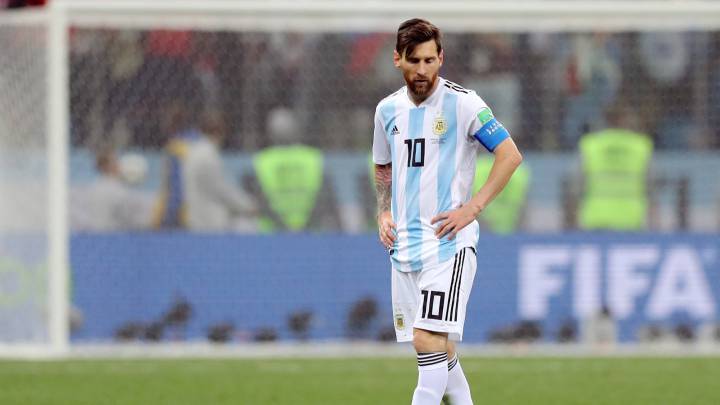 After Nigeria's 2-0 win over Iceland on Friday afternoon, there was an exciting situation created in Group D for the final matches, and one that put qualifying for the last 16 round back into Argentina's hands.
Argentine World Cup escapology
In what may be Lionel Messi's last chance to win a World Cup, the Argentina national team is on the edge of the abyss. They were torn apart by Croatia 3-0 in the second group game, adding nothing to the point they picked up against Iceland in their opener.
A defence in pieces, an insecure goalkeeper, an unrecognisable Messi and questionable tactical decisions on the part of Sampaoli have the Albiceleste needing to perform well in their final game and hope things don't go awry in the other between Croatia and Iceland. Had the islanders been victorious over Nigeria, the South Americans' early journey home would have already been sealed.
If the Nigeria side that turned up for the second half is the one to face Argentina, a win will not be guaranteed. But assuming they do overcome the Africans, here is what will to happen based on the other game in the group:
Iceland lose to Croatia
This is the best option for Messi and co. and on points alone would see them qualify.
Group D would be as follows: Croatia (9 points), Argentina (4 points), Nigeria (3 points) and Iceland (1 point).
Iceland draw with Croatia
This scenario is just as good for Argentina as long as they manage to overcome Nigeria - that is the key.
Group D would be as follows: Croatia (7 points), Argentina (4 points), Nigeria (3 points) and Iceland (2 points).
Iceland beat Croatia
Here is where the conversation get more complicated. A win on the final day for both Iceland and Argentina would put both sides on 4 points (Croatia would still top the group on 6 points and Nigeria would finish bottom on 3 points). The team to progress would be decided by goal difference - as per the Fifa tiebreaker rules - so the scores on the night would be crucial.
Going into the games, Iceland has a difference of -2 and Argentina of -3, so the Albiceleste would need to beat Nigeria by at least a goal more than Iceland beat Croatia.
Of course, there are other narratives in play here too. Some people think that Croatia may rest key players for their final game given that qualification is assured. Potentially falling to a loss to Iceland, though, runs the risk of forgoing first place to Nigeria. A win for the African side, with enough of a goal swing in their favour, would incredibly put them top of the group on six points.

After Thursday's catastrophe and the criticism of a whole nation, Messi's Argentina still have time to reverse the difficult situation and progress in the competition. One thing is for sure, it'll be compelling viewing...