Denmark 0-0 France live: World Cup Russia 2018, Group C
Follow all the action as Denmark take on France in Group C at the 2018 World Cup in the Luzhniki Stadium, Moscow, with kick-off at 16:00 CEST.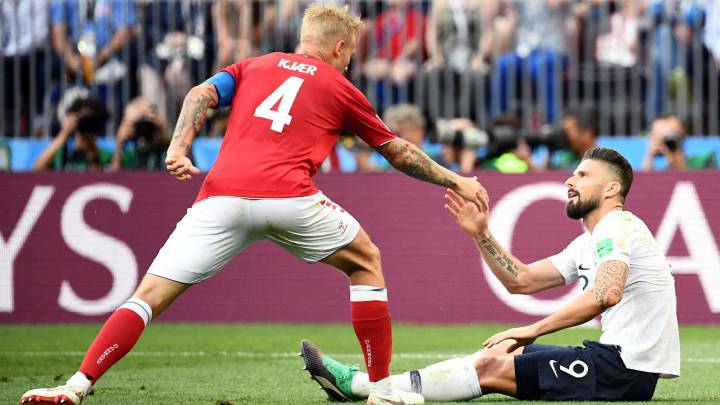 Denmark 0-0 France: match report
It had the makings of a good game but what transpired barely passed itself off as a game of football. France had already qualified but Denmark could have jumped them to set up a potentially easier tie in the last 16 with a win.
Instead, they sat back and were content with a draw; ditto France. Didier Deschamps rested Hugo Lloris, Paul Pogba, Benjamin Pavard and Samuel Umtiti for the tie against thei Group C but none of their replacements stood.
There was hardly even a chance to speak of with Steve Mandanda and Kasper Schmeichel enjoying a calm and controlled day in goals. They now wait to see who wins Group D and who finished second but one this is certain. They will both need to improve immeasurably if they fancy a pass into the quarter-finals.
Denmark vs France live: as it happened
90'+3' That was....poor! Game over and the fans not happy with the effort by the two teams.
90'+2'   Delaney can't continue. Lerager replaces him.
90'+1'   Mbappe runs into the box. Dangerous but it's out for a corner. Fekir gets it and crosses. Delaney down injured after being stood on as Mbappe left him in his wake.
89'   Cross comes in and Mbappe tries to control it. It's out for a corner though.
87'   Fans whistling the game now, it's that poor.
86'   Fekir has looked decent since he's come on. Lemar picked off after he played it out wide to Mendy and they try to attack down the left-hand side.
85'   Giroud pulled down by Kjaer in the penalty area. He looks for a penalty but no chance really and VAR not interested in even reviewing it.
84'   France run into a dead end in the penalty area. Mbappe just completely squeezed out.
82'   France awarded a free after Kante is pulled down. The collision between Eriksen and his teammate? We will just ignore that but it sums up this game. It's been dreadful.
81'   Long clearance and Schmeichel gathers.
78' Dembele replaces by Mbappe.
76'   Eriksen looking for a way through but Mandanda rushes off his line and clears. Now Fekir is battling for the ball out on the left. Denmark clear! Back and forth like that for all of this half with neither team really having too many chances.
75' Dolberg comes on for Denmark. He replaces Cornelius.
74'   Ball into the box from Mendy, who has delivered a few good crosses now, and Giroud heads wide.
72'   Denmark attacking down the left. Nice backheel from Eriksen before that which was cleared by Varane. Delaney goes down and kicks the ball out while he was on the ground. He's grabbing at his arm! Looked really sore. 
71'   He almost bent that one in from an almost impossible angle.
71'   Fekir with an effort and it hits the side netting! 
68'   Cross comes in from the left from Mendy. Griezmann falls and it's over Dembele's head.
63'   They have no identity and have not shown any today either.
63'   They have a corner now. Eriksen with a lovely ball in and Mandanda punches away. It comes back in via Fischer but France counter.
62'   Denmark have improved in this half and might be thinking about topping this group! If they do nick a goal, they will play wither Argentina or Nigeria or Iceland in the last 16.
60' Sisto is replaced by Fischer.
58'   Sisto, who has been very quiet, pops a ball into the box. It is headed out as far as Eriksen and he drives a shot wide.
55'   Kimpembe clashes with Cornelius, who is getting some fairly rough treatment. Straight into the chest! Referee says it was an accidental collision.
54'   Eriksen shoots and Mandanda fumbles the shot. Cornelius follows through and nearly gets something on it.
53'   Cornelius pushed in the back by Varane and as he falls, Varane's legs get tangled up. Foul for Denmark as the pair go crashing to the ground. This is Eriksen territory.
52'   Ball into Griezmann from the left. He tries to twist and turn into a shooting position but can't. Nice dummy from Giroud there. Kimpembe fouls Cornelius as they try to counter.
51'   Griezmann looks for the pass inside but Denmark close them off and clear. Griezmann gets the ball again and shoots, from a similar position, but that's saved by Schmeidchel.
50'   First change for France. Lucas Hernandez replaced by Mendy.
48'   Cornelius fouls Kante as he wraps his arm around the midfielder's head.
46'   Good ball into the box. Joergensen gets a free but it was Giroud who ended up on the ground. The two of them were handing a grappling match in the area. Ref rules in favour of the defender.
46'   We are underway for the second half! 
Peru remain on top against Asustralia thanks to the Carrillo goal in the first half.
As it stands, a Denmark goal and they would go top of the group. 
45'+2'   Half-time. He won't give France the chance to take the free.
45'+2' Griezmann counters. He nearly runs the entire length of the field and Joergensen chops him down after chasing him for about 30 yards! He finally see the chance to foul him and he does just that.
45'+2'   Corner for Denmark as N'Zonzi cuts it out to save Eriksen from getting a shot away. He'll get the chance to take a corner though.
45'+2'   Griezmann looks for Giroud and that rolls tamely to Schmeichel
45'+1'   We will have two minutes of added time. 
45'   Dembele with another effort. He brings it onto his left foot but he dribes the shot a mile over the bar. All of these half chances adding up for France even if they are slightly forced. 
43'   A proper chance for France. Ball down to Griezmann. It was Lemar who unlocked the defence with a lovely ball over the top (Griezmann was offside). He brought it down and played it to Giroud, who curls it well over the bar.
42'   Ball straight down to Mandanda.
41'   Sisto fouled and Denmark slow things down with a free.
41'   Dembele with a dangerous run down the right. He clips it towards goal but there's nobody there to send it home. Denmark clear.
39'   Nice ball by Eriksen over the top but France clear and attack. Griezmann picks it up, turns onto his left and shoots. Saved by Schmeichel. Not really troubling the Leicester City keeper.
39'   This game drifting towards half-time.
37'   Long ball down the left to Griezmann and Kjaer saves the day with a tackle for a throw.
36'   Kante plays it into Giroud and he tries to loft one to Griezmann. He lofts it but Griezmann falls over as he backpedals. Chance goes to waste. 
35'   Given the score in the other game, this suits France and Denmark just fine. Although you can't imagine they know the score yet. Half-time, I'm sure, they'll be told.
32'   Dembele with an ambitious effort. He strikes from outside the box with his right and it bounces just wide.
29'   Denmark counter. Cornelius with the best ball you will see! Absolutely perfect and Mandanda rushes out. Eriksen gets to it and he is bundled over. Looked like a penalty and Eriksen makes his case but the referee plays on. Dangerous from Denmark.
29'   Griezmann with a cross now but nobody in a France jersey anywhere close. 
28'   Kjaer down from that clearance. He's grabbing his ear or the back of his head. Replay show Giroud caught him with an elbow.
28'   Corner gets whipped in and Giroud jumps for it but Denmark clear it away. 
27'   It's a good delivery too. Catches Kjaer in two minds as he doesn't know whether to leave it or clear it. He remembers his defensive training as a youngster and clears for a corner.
26'   Lucas down the left. He crosses but Eriksen takes it down and clears. Denmark lose it again as France continue to apply pressure. Braithwaite fouls Thomas Lemar. Not a shooting position but Lemar is going to send it towards goal. Plenty of height in there with Varane, Giroud and Kimpembe.
24'   Another potential penalty. Joergensen gets a hand on the ball as it's crossed in but that's not going to do it. It was accidental and the referee's stance reflects that.
21'   Another penalty for Denmark there from that corner. Delaney thrown to the ground by Sidibe in the penalty area. It looked fairly obvious.
21'   Ball down to Eriksen and it's out for a throw.
21'   Kimpembe with a heavy touch and Denmark win the corner. Eriksen's delivery could be key here because it looks like set-pieces are the only situation where they might score. This delivery on the money but France clear. Denmark keep the ball. 
Peru have taken the lead against Australia. France and Denmark finishing as the top two as it stands.
20'   France dominating possession now. Long ball to Giroud and he pushes the defender in the back. 
18'   Cornelius does battle with Kimpembe down the right hand side. He puts it out for a throw. One of his first touches. France really improving in this game now and pushing further up the field. 
17'   Denmark really struggling in attack. No presence up front.
16'   Varane gets a head to the cross but it's not really sufficient contact. Glances it wide.
16'   Dalsgaard with the challenge on Lucas in the area. The Atlético Madrid man very hopeful.
16'   Referee giving the players a talking to before the corner arrives.
15'   Lucas hits the ground under a challenge in the box. No penalty and Giroud curls it over, forcing a save from Schmeichel. Corner for France.
15'   Denmark fighting to win it in the middle to launch a counter but Varane wins a throw.
14'   Griezmann with a ball over the top to Lucas and it's out for a throw to France.
13'   Denmark confined to launching it forward now and France with no fluidity moving forward.
13'   Neither team really grabbing control of this game.
11'   Braithwaite getting the VIP treatment now as Kimpembe and Lucas surround him. He almost sneaks out with the ball too but it's out for a goal-kick. 
10'   Ball across to Lucas Hernandez and he heads it out for a throw as he can't keep it down.
9'   France attack and Griezmann crosses to Giroud in the center but it's cleared.
8'   Braithwaite causing all sorts of problems for France.
6'   Eriksen sends it in and Kjaer heads it wide. He says he didn't and the ref says he did. Referee wins.
6'   Braithwaite again. He barges through the defence and gets a cross off but it's blocked for a corner.
4'   Surely a penalty?!?! Braithwaite pulled down by Kimpembe and no foul. He put his arm in over his shoulder and pulled him back.
2'   Pione Sisto fouled by Griezmann. He had one nibble and no foul and then went back for more and finally did hear it. Denmark with their first chance to move forward.
1'  France start out in possession. Kimpembe with plenty of early touches. He looks to be dictating things at the back for France.
1'   We are underway!
    Coin toss done and we are ready to get underway.
    Debate here as to whether Denmark and France will be going hell for leather in this one. Finishing top is a massive deal though as the winners will play Nigeria or Argentina or Croatia depending on how Group D finishes.
    Ah, La Marseillaise, what an anthem!
    The Danes sing their naional anthem. Simon Kjaer, Sevilla's central defender, at the top of the queue as he captains the side today.
    Justa a quick look at the Group before we kick off. 


    We are nearly ready for action from Luzhniki in Moscow. It's a tasty 24 degrees in the capital today!
    We will also be bringing you updates of the Australia vs Peru game right here too.
    Andreas Christensen replaces Lasse Schone today. Mathias Jorgensenwill swap with Christensen in defence. Also Andreas Cornelius takes Jorgensen's place up top Poulsen is suspended and will be replaced by Pione Sisto.
    We also saw the 19th and 20th penalties of the 2018 World Cup last night. The previous record was 18 in 1990, 1998, and 2002. That record is going to be smashed this summer!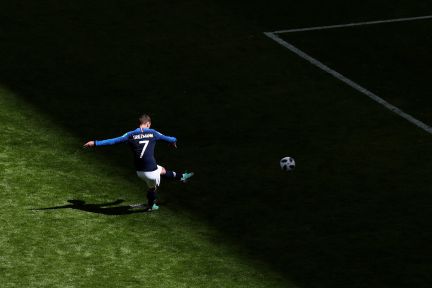 It's also Day 13 of the World Cup and we still haven't had a scoreless draw. What have we done to deserve this?!
    France XI: Mandanda, Kimpembe, Varane, Sidibe, Hernandez, Lemar, N'Zonzi, Kante, Giroud, Griezmann, Dembele.
    Denmak XI: Schmeichel, Kjaer, Christensen, Delaney, Eriksen, Braithwaite, Jorgensen, Dalsgaard, Stryger, Cornelius, Sisto.
Denmark vs France live: match preview
Denmark go up against already qualified France in Moscow on Tuesday requiring just a point to ensure they join Les Bleus in the knock-out stages of the 2018 World Cup.
Age Hareide's Danish Dynamite sit on four points in Group C, two behind Didier Deschamps' France, who must avoid defeat in the Luzhniki Stadium to claim top spot and a last 16 game against the runners-up in Group D, which remains wide open with Argentina, Iceland and current second-placed side Nigeria.
Denmark could still go out in the group stage if they lose and Australia beat Peru, who have yet to get off the mark in Russia. Hareide is unlikely to make too many changes to the side that drew with the Socceroos last time out. As ever, Denmark will look to talisman Christian Eriksen, who netted the opener in that match, to provide the creative spark against France but Hareide will also be aware that both of his starting wingers, Pione Sisto and Yussuf Yurary Poulsen are a caution away from suspension for a potential last 16 encounter with Croatia.
Deschamps also has the same issue to consider with Paul Pogba and Blaise Matuidi both on a yellow card but the France boss won't take any chances of missing out on top spot and will field his strongest possible team. Whether that will include Antoine Griezmann, who has yet to find the net in Russia from open play and has been criticised for his form in some national media outlets, remains to be seen: Deschamps has arguably the strongest squad at the tournament and was able to leave the likes of Ousmane Dembélé, Thomas Lemar, Nabil Fekir and Florian Thauvin on the bench against Peru.
The Les Bleus' coach opted for a physical approach up top in that game with the presence of Olivier Giroud and will likely do the same against a towering Danish defence who are rarely outgunned in aerial challenges.
Hareide caused some controversy last month by describing France as "nothing special." Deschamps will be more than happy to prove him wrong, not least because his much-fancied side have yet to fire in Russia. His Danish counterpart will hope that his observation will not come back to bite him in the backside if results elsewhere do not go his way.