The Maradona show: stardom, guts, sleep and celebration
One of the greatest of all time, and a legend of the Argentine national team, Diego Maradona stole some of the limelight as he watched Nigeria-Argentina.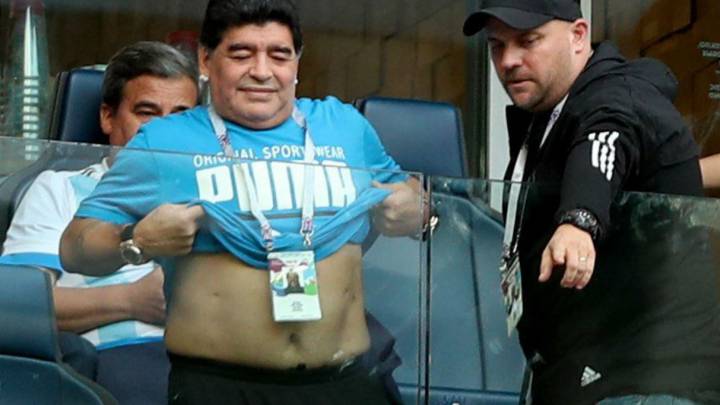 Despite only keeping an eye on the Nigeria-Argentina match from up in the stands, Diego Armando Maradona was one of the main protagonists of the Albiceleste's third, and decisive, group game in this World Cup in Russia.
Maradona's familiar gut
The legendary number 10 was given plenty of attention as soon as he arrived at the stadium. And once inside, the cameras were rarely off him, a scenario that he didn't appear too uncomfortable with as he interacted with the more mortal fans. One image that will remain with some for longer than they may want was of his sizeable gut, shown off as he leaned against the glass that separated his box from the stands.
With Messi's goal in the 13th minute suggesting a good night was to follow, Maradona was overwhelmed with joy, and looked as though a huge weight had been taken off his shoulders, similar to that sensation for the current natonal team on the pitch.
Sleep and celebrations for Argentina legend
Minutes later, however, that relaxation seemed to take him into an even calmer place, to the point that he fell asleep before the first half had come to a close. He was, of course, awake to see the late winner from Rojo that secured a Last 16 place. No doubt the snappers will be there en masse for Argentina's next game, against another of the pre-tournament favourites, France.