Serbia - Brazil: World Cup 2018, Group E, game 3
Follow all the action from the Spartak Stadium as Serbia and Brazil play their final game in Group E both with a chance to progress to the last 16. KO 20:00 CEST.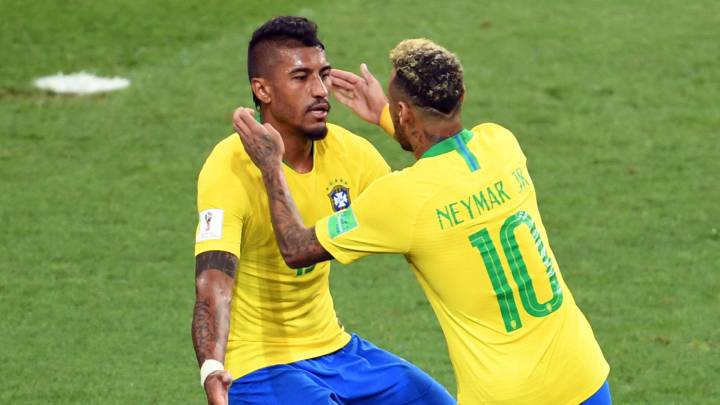 Serbia 0-2 Brazil: match report
Brazil cruised to a last 16 spot on Wednesday night against a Serbia side who could not find a spark up front to trouble Tite's side. Neymar didn't score and didn't star but his manager did say it would take him five games to get back up to speed. He will have the chance to hit top form if his teammates continue to find ways to win without ever exceeding their brief themselves.
In a group where nobody was guaranteed qualification, all Serbia had to do was beat Brazil to assure themselves of a place and it became a straight knock-out tie.
They fell behind in the first half after Coutinho found Paulinho, who made a surging run from midfield and poked home the inch-perfect pass. The Barcelona stars linked up with the help of Gabriel, who made a savvy run to drag a couple of defenders out of the play.
In the second half, Serbia pushed for an equaliser and they had chances through Aleksander Mitrovic, in particular, with his header being clear by Thiago Silva.
As Serbia looked to be grabbing control of the game, Brazil hit them for six with Neymar sent a corner into the box and Thiago Silva buried it at the front post with a powerful header.
After that, it was game management from Brazil, who finished top of their group after Switzerland drew with Costa Rica in the other game. Brazil play Mexico with the Swiss landing a last 16 tie against Sweden.
Serbia vs Brazil live | World Cup 2018: as it happened
90'+3' GAME OVER!
90'+3'   Neymar through and it's saved by Stojkovic.
90'   Ball in behind by Serbia but Thiago Silva clears.
88'   Neymar in the penalty area. He shoots and it's blocked. He really hasn't played well but Tite did say that it would take five games for him to get back to match sharpness.
85'   Ball across to Neymar. He races into the penalty area but he can't shoot! He plays it to Willian, who plays it to Fernandinho. The ball in behind is a beauty and Neymar gets on the end of it. Stojkovic saves.
83'   Willian sends a ball across to Neymar. He drives it into the ground and over the bar.
81'   Game scuttering to a finish here. 
81' Kostic off for Radonjic.
79' Renato Augusto replaced by Coutinho.
79'   Ball into the box. Matic chests it down and he spins and shoots wide.
77'   They keep it and Fagner gets it before playing a couple of passes to Willians. They're just playing it around the Serbians now.
76'   Serbia counter. Tadic tries to get it inside but the pass to him leaves him with a lot to do and his touch lets him down. Brazil back on the ball and throwing it around. 
75'   No changes yet for Serbia is strange even though they're 2-0 down and heading out of the World Cup as it stands.
74'   Neymar looks for Jesus in behind after a succession of passes to get him into passing position.
73'   Neymar looking to get on the scoresheet but it's blocked. Brazil in control of this one now and it looks like Serbia are finished in the World Cup. They had their purple patch but couldn't make Brazil pay. They are chasing shadows now. 
71'   What a strike! Filipe Luis with a strike that needs to be saved. He drove that towards goal.
70'   Coutinho grabs himself a yard and shoots. But Serbia close him down and that's a corner.
70'   Another cross blocked from Kolarov. 
68' THAT ENDS THAT! Goal. Thiago Silva with the header from the corner. He slams it home at the near post. After Serbia's good work, Brazil kill their dreams. They need three now.
68'   Brazil win a corner. Coutinho takes it short and gives it back to Neymar. He crosses and wins another corner.
66' Paulinho off and Fernandinho replaces him. He says two, which probably means two at the base of midfield. They need to do something here before Serbia score.
65'   Another chance from that right-hand side. Mitrovic heads down into the ground and Allisson falls on it.
64'   Fernandinho coming on for Brazil. He's getting some very strict instructions from his coach.
64'   Allisson down after hurting his shoulder.
63'   Milinkovic-Savic finally puts the ball wide with a shot and Brazil get a breather. That was four or five attacks in a row.
63'   Tadic crosses and it's nearly into the top corner. Filipe Luis clears and Serbia back on the attack.
62'   Another chance. Ball sent in from that right hand side. Brazil playing with fire here. Willian with a failed clearance and Serbia back on the attack.
61'   What a chance. Rukavina crosses and Allisson palms it out to Mitrovic. He heads it off Silva and it's grabbed by the keeper.
61'   Another half a chance for Brazil. Coutinho pops one towards Jesus. Stojkovic grabs it.
60'   Neymar fouled by Rukavina.
60'   Serbia taking over. They need a goal though. Nice ball in around the defence by Rukavina but it's straight to Allisson.
59'   Another corner. And then another corner after that.
57'   Neymar breaks clear on the left. Lovely ball by Coutinho with the outside of the boot. Neymar strikes and it's saved by the keeper. Corner.
55'   Ball comes in and Miranda kicks it over. It's a corner. Brazil will settle for that though. That could have been so much worse.
54'   Serbia with plenty of possession but they have no plan going forward. Strike from Milinkovic-Savic as a last resort is blocked by Miranda. 
53'   Serbia lose it and Coutinho recovers. Neymar and Coutinho link up but Serbia win it and counter. Milinkovic-Savic can't keep it! 
52'   Willian versus Kolarov and the Chelsea attacker sends it across goal. 
51'   Ball swung over to Neymar. Into Coutinoh and he loses it. Foul by Ljajic on Casemiro but advantage is played.
49'   Serbia on the ball now. Kolarov sends a cross in but it's blocked. They keep it and try to build again but pass in behind is out of play for a goal-kick. Allisson to take. This game lacking that edge most of the other games in this round have had.
49' Gabriel Jesus is fouled by Matic and he gets a booking.
49'   Serbia on the ball now and Neymar chases to Stojkovic as the ball rolls back to him.
48'   Neymar feigns injury. Ball into the air and he says he was stood on but he's fine and doesn't get a free.
47'   Veljkovic shadows Gabriel Jesus and the Kolarov with a foul on Willian. 
46'   We are back underway. No changes for either side.
45'   Half-time. Brazil in the driving seat here after Paulinho's toe-poked finish from a lovely Coutinho pass.
45'   Another Coutinho heatseeker of a pass. Looking for Neymar this time but Serbia put it out for a throw. He links up well with Filipe Luis and Neymar curls it over. Not bad.
45'   Serbia struggling up front at the moment. They have a good grip of the middle but one they move it forward, they lose out.
43'   Neymar caught with a challenge and hits the ground grabbing his face. No cards and he's back up and at them. 
42'   Sent into the box and it's headed clear.
41'   That's another corner. Willian chases Kostic down. Let's see what they do with this one.
40'   The referee has a word with the players in the box. Some pulling and dragging going on. It's crossed in eventually and Allisson punches away. Seems to be a plan to put it on top of the keeper to test him, perhaps, but he has been solid so far.
39'   Ball into the box as Serbia look for the equaliser. It's put out by Brazil for a corner. Filipe Luis says he didn't touch it.
38'   That could have been another yellow. Coutinoh hauled down. Lucky not to be a yellow card.
36' PAULINHO! Ball into the midfielder, who has been looking dangerous from the start with his runs from deep. Coutinho pass into his path. He pokes it over the keeper.
34'   Nice ball sent into the box byt Tadic. Mitrovic throws a left foot at it but he's leaning back and it flies over the bar.
33'   First blow landed in this game. 
32'   Ljajic given a booking and the referee calls someone off the bench to give them a talking to also. 
32'   Neymar fouled now down the left hand side. He gets his leg clipped. Definite free down the line.
32' Mitrovic gets a kick in the head from Silva. He might have dropped his head a little low but the referee gives a free to Serbia.
29'   Brazil have wrestled control of this one. Neymar playing very deep. He plays a lovely ball to Jesus. He is clean through, fakes a shot and then shoots with his right. Saved and put out for a corner by a scrambling defender. That was so close. Jesus knows it too.
26'   Gabriel gets his ankle looked at, twisted, turned, sprayed and eventually he limps off. He might have to go off here? He has his boot off after being stood on in that last attack.
25'   That was so close. Jesus and Neymar link up. The ball falls nicely to Neymar and he shoots. Saves with a strong hand from Stojkovic.
25'   Neymar switches play and sends it all the way across to Fagner.
24'   Neymar with a run down the right and he wins a throw. Filipe Luis to take.
22'   right in on top of Allisson and it's punched clear by the keeper.
22'   Serbia attack down the left and Kostic wins a corner. Fagner races across and slides in to concede the corner and prevent an attack.
21'   Nothing doing yet for either side though.
21'   Neymar with the ball in the box but Serbia recover. Kostic drives forward now and Serbia continue to look dangerous on the counter.
20'   Ball over the top searching for Paulinho again as Brazil grab some control on this one. Paulinho sends in a cross and it's cleared before Kolarov kicks it out for a corner.
19'   Hand ball by Milinkovic-Savic
18'   Lovely ball in behind with Paulinho racing through. Coutinho the man with the pass. That's too far though and Stojkovic gathers. 
17'   Ljajic looks for Mitrovic but Miranda bursts out in front of him and wins it back. The captain's role, Miranda, is playing tonight and he's playing it perfectly. Brazil back in possession.
16'   Brazil suffering here a little bit.
16'   Another dangerous ball into the box. Mitrovic takes it down and he gets a kick in the groin. It was accidental as Miranda followed through with his clearance. Brazil attack and Willian drives that out for a goal-kick.
15'   Corner comes in and Mitrovic heads it into the air. Then Fagner heads it down into the ground with a really poor clearance. Serbia recover.
14'   Meanwhile, Serbia win a corner.
14'   Serbia giving as good as they get here in this one. Brazil with no real fluid movement going forward but have looked dangerous. Serbia too, a very lively outfit. Game doesn't really have much of a pattern just yet.
12' 12' Free is launched in and Allisson gets ready to grab it but he decides that the first is the better option. Serbia recover.
12'   Kostic drives forward and Fagner pushes him in the back. Free for Serbia.
11'   Stojkovic gathers a ball and gets ready to restart Serbia's attack.
10' Marcelo is replaced by Filipe Luis.
9'   Filipe Luis coming on for Marcelo. The Brazilian defender is in tears.
9'   Slight delay now for Marcelo as he picks himself up and he's injured. Looks like he can't continue.
7'   Mitrovic fouls Silva. He backs into the defender and the PSG man flips over him. Quite dangerous. The striker is having his say but the ref tells him to calm down.
6'   Brazil win it back. Serbia counter though. Nice move into the box by Tadic but Miranda and Casemiro combine to clear. Serbia in the game now after a relatively slow start.
5'   Serbia on the ball for the first time now. They get themselves a free as Willian bundles over Kolarov. 
4'   Another attack from Brazil. Neymar plays it Jesus and he is about a mile offside. He shoots, it's saved and it was offside anyway.
2'   Brazil move forward and Neymar finds Coutinho. He shoots and it hits a Brazilian attacker and he's offside. Serbia survive but that was quite a bright start from Brazil. They looked good moving forward.
1'   Brazil on the ball. They win a throw. 
1'   We are underway at Spartak Stadium.
    The national anthems have been played and Serbia are about to get us underway!
    The only team that is out is Costa Rica after Switzerland and Brazil's draw in the first game means they are on four points, a tally Costa Rica can not match.
    Here is F365 explaining what needs to happen for each team to qualify tonight: "Brazil would be safely through with a win or a draw against Serbia and will top the group unless Switzerland better their result, or match it with a better goal margin – the Selecao's goal difference is currently one better. A draw with Costa Rica, who are out, would be enough for Switzerland and defeat could still see them qualify if Serbia also lose. A win would take Serbia through and a draw could be enough if Switzerland lose by two.
    Former Atlético Madrid defender, Miranda, captains the team today. Their warm-up is in full swing.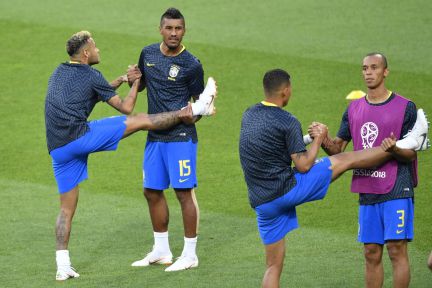 In come Milos Veljkovic, Antonio Rukavina and Adem Ljajic come in. Ivanovic seen as a liability against Neymar potentially. Antonio Rukavina is the same age as him. 34 years old.
    Dusko Tosic and Branislav Ivanovic and Luka Milivojevic all rested or dropped - whatever way you want to look at it. 
  Serbia XI: Stojkovic, Rukavina, Mitrovic, Tadic, Kolarov, Veljkovic, Milenkovic, Kostic, Sergej, Matic, Ljajic.
    Brazil XI: Allisson, Fagner, Silva, Miranda, Marcelo, Casemiro, Coutinho, Willian, Neymar, Jesus, Paulinho.
    "WE ARE CREATING A MONSTER," is what a former coach said about Neymar. Here is Tim Vickery on the attacker. Interesting read.
    Tite commenting in the press conference before the game: "I am not a calm guy. My essence is of a restless person. But I also have the conscience that the World Cup is also made of people, personal relations with the team and the staff, and we all need to be on good terms, feeling good about ourselves."
Serbia vs Brazil live | World Cup 2018: preview
Brazil came into this World Cup as one of the principle favourites to end victorious and head back to Rio on a wave of glory. But in what has turned out to be a group stage where few of the so-called 'big' teams have truly dominated, Neymar, Coutinho, Jesús and co. still have work to do to make it into the knockout stage. And Serbia have ambitions of their own.
Serbia
Serbia captain Aleksandar Kolarov made it clear how much the World Cup means to players Tuesday, saying that his team's final group game against Brazil would be a once-in-a-career opportunity.
Serbia, third in Group E with three points, are one behind Brazil and Switzerland and need to beat the South Americans on Wednesday to qualify without depending on the result of the Switzerland-Costa Rica match which will be played at the same time.
International football is facing an uphill battle to compete with the riches of the club game, but Kolarov, who has won two English Premier League titles with Manchester City, said that nothing could match representing his country on the world stage.
"I'm getting towards the end of my career and this will be the most important game of my career," he told reporters.
"Players know what this is all about. This is a global stage, it's a once-in-a-career opportunity to shine.
"You always want to play the best in the world....you have to test yourself against the best and I am sure we will be prepared for that and will enjoy the moment."
There was also some fighting talk from Serbia coach Mladen Krstajic.
"We have no fear of Brazil, but we have to be patient, disciplined and play as a team," he said. "We have to satisfy the Serbian nation. We have shown we have the quality, we have a mix of seasoned players and young lads who will be playing for another 10 years for our national team."
"We have nothing to lose but if we are not ready to give our all, then we will have lost...You may lose, but you must not shirk your responsibility."
Brazil
Brazil forward Neymar's tears at the end of the 2-0 World Cup win over Costa Rica should not be seen as emotional weakness, his coach Tite said on Tuesday, adding that he had also cried after games.
Neymar wept after Brazil scored twice in stoppage time to beat the Central Americans, a reaction that led the Brazilian media to suggest their team might be emotionally brittle.
"We mustn't think that a moment of emotion is a sign of emotional imbalance," Tite told reporters on the eve of the Group E match against Serbia where Brazil need a draw to qualify for the last 16. "I understand that there has to be a balance between reason and emotion, and there is a moment when you need ice, calm and lucidity," he said.
Tite then remembered that he also cried after Brazil won 3-0 away to Ecuador in a World Cup qualifier in his first match in charge two years ago.
"I want to tell the whole Brazilian nation that....I cried," he said. "When I called my wife, I cried with happiness, with satisfaction, because my characteristic is to be emotional. I cried with pride, as we were under so much pressure to play a good game."
Tite added that Brazil had refused to allow desperation to creep in as they pressed for a goal against Costa Rica -- a sign of mental strength.
"What is maintaining your gameplan? It's when you score a goal in the 91st minute by playing with the style the team has been playing since the start of the game. I was very happy with the way we reacted emotionally in the second half," he said.
Hoping to lead Brazil to a sixth world title, Tite said Neymar, who had a three-month injury layoff before the World Cup, needed one more game to reach full fitness.
"We are not placing an excessive responsibility on Neymar's shoulders for success or failure," he said. "It's the whole team which wins or loses."