Uruguay 2-1 Portugal World Cup 2018 last 16: match report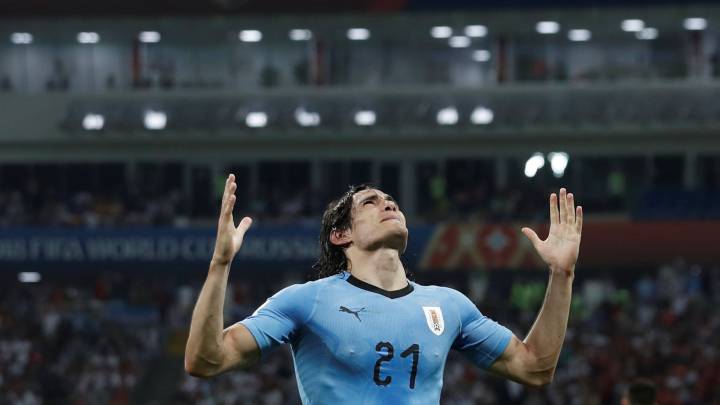 Uruguay 2-1 Portugal: match report
It wasn't pretty but nobody said it would. It was exciting though as Portugal's hopes of an international double were dealt a fatal blow against a gutsy Uruguay on Saturday night, a team with oodles in defence and just enough initiative in attack to see them through.
We were sold a main event of Luis Suarez versus Cristiano Ronaldo but it was Edinson Cavani got everyone talking. His seventh minute header from a fabulous Suarez cross set the tone for the game and kept Fernando Santos' side in chase for the remainder - even when they did draw level in the second half.
We didn't get a proper look at Portugal's gameplan because after that goal, every ounce of their being was directed towards getting one against a side who had not conceded in the World Cup. They struggled massively to trouble Muslera in Uruguay's goal but did dominate the game, which is just the way Uruguay saw it going when they went ahead.
Their game plan hit a speed bump on 55 minutes, however, when Pepe rose above Diego Godin to head home beyond a helpless Muslera. Cavani's cool was about to decide things though.
A route one effort saw the ball land to Suarez, who sent the ball across the penalty area into Cavani's path. With his confidence flowing from the earlier effort, he hit it first time beyond an outstretched Rui Patricio to give Uruguay back their lead and they weren't about to give it back. Cavani did have to be helped off the field shortly after, however, as he seemed to hurt his calf muslce - the only negative on an otherwise perfect day for the striker.
If scoring one used up a lot of Portugal's energy, scoring a second would prove beyond them. They tried their best from various angles. There was crosses from the left, and from the right, with speculative efforts thrown in to see if there was anything to be gained from that approach. But Uruguay doubled down on their defensive efforts and slammed the door in Portugal's face.
In the end, Uruguay held out and have lined themselves up to play France, with a place in the semi-final at stake, next Saturday.
Uruguay vs Portugal: as it happened
Uruguay vs Portugal: preview
Looking at the potential of their leaders, there's a fair few who have already booked Friday off in the expectation of a Cristiano Ronaldo vs Messi clash. But this is the World Cup and individuals tend to be less important here than the sum total, because the stand out stars can't be helped by the use of a chequebook - their teammates have to share the same passport. And getting to see this hypothetical duel is less than certain. Firstly because of the yellow cards - they are both one away from being suspended. Secondly, because of their form - if France, Argentina's rival have the strength of youth, Uruguay have experience. Tabárez's side have won their three games (against Egypt, Saudi Arabia and Russia), haven't conceded a goal and were able to link Cavani and Suárez to the rest of the team. They are solid at the back and lethal up front.
Cristiano Ronaldo v Godín

Any other striker would likely be pondering how to deal with facing Godín. Not Cristiano Ronaldo. He's played him 28 times and usually come out on top. The Portuguese striker has also beaten Muslera six times and on his form in Russia he looks a clear threat to do so again: Cristiano has scored four and taken 15 of Portugal's 32 shots. What's more, he could be free of a doubtful Giménez and he's chasing his own targets, as ever. After top scoring in the Champions League, he's now looking to do the same in the World Cup, something only Eusebio and Stoichkov have achieved.
But there are yet more appetising facets to this duel between Uruguay and Portugal. Even though the VAR may take a little of the edge off, the battle between Pepe and Suárez should be watched at a prudential distance. The defender is looking to push the European Champions to another title, while the striker (two goals so far) is dreaming of making up for his oral mishap in Brazil. Cristiano Ronaldo knows, just like the rest, that behind the Uruguayan wall lies the quarter finals, hence why he will be praying that Carvalho is fit. But he's also aware, just like the rest, that in that direction too lies his particular obsession, the Ballon d'Or. Much of that depends on who comes out on top in their singular derby: Godín or Cristiano.
Possible XI Uruguay
Fernando Muslera; Martin Caceres, Jose Maria Gimenez, Diego Godin, Diego Laxalt; Nahitan Nandez, Matias Vecino, Lucas Torreira, Rodrigo Bentancur; Luis Suarez and Edinson Cavani.
Possible XI Portugal

Rui Patricio; Cedric, Pepe, Jose Fonte, Raphael Guerreiro, William; Adrien Silva, Ricardo Quaresma, Joao Mario; Goncalo Guedes, Cristiano Ronaldo.