Uruguay 2-1 Portugal World Cup 2018 last 16: match report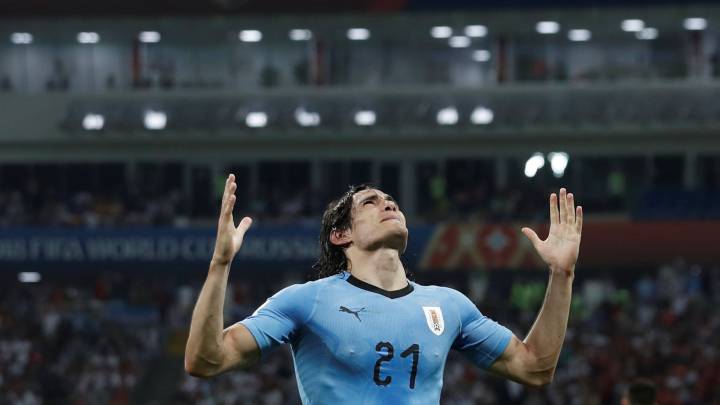 Uruguay 2-1 Portugal: match report
It wasn't pretty but nobody said it would. It was exciting though as Portugal's hopes of an international double were dealt a fatal blow against a gutsy Uruguay on Saturday night, a team with oodles in defence and just enough initiative in attack to see them through.
We were sold a main event of Luis Suarez versus Cristiano Ronaldo but it was Edinson Cavani got everyone talking. His seventh minute header from a fabulous Suarez cross set the tone for the game and kept Fernando Santos' side in chase for the remainder - even when they did draw level in the second half.
We didn't get a proper look at Portugal's gameplan because after that goal, every ounce of their being was directed towards getting one against a side who had not conceded in the World Cup. They struggled massively to trouble Muslera in Uruguay's goal but did dominate the game, which is just the way Uruguay saw it going when they went ahead.
Their game plan hit a speed bump on 55 minutes, however, when Pepe rose above Diego Godin to head home beyond a helpless Muslera. Cavani's cool was about to decide things though.
A route one effort saw the ball land to Suarez, who sent the ball across the penalty area into Cavani's path. With his confidence flowing from the earlier effort, he hit it first time beyond an outstretched Rui Patricio to give Uruguay back their lead and they weren't about to give it back. Cavani did have to be helped off the field shortly after, however, as he seemed to hurt his calf muslce - the only negative on an otherwise perfect day for the striker.
If scoring one used up a lot of Portugal's energy, scoring a second would prove beyond them. They tried their best from various angles. There was crosses from the left, and from the right, with speculative efforts thrown in to see if there was anything to be gained from that approach. But Uruguay doubled down on their defensive efforts and slammed the door in Portugal's face.
In the end, Uruguay held out and have lined themselves up to play France, with a place in the semi-final at stake, next Saturday.
Uruguay vs Portugal: as it happened
90'+6' GAME OVER!
90'+6'   He's still playing on. Muslera catches another cross.
90'+4'   Ball comes in and Rui Patricio almsost heads it. Gimenez blocks it. 
90'+4'   Ball comes in and three Portuguese players end up on the ground. Quaresma gets it at the back post and strikes. Saved by Muslera.
90'+4' Quaresma fouled, it looks like. He doesn't give a free as Stuani catches him. Quaresma with his face right up in the referee's. Ronaldo the man booked for throwing some abuse at the ref too.
90'+3'   They finally feel like they're on the brink. Guerreiro gives it away and Luis Suarez sends it in from the right to Cebolla Rodriguez. He gets a touch on it but he takes it over the endline. 
90'+2'   Ball into the box and Ronaldo jumps for it but ends up on the ground. Uruguay clear again. Now, finally, Portugal increasing the intensity of this. 
90'+1'   Ronaldo with a shot from outside the box. That is absolutely dreadful as he sends it a mile wide.
89'   Laxalt with a driving run out from the back. He collides with Pereira and he wins a free. He has been very impressive so far.
89'   Portugal with a chance. Ronaldo's pass inside and that's cleared by Uruguay.
88'   Cebolla Rodriguez with a cross and that's put out for a throw. Uruguay in no hurry to take this. Ball into the box again and Stuani picks it up. They eventually give it up and Portugal have a goal kick. 
87'   That's not going to work. It's a shot from Fernandes and he drives that wide. Santos and Ronaldo not happy with his decision making there and rightly so.
86'   Really dangerous ball into the box. Headed out and cleared by Uruguay. 
85'   Fernandes with an effort immediately as he drives a shot towards Muslera but he deals with it.
84' Fernandes replaces Joao Mario.
84'   Godin with world class defending. Pereira tries to go around him to get a corner and Godin just stands his ground. Brilliant stuff!
83'   Dangerous ball in from the left and Ronaldo gets the sumerhuman height on one of his jumps but he can't jump high enough. Another ball in now and that's from the right. Cleared again. Uruguay really up against it now.
82'   Ronaldo with a run into the box and Vecino just takes it off his foot. Brilliant defending.
81'   He takes his sweet time to make his way off the field before the referee tells him to hurry up.
81' Nandez being replaced by Carlos Sanchez.
80'   Uruguay with another clearance. Corner for Portugal.
79'   Ball delivered in by Quaresma. Cleared again by Uruguay.
78'   Muslera can't kick the ball out now as Godin elected to kick the ball out. That's how tired everyone is. Portugal pick it up and continue to move up the field!
76' Stuani eventually replaces Cavani.
76'   Uruguay growing more and more desperate up front. They can't keep it up there for any length of time.
75'   Pereira with a perfect chance to cross but he slips and kicks it up and out over the endline.
74' Guedes replaces by Silva.
73'   Carvalho out to Quaresma and he plays it to Pereira. He wins a throw when his cross is blocked.
72'   Ronaldo with a decent elastico and then sends the cross into the box. Nobody in sight as he tells his teammates to move into the box.
71'   Ronaldo helping Cavani off the field. He seems to have cramped and that's really not good. He immediately says his day is done. Could be out for the rest of the World Cup if that's a muscle injury.
70'   Ball into the box. Muslera panics and runs out to grab it and makes complete mess of it. Silva has the ball with no keeper and he shoots but it's over the bar. He was at a difficult position. Keeper complaining but he was the one who made a mess of it.
70'   Portugal continue to look somewhat dangerous but haven't really troubled Muslera aside from that goal, which he didn't even touch.
68'   Ball nearly falls to Ronaldo but doesn't quite. He has been poor today.
68'   Corner for Portugal. 
68' Quaresma replaces Silva.
68'   Plenty of late tackles flying in now and the game is getting sloppier.
66'   Suarez has gone really quite in this half but he picks up a ball that was down into his direction. 
65'   Bernardo Silva with a lovely little flick into the danger zone. Ronaldo nearly gets on the end of it. It's kicked out by Uruguay as Nandez comes across to avert the danger.
63' Cebolla Rodriguez comes on for Uruguay. He replaces Rodrigo Bentancur.
63'   Ball sent into the box and Muslera thankful as that one bounces right up into his chest.
62'   Pepe mistimes his jump. Guerreiro doesn't close down Bentancur. That is route one football but very poor defending from Portugal also.
62'   Oh me, oh my! What a finish that was. Edinson Cavani curls it home. 
61'   Ball headed back into the box by Fonte and it's headed back into Muslera's arms. 
61'   They work it short and Adrien Silva wins another corner. Portugal definitely in control of this one now.
61'   Same side as Pepe's earlier effort.
61'   Guedes now with an effort that is blocked out for a corner!
60'   Nandez very optimistic in trying to beat Carvalho. The midfielder just steps in to diffuse the situation. No problem for him as Nandez is left chasing his shadow.
59'   Joao Mario sends a ball from the right into the left. Portugal keep it. 
58'   Corner for Uruguay and Rui Patricio comfortable with that one. He launches it down to Ronaldo and they have the ball with Uruguay scrambling back into position. They've come out with more purpose in this half.
57'   Ronaldo collides with Gimenez. Referee says no free. Ball into the box that Godin takes down and plays to Laxalt. Nasty one as he is then taken down by Ricardo Pereira. No yellows in this one yet.
56' Corner comes in and Pepe rises highest for it. He buries it! Lovely header.
55'   A real scramble in the boy. Silva with the cross. Ronaldo drops it off and th shot comes in. Blocked out for a corner.
54'   Poor clearance from Muslera even if he has loads of time. Gimenez clears the ball into the box now.
53'   Godin with another clearance.
51'   Corner now for Portugal. They're really starting to dominate now at the start of this half. Guerreiro with the shot on his left-foot but Muslera sees it off. It was going on target once upon a time but it drifts wide.
51'   Pereira with a cross and Godin beats it away again. Incredible stuff from Godin. Not doing anything extraordinary but just enough.
50'   Guedes fouls Nandez. 
48'   Suarez puts Pepe under all sorts of pressure and he kicks it out over the endline. It took a clip off the striker. Portugal nearly got themselves into a mess there.
48'   Really nice ball into the box from Pereira. But it's headed clear by Uruguay. They will be such a tough defence to break down for anyone if they do manage to advance.
47'   No changes for either side. 
46'   We are back underway! Massive half ahead of us.
45'+2'   that's it for the first half. Interesting half with plenty of chances. That Cavani header the difference though.
45'+2'   Cavani gets the ball on the volley as it bounces up to him and he drives it wide.
45'+1'   Cavani keeps his eye on Bernardo Silva and the ball eventually comes in. Muslera with an impressive catch as Pepe collides with him.
45'   Suarez does finally get attention and he is okay to continue. Much ado about nothing.
44'   Ball floated into Suarez and he is down grabbing his head. Guerreiro the man who caught the striker. Referee won't stop play.
43'   Uruguay win another free and they slow down before the half. 
41'   Portugal looking more dangerous down the wings though and Joao Mario goes off on a solo run. He slips and Bentancur recovers. 
41'   Nandez and Carvalho do battle with the two of them on the ground. It turns out the Portuguese midfielder fouled the Uruguayan and they're back in possession.
40'   And now Uruguay win a goal-kick when it looked like the ball came off Martin Caceres' knee. Portugal fans not happy and feel that's two decisions that went against them.
39'   Ronaldo goes down the left-hand side and he wins a throw. He wants more but it was a good tackle. 
38'   Cross comes in and Godin collides with Guedes in the air. He's down grabbing his head. Ronaldo in the vicinity too but couldn't get a head to it. Guedes back up and shakes off his knock. 
37'   Bernardo Silva with a foul on Cavani. A little bit of a meal made of it but it's a free despite Silva's pleas of innocence.
35'   Suarez gets the ball down the line. Suarez goes down with his hands on his knees on the ball. Caceress gets it and plays it outside. Cross comes in and it falls to Cavani. Nope.
33'   More danger from Uruguay but Portugal clear the through ball. Cross in from Caceres is blocked too and Portugal take over.
33'   Frustrating night so far for Ronaldo and co.
32'  Torreira with the perfectly-executed bicycle kick.
32'   He hits the wall with it. And it's acrobatically cleared with a chilena.
31'   Might be a little too close in.
31'   Foul by Bentancur. He put his foot where it didn't belong and he takes Guedes down. Ronaldo will surely be thinking GOAL! with this one.
30'   That a free as Guerreiro is fouled by Nandez. He got caught flat-footed and the left-back runs into him. Obstruction and the referee got that one right. Portugal seeing plenty of the ball but Uruguay still in control of this one. 
29'   Ronaldo receives the ball from Pepe and Godin fouls him. Advantage played and Portugal keep the ball. Cavalho out to Guerreiro and Caceres puts him under all sorts of pressure. He kicks the ball out for a throw in the end.
29'   Laxalt and Cavani link up on the left. Cavani playing very deep. He is having quite the impact. 
28'   Cavani tripped up by Pereira. The striker wants a yellow card and he says it to the ref too. Referee has a word with the PSG striker about asking for cards. He's not happy.
27'   Another ball in as Silva heads towards goal. Muslera off his line like a shot. 
26'   Anyway, it's a free for Portugal. All the big boys in the box. Great delivery and Carvalho is there waiting for it but he can't header it.
25'   Bernardo Silva runs down the line and Godin just catches him. The Man City striker wants a card but the referee not in the giving mood.
24'   Unfortunate handball from Guedes. Ball into the box by Joao Mario and the attacker kicks it onto his hand.
22'   What a save. Suarez with an almost perfect free-kick. He sends the shot low and hard into the corner and Rui Patricio is equal to it. He palms it away. Uruguay keep the ball and cross in is cleared. Uruguay really growing into this game and so confident on the ball.
21'   Suarez causing all sorts of problems for Portugal. Fonte jumps in to stop him now and Suarez makes a meal of it and wins the free. Definitely a foul.
20'   Raphael Guerreiro clatters into Suarez and that's a free to Uruguay. Suarez was waiting for it and did make the most of it but the left-back a little bit too anxious to get to the ball.
19'   Ronaldo with the ball on the left. He cuts inside and thinks about shooting, not twice, but thrice! He can't find the right moment. Portugal keep it. Ball into the box and it's crossed into Ronaldo. Headed clear by Uruguay.
18'   Ricardo Pereira with a move down the right and he crosses low and hard. Muslera grabs it though.
16'   Carvalho takes advantage of a loss of possession from Uruguay. He looks to have been fouled but he carries on. Tries a right-footed effort but it's blocked.
15'   Caceres jumps in on Fonte as he tries to clear. He rolls around after his standing leg was taken out of it by the Uruguayan.
14'   Portugal lose it again and Cavani feeds Suarez. He has two defenders in front of him but he moves to a difficult angle, tries to chip it into the back post and it's out for a corner. Godin jumps for the header from that set-piece and he nearly gets there too! Portugal survive.
13'   Torreira hits the ground. He took a ball to the ankle from a Ronaldo shot and he's down grabbing his lower leg. All a little bit much. It wasn't like Ronaldo's shot was fired from a cannon. Or then again...
12'   Whatever plan Portugal had, it's out the window now as they have to look for a goal. They are in possession now and probing Uruguay's defence for holes.
11'   Joao Mario with a cross after the corner was taken short. He delivers into the back post towards Fonte. He fouls Vecino as he climbs on the midfielder's back.
10'   Pereira taken down and lands quite heavily on the ball. Portugal attacking down the right-hand side. They win a corner. Can't think they're anything other than rattled after that goal. Came out of almost nothing. And so early too!
8' GOAL! What a header that was from Cavani. Luis Suarez with an absolutely stunning cross into the box and Cavani heads home after losing his marker.
7'   Bernardo Silva tries to go around Laxalt with a pass but the left-back cuts it out. Ball comes into the box and Uruguay head clear.
6'   Ronaldo has a shot that Muslera saves. Portugal looking more dangerous when they do attack. Nice clean hit on that on but it's straight at the keeper.
4'   Pepe gets thrown to the ground by Godin. The referee tells both of them to relax and says he won't be taking any more of it. Ball comes in from the corner and Godin nearly gets a noggin to it. Portugal break and Torreira throws his hip into Ronaldo and he wins a free. Dangerous tackle and could have merited a yellow if it wasn't as early.
3'   Uruguay in control now. They were the ones supposed to sit back and defend. It's Portugal who are sitting deep though. Nandez links up with Suarez and Fonte kicks the ball out for a corner.
2'   Ball in from the left. Joao Mario twists and turns before delivering into the mizer. Bernardo Silva at the back post and he heads the ball over the bar. 
2'   Cavani with a foul now on Pereira as he backs into the defender.
1'   Portugal cough the ball up and Uruguay attack for the first time. Suarez gets it outside the box and kicks it off a Portuguese defender's hand. No whistle though.
1'   We are underway. Portugal get us started in their white strips. They're playing from right to left.
  Guerreiro, Silva and Ronaldo all on yellow cards. Definitely something to keep an eye on.
    Portugal's national anthem is quite dramatic too. Ronaldo is loving life at the moment! A big smile on his face before the anthem ends. He can't contain his excitement.
    The Uruguay national anthem blares now. Really will never get tired of hearing the end of that. 

    And the teams finally get the nod and make their way out onto the field. 
  The banners are unfurled as the two teams stand in wait in the tunnel.
    Uruguay have won all six of their games in 2018. They have scored 11 and have not conceded in that time either! Games against Egypt, Saudi Arabia, Russia, Czech Republic, Uzbekistan.
    The only change for Uruguay is that of Sebastian Coates and Jose Maria Gimenez at centre-half. The Atlético Madrid man was injured during Uruguay's last game and Coates deputised. Aside from that enforced sub, Tabarez is happy enough with his side to keep picking it the same.

    Bernardo Silva replaces Ricardo Quaresma despite his wondergoal against Iran. Cedric Soares is out too with Ricardo Pereira at right-back. Andre Silva loses his spot too after failing to impress and Goncalo Guedes starts in place of him.

    Uruguay XI: Muslera, Gimenez, Godin, Bentancur, Laxalt, Nandez, Caceres, Torreira, Vecino, Suarez, Cavani.
    Portugal XI: Rui Patricio, Raphael, Fonte, Pepe, Adrien, Bernardo Silva, Carvalho, Joao Mario, Ronaldo, Ricardo Pereira, Guedes.
    Interesting stat from FIFA.com's preview of the game: "In their history at the World Cup, only once have Uruguay come up against a European team in the Round of 16. The match in question came at the 1990 tournament in Rome, where La Celeste were beaten 2-0 by hosts Italy. Who was in charge of the team on that occasion? None other than a certain Oscar Tabarez."

   Ronaldo's diving header in the Group B meeting with Morocco brought up his 85th goal for Portugal, taking him past the 84 which Ferenc Puskas scored for Hungary as he becomes Europe's top scoring international.

Sebastian Coates says Uruguay won't just be setting out to stop Ronaldo today. "We will defend him with the same respect that we defend others," he told a news conference. "He is a worldwide star, but you don't prepare for a match thinking about one player, but thinking about the team as a whole."

    Uruaguay haven't conceded a goal in the World Cup yet and have a very good defence. They continue to rely on it despite their riches up front!

    Still one game left in the doubler header. Here's our guide to today's last 16 games.

    Oscar Tabarez not ambigious in his declaration that it will take the entire Uruguay team to stop Ronaldo today! 

    For now though, have a look at what the press in Uruguay are saying about Ronaldo. ""Everything a Uruguayan detests in a human being," they say. Very harsh.

We will be bringing you team news and everything that happens prior to the Uruguay vs Portugal game.
Hello and welcome to our live coverage of Uruguay vs Portugal. Kick-off is at 20:00 CEST from Fisht Stadium. 
Uruguay vs Portugal: preview
Looking at the potential of their leaders, there's a fair few who have already booked Friday off in the expectation of a Cristiano Ronaldo vs Messi clash. But this is the World Cup and individuals tend to be less important here than the sum total, because the stand out stars can't be helped by the use of a chequebook - their teammates have to share the same passport. And getting to see this hypothetical duel is less than certain. Firstly because of the yellow cards - they are both one away from being suspended. Secondly, because of their form - if France, Argentina's rival have the strength of youth, Uruguay have experience. Tabárez's side have won their three games (against Egypt, Saudi Arabia and Russia), haven't conceded a goal and were able to link Cavani and Suárez to the rest of the team. They are solid at the back and lethal up front.
Cristiano Ronaldo v Godín

Any other striker would likely be pondering how to deal with facing Godín. Not Cristiano Ronaldo. He's played him 28 times and usually come out on top. The Portuguese striker has also beaten Muslera six times and on his form in Russia he looks a clear threat to do so again: Cristiano has scored four and taken 15 of Portugal's 32 shots. What's more, he could be free of a doubtful Giménez and he's chasing his own targets, as ever. After top scoring in the Champions League, he's now looking to do the same in the World Cup, something only Eusebio and Stoichkov have achieved.
But there are yet more appetising facets to this duel between Uruguay and Portugal. Even though the VAR may take a little of the edge off, the battle between Pepe and Suárez should be watched at a prudential distance. The defender is looking to push the European Champions to another title, while the striker (two goals so far) is dreaming of making up for his oral mishap in Brazil. Cristiano Ronaldo knows, just like the rest, that behind the Uruguayan wall lies the quarter finals, hence why he will be praying that Carvalho is fit. But he's also aware, just like the rest, that in that direction too lies his particular obsession, the Ballon d'Or. Much of that depends on who comes out on top in their singular derby: Godín or Cristiano.
Possible XI Uruguay
Fernando Muslera; Martin Caceres, Jose Maria Gimenez, Diego Godin, Diego Laxalt; Nahitan Nandez, Matias Vecino, Lucas Torreira, Rodrigo Bentancur; Luis Suarez and Edinson Cavani.
Possible XI Portugal

Rui Patricio; Cedric, Pepe, Jose Fonte, Raphael Guerreiro, William; Adrien Silva, Ricardo Quaresma, Joao Mario; Goncalo Guedes, Cristiano Ronaldo.