Spain 1-1 Russia: World Cup 2018 last 16 match, hosts win on penalties
Spain went ahead through an early own goal which was cancelled out when Piqué handled in the box. Spain were unable to break the stubborn Russian resistance and go out on penalties. USA vs Mexico: FIFA Friendly live online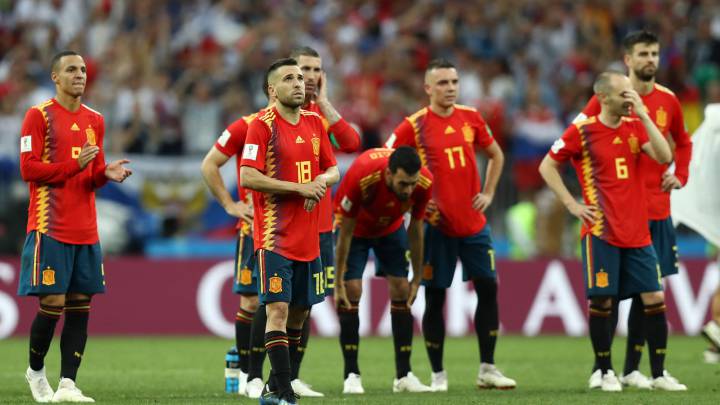 Spain 1-1 (3-4 penalties): match report
It was an unbalanced, disjointed build-up after Julen Lopetegui was sacked as the Spanish manager just days before they kicked off their World Cup campaign. And the trauma from that departure never went away through four games. Spain were unbalanced and disjointed in every game they played with piles of possession but no clear plan in attack blended with an unsound defence filled with players who were all too aware of their own unsoundness.
Against Russia, the hosts, Spain dominated possession as they are wont to do and had the lead after Sergio Ramos occupied Sergei Ignashevich to the point of distraction when he backheeled the ball into his own net with his back away from the incoming free.
Spain continued to own the ball but they were to be undone when Artem Dyzuba caused Gerard Pique to panic and handle the ball from a corner. It was the big man who stepped up and drove the penalty home on 41 minutes. Spain were shocked but there was also a sense of inevitability to the equaliser. Russia survived to half-time and put a plan in place to sit back, soak up pressure and hope for something on the counter.
They did just that as the game turned into a parody of a what tiki-taka should be as Spain attacked time and time again with no real agenda up front and large periods of the ball filled with sideways passing. They couldn't find Costa and didn't seem to want to and were happy to sit and pass the ball across the field.
Chances came and went but nothing of note happened for the remainder of normal time. In extra-time when Rodrigo went close and Carvajal couldn't finish the rebound. A cross came in from a free and Ramos and Pique seemed to be hauled to the ground, which the referee decided against whistling for. He got a second opinion from the VAR lads and didn't change his mind. And it was to penalties we went.
Russia scored all four of theirs as Koke missed Spain's third before Aspas missed Spain's fifth. Russia, after soaking up all that pressur, were through to a quarter final and Spain were going home with a post mortem to come and a chance for a deep run into the competition left in Moscow.
Spain 1-1 Russia (3-4 penalties): latest updates
Russia go through on Penalties! 
  He missed. Russia go through. Lord what just happened.
    Aspas to take Spain's. Spain could be going home if he misses this.
  Cheryshev straight past De Gea and they take the lead.
  Ramos slots home. Absolutely no problem whatsoever. Lovely penalty.
  Golovin  to take. He drives it low and underneath De Gea.
    Koke to take. He misses the penalty. Akinfeev guesses the right way and he misses.
    2-2 after two rounds! 
  He hits it kind of down the middle. Strange penalty as he stops his run and pops it home. 
    Ignashevich, the OG scorer.
Pique buries it. Took a clip off the post. Holy moly, that was close too! Akinfeev went the wrong way though.
    Pique walks up.
De Gea decides the right way but Smolov slots it home. He got a hand to it too. That was close.
    De Gea walks to his goals. It's Smolov to take.
  He scores! Iniesta down the middle. Akinfeec goes the wrong way.
Iniesta to take the first one.
Kuipers explains the coin toss. Yellow for Spain and blue for Russia. Spain win it but Ramos not happy with the way the coin landed. Anyway, Spain take first.
    Spain meet for a huddle. So do Russia. We will find out both sides' faith very soon.
120'+1' GAME OVER! We have penalties.
120'   One minute of added time. Spain win it back and Rodrigo shoots with his left. Akinfeev saves.
120'   Alba to Iniesta and back again but the ball rolls over the sideline. 
119'   Players dropping like flies. Cheryshev down now gstretching. Aspas pass inside picked off and sent back down the field.
118'   A couple of minutes left and Spain keep the ball.
119'  Headed out to the right and Spain counter with Rodrigo. 
118'   Golovin to take.
118'   Corner for Russia.
117'   Ball through from Isco and Russia recover. They're on the attack now.
116'   Busquets plays around with the ball and loses it. Russia can't capitalise. That was so very, very close.
115'   Referee has a chat to the VAR guys and he says to play on.
114'   Surely a penalty. Koke deliver the ball in and both Pique and Ramos are pulled to the ground.
113'   Isco fouled again. Rodrigo took the ball down really well.
113'   Russian players off the bench and telling their fans to turn up the volume! Iniesta puts it out for a goal kick.
111'   Isco fouled and Spain take it quickly. Isco with a lovely pass out to Pique and his shot is blocked. 
111'   Pique to Iniesta and he plays it to Rodrigo before he lets it into Aspas. Russia recover and clear. 
111'   Spain back in possession.
110'   He launches it into touch.
110'   Russia with a free now.
109'   And another ball sent in and it's a goalkick.
109'   Rodrigo races clear and he shoots, forcing a good save from Akinfeev. Carvajal follows it up with a shot himself. Cleared.
107'   Alba inside to Iniesta. He shoots and it's blocked. Akinfeev clears and Ramos touches it down to Pique. This is definitely the weirdest game at the World Cup so far.
106'   Back underway for the second half.
107'   That's it for the first half.
106'   Pique with a header from the free and Akinfeev grabs. Russia in no hurry and they will be delighted with penalties at this stage.
105'   Golovin with a slide with his studs up. Dangerous tackle on Isco but no yellow.
105'   Pique fouled as he heads clear. Long, searching ball down the field. 
104' Asensio being replaced by Rodrigo.
104'   Kudryashov down with cramp.
102'   Aspas set up down the left and he does some twisting before shooting and it's blocked for a throw. Straight back up the field.
102'   Cross comes in and that rolls over the endline. Ramos with the cross.
101'   Rodrigo coming on for Spain.
100'   Asensio with a shot. That's saved by the keeper. Some comedy, at least, earlier as Aspas and Isco fell over each other in the box. This is painful.
99'   Cheryshev chases down a long ball and Carvajal sees it out.
98'   Goal-kick for Russia as Akinfeev takes his time. 
98' We have a fourth sub now as Kuzyaev replaced by Erokhin.
97'   Koke with a shot now as Spain try something different.
 +5'   Aspas with the cutback.
 +4'   Isco runs in towards the box and plays the ball inside.
 +3'   Alba shoots and he hits the ground after it's blocked. Play continues and Spain back on the ball. 
 +2'   Ball into Aspas and he hesitates before sending it towards the penalty area. Carvajal closes in but Russia clear.
 +1'   We are underway for the first half of extra-time.
90'+4' GAME OVER! Good heavens, what was that?!?!
90'+4'   One last attack and Spain manage to not score. We have extra-time.
90'+3'   Dangerous attack from Russia and Koke recovers. Spain lose it again and Smolov shoots but it's wide. Spain playing with fire now.
90'+1'   Four minutes of added time. Throw for Russia.
90'+1'   Ramos heads over from that corner.
90'   Another corner! 
89'   Koke to take. He does and it's out for another corner.
89'   Isco cross and it's blocked for a corner.
88'   Isco pulled down and they have a free from the left.
87'   Russia counter as Pique loses the ball. They look dangerous but Alba falls and Golovin is blown for the free.
86'   Russia have a player with cramp. Play stopped before we pick up where we left off. Spain on the ball.
85'   What a lovely chested pass to Iniesta by Aspas. Lovely strike from Iniesta and it hits the post. It comes back out and Akinfeev makes the save from the rebound.
85'   Iniesta runs into Russia's defence and he gets taken down after passing the ball off. No free as Iniesta gets up very slowly. Spain controlling this one.
83'   Dangerous ball in from Koke and it's cleared.
82'   Corner for Spain and Ignashevich very close to handling the ball. The referee says no and then has a chat to his VAR folks in the booth. He waves play on. 
81'   Carvajal with a cross and whatever way he shaped his foot, he sends it straight to Akinfeev.
80' Costa off for Aspas.
79'   Ball inside to Isco and he loses out again. 
78'   Alba with a ball inside and Spain win another throw. They stay on the ball.
76'   Ball inside to Costa but he's squeezed out and Russia counter. But again, they lose the ball. This is dreadful from the hosts.
75'   Costa to Iniesta and it's behind the sub. He loses it. Spain win it back though.
74'   Good ball in and Ramos nearly gets a head to it. Falls to Costa and he takes a touch before Russia clear. Spain back on the ball.
73'   Costa putting on pressure and he forces the corner. 
73'   There's a corner for Spain.
72'   Russia are actually disimptroving and can't counter anymore. Spain suffering here in possession.
71' Alba fouled. That's a few fouls now by Zobnin and the referee puts a stop to it. Yellow for the Russian midfielder.
70' Nacho forced off for Carvajal.
69'   After about two hundred passes, Spain lose it. Russia attack and they lose it. A very strange game we have on out hands here.
69'   Spain with more stale possession now. They can't or don't want to attack for some reason.
68'   Let's see what Iniesta can do now.
66' Iniesta on for Silva.
65'   Alba down the left and into Silva but it has too much zip on it. Russia break and Smolov plays it to Golovin. They have the ball on the right. Golovin with a run in the box and Ramos does a good job to see him off.
65'   Iniesta coming on for Spain. 
65' Dyzuba is replaced by Smolov.
64'   Costa faced with two players and he gets the ball taken off him. Costa was offside from the ball that came in from Alba.
64'   Ball into the box from Russia and Kudryashov slides in to try and keep it in play but can't.
63'   Isco loses the ball now and Russia counter. Ramos pulls down Fernandes. 
62'   Koke whips it out to Alba and Russia win that back. Zobnin can't keep it under control and Spain win a throw.
61' Samedov being switched for Cheryshev.
60'   Spain with more possession. That's a really nice ball into the box and Silva heads it wide. He couldn't get his head to direct it towards goal.
60'   Headed clear at the front post.
59'   That's a really dangerous move from Spain. Isco into Costa and he takes a touch by the endline and plays it back to Isco. He takes a touch towards goal and Russia recover to put it out for a throw.
58'   Samedov ready to send it on from the right, with his right. Costa clears at the front post. Pure panic every time Russia attack. Not helped by the crowd but Spain continue to be very wobbly at the back.
57'   Samedov battles with Ramos and it looked like a slight push in the back but Ramos kicks it out for a corner. 
56'   Long ball across the field and it's a throw for Russia. They're glad of the break from chasing the ball.
55'   Russia have a half a think about a counter but Alba brings a swift end to that.
54'   Another dangerous free for Spain now. This time from the left but Asensio leaves a lot to be desired.
54' Kutepov pulls back Isco and he gets himself a booking.
53'   Spain looking sharper in this half. Silva with a ball into Costa but it's headed clear. Another ball into the box and Isco heads it back into the danger zone. Russia clear and Busquets volley at the edge of the box and it's wide.
52'   Russia win the ball back as Silva moves into the penalty area. they cough it up again though Spain continue to attack. 
52'   Nacho with a nice ball into the box but it's behind Costa. Spain recover and continue their good start to this half. 
51'   Ramos directing things. It won't be too far away from him. Koke crosses it and Costa heads it high and wide.
50'   Golovin hauls down Nacho after the defender gets to the ball before him. Free Spain on the right and they will launch it into the box. 
49'   Isco takes it down the left as he continues to pop up all over the field. It's out for a throw and Spain keep the ball.
49'   Throw for Nacho after some confusion.
48'   Iniesta out limbering up. 
47'   Isco with a ball out to Nacho and he plays it to Asensio. He flicks it into the box and it falls to Alba. He hits it with his stomach and Akinfeev saves. Not a bad effort if unconventional.
46' Back underway. Russia have made a change. Granat replaces Zhirkov.
Fernando Hierro may well look to his bench for his options at half time. Spain have been dominant in possession but have not created many clear-cut chances against a well-organised Russia side. David Silva looks off the pace and it could be time to look to Andrés Iniesta to bring his eye for a defence-splitting pass to the table.
45'+2'   No more time for action. Spain pick things up for the last few minutes but can't get the goal to go ahead.
45'+1'   Ball in from Isco and Costa gets a header to it but it's straight to Akinfeev.
45'+1'   Dangerous ball in behind for Costa and he makes it before Akinfeev. He hits it and the keeper blocks it. It loops over the penalty area and out as Spain keep the ball.
45'   Costa out to Isco and he cuts inside to shoot on his right. He does and that's headed out by Russia. Spain back in control now with a little but more intensity, something missing from their game earlier.
44'   That's a late tackle from Samedov and the left-back jumps into the air. Needless from the Russia but he didn't quite catch him either. Free for Spain and a talking to for Samedov.
43'   Russia had been growing into the game and Spain suffer.
43'   Spain a little more worried now it seems.
41' Dzyuba buries it. He sends De Gea the wrong way and Spain have to start again.
40' Really silly. Pique booked now for protesting.
40'   Russia have a penalty. Dzyuba heads the ball and it's off Pique's hand.
40'   Samedov to take the corner. Kuipers has a word with a few Russian players. 
39'   Long ball down to Fernandes and he crosses to the edge of the penalty area. Koke in the right place and he puts it out for a corner off his shin.
39'   Spain very organised in defence. They're pushing Russia back. 
37'   Ball down to Dzyuba again and Ramos knocks it out for a throw. Russia pushing for a goal before the break. They have more psossession now. 
36'   Dzyuba throws Pique out of the way and Russia with their best chance. Golovin gets it just inside the box and he sends a curler just wide of De Gea's post. That was really close. Dzyuba's first sign of causing problems for Spain.
35'   Asensio with a ball in over the top and it's headed back to Akinfeev.
34'   Russia being worn down here. They're chasing Spain around the field here to no avail. 
33'   Another long ball down the field by De Gea and it's over Asensio's head.
32'   Spain struggling to break down Russia now. They're holding the ball very well but not attacking threat.
31'   Isco moves Spain forward on the break. Russia looking for a penalty as man felled in the box but Kuipers tells him to get up. Spain back in possession. Their attacking threat completely gone now too but they look quite comfortable and the longer this game goes on at this score, the more comfortable they will likely look.
31'   Russia win a throw.
30'   De Gea launches down the field and Nacho looks to have been caught with an elbow as the two men jumped for the ball. Out for a throw.
30'   All very dangerous from Spain as Russia decide to press but cool heads prevail and Spain play the ball around the press and keep it. Very smart from Spain.
29'   A decent spell from Russia without every properly testing De Gea. Spain back moving forward. Koke whips it out to Nacho and they start again with Pique.
28'   Diego Costa with some good defending as he wins the ball back. He plays the ball to Isco down the line and he can't keep it at his feet as it's kicked out for a throw.
27'   Another long ball down to Dzyuba and Ramos heads it. Isco ends up putting it out for a corner.
26'  Long diagonal ball down to Alba's corner and it's over everyone's head and out for a throw.
26'   Another long ball down as Dzyuba heads it back to Alba and then to De Gea, who clears. It comes straight back down from Russia and they're on the ball now.
25'   Spain with another dangerous attack as Isco hits a no-look pass to Alba but it's too heavy. Goal-kick for Russia.
24'   Spain cool things down again with possession at the back. Silva runs behind enemy lines and turns back to recycle.
22'   The ballcomes back in and Isco gets to the ball and with a little sombrero over the Russian, he gets clipped and wins the free.
22'   Loose ball hops in front of Costa and he gets a header on it. It's won by the keeper and Russia launch it down the field. Dzyuba and Ramos collide and it's a free to Russia. It's sent into the box and spain fail to deal with it. 
21'   De Gea with a clearance and he kicks it straight down for a throw.
20'   Pique heads clear from Dzyuba and Russia win it back. They send it across the field and it's headed out to a Russian jersey. Russia have definitely improved in attack but Spain are very calm and look more solid than they have throughout the World Cup.
19'   Spain currently enjoying 75% possession so far. The goal has forced Russia out a little but but they're still sitting back when Spain have the ball. They're afraid of what this side if capable of.
19'   Spain in complete control now. Ball out to Isco, who is everywhere.
18'   Foul on Busquets by Zobnin as he catches his ankle. Referee plays advantage and Isco takes down a beautiful take down and then gets fouled. More advantage but Spain lose it.
17'   De Gea taking the kick now and takes his time. The Russian crowd urge him to speed it up.
16'   Pique with what looked like a foul but he sees the ball out for a goal-kick. 
15'   Pique with a good battle going on against Dzyuba. He comes out on top this time with a cleared header. 
14'   Russia looking slightly more dangrous but Zobnin's shot goes well over the bar.
14'   Pique with a perfect tackle and wins the ball before he puts it out for a throw.
12'   Dzyuba ruled offside as he tries to get in behind Spain's defence.
11' Spain with a goal! Asensio launches it in. Ramos was being fouled and it hit Ignashevich in the back. What a disaster for the Russian defender.
10'   Nacho has really hurt himself there it looks like. Zhirkov with a stud into his standing leg. His knee twist innaturally there. Not a nice one and that's a free.
10'   Alba with a ball down to Costa and a lovely run by the striker. He crosses and it's blocked. Poor cross. 
9'   Hand ball now as Russia try to break and Spain back on the ball. Silva with a very strange start to this match. 
8'   Silva gives it away again. Russia counter and there is a sense of panic every time Spain give the ball away. They recover and long ball down to Costa.
8'   Koke back to Pique and then back to Ramos. Russia press but can't get to the ball carrier in time.
7'   Ramos switches to Isco and he takes it down. Ball in, eventually, from the Real Madrid man and Russia counter. Koke wins it back. Spain back on the ball.
6'   Asensio has his ankle caught and the ref plays advantage.
5'   Isco with a slick move and he's pulled down. Spain back on the ball.
5'   Ball into the back post and Alba fails to clear. Russia pick it up, shoot and it's blocked for a throw.
4'   Golovin with a run down the line and Pique sees it out for a corner.
4'   And then Alba fouls Fernandes. Really scrappy start to this. Spain not in full flow yet.
4'   Silva gets his angles wrong and mistimes a pass to Alba. Throw for Russia. 
3'   Costa with a run down the channel and Isco tries to find him but can't out for another throw.
3'   Alba with a run down into, or very close to, the penalty area. Russia close down the space and recover.
3'   Second ball on the field now and that only adds to the stop-start nature of this one. Spain finally get the ball and have the chance to build.
2'   Silva and Isco get their wires crossed and Russia win a throw.
1'   Long ball by Ramos down to Costa and Russia win a throw early on. Silva starting in the center, it looks like. Isco is on the left.
1'   Spain, a much changed Spain, get us underway! 
    Russia's right-back Smolinov was sent off in the last game. He was Fernandes' back-up so if anything happens there, it will be interesting to see how Russia adapt.
    Spain are considered the home side today but it's quite obvious they are not!
    Wow! Quite the impressive rendition of the Russia national anthem. 
    The King of Spain with a big smile at the end of the national anthem. 
    The two teams make their way out to a defeaning din. And not it's time for the Spanish national anthem. 
    Hard to tell what Iniesta is thinking as we get footage of him on the bench. He looks surprisingly calm. 
    There was talk in the papers today that Rodrigo could start and some were calling for Aspas but it's obvious that Hierro not overly concerned up top. His concern now is at the back. Pique said recently that it's not about playing beautiful football but about being solid. Ramos complained about too much space between the central defenders and Hierro has acted to fix both of those things.
    Stat from FIFA.com on Russia. "On the day of the game, it will have been 11,704 days between matches in the knockout stages at a World Cup for Russia. Their most recent non-group match was on 15 June 1986, where - then competing as the Soviet Union - they were defeated 4-3 AET in a thrilling round of 16 encounter with Belgium. Incidentally, it will be almost eight years (2912 days, to be precise) since Spain played a knockout game: their 2010 Final victory over the Netherlands."
    Spain trying in their tenth attempt to beat the hosts today! Have failed to beat the hosts nine times in the past.
    Various responses to Hierro's team selection. Some label him a coward and others think it's quite brave to switch things at this stage. It was inevitable that things had to change but nobody expected it to be Iniesta. 
Spain - Russia: match preview
Rob Train

Spain coach Fernando Hierro likened his side's group stage at the 2018 World Cup to that of La Roja's ultimately successful campaign in South Africa eight years ago.
Spain lost their opener against Switzerland in Durban but went on to top Group H on goal difference ahead of Chile before marching inexorably towards the title with a run of 1-0 victories in the knock-out rounds based on a prescription of passing the opposition into a football-induced coma before finding a late winner.
A repeat of that in Russia appears unlikely: after the Switzerland game, Spain conceded only once more in the entire tournament. Hierro's side leaked three in their opening game against Portugal and five overall in the group stage. In qualifying under Julen Lopetegui, Spain were breached just three times in 10 games while rattling in 33 at the other end.
Hierro's side avoided facing Uruguay in the last 16 by dint of a single goal. On the evidence of Saturday night's performance by Óscar Tabárez's team, who sent the European champions home in a 2-1 victory, Spain can consider themselves fortunate not to have faced such a stern examination this early in the tournament.
However, Russia have proved their critics wrong in spectacular style. The lowest-ranked team in the tournament may not even have been present had they been forced to go through qualifying but the hosts unexpectedly emerged from Group A after beating Saudi Arabia 5-0 and seeing off Egypt 3-1. The 3-0 defeat by Uruguay was perhaps a steadier gauge of Russia's standing in the greater scheme but as Cristiano Ronaldo and Fernando Santos discovered, Los Charrúas are genuine contenders for the title.
Stanislas Cherchesov dipped into Russian proverb in his pre-match press conference when he said that "anyone can be God if he tries to." The hosts will go into the game as underdogs but with their own fans likely to significantly outnumber Spain's and the advantage of playing on home turf, nothing can be ruled out.
Hierro's primary concern will be to stop the haemorrhage at the back but he has confirmed that under-fire Manchester United keeper David de Gea will retain his place. Whether the former Real Madrid defender elects to shuffle his outfield deck remains to be seen but Iago Aspas and Marco Asensio have strong claims for a start in Moscow with the waning influence of Andrés Iniesta and David Silva's uncharacteristic dip in form all-too evident in the 1-0 victory over Iran and the 2-2 draw with Morocco, when Aspas ensured top spot in stoppage time.
Russia do not lack creative players in Denis Cheryshev and Aleksandr Golovin and Cherchesov should be able to call upon Alan Dzagoev again after the CSKA playmaker limped out of Russia's opening game after just 24 minutes. Starting right-back Igor Smolnikov is suspended, which will mean a ninth cap for Mário Fernandes, but as Russia have proved so far at the World Cup, where five different players have found the net, the sum of their parts is more important than the individual.
Hierro is yet to find that balance in his side and was reliant on the battering ram brilliance of Diego Costa and the velvet touch of Isco to see Spain into the last 16. Both will start in Moscow, but their supporting cast may be a little different as the accidental La Roja boss seeks a formula that genuinely harks back to 2010.