WORLD CUP
Uruguay 0-2 France World Cup 2018 quarter-final: match report
France are the first team into the 2018 World Cup semi-final after goals in either half from Varane and Griezmann with the help of a massive error from Fernando Muslera. Cruz Azul vs America: Liga MX, live online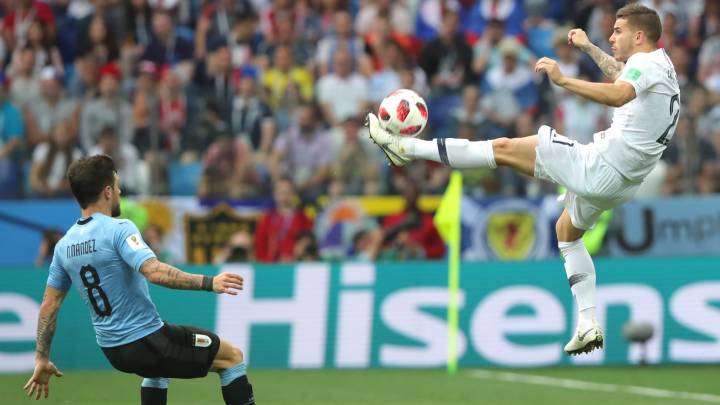 Uruguay 2-0 France: match report
It was a game that would pit one of the world's fiercest defence against one of the world's most potentially enchanting attacks. One of them was going to prevail and at the Nizhny Novgorod Stadium on Friday afternoon, Uruguay were no match for France.
Edinson Cavani succumbed to a hamstring injury suffered against Portugal. It means any Uruguayan success would have to come without one of their most important players. He was replaced by Cristhian Stuani but Oscar Washington Tabarez' side were missing that je ne sais quoi in attack.
They went a goal down in the first half when Antoine Griezmann lofted a perfect free into Raphael Varane's path. He had lost Matias Vecino and glances home after 40 minutes. Uruguay responded with a flurry of chances themselves but they ran out of time in the opening half and they never regained their momentum.
From the start of the second half, France was dominant. They were never spectacular but were keeping Uruguay at arm's length. The South American's hopes were dashed when Antoien Griezmann struck from downtown and saw his show scutter past Fernando Muslera after a weak attempt to beat the ball away from his goals.
Uruguay, again responded, but they could not find the net. They will be left wondering what might have been if Cavani did not injure himself. France, who are improving steadily without ever setting Russia alight, are into the last four of the competition and can kick their feet back and watch the other three quarter-finals battle it out in an attempt to join them in the semi-final.
Uruguay - France live online: updates | World Cup 2018
90'+5' GAME OVER! France are into the semi-final of the World Cup and Uruguay are going home.
90'+3' Fekir replacing Griezmann.
90'+2'   Free for France and that's down into the corner. Godin tries to speed things up. That's only making things worse. France back on the ball.
90'+1'   Time running out on Uruguay now. They have a throw and it's headed out. 
88'   Griezmann takes the free and sends it over the bar.
87'   Pogba moves forward and gets caught with a stray leg from Gimenez. 
85'   Uruguay still chasing shadows. N'Zonzi doing a good job of keeping the ball and spreading it around. France look more like getting another one than Uruguay look like getting one.
82'   Urretaviscaya chases one down but Lucas does well to close off his options and he runs it out over the endline.
80'   That's France's first sub.
Urretaviscaya replaced Nandez in the 73rd minute too.
79' Tolisso replaced by N'Zonzi.
78'   Throw for Uruguay as N'zozni warms up. Cross comes in and both Umtiti and Varane on the ground. Free for France as Uruguay get a little over eager.
77'   Laxalt with the ball in. Caceres picks it up and France win it back.
76'   A really nice move by Mbappe. He gets it taken off his foot after beating a couple of defenders though. It's put out for a goal-kick.
76'   Giroud flicks on to Griezmann. 
74'   Caceres with a throw and it gets crossed in to Gimenez. Uruguay's defenders playing as strikers now!
73'   Shot from Tolisso but it loops over the bar. Not really that close.
72'   Uruguay struggling to break down France. And they're running out of steam but they have no other choice.
70'   Back in action. That was really heated for a minute.
68' Clearly ridiculous from Mbappe.
68'   Yellow for Mbappe and Rodriguez.
67'   Mbappe down on the ground now and there's a big tussle to get him up off the ground. He's absolutely fine and gets a talking-to by Cebolla Rodriguez. It's all kicking off again. Nandez versus Pogba and then Suarez versus Pogba.
66'   Uruguay on the attack now.
65'   Pavard down now.
64'   uruguay with a decent response but that goal has taken the sting out of their challenge now. Uphill battle now for them.
64'   Cebolla Rodriguez with a shot from outside the box. That goes just wide. 
62' Griezmann shoots. Muslera makes an absolute mess of that. The strike came in and he just can't catch it. Very similar Loris Karius in the Champions League final.
61'   Pogba wins the ball in midfield and drives forward. 
60'   Tolisso hits the ground and grabs the side of his face. He's fine.
59'   Double change for Tabarez, who knows he needs something to happen.
59' Bentancur comes off for Cebolla Rodriguez.
59' Stuani off for Maxi Gomez.
58'   Uruguay getting better. Cross from Caceres and it nearly falls to a Uruguay attacker but Pavard steps in and clears.
56'   Umtiti under pressure from Uruguay in the box. He's surrounded and he kicks it out to Bentancur. He strikes but that's well wide.
55'   Ball send in and Nandez fouls Lucas.
54'   Bentancur pulled down by Kante. Chance for Uruguay to move forward. Comes to Caceres and it is blocked for a throw. 
53'   Corner comes in and Pavard hits it. Not nearly a nice as the one against Argentina though and it's well wide. He smiles, knowing he can never replicate that goal!
53'   Ball into Griezmann that was headed on by a Uruguay player. No offside even though he was in an offside position. France win a corner. Uruguay not settled into this second half.
51'   Really dangerous ball in and Pogba is down holding his wrist.
50'   Another throw for France. They've start this half in better form than Uruguay. Not quite incisive but in control of this one now. Free after Laxalt fouls Mbappe.
48'   Mistake by Muslera. Godin passes the ball back to him and instead of clearing first time, he waits and then Griezmann puts it out for a goal-kick. 
47'   Griezmann with another free from a similar position to the first goal. He lofts this one in but Muslera grabs it.
46'   We are back underway. No changes for either side. 
45'+2'   Half-time. Uruguay, kind of, thinking about an attack after Suarez is dispossessed. Ref blows up for the break.
45'+1'   Umtiti versus Suarez has been quite spicy. Umtiti goes in over the back of the striker and concedes the free. 
44'   What a response by Uruguay. Headed on by Caceres and forces a brilliant save from Lloris. Godin follows it in and drives it with a kick up into the air. Not sure what he was doing there.
42'   Corner for Uruguay and it's headed out with Nandez sending a shot back in towards Lloris.
40' GOAL! Varane sends a header into the bottom corner. Lovely ball in by Griezmann and Varane came out of nowhere. Lovely header.
39' Betancur fouls Tolisso. Really late kick on the shin for the French midfielder. That's a yellow card too for the Uruguayan. 
38'   Mbappe cross and it's blocked. They keep the ball and Pavard and Mbappe link up before Uruguay clear.
37'   Throw for France. They are dominating the ball but are not creating anything inside the box.
35'   Suarez cross but it's headed, poorly, out to Caceres. He strikes and it's gathered at the near post by Lloris.
35'   Mbappe races down the right-hand side and he cuts it back. Nobody coming in and that's the striker's fault. They should have been tearing in after him into the box but they weren't.
32' First yellow. Nandez quite obviously pulled back by Lucas Hernandez and he gets himself a yellow card.
30'   Griezmann back to Kante and it's outside to Pavard. Really dangerous ball from the right and so much hesitation in Uruguay's box. Not something that happens very often but France were nearly thrown off by Uruguay's uncertainty.
29'   Good ball but even better defending.
29'   Pogba with a really nice ball in from the right and Giroud is squeezed out of it by Godin.
27'   Kante puts it out for a throw. A big cheer from the Uruguay contingent, who want the ball back.
27'   Tolisso sends in a cross and it's headed out by Uruguay.
26'   Laxalt stood up by Mbappe and he goes with him before putting it out for a corner. Good defending but Mbappe shows a glimpse of his dangerous speed.
24'   Stuani on Pogba again and no free. Caceres can't control the ball and France have a throw and the ball back. More defending to do for Uruguay.
23'   Suarez absolutely rattles Pavard with a should charge in the side as he sees the ball out for a throw. No messing around from Suarez.
22'   Ball sent back into Muslera and it's high but it is the possession of the keeper. 
22'   Griezmann with the corner and Suarez heads clear.
22'   Pogba sends Pavard down the right. Corner as he crosses and Vecino blocks.
20'   Pogba vs Stuani continues after some nice work from Griezmann that sees him nutmeg Laxalt. Stuani wins a throw off Pogba.
20'   Griezmann sends a first-time, no-look pass across the field and it's cut out by Laxalt and Uruguay have it before giving it up all over again. France back on the attack.
17'   Sht from Pogba from way out. That goes well over the bar and some whistles from the crowd there. Not sure who they are coming from but France struggling to create proper chances at the moment.
16'   Giroud collides with Torreira. Nasty one.
16'   Mbappe heads up onto the roof of the net. He was free and had time to do much, much better. He wastes a perfect chance. All he can do it laugh after that effort.
15'   Free for Uruguay and that's clipped inside but it's sent in the direction of Lloris, who gathers.
14'   Corner Uruguay. Sent in by Torreira and it's headed down into the ground before Lloris with a flying punched clearance.
12'   Umtiti versus Suarez now as he gets caught on the back of the leg. Suarez asks for VAR and the referee says he doesn't want to hear it!
11'   He's back looking for the ball and looks fine.
11'   Mbappe's after injuring himself. It looks like anyway. He went to go by Laxalt and the defender catches him. 
10'   Sends it in and Varane heads wide.
10'   Lucas Hernandez is up and Griezmann is going to take the free. From the left-hand side.
9'   Nandez fouls Lucas with a late tackle. Looks like a dead leg for the left-back and then as he rolls around, Nandez falls backwards on top of him. Accidental but quite funny.
9'   Uruguay don't kick the ball out but Suarez gives away a free closer into goal eventually. France back on the ball. They handled a very good spell by Uruguay very well.
9'   Free France. Some upset now as Pogba gets turned upside down as he challenges Suarez in the air.
8'   Stuani picks the ball off Pogba with some questionable pressure. He was all over him and the Pogba responds by pulling the attacker down. Free for Uruguay to relieve some pressure.
7'   Ball out with Pavard now and then out to Mbappe.
6'   France on the attack. Lucas Hernandez sends a shot, that is more like a cross, into the box. It nearly lands at the foot of Giround but it's cleared. Really open game this. France on the attack now.
5'   Uruguay looking really dangerous. Another cross that dirfts across the box. Cleared and out for a throw for Uruguay.
4'   Luis Suarez wins it back and Laxalt races down the left. His cross is nice and almost lands to Stuani. Then it comes back from the right and Stuani almost lands it again. So close for Uruguay.
4'   Lucas makes some advancement down the left but gets turned around and he ends up winning a corner. Uruguay not getting much of a kick at the moment.
3'   Gimenez catches Giroud on the ankle off the ball. The Atletico player says he didn't see the striker and he's up again and jogs off the injury. 
2'   France move forward and Pogba plays it into Giroud. He tries to play it on to Mbappe but Uruguay clear.
1'   We are underway! France playing from right to left. They're on the ball after Uruguay get us underway.
    We are ready for action here. Uruguay in their light blue-coloured jersey and France wearing white. 
    La Marseillaise blares now. So many sporting memories linked to this tune! 
    Emotional stuff. Players, fans, technical staff all singing at the top of their lungs!
    The Uruguayan anthem is up first. It's like a Viennese waltz. A very jolly number.
    The two teams emerge onto the field. We have national anthems.
  It's the first time since March 2017 that Suarez and Cavani have not started alongside each other! They lost 4-1 that day. Not the greatest sign or the best thing for Uruguayan fans to be reading before such a big game!
  I wouldn't fancy to be in Diego Laxalt's shotes right now. He is facing an in-form Mbappe and isn't even a natural defender. He did, however, have more tackles and interceptions than any other player on the field against Portugal and is quick enough to cope with Mbappe. That's one of the main things in stopping Mbappe, making sure you don't get caught out with his pace and trusting your own so you don't foul him unneccesarily. Easier said than done!¡
    One of the big names left out of Deschamps' side today is Ousmane Dembele, who continues to be hit and miss. Giroud is preferred today which makes sense and is more of a tactical decsion than anything and why would Deschamps change things around after their success against Argentina.
    Won't be so empty in an hour or so.
    Cavani doesn't make it. Stuani up against Vane and Umtiti. 
    Uruguay XI: Muslera, Caceres, Gimenez, Godin, Laxalt, Nandez, Bentancur, Vecino, Torreira, Suarez, Stuani.
    No surprise from Dider Deschamps. He stars Tolisso in place of the suspended Blaise Matuidi and starts Giroud up front too. The Chelsea striker will keep Godín and Gimenez occupied while Mbappe and Griezmann do their thing.
    France's Just Fontaine scored 13 times in the World Cup in 1958. Mbappe is now joint second on France's list of all time World Cup goalscorers at a single World Cup. Another one today would give him sole ownership of that place.
    Plenty of analysis on Uruguay, a country with just three and a half million people, punching above their weight yet again on the world stage.
Hello and welcome to our live online coverage of Uruguay vs France in the first quartr-final of the World Cup in Russia 2018. The game, which takes place in Nizhny Novgorod Stadium at 16:00 CEST. We will bring you all the team news, injury updates, the weather, atmosphere and all the most important stats between a defence-first Uruguay side and an attacking France side.
Uruguay - France line online: preview | World Cup 2018
There has been no shortage of storylines heading into the first quarter-final of the World Cup between Uruguay and France. It's very much a battle of styles at the Nizhny Novgorod Stadium on Friday afternoon with kick-off at 16:00 CEST. Uruguay have conceded just once in four games and France play an expansive style with speedsters Kylian Mbappé and Antoine Griezmann on the frontline of their attack. Meanwhile, Antoine Griezmann says he feels partly Uruguayan given his closeness to Diego Godín - the godfather to his daughter - and his familial ties to the country but Luis Suárez has knocked him back in his efforts to claim honorary citizenship. Suarez said, "As much as he says he's half Uruguayan, he's French."
Aside from the spat over feelings of national pride, it looks like Edinson Cavani will not make it back in time to play against France after picking up a hamstring injury against Portugal in the last 16 tie even though Oscar Tabarez was unwilling to get drawn on speculation about his injury. He scored twice in that game, which was enough to see Oscar Tabarez' side advance and will likely be replaced by Cristhian Stuani, who is coming off a superb season with Girona in LaLiga. Luis Suarez also suffered a knock during training but should be good to go when kick-off rolls around on Friday. One of the big issues is at right-back where Diego Laxalt has been good but he is not naturally a right-back and Kylian Mbappé is in excellent form. Tabarez has led this team since 2006 and has a fourth-placed finish on his CV. If he can figure out a way past France, it means he will at least equal his best finish with his country.
France will miss Blaise Matuidi, who is suspended for the clash. He will likely be replaced by Corentin Tolisso in midfield. Kylian Mbappe, after his brace against Argentina in the last 16, landed himself on France's all-time list of top goalscorers at a single World Cup with three goals. He sits second on that list. He also became the youngest player to score a brace since Pele did it in Sweden 1958.