Buffon: "Nobody promised me the number one shirt"
The veteran Italian stopper was presented at the Parc des Princes on Monday after completing a free transfer from Juventus on a one-year-deal.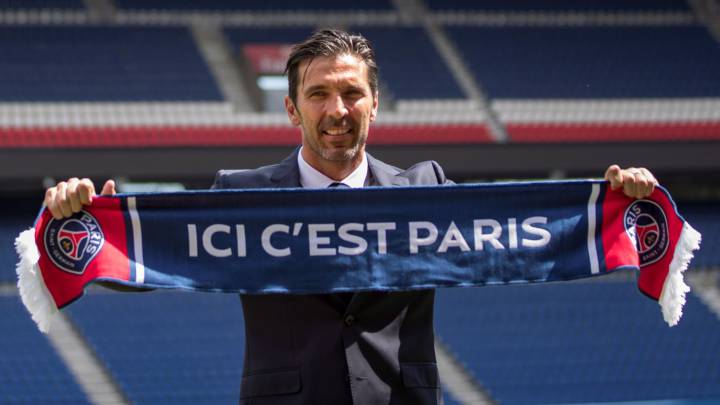 Paris Saint-Germain officially presented former Juventus goalkeeper Gianluigi Buffon on Monday after the 40-year-old completed his free transfer from Juventus to the Ligue 1 giants.
The veteran stopper has joined the French champions on a one-year deal with the option of a second season at the Parc des Princes.
"I'm very happy to be here," Buffon said as he and his family took in the keeper's new surroundings. "I'm really excited to get going on this new adventure. I feel a special kind of energy. I don't if it's the atmosphere, the magic of Paris, the enthusiasm of the fans, or the board who wanted me here so much… thank you again for all of this."
Buffon: "Neymar will come back stronger"
Inevitably, Buffon was asked about his new teammate Neymar during the ceremony after Brazil's exit from the World Cup and endless speculation regarding the forward's future: "I think it is a difficult moment for him and we've been through something like that at some stage of our careers. These are periods that you have to face up to in the right way. A champion like Neymar knows how to channel that disappointment to come back stronger."
When pressed on the ongoing tournament, Buffon opined: "I think France can win the World Cup. They have some extraordinarily talented players and an extraordinary coach."
The legendary keeper also spoke about his position at his new club and whether he expected to start or to act more as a mentor to Kevin Trapp, Alphonse Areola and Sébastian Cibois.
"Nobody promised me the number one shirt. Throughout my career I have worked to be a starting keeper and I will continue to do everything to be number one. I am 40, but I'm in good shape and I want to play as long as my body will allow me to. I spent 10 years at Parma and 17 at Juventus and created a comfort zone and that doesn't motivate me. I like competition and a challenge."