Barcelona out of the race to sign Chelsea's N'golo Kante
"He's a very good player. He would give us a lot of things, but he will end up at Real Madrid or PSG," said a reliable AS source at the Nou Camp.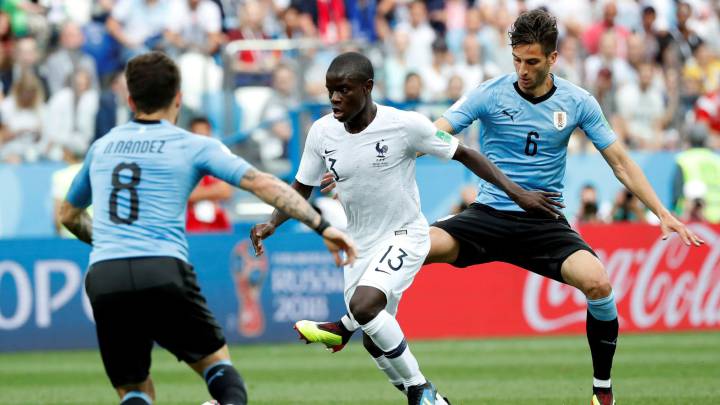 Barcelona had reportedly entered the race last month to sign N'Golo Kante. But a reliable source from the Catalan club has told AS that they will not try to sign the Frenchman, who has impressed for finalists France at the World Cup and last season at Chelsea.
"He's a very good player. He would give us a lot of things, but he will end up at Real Madrid or PSG. We'll have nothing to do with it," said the AS source.
Kante, who has made a name for himself for his physical strength in midfield, caught the attention of the footballing world while playing for Stade Malherbe Caen in France, before moving to Leicester City, who he helped to the Premier League title in 2015-16. He has been a stalwart of the Chelsea team over the past two seasons and is now a prime target for Real Madrid and PSG.
Adrien Rabiot
Barcelona are on the lookout for a physical and talented midfielder like Kante, and rumours linking the club with PSG's Adrien Rabiot have intensified over the past few days. "It has been really hard for Barcelona to negotiate with PSG for a long time, although really what is important is that he has one year left on his contract and has intentions to leave," said AS' source at the Nou Camp.
Frenkie de Jong
Another player that has been linked to a move to Catalonia is Frenkie de Jong. Barcelona's interest in the 21-year-old – who is currently at Ajax under former Barcelona player Marc Overmars – was sparked by former sporting director Roberto Fernandez. And the young Dutchman himself has reportedly spoken of his desire to play at the Nou Camp, either next season or in 2019.
While AS' Barcelona source said that De Jong rumors have been "strongly denied" by the club, he admitted that "De Jong is a tremendously interesting player for Barcelona" and would have a price tag of "a little over 40 million euros", which would be well inside the club's budget.
There is a still a long time before the transfer market closes, but the preseason has already begun for many of Europe's biggest clubs. Barcelona began theirs yesterday, which should prompt some departures from the dressing room. Ernesto Valverde will be keen to fill those spaces as soon as possible as he looks to emulate the successes of last season.
LaLiga Santander
*Update 11 de julio de 2018