Odriozola: "The last year and a half has been like a film script"
The Spain international right back was officially unveiled as a Real Madrid player at the Bernabéu on Wednesday.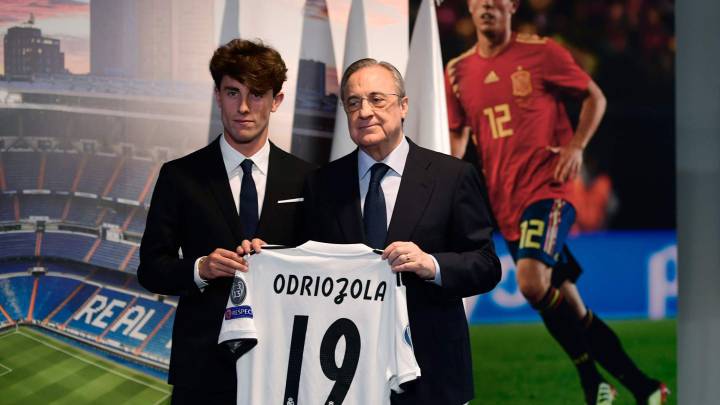 Álvaro Odriozola was presented as a Real Madrid player at the Bernabéu on Wednesday after his 35-million-euro move from Real Sociedad.
The Spain international, who was part of the La Roja squad at the 2018 World Cup, has signed a six-year deal at Madrid where he will initially serve as a back-up to Dani Carvajal after the departure of Achraf Hakimi on a two-year loan deal at Dortmund.
After a tour of his new surroundings, Real president Florentino Pérez welcomed Odriozola into the fold. "We are experiencing one of the most successful periods in our history. We have won important titles and we have impeccable institutional solidity and a powerful financial base. Above all, we have the support millions of fans. Every title is the first step on the path in search of new victories. We have to reinforce for the present and the future. We have a wonderful squad that will be added to with magnificent players and that is why a player like Álvaro Odriozola has come here. A lot of clubs wanted him but he was clear in his mind where he wanted to play."
Odriozola: "It is an honour to be here"
After Pérez had spoken, Odriozola made his first statement as a Madrid player. "It is an honour to be here and to achieve the cream of every footballer: to sign for Real Madrid. I know the responsibility that comes with wearing this shirt and how I must behave as a Real Madrid player on and off the pitch. I am going to put all my dedication, humility and sacrifice so that our paths are full of success. I would also like to state my gratitude for Real Sociedad, the coaches, my teammates and the supporters.
"I have always said the last year and a half have been like a film script. I made my debut with the reserves in Segunda B and shortly afterwards I was a starter in the first team at Real Sociedad. I was then picked for the World Cup and now I am realising my dream of wearing the shirt of Real Madrid. It's a day I will never forget and I won't let this opportunity pass me by.
Odriozola, 22, made 57 appearances for Real Sociedad and has earned four Spain caps, scoring his first international goal for La Roja in a pre-World Cup friendly against Switzerland in June.