Keylor Navas staying to fight it out with Thibaut Courtois
The Costa Rican goalkeeper has been picking up the trophies for the last few years and is not planning on giving away his number one jersey easily.
Keylor Navas is not throwing the towel in just yet. The Costa Rican has already accepted that a top class goalkeeper will arrive at Chamartín this summer but he has no plans to ask for a transfer.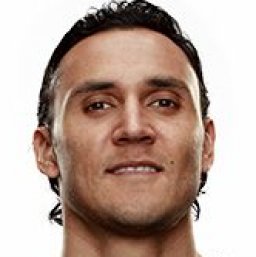 Navas not looking to leave Real Madrid
Keylor's stance and that from his agent, Ricardo Cabañas, is very much aligned. As Thibaut Courtois moves ever closer to a switch from London to the Spanish capital, the Costa Rican believes he can compete for the number one position and remain at the Bernabéu until his contract ends in 2020. "And if I can, even more years...", he proclaimed after winning another Champions League title in June. There is no denying, however, that the environment has changed since then.
At that time, Keylor could not have predicted that his great supporter, Zinedine Zidane, would no longer be in charge of the team. The French coach was the one who was against the operation to bring in Kepa last season and raised a virtual umbrella to protect his keeper from the storm of criticism that was lashing down after the return leg of the Champions League quarter-final against Juventus.
Likewise, goalkeeping coach Luis Llopis won't be there to watch his back, someone he had been working with since his successful time at Levante. The Basque coach left for Real Sociedad. Without Zidane or Llopis, Keylor may feel a little exposed.
Potential rotating gloves
If Courtois does join Lopetegui in Madrid, the manager will have to find some imaginative solutions to satisfy a goalkeeper who has been first choice in the side that has won the last three Champions League titles. It's more than likely, with time ticking away, that the man who represented Costa Rica in the World Cup will be used in the European Super Cup on August 15.
Keylor turns 32 in December and it appears the club will not force him out after the service that he has given them. It is a different case for Kiko Casilla (with a contract until 2020) and Luca Zidane, who has no role. Ukrainian stopper Lunin is a youngster they're taking a bet on and the 19-year old will be the third goalkeeper to allow his development.