Kazakh authorities detain suspect in murder of Olympic figure skater Denis Ten
Ten was killed on Thursday during an attempted robbery while driving through the streets of Almaty.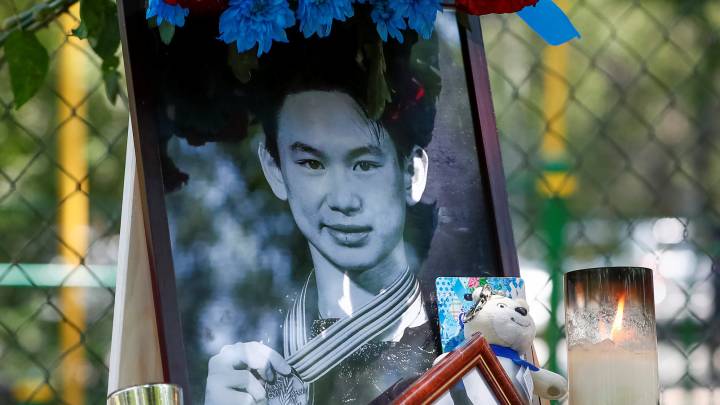 Kazakh authorities said on Friday they had detained Nuraly Kiyasov, suspected of being involved in the murder of Olympic figure skater Denis Ten in Almaty. A second man, identified as Arman Kudaiberengov is being sought by Almaty police. Ten, a Sochi bronze-medallist widely regarded as one of the finest in the sport, died on Thursday after being stabbed as two men attempted to steal his car mirrors. According to a report by Kazakh news agency Kazinform, the Olympian passed away in hospital after a massive blood loss from multiple wounds.
Suspect confesses killing Denis Ten
Prosecutor Berik Zhuyrektayev said in a televised statement that Kiyasov "confessed his guilt in the presence of an attorney" while being questioned over the figure skater's death. No further details were given by Zhuyrektayev.
✨🇷🇺🙏🏻 🇰🇿✨ A girl brings flowers to the Kazakh Embassy in Moscow in memory of Kazakhstan's figure skater Denis Ten, a bronze medallist of the 2014 Sochi Olympics. Denis Ten, 25, died in hospital in Almaty, Kazakhstan on July 19, 2018 #ДенисТен #denisten pic.twitter.com/J6HFnEAfN0

— hamonrosa (@Sk84it) 20 July 2018
In 2014, Ten became the first figure skater from Kazakhstan to win an Olympic medal. In the recent years, the figure skater struggled with injuries and could only manage to finish 27th at the Pyeongchang Games in February. His death has prompted worldwide mourning.
"He was a great ambassador for his sport, a warm and charming person. It is a tragedy that he has lost his life at such a young age," said International Olympic Committee President Thomas Bach.