Thibaut Courtois: Real Madrid unveil signing from Chelsea
The Belgium international was officially unveiled as a Real Madrid player at the Santiago Bernabéu on Thursday.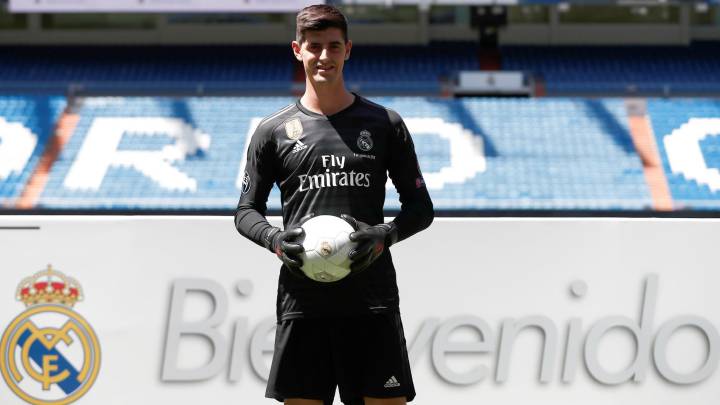 Thibaut Courtois made his first appearance in a Real Madrid shirt on Thursday as he was officially unveiled at the Bernabéu following his 35-million-euro move from Chelsea.
During his press conference, the Belgium international spoke about his objectives as a Madrid player, the competition he will face for the number one shirt with Keylor Navas and his past at Atlético, where he won LaLiga in 2013-14, the Copa del Rey in 2012-13 and the Europa League in 2011-12.
Courtois press conference: as it happened
And that's it! Courtois showing his linguistic dexterity there. Now he'll have to wait and see what Lopetegui has in mind.
Last question: "What have you learned and how I have you changed in four years in England?" " "I think I'm a lot more mature and I've gained quite a lot of muscle in the Premier League. I am more experienced and I have become a better keeper. Everybody can always improve in whatever they do and I think my best is still ahead of me."
Courtois asked about his rather raucous celebration of Atlético's league triumph now: "I was young, it was the sort of thing young players do. But I'm at Madrid now.

What can Courtois offer that Navas cannot? "It's difficult to say. He's a great keeper with excellent reflexes but it's not for me to say what his strong points are. Nobody is guaranteed a starting spot and I have come here to work hard and it's up to the coach to decide the rest."

How does he expect to be greeted by Atlético fans? A smile: "The same as anyone who plays for Madrid. I have a lot of respect for Atleti. They took a chance on me and gave me an opportunity and I thank them for that. But now I am at a club I have always wanted to play for. I don't expect any special treatment."
Is Courtois surprised by Real's quite summer in the market? Diplomatic hat on: "No, I think the club has worked to strenghten the areas they needed to and there is a great squad here."

A message for Chelsea fans? "It was an important part of my career. I always wanted to win the Premier League and I want to thank them for their support. I wish them all the best this season."
What are Courtois' objectives? "To carry on winning trophies, after three consecutive Champions Leagues." Not sure what they expect when they ask those ones really.
Courtois asked about Casillas again, something of a hero for him it seems, and he notes that to become Real Madrid's first choice at 18 was quite a feat. Courtois made his pro debut at 16 for Genk so he says he's used to a little bit of expectation.

Courtois asked if he will take part in the European Super Cup next week against Atlético, which would be quite the debut. He points out that he has been on holiday since the World Cup but after a few training sessions he'll be ready if called upon, but that it's up to the boss, of course.
In excellent Castellano, Courtois continues by saying that he is proud and honoured to be at Madrid. And here comes the Keylor question: "Keepers are a group apart, we always get along well and we spend so much time together. I had to compete with Petr Cech at Chelsea and we'll all work together to win trophies here."

Courtois now saying that he has always dreamed of playing for Madrid and managed to get his hands on an Iker Casillas shirt after a game with Genk several years ago and he's looking forward to stepping into the Saint's shoes.
First question: Courtois asked how he feels as a Madrid player. "I feel great to be here at the best club in the world and I'm looking forward to getting started to start the season in the best shape possible."
Here we are. Courtois has arrived with Emilio Butragueño, who goes through the preliminaries.
It looks as though we're about to get underway in the press room.
No sign of Courtois as yet. Maybe he's gone to get changed again. It's like a Lady Gaga concert. Shouldn't be long now though.

We're a few minutes away from hearing Courtois' first thoughts after becoming a Real Madrid player. Time elapsed until the K-word is mentioned? We'd give it about 74 seconds.
And that's it. Courtois has left the pitch and will now be gearing up for his presser.
Something being pointed out to Courtois now. The goals perhaps? "Yup, Thibaut, that's where you stand..." A meet and greet with some fans, another nice touch. Those photos will be up on the wall pretty sharpish this afternoon.
And that's it for the assembled faithful. Courtois scoops up his kids in his paws and there'll be another round of family photos before he heads inside to give his first press conference as a Real Madrid player.
That's quite an arm he's got on him, finding the upper stand with ease. He ambles over to a young fan and hands him a ball. Nice touch. Kisses the badge of course, to a huge roar of approval.

Kitted out entirely in Real's black keeper strip, Courtois gives the thumbs up as he poses next to the famous crest. We suspect he won't be trying to many tricks with the pig skin. Nope, instead he shows off his aim by lobbing a few balls into the crowd.
Here we go... Courtois is out on the turf! Sound the anthem, the crowd go wild, and the big Belgian duly acknowledges the turnout.

Keylor Navas has had his say on the signing, the Costa Rican stating very clearly that he "would rather die" than leave Real Madrid. A genuine tussle for the number one shirt at the Bernabéu this season is afoot.
Quite so. The Belgium international has got his strip on and is posing for some photos in the bowels of the Bernabéu.
We assume Courtois is slipping into something more comfortable than his whistle as the crowd wait for their first glimpse of the new Madrid keeper.
There's a sizeable Belgian contingent in the crowd as well. An attempt at a Mexican wave goes up as the camera pans across the crowd but it's swiftly abandoned. Hardly surprising in this heat.
More than a couple of Chelsea shirts in the crowd at the Bernabéu. Courtois preparing to take to the pitch...
Hmm. Interesting. Pérez presented Courtois with his shirt, which as yet does not bear a number on the back. Real have five keepers on the books now so it remains to be seen which he will be assigned.
That was fairly brief. Courtois kept it short and sweet and is now on the podium with his family, posing for the photographers. He'll be out on the Bernabéu turf in a minute for the traditional keepy-uppy and a few balls into the quite considerable crowd that has gathered to greet him.
Courtois is now explaining the reasons behind his move: "I wanted to be closer to my family. I want to say thank you to everybody who has made this possible, particularly the mother of my children. Although we are no longer together you remain a very special person for me. Today I am just another Madridista. I am one of you. Hala Madrid!"
Courtois: "Arriving at the best club in the world is not an easy thing. I have worked very hard to get here. I have always dreamed of this moment since I was a kid."
The Real Madrid president is laying out the welcome mat: "Welcome home," he says as Courtois prepares to take the stand.
The Belgium international has arrived at the Bernabéu's press room and is being presented by Florentino Pérez after completing his move from Chelsea for a fee of just under 40 million euros.