Courtois agent: "If his family were in London he wouldn't have left"
The Real Madrid keeper's agent, Christophe Henrota, claims that Courtois would not have forced his move to the Bernabéu were it not for family matters.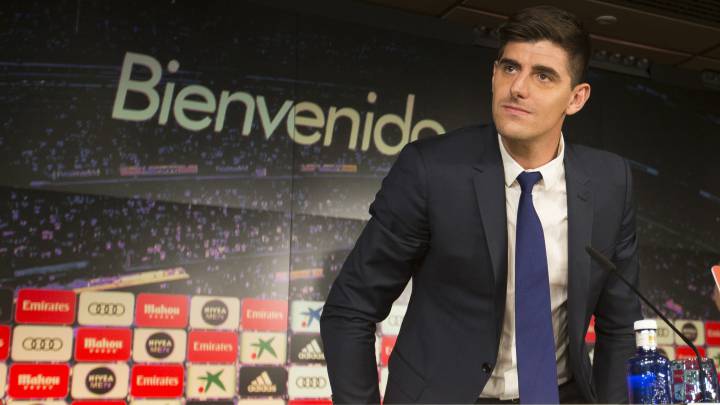 Thibaut Courtois would not have forced the issue of his transfer from Chelsea to Real Madrid if his family had been based in London, the Belgium international's agent has claimed.
Courtois was due to report back for pre-season training at Chelsea's Cobham base after the World Cup on August 6 but failed to turn up in a bid to push through his transfer to the Bernabéu, which was eventually confirmed two days later for a fee just short of 40 million euros.
"The deal was on the verge of going through," Courtois' representative, Christophe Henrotay, told BBC Radio 5 when asked about his client's absence. "In an ideal world it would have been better not to have done that but the situation was as it was. He later apologised and all the parties were satisfied."
Courtois was suffering stress over Madrid move
"It's true that some players force moves and it's also the case that Thibaut was under a lot of stress over the situation because Real Madrid had made an offer and he had the opportunity to go. He suffered stress because he thought it wasn't going to go through."
Courtois had made it clear that he wanted to return to the Spanish capital to be closer to his children, who live in Madrid with his former partner but Chelsea were unwilling to let him leave until they had signed a replacement, with the Premier League transfer window closing on August 9. The Stamford Bridge board pushed through a last-minute world record deal to sign Athletic keeper Kepa Arrizabalaga for 80 million euros, facilitating Courtois' move, and Henrotay said that it was purely a family matter that guided his client's stance.
"If his family had been in London it would all have been different; he would have stayed there. There would have been no reason to leave a club like Chelsea, where he had the opportunity to continue winning important titles," Henrotay added. "Unfortunately, his children live with their mother in Madrid. It was entirely down to personal reasons and that has to be respected. Chelsea understood the situation and enabled the deal to happen."