REAL MADRID
Only Juande Ramos has lost his first league game this century for Real Madrid
After the defeat in the European Super Cup, Lopetegui starts the league, where the men who have gone before him have done considerably well in their first game.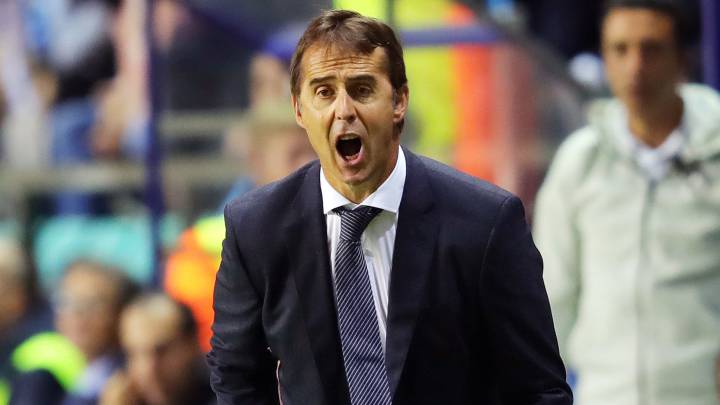 There's no stopping it now. The 2018-19 LaLiga season has started and Getafe travel to the Santiago Bernabeu on Sunday night as Real Madrid kickstart their league campaign. Getafe, an organised and uncomfortable opponent, are managed by Jose Bordalas and Julen Lopetegui will sit in the dugout at the Bernabeu for the first time.
Waiting for Florentino Perez to make moves in the market, Lopetegui says signings are out of his control, but winning is not. Lopetegui debuts in the league, a competition they have only won three times in ten seasons. They have appointed 14 manages this century and Julen Lopetegui is the latest. Just one of the managers who have gone before him have lost their opening game with Juande Ramos losing to Barcelona at the Camp Nou in 2008-09 at the Camp Nou.
There have been three draws and nine wins. The draws coming under Benítez (0-0 at El Molinón in 15-16), Jose Mourinho (0-0 against Mallorca in 10-11) and Fabio Capello (0-0 at home against Villarreal in 06-07); The wins came via Zidane (5-0 against Deportivo in gameweek 19 of the 15-16), Carlo Ancelotti (2-1 against Betis in 13-14), Manuel Pellegrini (3-0 to Deportivo in 09-10), Bernd Schuster (2 -1 against Atlético in 07-08), Juan Roman López Caro (0-2 win over Málaga in gameweek 15 of 05-06), Vanderlei Luxemburgo (2-1 against Real Sociedad in gameweek 15 of 04-05), García Remón (1-0 against Osasuna on in gameweek 4 of 04-05), Camacho (0-1 against Mallorca in 04-05) and Carlos Queiroz (2-1 over Betis in 03-04).



LaLiga Santander
*Update 17 de agosto de 2018
LaLiga Santander
*Update 17 de agosto de 2018