Real Madrid 2-0 Getafe: LaLiga Santander result, goals
Dani Carvajal and Gareth Bale were on target as Real marked Julen Lopetegui's first LaLiga game in charge with a comfortable win over Getafe.
Real Madrid vs Getafe: match report
A win. A good performance. Plenty of positives to build on. Lopetegui can sleep well tonight.
The first half came and went in the way that many had predicted. Getafe gave up possession - something they made an art of last season in their return to the Spanish top flight - and tried to snuff out the danger as Madrid attacked. It worked to an extent but there were enough signs of the defence being breached as the hosts used all their creative and forward options to get their opponents on the back foot. In the 16th minute, a delightful inswinging cross from Marcelo was met with the diving header of Gareth Bale which smashed into the crossbar. It was coming.
Then, 19 minutes in, a deflected delivery from Gareth Bale, again from the left, was half punched clear by David Soria and, while he was left stranded, Dani Carvajal headed a perfectly weighted ball back over the goalkeeper and into the empty net.
From there the control remained with Lopetegui's side, Getafe staying organised but occasionally being caught out in the channels. There was plenty of fluidity between the front three, combining well with Isco and Ceballos behind, but creating clear chances was still proving difficult and the whistle blew with just the one-goal lead.
Getafe came out with a change in appraoch after the break. Immediately they were hunting down the ball in Madrid's half in packs, not with isolated ineffectiveness as had been the case before. It was a brave move from Pepe Bordalás, but within five minutes of the restart, Los Blancos profited from the extra space that had been vacated. Marco Asensio - involved all through the night - harried the last man and won the ball back on the edge of the Getafe area. He shimmied and delivered a low cross which was met by his Welsh teammate at the back post. Although well struck, Soria will be disappointed not to have kept it out.
Asensio hit the post from distance and some other half chances were created as the second half moved to a conclusion that was written from early on in this match. A comfortable enough start to the season for Lopetegui. More attacking threats will be endured in the coming games but very, very late on Sunday night in the Spanish capital, his first job was completed satisfactorily.
Real Madrid vs Getafe: live online - how it happened
Thank you for joining us tonight (it's actually just ticked over into Monday morning here in Madrid) and we hope to see you again soon.
A regulation win to get the Lopetegui era off to a winning start. Still work to be done to find more of a cutting edge but certainly plenty of positives to focus on. For Getafe, this was never going to be easy but their points will be won in other venues.
90'+2' That's that! Real Madrid 2-0 Getafe
90'+1'   The delivery is met by the firm head of Karim Benzema and we seem to be heading to a close as is.
90'   Two minutes light up the added-time board as Getafe win a free-kick wide on the left. Chance to pop the ball into the mixer...
89'   Timid shout for a penalty there as Lucas Vazquez is knocked over in the area trying to latch onto a through ball. Nothing doing.
86'   Since Bale's departure, more of the Madrid attacking has been focused down the left, with Marcelo and Asensio linking well. A third would probably be fair for Madrid's domination but both teams seem to be accepting the current situation.
83'   Foul on Marcelo about 25 yards from goal, to the left side, gives a chance to create. Kroos takes but after a couple of blocks and further deliveries, Getafe get the ball clear.
81'   Asensio involved again. This time he, Marcelo and Benzema find, then lose promising positions.
78' Arambarri into the book for a foul on Kroos. He's then followed into it by Cabrera and Gonzalez. Pen being well used there. Bale leaves after a decent day's work - Lucas on to replace him.
75'   Immediately Los Blancos threaten. Marcelo times his lay-off well and Asensio takes the ball into the area on the left side. He's bundled over by the covering defender and looks up at the ref with those big, brown eyes, begging for a penalty. 'Get up, gorgeous,' the ref appears to say.
74'   As both sides try to get something going it is Getafe who almost make theirs count. A lovely sweeping move from left to right allows Alejo to roll the ball across goal but it's out of reach for the tap-in.
72' Ceballos heads off. Modric trots on.
Marcelo correctly saw yellow for that late challenge
69'   Chance here for the boys in blue. A desperate lunge from Marcelo to stop the scampering Mata gives Alejo the chance to swing in a cross to a crowded area in front of Keylor. Wasted! The ball flies high over that crowd.
Note: I failed to mention Casemiro coming on for Isco in minute 58
66' Getafe are getting more of the ball in this second half but are struggling to make anything happen in the final third.
64' Portillo is heading off the pitch, with Ivan Alejo pleasingly coming on to keep the numbers even
64' Jaime Mata joins his friends in the ref's notepad after that last challenge
62'   A Madrid attack breaks down and Mata almost creates something on the break before fouling Casemiro. First change coming up...
60'   Asensio again gets a shot away after a to-you-to-me-to-you-to-me (RIP) exchange with his French strike partner. Soria down quick and holds well.
58'   Maksimovic tries to get his foot on the ball in the midfield but the pressure forces him back, and then eventually to Soria. The vistors then go long but the ball skips through into the rather unused arms of Keylor. 
54'   POST!! Asensio hits the loose ball as it drops to him at the edge of the area. Sweet connection on the laces but just a few centimetres wide and it batters off the left upright. Screw being turned, it feels.
Asensio did well to hold off his man in the inside-left channel (after his pressure on the last man won the ball back in the first place) and then made space to cross. His low ball was swept home by the Welshman with Soria unable to keep it out.
51'   2-0 GOAL!! Gareth Bale is on the scoresheet again.
49'   No real rhythm to this second 45 yet although that initial high-press from the guests is continuing. Hunting in packs in the opposition half. Could bear fruit, could cause problems.
48'   Ouch! That looked a sore one as Djene (who was booked in the first half) came through the back of Benzema. The Frenchman seems fine though.
48'   There have been no changes in personnel at the break. 
46'   Straight away Madrid get the ball back and work it back via Marcelo to Navas and then onto Carvajal. An immediate difference - three Getafe players pressed in unison. Let's see if that continues...
Let's go!
The teams are back out and we're about to get the second half going.
In saying that, despite the near-75% possession for the home side they have not been able to create a significant number of clear chances. That will surely be the message from Lopetegui in the dressing room: 1-0 gets the three points, but it'll take more than that to convince a few more doubters of this team's potency.
Getafe goalkeeper speaking ahead of the game had said his team were "100% ready to win at the Bernabéu". If that is to come to fruition then Bordalás is going to have to mix things up somewhat. It's been too easy for Madrid.
45'+1' Half-time | The whistle blows and it's time to suck on oranges, relieve oneself, and get some motivational tips for the second half. Well, it is for this live-feeder anyway!
45'   David Soria claims commandingly from a Bale cross and that could be the last action of the first half.
44'   Almost a chance created by Getafe as Amath plays in a teasing ball behind the Madrid defence. Keylor is sharp off his line to deal with it, and sets things in motion down the other end.
42'   The ball's in the back of the Getafe net again. Kroos delivers into the area but Sergio Ramos is deemed to have fouled Scrabble favourite Nemanja Maksimovic. Free-kick to the visitors as we head up to the break.
Amath's challenge sees Javier Estrada Fernandez get the book out
39'   Is someone from Getafe's technical team following this feed? Long pass forward down the left touchline almost creates something but Amath concedes possession and then follows up with an elbow on Carvajal.
38'   Keylor called into action! It wasn't enough to prove himself as the number one, just gathering a tepidly hit cross.
36'   Getafe struggling to come up with anything going forward. As the midfielders attempt passes into the backtracking strikers' feet, there tends to be a white shirt getting to it first. More direct may be the required change.
34'   A little confusion there as the referee appeared to point to the spot for a Madrid penalty. Benzema had been released on the right and dinked a lovely ball over Soria into the onrushing Bale who was bundled into the net. The French striker had already been flagged for offside. Well played officials, once again.
32'   Gareth Bale has switched sides with Asensio on occasion and does well to get a cross in from the left-hand side. Soria collects though
Side note: no VAR so far
30'   We've reached the half-hour point and the pattern of the game hasn't changed. Madrid in total control. Lopetegui will want his players to push on for the second-goal breathing room. Space not easy to find behind this defence though. 
27' First card of the game | Getafe's Jorge Molina goes into the book for knocking Toni Kroos over as he looked to break
25'   Ceballos involved with a lightning quick series of one-twos which then feeds Asensio who shoots. Well wide of the mark.
23'   Madrid maintaining control of the ball, looking for openings, and happy to develop attacks from either wing, or indeed through the middle. A nice balance being shown (dare I say, similar to much of the 90 minutes of the Super Cup).
21'   How will this change the approach of Bordalás? Possibly very minimally for the next few minutes as they look to get some control of the game without losing a second.
20'   GOAL!!! 1-0 Carvajal picks up the pieces with a beautifully cushioned header back over Soria from whence it came as the keeper tried to punch clear a Bale cross.
18'   Ceballos, Isco and Asensio are drifting all over the pitch looking to find little pockets from which to set others free. Something feels like it's building.
16'   Clang!!! Marcelo whips in a delicious cross and Bale throws himself in front of the covering defender, making good contact with his head, only to see it bounce back off the bar. Soria nowhere near. Closest we've come to a goal.
14'   Benzema shows great tenacity there, losing the ball then harrying the defender to force him into clearing. The hosts are first to most balls at the moment.
12'   When Getafe get the ball they are struggling to hold onto it. High press leads to long clearances, and then there is not enough support for the press on Keylor. So far, organised from the visitors, as expected.
9'   Patient build-up from Madrid this time. From the left, they work it through Asensio to the right with a through ball from the young star giving Carvajal acres of space to put in a dangerous cross. The only danger caused was to those people sitting in the front seats behind the goal. Dani will be disappointed with that.
6'   Getafe get their first chance to show something in an attacking sense. Amath runs to the edge of Keylor's area but is neatly dispossessed by Isco who then begins a break down the right. Bale receives the ball in a tight space but dribbles away from the defenders and crosses low. Cleared at the third time of asking by the visitors.
4'   The ball is back with the boys in white (get used to that!) and it's played forward quickly by Nacho to Bale in the inside right channel. He cuts back onto his left and whips a delightful effort towards the far top corner. Great save from Soria pushes it away before everyone realises the flag is up for Bale being offside. Replay confirms.
3'   The Madrid possession ends with a cross from Marcelo on the left which is safely gathered by Soria. 
2'   Madrid get the ball pinging around with all (I think) outfield players getting a touch before two minutes are up. Keylor will feel left out.
1' We're off! Madrid shooting from left to right as we look, playing in all white. Getafe in their shade of blue...
It's almost time...
Despite Getafe's relatively miserly defence, Madrid had the upper hand in the head-to-head last year with two victories: 3-1 at home, 1-2 away. Getafe will want to keep the new-look, well, at least 'new-feel' strikeforce for Los Blancos quiet for as long as possible. If they can do that then they can hope to exploit some of the weaknesses at the other end already seen in pre-season. Jorge Molina leading the line will hope to have plenty support behind.
Talking of the man in the middle, tonight's referee is Javier Estrada Fernandez. Last season he gave out a red card every five matches. Some commentators believe VAR will up the number of punishments handed out. It should be fun watching...
Some handy leaflets have been left on each of the seats of the Santiago Bernabéu tonight explaining all there is to know about the VAR process that has been introduced for this season. Clearly that will mean no ugly shouting at the referee then when he makes a decision against the men in white.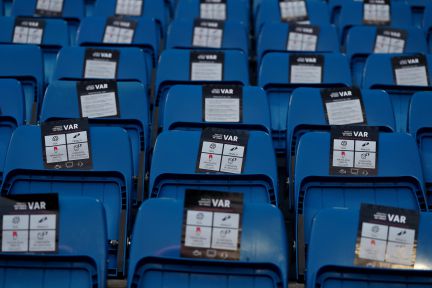 Some interesting decisions then from Lopetegui (which we've looked at here). And as far as that statement from the preview is concerned "The kings are dead. Long live the...", we'll have to see. No Modric in the XI - one of those tipped to step up to lead the Cristiano-less side to new glories - and the manager putting faith in a player who didn't see much pitch time under Zidane. Dani Ceballos has impressed in pre-season and has now been given a stage to show the watching masses what he is capable of. Can he keep his head?
There were a number of decisions to be made by Lopetegui on his starting line-up tonight, and we have our answers...
As we said in the preview, Getafe come into this game with the pressure off and potentially catching their opponents at a good time - doubts exist, it would be fair to say. Improving on last season's 8th position may be asking a lot, but Bordalás will not be turning up just for the occasion. There are always upsets in the opening weekend...
There is plenty of pressure of the shoulders of Madrid's new manager Julen Lopetegui (and those of club president Florentino Pérez) and there is a feeling that tonight's result will influence decisions made regarding potential new faces coming in. A comfortable - and impressive - victory is likely to be followed with statements along the lines of 'look, we're alright with what we've got', while anything else will have supporters screaming for the chequebook to be opened ahead of the August 31 transfer deadline.
Stay with us and we'll bring you all the latest news from both camps right up until the players are out on the pitch, which is when our live coverage begins.
Hello and a very warm welcome to you from the Spanish capital. We are gearing up to the first game of  LaLiga Santander 2018/19 for both Real Madrid and Getafe, which kicks off at 22:15 local time at the Santiago Bernabéu.
Real Madrid vs Getafe: live online - preview
The kings are dead. Long live the...
Real Madrid
This would have been an ideal introduction for what has happened over a tumultuous summer at the Santiago Bernabéu. The loss of manager Zinedine Zidane, shortly followed by the exit of their talisman over the last decade, Cristiano Ronaldo, has left a void both on the field and on the sidelines. And the problem is, no one is entirely sure if there are men to fill their sizeable shoes.
Julen Lopetegui steps into the managerial role with an unusually large burden already weighing him down. Not only does he have to live up to the standards set by his predecessor (just a triple-Champions League winner and Liga title to boot) but he has seen his perceived two rivals - Barça and Atlético - strengthen while, most would argue, his side has not. Add to that the finger-wagging disapproval from many Spaniards after the World Cup shambles, and tonight's opening game is seen as a must-win affair.
Getafe
Getafe, for their part, could well be delighted to start their season away to the European champions of the last three campaigns. There is no pressure, other than that of their own professional making, on Pepe Bordalás' side, and there is little to suggest that their style of play will vary much from that of their last campaign, one that saw them finish a very respectable eighth. Having the ball is not their aim; preventing the opposition from doing damage is.
The third team of the Madrid region (newly promoted Rayo are looking to change that) conceded fewer goals than their significantly more illustrious neighbours last year, with only the top two sides bettering their meanness. They'll not have to worry about the Portuguese goal-machine tonight.
We will be building up to the game from around an hour before kick-off, bringing you all the team news, stats and further thoughts on what to expect...like that's ever easy to know!