Cristiano, Modric and Mo Salah: finalists for FIFA 'The Best' award
The same three players who were finalists for UEFA's Men's Player of the Year which Modric won have been named for the FIFA award. Messi and Griezmann miss out.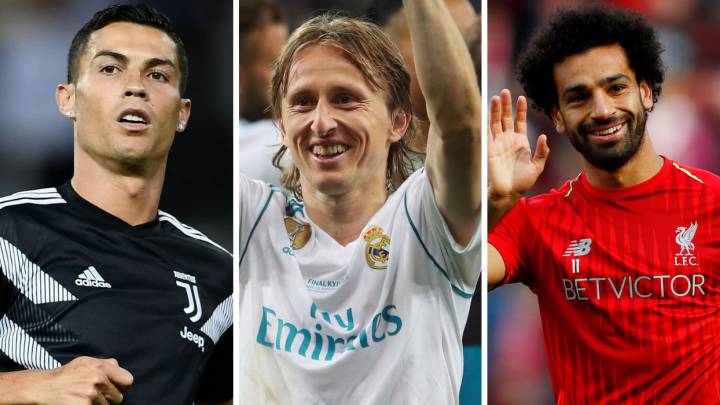 Cristiano Ronaldo, Luka Modric and Mohamed Salah have been named as the three finalists for the FIFA player of the year award The Best. Notable by the absence are Leo Messi and Antoine Griezmann. Messi won the double with Barça last season while Griezmann won the Europa League with Atlético and the World Cup with France.
The Best
Cristiano picked up the award for the past two years running and despite not enjoying a particularly good World Cup with Portugal, he ended as top scorer in the Champions League and lifted the trophy with Real Madrid. He's made the headlines in recent days for missing out to Luka Modric in UEFA's Player of the Year award, a decision which was criticized by his circle of family and friends. Modric meanwhile in in a good position to make a clean sweep of the individual awards and is favourite to win The Best as well as the Ballon d'Or. The outside chance is Mo Salah - he set a new Premier League goal scoring record in his first season with Liverpool but didn't win any silverware and didn't make it past the group stage at the World Cup with Egypt.
Candidates in the different categores at the FIFA gala:
Goalkeeper: Courtois (Real Madrid), Lloris (Tottenham) and Schmeichel (Leicester).
Puskás award (best goal): Bale, Cheryshev, Christodouloupoulos, De Arrascaeta, McGree, Messi, Pavard, Quaresma, Cristiano and Salah.
Men's coach: Dalic (Croatia), Deschamps (France) and Zidane (Real Madrid).
Women's coach: Pedros (France), Takakura (Japan) and Wiegman (Holland).
Fans: Japan and Senegal supporters, Perú fans and Sebastián Carrera.
Best Women's player: Hegerberg (Norway), Marozsan (Germany) and Marta (Brazil).
Best Men's player: Cristiano (Real Madrid/Juventus), Modric (Real Madrid) and Salah (Liverpool)