Portugal - Italy: match report
Portugal showed plenty of attacking intent on Monday night in Lisbon despite being without their talisman Cristiano Ronaldo. Their opponents, Italy, didnt shy away either as they get used to life under Roberto Mancini but they couldn't score against a solid Portuguese backline.
Andre Silva gave Fernando Santos' side the lead early in the second half with a lovely curled left-footed finish. That came after a lively opening half in which both sides continually attacked each other on the break. It was at breakneck speed too. Portugal edged it in that opening half with Bruma on the left looking particularly dangerous.
That continued in the second 45 with Bruma excelling and Bernardo Silva putting in a creative performance too. The brakthrough came on 48 minutes as Silva continues a good start to the the season.
Fernando Santos introduced subs in the second half that almost doubled the scoreline. Renato Sanches went close and Gelson Martins looked dangerous on the break too on occasion. Italy will have to go back to the drawing board after drawing a blank as life under Mancini continues to sputter along.
Portugal - Italy live online: updates
90'+4' GAME OVER!
90'+4'   Ball sent in and headed wide. That should do it.
90'+3' Pepe booked for going it with a high tackle after that.
90'+2'   Rui goes through the back of Chiesa and Italy have a chance.
90'   Four minutes of added time.
90'   Real chance for Portugal to wrap things up there. Another counter and Gelson Martins sent it across to Andre Silva, but he couldn't reach it and Italy push forward again.
88'   Looks like Italy have run out of ideas.
86' Carvalho replaced by Oliviera in the end. He limps off after it looks like Bernardo Silva would be replaced.
86'   Portugal almost seal the deal. Gelson breaks and gets caught in the chest. The ball bounces to Renato Sanches though and he strikes. Donnarumma saves. 
85' Oliviera replaces Bernardo Silva.
83'   Italy peppering Portugal's goal now. Nothing doing yet though.
81'   Nice delivery too but Portugal get it away. 
81'   And another corner.
80'   Italy with a free now.
78' Belotti replaces Cristante
77'   Corner whipped in and Zaza in a pile of bodies jumping for it. He rises highest and heads just over. Belotti coming on.
75'   Another nice attack from Portugal. Renato Sanches with a little dragged backheel but Italy get it away.
75'   Bruma lays it off to Cancelo and he crosses low. Andre Silva holds off a would-be tackler and sends a tame effort towards goal with his standing foot. Donnarumma grabs it.
73' Change for Portugal. Renato Sanches on for Pizzi.
72'   Portugal down the right now and Cancelo tries to go by Criscito. He can't though and wins a throw.
70'   How smart from Bruma. A lovely little backheel to Silva and he drives in off the left. Italy get it away. They attack but it's beaten away by Portugal. 
68'   Andre Silva looking for another and he strikes from the left. Saved by Donnarumma and gathers at the second time of asking.
67'   Ref whistles a foul on Italy. Pizzi fouled byt absolutely nothing wrong with that, it looked like.
65'   Portugal te one's looking more likely as they get a chance in the penalty area. But that's cleared and Portugal concede a corner.
62'   Italy trying to get themselves back into this one. Ball in over the top for Zaza and he goes over the top of Pepe and fouls him. He's not happy and doesn't think it was a free at all.
61'   Chiesa with another effort. Nah, never going to score from there. Escpeially with an effort like that one.
60'   Neves with a lovely ball in behind and it's put into Pepe's path. He doesn't know anything about it though and it's put out by an Italian defender. He was offside before that though.
58'   Bruma clattered by Chiesa. Sore one and definitely caught him. Free for Portugal.
56'   Corner whipped in and Romagnoli is down grabbing his foot. Saved by Patricio just before that.
56'   Portugal have to scramble clear. Cancelo puts it out for a corner and he was being put under pressure from Cristante.
53'   What a shot, what a save! Bernardo Silva absolutely launches one towards the top corner. Donnarumma saves with his hand outstretched.
51'   And now Bruma wins a throw for Portugal down the left-hand side.
50'   Carvalho drives forward and he's fouled. Cristante the man who is whislted for the foul.
48' Bruma clear through. He centers it to Andre Silva, and there's a few Portuguese attackers in the area. Silva, from Sevilla, slots it home!
48'   Zaza chests one down and Bonaventura picks it up. That's bac to Patricio though and Portugal recover it. 
46'   Cancelo delivers and Bruma is in the vicinity but he can't get anything on it. Italy recover.
46'   No changes for either side. We are underway for the second half in Lisbon.
45'   Half-time!
45'   One last attack for Portugal. Bruma down the left and Pepe strikes. That's blocked. Italy break and get dispossessed. Portugal counter but that's it.
44'   Oh Zaza goes close now. Blocked though.
43'   Throw for Portugal.
42' Neves with a yellow card now. He pulls Zaza back. The striker makes the most of it now.
42' Yellow card for Criscito as he pulls back Carvalho.
41'   Italy the dominant side now. A couple of half chances before it's sent straight at Patricio. Takes a deflection and he gathers.
41'   Bruma goes down and wants a free but no chance. 
40'   Another corner now for Italy. Sent in and Rui Patricio delighted with the catching pratice.
39'   Criscito into the box. He gets a shot away but that's blocked.
39'   Sent in and it's out for a throw now.
38'   Chance now for Italy as it's sent into the mixer. Portugal put it out for a corner.
37'   Zaza inside the box now and he gets taken down by Cancelo. Corner! 
37'   Replay shows that Italy lucky not to concede a penalty there.
36'   Portugal all over Italy now. Carvalho shoots and that is just inches wide.
35'   Portugal want a penalty. Pizzi is taken down by Criscito and it might be obstruction but ref says no. 
35'   Bernardo Silva down the right. He crosses deep to Bruma and it's sent back where it came from by Bruma, who mishits it. 
35'   Portugal sucking Italy in.
33'   Cancelo wins it down and across the defence. Game slowing down slightly now.
32'   That's another chance! Ball sent in low from the left. Italian defender puts it onto his own post. It bounces out and Italy clear. Cristante the man who nearly scored the own goal.
29'   Immobile fighting for position in the middle. Arrives in and Portugal counter. They've an excellent advantage here. Bruma shoots but that's wide. He drags it well wide in the end. 
29'   There's another excellent chance. Italy this time and it's sent in by Lazzari. Headed out for a corner by Pepe at the front post.
27'   What a chance! Headed up into the air by Bruma as it arrives from Carvalho. Shot from Bernardo and it's cleared off the line. There was a free before it but that's the best chance of the gae so far.
26'   Two very attacking teams here and it's a lively affair! No goals yet and no huge chances but very progressive approaches by both coaches.
26' Danger from Italy. Zaza takes it into him in the box but the touch is slightly heavy. He rolls is back to a waiting teammate and Portugal recover. Portugal counter and that comes to a swift end before Italy attack themselves. And they lose it! 
25'   Silva with a foul now. Jorginho caught late. 
24'   Bruma caught late by Cristante. Free for Portugal. Free is sent across to Cancelo but it's headed out for a throw.
22'   Cancelo on the right. He plays it inside and that's a shot or cross or pass, maybe, I'm not really sure by Bernardo Silva. It dribbles wide in the end. 
21'   Straight up the other end and Zaza clashes with Pepe in the box. Free for Portugal. He just clipped his shin before Pepe got to the ball, Pepe made the most out of it too but it was definitely a free.
20'   Silva with a little shake of his hips and he shoots. Forces a save from Donnarumma but not really difficult for him.
18'   Portugal have to defend now. Bonaventura picks up a failed turn by Dias and Italy attack. They lose it and Portugal have a throw. 
16'   More danger. Portugal on the break and Silva can't control it. They keep it though and Bruma has it on the left. He hits one with his right. He was trying to hit a curler but ended up catching it cleanly and sending it 10 yards wide. It's happened to us all.
16'   Chiesa with a hopeful effort on his left. He shoots and that's straight down Patricio's throat. 
15'   That's really sloppy from Italy. Ball across the back is picked up by Silva, he lays it off and then Pizzi gets it in a nice position. He pulls it back but not close enough to Silva. Italy recover. 
14'   Andre Silva with a nice little hip over the top for Bruma but he's squeezed out. Ruben Dias fouls in the end. 
13'   Cancelo with a foul on Bonaventura. Free for Italy. They've settled into this one and Portugal have eased off with their intensity. Ball down the channel looking for Immobile but he's offside.
11'   Ball sent in by Bonaventura and it's really hard for Zaza to control that. There was too much pace on it and he does meet it with his head but it's up into the air.
11'   Corner for Italy now. 
9'   A Portugal goalkick now. Criscito wants a corner as he attacks down the left but it hit him last. Portugal with a chance to restart.
7'   Bruma down the left and he holds on against all odds. Into the box and Portugal's presure is a little heavy-handed. Free for Italy.
7'   Pizzi works it short and Neves lofts it in. Headed out! 
6'   But Portugal win it straight back. Bruma to Rui. Another corner.
6'   Portugal the protagonists so far here. Cancelo down the left and he is picked off by Criscito.
5'   What a chance! William Carvalho heads just inches wide. Perfect ball into the box and he just glances it wide.
4'   Mario Rui with a lovely little run down the left and he crosses. Corner Portugal! 
4'   Portugal's first attack. And it's cross in dangerously but headed out. William Carvalho wins it back and Portugal keep it.
2'   And they win it back. Chiesa picks it up after winning a battle with Mario Rui and he fires across goal. Rui Patricio is equal to it.
2'   Portugal start of in possession. Italy and Zaza in particular pushing forward.
1'      We're ready for action. Rui Patricio just clearing water bottles away from his goal and we are underway! 
    And a rousing version of Portugal's national anthem. Willy Collum the referee for tonight's affair. No Scottish national anthem for Mr. Collum. 
    Il Canto degli Italiani as it's called. Immobile giving it loads! Not a huge crowd at the game. 
    And we're lined up for th national anthems. Italy first up!
    Teams emerge from the tunnels..
    Warm-ups are underway!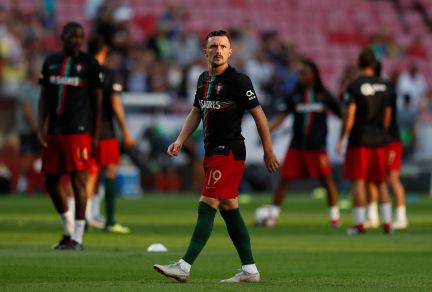 Just in case our online coverage isn't enough for you! Here's how to watch it.
    Mancini and Italy taking the "fail to prepare, prepare to fail" approach.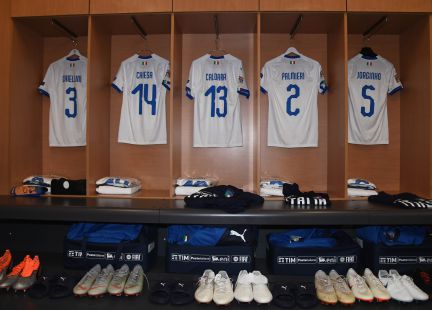 'It will be a very difficult game against Italy, a team that likes to give the initiative to the opponent and surprise on the counter-attack,' said Pepe. The problem is that Portugal aren't overly keen on taking the initiative themselves.
    "Just because they were not present at the World Cup does not alter their history. This game is part of a new competition and naturally takes on another level of importance. It's hard to talk about favourites in games at this level, they are difficult for any of the teams," says Fernando Santos, who is not underestimating Italy because of missing the World Cup.
    Italy with better form heading into this one. According to this stat from WhoScored.com: "Italy have won four of the last five meetings between the two sides but Portugal came out on top in their most recent encounter. Even without Cristiano Ronaldo, the home side will be looking for at least a point here.
    Just on debutant in Italy's starting XI. Plenty of youth but Manuel Lazzari the only player playing for the first time today.
    A very young side for Mancini. He starts with Caldara, who was part of the Bonucci deal to Juventus recently. 
    Italy XI: Donnarumma, Lazzari, Caldara, Romagnoli, Criscito, Bonaventura, Jorginho, Cristante, Zaza, Immobile, Chiesa.
    Portugal XI: Patricio, Cancelo, Pepe, Dias, Mario Rui, William, Neves, Pizzi, Bruma, Andre Silva, Bernardo Silva.
    Hello and welcome to our live online coverage of Portugal and Italy in the Nations League from Lisbon at 20:45 CEST.
Portugal - Italy live online: preview
The Nations League is back and Fernando Santos' side welcome Roberto Mancini's to the Estadio Jose Alvalade in Lisbon on Monday 10 September 2018 with kick-off at 20:45 CEST. Portugal drew their first game in the tournament against Croatia thanks to a goal from Pepe and Italy had the same result against the Netherlands thanks to a Simone Zaza strike.
Portugal are without Cristiano Ronaldo but Andre Silva is as he looks to lead the line for Portugal. Santos has no injury worries and it remains to be seen who he starts with the likes of Gedson Fernandes, Sergio Oliveira, Claudio Ramos and Pedro Mendes all earning call-ups.
Roberto Mancini dropped Mario Balotelli from his squad and says his "fitness is an issue right now". Just when Italy needed a controversy-free start to life under the former Manchester City boss, it seems the reunion between him and his former player is directing the spotlight on them. It's many of the old names in Italy's side but mixed with some new faces. Donnarumma's time has come in goals and Bellotti might be given a chance in Balotelli's absence along with Chelsea midfielder Jorginho, who has impressed since his summer move to the Premier League.