Athletic Club 1-1 Real Madrid: match report - LaLiga Santander 2018/19
A Muniain goal after 32 minutes was cancelled out by Isco's header in the second half. Real Madrid slip behind Barcelona at the top of LaLiga.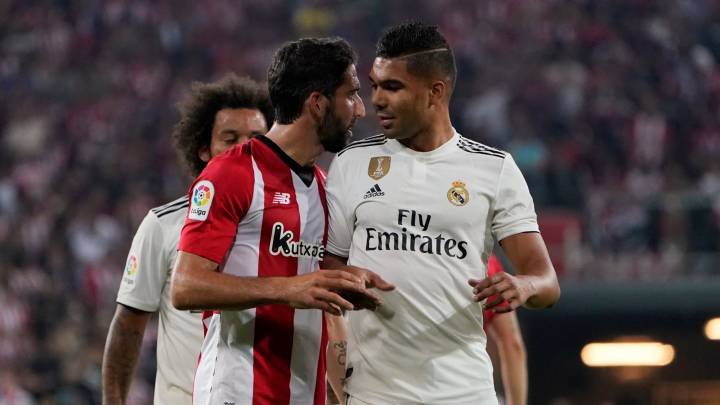 Athletic Club 1-1 Real Madrid: match report
Three wins and a draw. Not a bad return from the first four games for new manager Julen Lopetegui. However, with main rivals for the Liga title maintaining their 100% start to the season earlier in the evening, Real Madrid are already playing catch-up, not something that they faired well at last season.
Right from the off, Berizzo's troops showed their hand. Hard work and appropriate pressing across the length of the pitch, and the constant threat of hitting on the break quickly when the ball was stolen, would serve them well all night. Madrid had more possession but attempts at goal were equal going into half-time. The big difference at that point, however, was a 32nd minute goal for the hosts, as Iker Muniain tapped home a scuffed effort from Iñaki Williams.
Lopetegui had begun the game with Casemiro and Isco on the bench and Dani Ceballos had been given the nod, with the coach knowing the creative value of the lad he worked with in the younger ranks of the national team. In hindsight, the difference seen after the introduction of the two substitutes (Modric the other to make way) suggested that more solidity in the middle of the field would actually have given a better platform for attacks. We'll never know if it would have played out that way.
Moments after Isco came on, Los Blancos were level. A fine cross from the generally ineffective Gareth Bale was met in front of Unai Simon with a neatly glanced header. More chances came and went - Athletic continuing to hunt on the counter - but there was to be no more scoring.
Berizzo will be pleased with how his side matched their more illustrious guests. Lopetegui will know that there is still work to be done to polish this 'new' Madrid. He'll also know that any rough edges that may remain on young Marco Asensio are harder and harder to spot.
Read on to find out how it all played out live at San Mamés.
Athletic Club vs Real Madrid live online: as it happened
Thank you for joining me this evening and we look forward to having your company once again soon...
Real Madrid came to Bibao knowing that it would likely be their toughest test of the season to date. And so it proved to be. Despite a very good period for the visitors following the introduction of Casemiro and Isco through the second half, a share of the spoils feels like a fair result across the piece.
FULL-TIME | Athletic Club 1-1 Real Madrid 
90'+3'   Time almost up but Athletic have a corner. Could they...?  No. The delivery is headed clear and the whistle blows...
90'+1' Simon goes into the book 
90'   3 additional minutes will be added
89'   Chance! Fabulous run from Asensio, the tracking and facing defenders had no idea how to stop him, but as the youngster reaches the trigger-pulling region he lays it off to Benzema in the area. The striker tries to find a teammate but it's blocked and cleared to safety. Asensio has a face of 'what else can I do?'
87' Lucas Vazquez joins the growing list in the referee's book
86'   Ramos strides into the opponent's half with purpose but then stops and demands a free-kick for a little rubbing as he does so. He may be called twice but referee Gonzalez Gonzalez doesn't think twice. Céline Dion weeps.
84' Carvajal sees yellow for jumping into the advancing opponent.  The breakdown in Lucas Vazquez play lets Athletic go long but what could have been a danger is swiftly extinguished by a sprinting Varane.
82'   Marcelo fires high and wide from a difficult chance as both sides look to take anything resembling an opportunity
81' Mikel Rico comes on for Benat Etxebarria in a final roll of the dice from Berizzo
80'   Almost a chance for the hosts but white shirts descend before Courtois is called into action. Can someone nick this in the final 10 minutes. Madrid look much more dangerous.
78' Etxebarria goes into the book for a silly foul on Isco
77'   Patience from Madrid, controlling the game much better, and the play ends with a wild cross/shot (?) from the recently-introduced Lucas Vazquez. 
74' Two changes | Bale goes off for Lucas Vazquez while Athletic swap Mikel San Jose for Inaki Williams
...The strike takes the ball over the wall but never coming back down until the fans were catching it behind the goal.
72'   Madrid have looked so much more dangerous since the changes to the personnel. Isco played in through the middle and is taken out after nicking the ball away from the closing defender. Free-kick a yard outside. Sergio Ramos steps up menacingly... Berchiche booked.
68'   Chance! Great opportunity for Asensio to turn this match on its head as he finds himself one-on-one with Simon. Options over, under, or to either side of the advancing stopper. The Spaniard can't find any.
65'   Bale must have been checking my last comment as he now picks up the ball with intent to prove me wrong. On the edge of the Athletic area, stepping in from the right, he needs a smooth curling effort towards the large space just inside the far post. The scoreline is not close to changing!
That didn't take long! Isco with a glancing header after a lovely first time cross from Bale on the right. (The Welshman has been rather quiet tonight) 
63' Goooooaaaaaaaallll!!! Athletic 1-1 Madrid
61' Isco on for Modric
60' Garcia shown a card as lots of chat going on between the players
59'   A couple of uneccesary challenges on Madrid players there and the latter results in a free kick outside the area. It's hit hard by Bale but straight at Simon. Wait! The keeper fails to catch it and Ramos is first onto the rebound. The defender fires it straight at Simon as he closes him down.
56'   Isco getting prepared to come on (not a bad replacement when you need a creative spark). While he does, Bilbao get in down the right but the cross is dealt with calmly by Varane.
55' Muniain, who looked like he may have been hurt, is off and Ander Capa takes his place
54'   The corner causes some problems and as the deflected ball drops from the sky, Bale completely miscues his volley.
52'   Good tracking again from Carvajal (he's started this season really well) and then Madrid look to build, search for openings. The ball reaches Bale who feigns cutting in then feeds the overlapping run from his full-back on the right. Great headed block at the front post prevents the imminent danger behind.
48'   First shot of the half is offered to Inaki Williams. Plenty power, but his sight needs a significant adjustment if he's going to trouble Courtois.
46'   The home side start things off and try their luck down the left. Carvajal having none of it.
The second half is go. Athletic 1-0 Real Madrid
Right, the teams are out and there is a change from Lopetegui. Just as we've been saying, the Ceballos bet hasn't been paying off so Casemiro takes his place.
STAT ATTACK | Madrid have had more possession in that first half (59%) but shots at goal have been shared equally. Both teams have had 6 shots of which 3 have been on target.
Berizzo, like other managers of late, appears to be targeting Marcelo's left-back area. We've covered each of Madrid's games this season and it must be becoming a concern for Lopetegui. The Brazilian offers plenty, but as he inches ever-further down the wing, the space behind him is being attacked, which then involves either Ramos or Varane covering. Space then opens up centrally.
So, the decision to put Ceballos in for Casemiro should have allowed the creativity to open up Athletic but so far that's not been overly evident. The Spaniard has not been poor by any means but only really Asensio has stood out in an attacking sense, looking dangerous whenever he receives the ball.
45' HALF-TIME | And rhat's the end of the first half with no added time from Sr Gonzalez Gonzalez 
45'   As we come up to the break, Lopetegui will be already considering changes to the tactics or personel with more opportunites to test Simon needing to be created. Yellow shown to Yeray for a foul.
43'   Williams again chases a long ball foward and only Ramos is covering. The defender comes out on top and some delicious skill from the supporting Marcelo relieves the pressure.
40'   As I say that, Williams gets the chance to run at Varane and fancies his chances at a straight sprint with 'the best defender in the world'. A throw-in is all the change that is given from that purchase.
39'   Madrid trying to take back control in the middle of the pitch but are struggling to find a rhythm. And there hosts are just itching to burst forward at any chance.
37'   Simon denies Modric. Almost full stretch, diving across to his right. Very smart save.
35'   Athletic have the ball in the net again but the run from Gracia to meet the perfectly weighted inswinging free-kick started way behind the defensive line. Madrid need to be careful here as the home crowd lift the noise levels even higher.
A little sloppy from Madrid but as the ball is rolled across goal, Williams redirects it towards goal. It gets tied up in the various legs but Muniain finishes it off.
32' Gooooaaaaaaallll!! Athletic 1-0 Madrid Muniain taps in from a nice move down the inside right channel
30'   Chance! Asensio looking to ride the wave he's on right now. Checks away from his man on the right and tries a power-curler. Simon says "no!"
29'   Shot fired in at Simon from a tight angle from Carvajal after Asensio had played him into space. Unlikely to beat him from there but the full-back is having a good time of it of late so, why not.
27'   Madrid have the ball in the net but there was an offside call already made in the build-up. Asensio shows his big, innocent eyes to the ref but there's no fuss made.
25'   Ceballos is getting involved plenty and combines well with Gareth Bale - having a spell on the left - who crosses on the volley. Simon gathers.
22'   Courtois now called into action. Williams leads the break and switches the play to the left where Raul Garcia gets plenty of power behind his shot. More finesse required though to beat the big Belgian.
20'   Quick break forward from the lads from Bilbao and they should've done better but the final pass was intercepted.
19'   Bale now in a similar position to his French strike partner tries his luck. The projectory looked good but Simon was in the right place to collect.
18'   A period of play in the middle of the park and then Marcelo beats his man and cuts in. The ball is fed to Benzema on the edge of the area and he didn't think twice, cutting back on himself and letting fly of his left peg. Hard and high.
15'   Chance! On the back of that last one, Susaeta gets plenty behind an effort high towards the near post. Courtois happy to see it go just wide.
13'   Best piece of play from the hosts there. Patience in the build up on the half-way line, then quick passing ends with Williams pulling his shot wide of the far post from the right. Reasons for the noise levels to raise.
10'   Again Asensio glides down that right wing but he's not afforded just one companion in red and white. Three opponents manage to snuff out the danger and Athletic attempt to break.
9'   Athletic are working hard to close down any space that opens up in their half. The creativity in white is required.
8'   Asensio - the young man who is buzzing after some sensational stuff for Spain in the break - dribbles his way in from the right but can't find a teammate and the move breaks down.
7'   First shot of any sort from the home side. Way over and wide.
5'   Ramos again ends up getting a foul after being put under excessive pressure, this time by Williams, in the left-back area. No surprise to see that space in behind Marcelo
3'   Sergio Ramos decides that he can beat his man despite being in his own penalty area, and then a second time. Risky play but clearly part of the Lopetegui plan as Courtois was happy to pass it to his captain despite the lack of space.
2'   Chance! Modric almost opens the scoring early in the second minute but can't get a clean hit. That all came from Courtois playing it through the team to the other end of the pitch. Corner given and nothing comes of it.
1'   Madrid get things going and immediately work the ball back to Courtois who is put under pressure in his own area by two Athletic forwards.
And we're off!
Before we can go, a nice embrace there for Iker Muniain and Lopetegui.
The teams are out onto the field and have gone through the customary photocall and handshakes. Almost time for the whistle to get us underway...
We mustn't forget that Unai Simón in goal for the home team is one of those trying to fill the shoes of Kepa Arrizabalaga who left for Chelsea with the tag of most expensive goalkeeper ever. Tonight is not a bad stage to show everyone what he's capable of.
We said in our preview that it would take a brave man to bet against a fairly free-scoring Madrid side from taking all three points from this game. Well, the AS Oracle may not be a man - more of a spiritual being that floats around the office - and 'it' has predicted a 1-1 draw stating that Athletic are the first side they've faced "operating in roughly the same weight division." 
There were no goals in this fixture last season and San Mamés is one of the stadia in which Gareth Bale is yet to open his scoring account. The Welshman debuted for Madrid five years ago now and for a few reasons, some predict this could be a fresh start for him. A goal tonight would certainly maintain that flow of belief that is growing in an attacker that has struggled at times to convince all Madridistas.
Although some may be surprised to see the consistent Brazilian replaced by the talented, but less solid Spaniard, it could just be the manager looking at horses for courses. Tonight is likely to be about breaking down a stubborn backline and Ceballos has shown that he could quite possibly open a can of sardines with either foot. Will Berizzo see that attacking move by his opposite number as an invitation to get on the front foot early...?
Lopetegui elects Courtois once again between the sticks, and decides to leave Casemiro on the bench with Dani Ceballos, the forgotten man under Zidane, given the role along with Kroos and Modric in midfield.
So, Inaki Williams has Aduriz back to lead the line and, as expected, Íñigo Martínez takes his place in the heart of the home defence. Good news for Athletic.
So, keeping pace with Barça is the ultimate objective of this evening's fixture in Bilbao for Lopetegui, but there is so much else to keep an eye on...
Los Blancos come into this Saturday evening game already clear about what their expected title rivals this season have done themselves. This afternoon neighbours Atlético dropped more points as a 93rd minute equaliser at home to Eibar spared some blushes at least. Barcelona didn't have it all their own way either but came back from a goal behind - and plenty of scares - to beat Real Sociedad 1-2 at Anoeta.
Welcome to our live coverage of Athletic Club against Real Madrid as Julen Lopetegui brings his side to the north of Spain looking to maintain their 100% record. Game 4 of LaLiga for these two clubs will be underway shortly so stay with us...
Athletic Club vs Real Madrid live online: preview
Three games, three wins. Julen Lopetegui's first trip to San Mamés as Real Madrid mamager suggests his most difficult challenge so far but it would take a brave person to bet against a victory for the visitors, who are in confident mood. This is the 50th game between the two sides with Athletic having won 11 and drawn three. A 32nd win for Los Blancos will be needed though to keep pace with title rivals, Barcelona.
Athletic Club
The side from Bilbao have not beaten Madrid in their last 17 encounters. The last time they took all three points was in the 2014/15 campaign when Ernesto Valverde masterminded glory over Carlo Ancelotti. But even so, there are reasons for the home fans to feel positive as they head to San Mamés on Saturday evening.
Four points from their opening two games (their fixture against Rayo was postponed) has been a reasonable return for Eduardo Berizzo and the Fifa break has given players like Íñigo Martínez and Aduriz time to recover. In fact, only three of the Bilbao squad left for international duty, with the others working on the training ground in preparation. This gap could have allowed an element of rustiness to creep in but Berizzo organised a closed-doors friendly with Valladolid to minimise this.
Starting XI: Unai Simón, I.Martínez, Yeray, Beñat, Williams, Muniain, Yuri B., Susaeta, Dani García, De Marcos, Raúl García.
Real Madrid
Cristiano Ronaldo was the biggest story of the summer transfer window as he departed for pastures new in Turin. But, with each week that passes, and those that he left behind step up to replace his goals, the ripples dissipate. Ahead of the fourth week of Liga action, Bale and Benzema were the leading front pairing, as they take on their own roles, out of the shadow of the Portuguese striker, and with the guidance of their new manager.
Whereas their hosts could be concerned of lack of competitive playing time in the 19 days since their last fixture, 13 Madridistas went off to serve their country, 11 of them playing in two games. That could test their fitness levels but so early in the season, and with a wider pack to shuffle later in the game, Lopetegui will be expecting to be heading home at the top of the table.
Starting XI: Courtois, Carvajal, Varane, Ramos, Marcelo, Kroos, Modric, Ceballos, Bale, Asensio, Benzema