LALIGA
Barcelona 2-2 Girona: LaLiga gameweek 5
Barcelona took the lead before Girona went ahead thanks to Stuani's double and then Pique headed Barcelona level in the second half.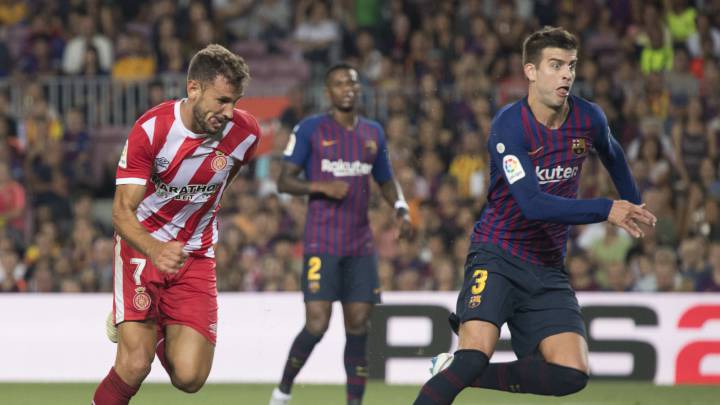 Barcelona 2-2 Girona: match report
Barcelona's 100 percent winning start to the season came to a halt on Sunday when they were held to a 2-2 La Liga draw by Girona on Sunday, having been reduced to playing the final 55 minutes with 10 men.
The result meant they lost their two-point advantage over Real Madrid at the top of the table, with both teams on 13 points after five games.
Lionel Messi gave the champions the lead in the 19th minute with a first-time shot after a lay off from Chile international Arturo Vidal and came close to doubling the lead after dancing through a maze of defenders but saw his shot saved.
Barca's strong start was derailed when defender Clement Lenglet was sent off 35 minutes into his first league start for the club after elbowing Pere Pons, and Girona took advantage right before the interval when Cristhian Stuani levelled.
Uruguayan striker Stuani struck again in the 51st to give Girona an unlikely lead, but Gerard Pique climbed above two defenders to level in the 63rd
Barcelona vs Girona live online: latest updates
90'+3' GAME OVER! Barcelona drop their first point of the league.
90'+3'   Last few seconds now as Barcelona try to mount one last attack.
90'+3'   Bono takes his time over this kickout.
90'+2'   So, so close. Alba with the cross and Pique can't reach it at the back post.
90'+1'   Messi goes down and wants a free but ref says no.
90'+1'   We are into the first minute of added time and we will get three more.
90'   Suarez down the line and he can't stop it from going out for a goalkick.
89'   Pique back to Ter Stegen and he gets rid before Doumbia can reach him.
88'   Rakitic drives forward. Coutinho with a really, really dangerous shot. Just wide of Bono's goal. That was close.
86'   Slight little hand in the back but would have been a ridiculously soft penalty.
86'   Busquets goes down in the penalty area and referee doesn't give it. 
85' Change for Girona as Doumbia comes on for Portu, who ran himself into the ground.
83'   Girona did have men behind the ball though.
83'   Alba and Messi link and it's out for a corner. Messi was close there and if he could have just gotten a shot towards goal, it might have been the winner.
81'   Pique booked for having a word with the referee.. Wide open is this one but Barcelona are probably more likely at the moment. They'll continue to get more tired with their man disadvantage.
78'   Corner comes in and Umtiti's effort sent out for another corner.
76'   Suarez shot is going on target and it's blocked and out for a corner. 
76'   Girona have gone a little flat in the last few minutes. 
75'   Foul on Douglas Luiz by Sergio Busquets. 
75'   15 minutes remaining now. 
72'   Messi with a lovely run into the box and he frees up Coutinho. The Brazilian pokes it towards goal but Bono gets down and saves.
72'   Douglas Luiz tries to stop Suarez from taking a free and he pushes the Girona player out of the way. All getting a little chippy here. 
69'   Messi loops it over the wall and slips. Bono gathers it.
69'   Portu booked in the middle of all of that. 
66' Alcala booked now for a foul on Messi. He was late and this is really dangerous now for Girona. This is Messi land.
63' GOAL! Pique heads Barcelona level. Ball sent in and Suarez kicks it off Bono, who saves and it is onto the head of the defender. GOAL!
63'   Messi does indeed strike towards goal and it's saved by Bono. It was going wide anyway but that's a corner. Barcelona getting closer now.
62'   Messi with the free now but too far out to the right maybe. Messi eyeing it up anyway.
60' There's a yellow now for Juanpe. Suarez fouled.
60'   Messi hits the crossbar and it's up and out. What a strike that was.
59'   Suarez taken down and as Espinoso goes through the back of him. No yellow but Barcelona want one. It'd be his second and the referee says no.
57'   Ter Stegen about two miles off his line and clears Portu out of it. But it's no foul.
55'   Ball sent in by Vidal and Suarez nearly gets his head to it but can't. Bono gets his hand to it.
54'   Rakitic coming on.
50'   Rakitic on the sideline, as is Coutinho and a couple more too.
50'   Valverde with some decisions to make. 
50' STUANI! He absolutely buries it. Portu shot is saved and Stuani absolutely buries it into the top corner.
50'   Arthur strikes from the corner after working it short. Save by Bono. Those shots a little pointless as they are never going to trouble Bono.
49'   Semedo squares to Suarez when he might have taken the option to go alone. The striker shoots and it's deflected out for a corner.
48'   Shot for Arthur, saved by Bono.
46'   We are back underway!
46' Aleix Garcia off and Borja Garcia on for Girona too.
46' Umtiti in for Barcelona, Dembele off. Sacrifice.
    Teams making their way back onto the field. We will let you know of changes soon. Interesting to see if Valverde brings on a defender. 
Here's referee, Gil Manzano, explaining the elbow to Busquets. He was convined of it.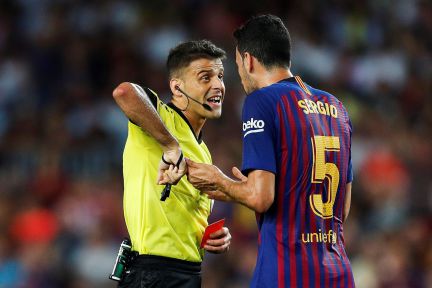 45'+3'   And that will do it for the first half. Exciting. Four yellow cards, one red, two goals and some nice football. All in the balance at the moment.
45'+1'   And Barcelona so nearly answer. Suarez out to Alba and he cuts it in to Messi, who slams over. Alba was offside though by a good bit!
45'   Stuani cuts inside the box and beats Pique before going around Busquets, who can't dive in or it will be a penalty. He chips it over Ter Stegen and we are level.
44' Stuani goal! 
43'   Approaching half-time now. Let's see if Valverde makes a change at the break. Umtiti is warming up. But Barca have been in control and he might be happy enough to leave three at the back with Busquets dropping in sometimes. 
42'   Suarez cuts in from the left and shoots. It's blocked out for a throw that Vidal takes. 
40'   Messi free kick. Not ideal shooting position as Bono saved it quite easily.
38'   Yellow card now for Espinosa. He catches Suarez around the neck and throw him backwards.
36'   Pons fouled Lenglet but there was an elbow. Not sure how intentional it was but the referee went to VAR and had no doubts that it was an elbow. If Barcelona want to win thise, they'll have to do it with 10 men.
34' Red card for Lenglet. What just happened!!!! He caught Pons with an elbow apparently. 
34'   Lenglet down grabbing his knee. Referee goes to VAR to see how bad it was maybe?! 
31'   Portu loses out and Barcelona counter. Dembele with a really poor touch and loses out.
29'   Off the line by Pique. Counter by girona and Portu goes around Ter Stegen before Pique gets back and puts it out for a corner.
28'   Dembele takes a fairly tame effort that Bono saves with ease.
28'   Suarez makes a run down the left but loses the ball under his feet. Not sure what he was doing there. 
26'   Good cross in that's headed out as far as Muniesa but he sends it ocer the bar. No hassle for Ter Stegen as he sees it over.
24'   With no real outlet. Ter Stegen not been seen in a while either. Stuani wins a throw now though as Girona dream of an attack of some sort.
23'   Girona under more pressure now. They're camped out in their own half here.
21'   It was actually a lovely nutmeg by Suarez on Espinosa to set himself up for the shot there.
19'   Lovely finish from Messi. And Barcelona want more. Suarez breaks free in the right halfspace and he drives but Bono saves.
19' Messi with the goal. Vidal plays it into his path and Messi with the first time finish into the bottom corner. Lovely finish.
19'   Girona win it back after poor pass to Dembele. They counter with pace but it comes to night in the end.
16' Stuani booked now and there's yellows all over the place. Replay looks very harsh as Stuani barely touched him.
14'   There's another fairly nasty one by Arthur and he's lucky to avoid a yellow. Girona on the ball now and looking to create something.
12' And now Semedo takes Portu down and gets booked. Really nasty one.
10'   Vidal plays it into the path of Messi and he runs along the edge of the box...runs, runs, and continues to run before placing one towards the bottom corner. Bono saves. Best chance of the game for Messi and Barcelona.
10'   Ball in behind in search of Suárez but it's cut out by Girona. Barcelona in full control of this one now. Girona are retreating further by the minute.
8'   Getting a little too close for comfort now as Vidal flies down the right and sends in a cross. Out for a corner again.
6'   Out for a throw on the other side of the field.
6'   Again down this left hand side and it's Dembele who delivers. Suarez goes down in the box but no penalty. 
6'   Suarez out to Dembele and he drives a low cross into the box. Put out for a corner. Close call but Girona survive.
4'   Reall good corner and Espinosa heads it towards goal. Ter Stegen comfortable with that one. Nice effort though.
4'  Foul by Arthuer and while Barca are standing around looking at the referee, Girona take. It's put out for a corner. Bright start for Girona. 
3'   Stuani goes in on Pique with an hip to the back of the head as they battle for the ball. Free for Barcelona.
3' Girona win it back and Aleix Garcia drives up the field before losing it and putting it out for a throw.
2'   Dembele played in by Dembele and Suarez gets it before whipping it out to the right. Barcelona patient now in their build-up and just waiting for a chance to attack.
1'   Things under way at the Camp Nou. Girona launch an attack and Barcelona defend and break through Dembele.
    Teams out and Messi and Granell up for the toss. 
    Ernesto Valverde in no hurry to discuss his contract with Barcelona because there are football games he needs to win coming up!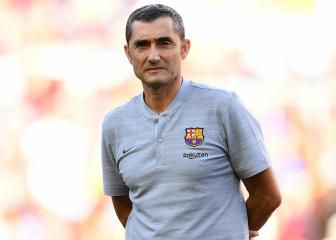 Some stats via WhoScored.com: Barcelona have won 30 of their last 33 home matches (La Liga).
    We are 15 out from the game at the Camp Nou. 
    Eusebio has opted for a more defensive approach. He has been stung in the past by Barcelona and playing attacking football but it's a tough one because if you're going to get beaten anyway, you might as well go out and have a cut at them! Let's see how his approach works tonight.
    Barcelona are 12 for 12 this season in points. Their top scorers are their top three and between Messi, Suarez and Dembele, they have 10 goals. There are even murmurs that Dembele is better than Neymar!
    Just two games between these two sides in their respective histories. Both beatings for Girona and they are losing 9-1 on aggregate. Their one and only game at the Camp Nou ending in 6-1 defeat. They'll be hoping Eusebio can save them from that kind of embarrassment tonight. He does play open and attacking football though so it's not guaranteed.
    Two changes for Girona as Muniesa comes in and Aleix Garcia does too. Porro drops out as does Douglas Luiz. 
    Girona's starting XI.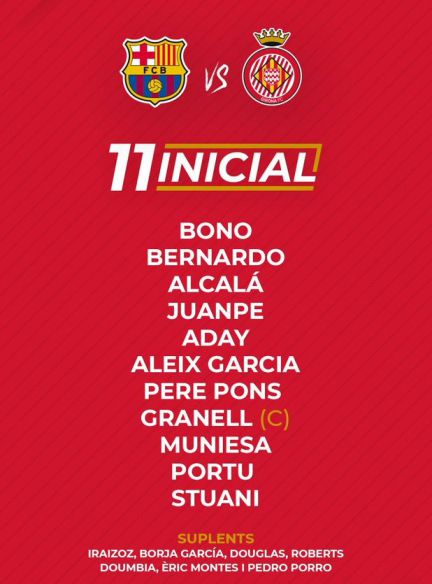 Barcelona's team news is in as Valverde does some rotating. Lenglet gets his first start of the season and in a Barcelona jersey.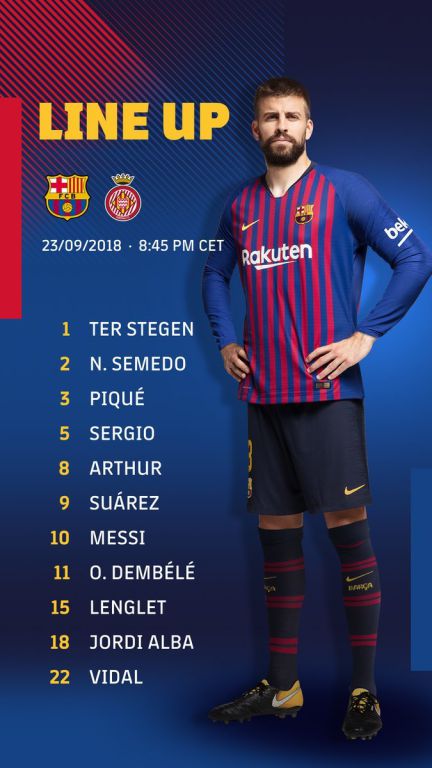 Hello and welcome to our live LaLiga coverage of Barcelona versus Girona as they face each other at the Camp Nou on 23 September 2018 at 20:45 CET. 
Barcelona vs Girona live online: match preview
Barcelona welcome Girona to the Camp Nou on Sunday night in an effort to maintain their 100% record in LaLiga on Sunday 23 September at 20:45 CET. Barcelona have been cruising in the league and Champions League but Girona have seven points from a possible twelve and pushed Real Madrid recenty after taking the lead in the first half as a sign of what they're capable of.
Ernesto Valverde named Denis Suarez in his first squad of the season having failed to earn a place in the manager's plans so far. But with two big games coming up on Wednesday and Saturday against Leganes and Athletic Bilbao, he has decided to rotate. Malcom remains injured and Rafinha, Thomas Vermaelen and Carles Aleñá all miss out too and will have to watch on from the stands.
Lionel Messi remains Barca's talisman but Ousmane Dembele has emerged in the absence of Malcom to show off his talent and he has three goals in four games, which is second only to Messi, who has four. "Girona are playing with no fear and they know they have nothing to lose. Eusebio is a coach who always stands tall and it will be an intense match," says Ernesto Valverde about Girona travelling to the Camp Nou.
Eusbio's Girona have been an enjoyable watch this season too with the likes of Portu and Pedro Porro putting pressure on opponents' left wings. Cristhian Stuani started the season slowly but has three goals in his last two games and will be looking to add to his account this season at the Camp Nou on Sunday. Girona, who played their first ever season in LaLiga last year have only played Barcelona twice and lost on both occasions. They weren't particularly happy days at the office either with a 6-1 trouncing at the Camp Nou to go with a 0-3 defeat at Montilivi.
They have a new manager this season, however, and they might approach it differently. Eusebio has played Barcelona seven times with a win and a draw along with five losses in those games. He has a much healthier record against Ernesto Valverde, however, and in six games has won two, drawn one and lost three.