Juventus - Napoli: result, as it happened
A second yellow card awarded to Napoli's Mario Rui awarded just before the hour mark was instrumental in seeing Juve see off a solid Napoli side.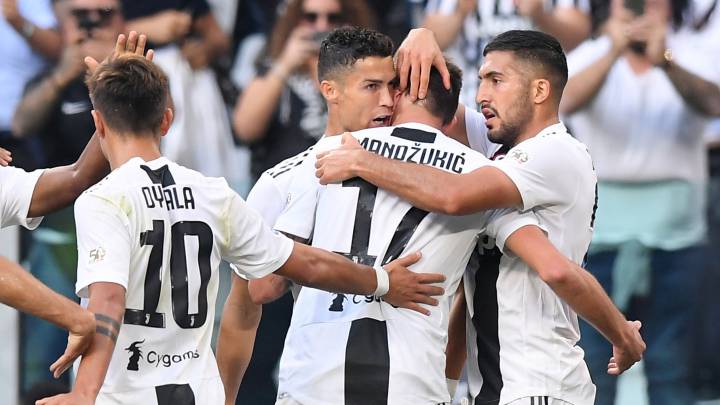 Who can stop the Juventus juggernaut? The Serie A title holders faced today their sternest test this season against Napoli and were even trailing after ten minutes when Dries Mertens put the visitors ahead.
Allegri's side rallied and went level when Cristiano assisted for Mario Mandzukic to nod past Ospina. It was the Croatian striker who was on target in the 48th minute after Ospina tipped a Cristiano shot onto the post and the ball fell kindly for the Juve striker to slot home.
Napoli never threw in the towel but their task was made that bit harder after Rui foulded Dybala to earn his second yellow of the evening. Napoli probed but Bonucci's 76th minute strike saw the fight go out of Ancelotti's side.
Juve march on and will look to make it eight from eight with an away trip to Udine next weekend.
Juventus 3-1 Napoli: as it happened
95'   That's all in Turin. Juve win: Juventus 3-1 Napoli 
94'   Fans streaming out of the stadium, happy that they have seen the Juve juggernaut press on with yet another win
93'   CR7 breaks free but Albiol manages to clear for a corner 
90'   We'll have 5' of time added on
90'   Last minute of normal time.... Juve just happy to run the clock down as Bernardeschi delivers a ball which Ronaldo fails to latch on to
89'   Insigne takes but straight into the Juve wall
89'   Free kick for Napoli on the edge of the area
86'   Napoli doing their best to weave their way through the sea of black & white but little quarter given from the home side. 
Card for Alex Sandro for a rash challenge on Albiol 
Change for Juve: Mandzukic off/ Cuadrado on
84'   Cristiano tries his luck but steers the ball wide with a drive on his less fancied left foot
Juve on track for 7 wins from 7 games is the result stays as it is
82'   Champions League action awaits both sides next week with Juve facing Young Boys and Napoli set to welcome Liverpool
78'   Napoli still press and win another corner.
77' Cristiano latches onto a perfectly weighted through ball and tries to lob Ospina.... Napoli break down the other end and win a corner, refusing to give up with the game held up as Ospina is attended to by the Napoli medical team.    
77'   Long, long way back now for the ten men of Napoli .....
Juventus 3-1 Napoli
76' Bonucci latches onto the deflected corner to make it 3 for Juve
75'   15' to go in Turin. Juve still in control against the ten men of Napoli as Pjanic fires a (deflected) shot to win a corner and keep Napoli pegged back inside their half.
74'   The moment when Juventus' Mario Mandzukic (R) scored his second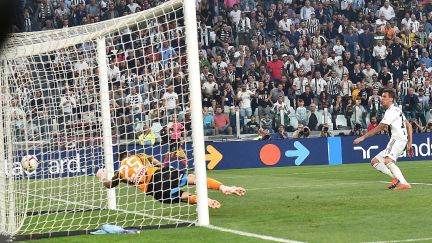 71'   Napoli dominating possession now as Juve sit deeper. Callejon breaks through but fires his shot straight at Szczesny, great chance for 2-2, but spurned by the Napoli striker
69'   Insigne or Callejon to take.... into the wall. Poor delivery from the Spanish player.
Ruiz on Hamsik off (final Napoli change)
69'   Napoli win a dangerous free kick ...first a change
Napoli about to bring on Spaniard Ruiz (ex Betis)
68'   Napoli move breaks down but Juve are dealing well with the probing from the men in blue
Napoli's fans cheer prior to the Italian Serie A football match Juventus vs Napoli on September 29, 2018 at the Juventus stadium in Turin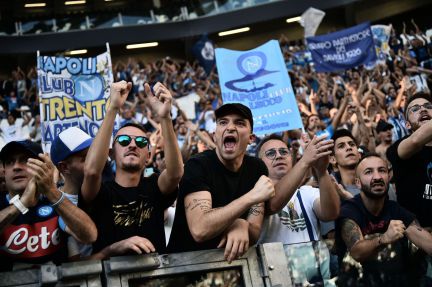 65'   Juve retaining possession well with the ten men of Napoli facing a long 25 minutes ahead.
Change number 2 for Juve:  Bernardeschi on for Dybala
62'   Can the 10 men of Napoli steal an equaliser? Tonight's game is certainly the sternest test Juve have faced this season so far
Zielinski off / Malcuit on for Napoli
Change for Juve: Khedira off with Betancour on 
Mertens off with Milik on
Cards for Bonucci and Insigne for protesting after the referee consults VAR
60'   Bonucci then proceeds to headbut a Napoli player in the melee after the incident which was behind the ref. Napoli now with ten
Rui sent off after a second yellow
57'   Mertens almost makes it 2-2- as the ball bobbles about in the Juve area and eventually whacked clear by the home side. Decent response to the goal from Ancelotti's side as they probe looking for an equaliser
Card for Hysaj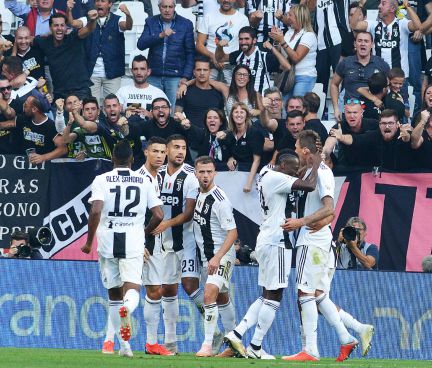 54'   Plenty of time for the visitors with Ancelotti still yet to make any changes...
53'   What can Napoli offer by way of reply?
50' Koulibaly tries his luck but fails to get precision on his shot which rolls wide.
50'   Credit to Ronaldo for the build-up play and a tad unlucky for Ospina who did well in tipping the ball onto the post, luck not with Ancelotti's side as the ball fell perfectly to the Croatian striker to slot home. 
Juventus 2-1 Napoli
48' Gol. Cristiano rifles the ball off the post and the rebound falls to mandzukic who slots home.  
47'   Insigne breaks with the ball but is crowded out by the men in black and white
46'   Off we go as Juve start the second half
The teams take to the pitch at a packed stadium in Turin. About 1.000 Napoli fans here tonight tucked into a corner behind the goal Ospina will defend.  
45'+1' Dybala's delivery is a good one but Albiol is up to head firmly clear and that's it ! The whistle goes for half time. And what a half that was!
45'+1'   Corner to Juve, last chance of the half...
44'   Just the one minute added after a frantic but mostly clean first half.
43'   Dybala! Out for a corner as the striker's shot picks up a deflection. Oh, apparently not, goal kick... looked as though it clipped a blue sock on the way through there.
42'   Mario Rui! A curling effort from the defender just clears Juve's crossbar after good work from Mertens on the right.
40'   Pjanic swings in the free kick and it's a free-for-all with Chiellini almost making contact. Juve appeal for a penalty as the defender hits the turf but there were so many players in the same place that the ref shakes his head and trots off.
38' Napoli try and pick a way through but Juve hold firm as Zielinski runs out of ideas on the edge of the area. Koulibaly goes in the book as he floors Ronaldo to prevent a break, much to the Portuguese's annoyance.
37'   Dybala is down in a heap after Zielinski goes through him. The ref gives a free kick but his cards stay in his pocket.
36'   Dybala does well to get a cross in and sits it up towards three black and white shirts on the right of the area - but overcooks it and misses them all by a few feet.
35'   Chiellini risks a nosebleed as he hurtles down the right hand side but his cross is too close to Ospina to cause the visitirs any trouble.
33'   Ronaldo does a strictly come dancing audition on the right as he seeks a way past Koulibaly, but the Napoli man just stands there, sticks out a boot and gets the ball. A veritable rock, the Senegal international.
32'   Napoli now missing passes and hurrying things in possession as they try to break Juve's intensity. The home side have been excellent in the last 10 minutes.
31'   Juve launch another attack and it looks promising until Mandzukic spoons a pass straight out for a goal kick. Ancelotti is looking a little concerned on the touchline, which is rare for the inscrutable Italian.
30'   Free kick to Napoli as Matuidi goes in a little too eagerly. A chance for the visitors to breathe.
29'   Khedira! The Germany international flashes a ferocious shot just past Ospina's post. Juve turning the screw now. The home fans in full voice.
28'   What a shot! Ronaldo tests Ospina at the near post and the keeper makes a wonderful save. There's some pinball in the area as both Chiellini and Pjanic try to turn it in but somehow Napoli hack it clear. What a game this is turning into!
27'   Free kick to Juve as Ronaldo is scythed down right on the edge of the area... he fancies this one, the Portuguese.
26' It's been a pulsating opening 25 minutes. There are definitely a few more goals in this as the to ptwo in Serie A go hammer and tongs at each other.
25'   Juve equalise through the Croatian with Ronaldo providing the assist after some fancy footwork on the left. The home side are back on level terms!
25'   Gooooooooooooool! Mandzukic!
23'   Many fingers being pointed as Mario Rui goes in the book for a crunching tackle on Pjanic. 
22'   Dybala, who has been pretty anonymous so far, looks to have twisted and turned his way clear of three Napoli defenders but Koilibaly reads him like a cereal box and makes an excellent block to deny him a run through.
21'   Chiellini goes long again and Alex Sandro concedes a foul as he clatters Cancelo into the hoardings chasing the ball down.
20'   Juve go long and Ospina makes a brave decision to come and head clear from outside the confines of his area. That could have gone horribly wrong but he pulled it off with aplomb.
18'   Albiol gets into a right old pickle and almost lets Dybala get away down the right but he recovers to atone. Allan is down on the turf and looks winded after getting athump of the ball right in the midriff.
17'   Maurizio Sarri may have departed Napoli but Ancelotti is wily enough to know that if something isn't broken there's no point trying to fix it and the high press remains. It's giving Juve some real headaches as they try and play out of the back.
15'   Juve come again and Matuidi almost wriggles through from a Ronaldo pass but Napoli clear for a corner. The delivery isn't a great one though and the blue shirts swarming around the area clear the set-piece.
14'   Ronaldo on the charge again and he feeds Mandzukic, but the Croatian thumps an attempted cross into Koulibaly.
13'   Ronaldo! The Portuguese shows the visiting defence a clean pair of heels and gets a shot off but it's straight into Ospina again and the keeper makes a decent low save to deny the number seven.
11'   That will rattle the home side. Napoli have been good value for their lead here.
10'   Mertens with the strike after a lovely move, Allan feeding Callejón and the Spaniard taking out the JUve defence with a glorious ball to the Belgian, who simply had to stroke home with Szczesny out of the game. Well-deserved it has to be said. 1-0 to Napoli.
9'   Goooooooooool! Napoli take the lead!
8'   Ronaldo! The Portuguese warms Ospina's gloves with a crack from distance but it was straight at the Mexican and at a decent height for a straightforward parry.
7'   Insigne tries to curl a shot into the far corner but it's a bit tame and slaps into Szczesny's gloves. It's all Napoli at the moment.
6' Szczesny didn't know mych about that, the Polish keeper was unsighted and it was a beautiful hit from his international teammate.
6'   Zielinski! The Napoli midfielder rattles a post with a cracking left-footed effort!
5'   A mistake from in-form João Cancelo sums up Juve's first five minutes.
4'   Chiellini tries to pick out his front line with a long ball but it's straight to the opposition again. Nervy start from the home side.
3' Juventus being pinned back at the moment, Napoli making the early running. A few loose passes from the home side early on, one from the back straight out for a Napoli throw.
2'   Napoli launch a dangerous break down the left but the eventual cross clips a Juve defender and it's cleared easily from there. Lively start from the visitors.
1' And we're off in the Allianz Stadium!
Napoli going with a 4-4-2, Mertens and Insigne up top together which should make life interesting for Juve's central defenders.
And here they come, the Napoli mascots being led out by the Juve players and vice versa in a nice touch.
The teams are about to make their way on to the pitch in the Allianz Stadium. In the other big game of the day in Serie A, Roma claimed victory in the Rome derby with a 3-1 defeat of Lazio.
We often can't help but sit back and marvel at Juve's bench: Perin, Pinsoglio, Barzagli, Benatia, Rugani, Bentancur, Cuadrado, Bernardeschi, Kean
Allegri and Ancelotti have only squared off twice in Serie A, with the Napoli manager on top at the moment with one win and a draw during his time at Milan.
There should be a fair bit for the keepers to do this afternoon - Juve and Napoli top the table in terms of shots in Serie A this season with the home side pinging in 130 so far and the visitors 116.
It's first versus second - as so often it is - as Carlo Ancelotti returns to the club he managed between 1999 and 2001 with Napoli, who will be looking to lay down a marker for the season as they seek to knock Juve off their well-worn Serie A perch.
Hello and welcome to AS English's live coverage of the Serie A clash bewteen Juventus and Napoli from the Allianz Stadium in Turin, with kick-off at 18:00 CET.
Juventus vs Napoli live online: match preview
Juventus will aim to continue their unbeaten start to the season, which has reaped six wins in six games so far, in their biggest test to date when Carlo Ancelotti's Napoli visit the Allianz Stadium.
Napoli sit in second behind Massimiliano Allegri's side with a three-point gap separating the sides as the Azzurri seek to overturn the reigning champions' advantage in search of a first Scudetto since 1990.
Juventus
Allegri's side have been in imposing form in Serie A, winning their opening six and conceding just four times. However, Juve have only played one side in the current top four and were given the run-around by both Sassuolo and Frosinone in narrow victories.
Cristiano Ronaldo has been enjoying the comforts of home at the Allianz, having a hand in four goals with two strikes and two assists at home. The Portuguese is a player designed for the grandest stages and Allegri will look to his support - Mario Mandzukic and Federico Bernadeschi – to find the number seven as often as possible from the flanks.
Napoli
History does not favour the visitors in Turin, Napoli having won just eight times against their fierce rivals with Juve taking the spoils on 44 occasions. However, Napoli did win this fixture last season towards the end of the campaign as they took Juve all the way to the line in the Scudetto race and Ancelotti has called on his side to rise to the challenge.
"We can't get more than three points, but we are aware that a win would give us a lot of self-confidence. We want to be competitive until the end of the season and these games are important to understanding what level we are at right now," the veteran tactician said ahead of the game. "We want to limit them and play our football. I don't care about predictions and I wouldn't settle for a draw."
Ancelotti is likely to stick with the formula that reaped 3-1 and 3-0 victories over Torino and Parma in Napoli's last two games, deploying the slippery Lorenzo Inigne behind Arkadiusz Milik and playing a four-man midfield, summer signing Fabián Ruíz pulling the strings with José Callejón and Piotr Zielinski providing the width while Allan, Serie A's most successful midfielder in terms of balls won, holding the keys to the fort.