Real Madrid 0-0 Atlético: LaLiga 2018/19 derby result, report
Real Madrid missed the chance to go top of LaLiga after Saturday night's Madrid derby against Atlético ended goalless at the Bernabéu.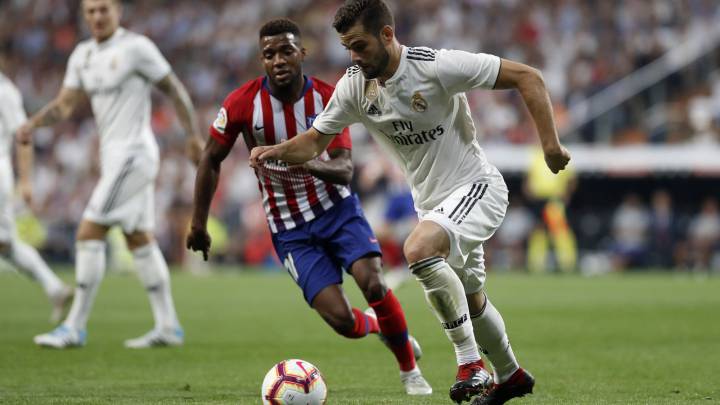 Real Madrid missed the chance to go top of LaLiga after playing out a goalless draw with Atlético Madrid on Saturday night, in a nonetheless enjoyable Spanish-capital derby that saw the two goalkeepers star.
Courtois keeps out Griezmann and Costa as Atleti enjoy better first-half chances
With leaders Barcelona held at the Camp Nou by Athletic Bilbao earlier in the day, Julen Lopetegui's men knew they would leapfrog the Blaugrana into top spot with a first home league win over Atlético since 2012; however, it was the visitors who enjoyed much the clearer opportunities to score in the opening 45.
That they did not was thanks to home keeper Thibaut Courtois, once of Atlético. Either side of an opening for Gareth Bale that the Real forward flashed just wide, the Belgian twice denied Atleti strikers in one-on-one situations, saving first from Antoine Griezmann after 19 minutes, then from Diego Costa soon before the break.
Oblak shines as Ceballos helps Real dominate second half
At half time, Bale was taken off with a groin problem and, with Dani Ceballos brought on in his place, the introduction of the ex-Real Betis midfielder helped the hosts to take control of the second period. However, it was now Atlético custodian Jan Oblak's turn to shine between the sticks.
Los Rojiblancos were particularly grateful to the Slovenian for keeping out Marco Asensio midway through the half, when Toni Kroos found the forward in shooting space inside the box; and for beating out Dani Carvajal's fierce close-range drive with a quarter of an hour remaining.
Vinicius brought on for first-team debut for hosts
Brazilian starlet Vinicius, who has sparkled for Real Madrid's 'B' team, Castilla, since arriving in a 45-million-euro deal this summer, was handed an eagerly-awaited debut as the hosts pressed, in vain, for a winner.
Real Madrid 0-0 Atlético Madrid: as it happened
 0-0 it ends at the Bernabéu after a first half in which Atlético had the better of the chances, and a second 45 clearly dominated by the hosts. Real Madrid move level on points with leaders Barcelona, while the visitors end the night still in fourth, two points back.
93'   But it's not to be. It's actually Varane who gets on the end of Kroos' ball, but he can't make a clear connection and that's that!
93' Anothe late yellow card, this time for Correa after bringing down Vinicius as he turned and prepared to set off towards goal. Final minute of time added on, Kroos with a chance to swing the ball in, this is made for Ramos. 
92' Nacho is into the book after breaking up an Atlético counter. One minute left at the Bernabéu. "The second half has been an exercise in survival for Atlético," says Maldini on the box.
90'   Three minutes of time added on.
90'   Now Kroos looks to release Vinicius in behind the Atlético defence, but his pass is slightly too long and the young Brazilian doesn't bother chasing it. 
88'   Vinicius is pressed straight into action, receiving the ball just inside the box and scuttling towards the byline, but he just overruns it and only succeeds in turning his low cross right into Oblak's arms.
87' Indeed. He's on for Benzema, who gets a not-insignificant smattering of whistles as he makes his way off the pitch.
85'   One, two, three Real Madrid crosses are cleared. The first brings timid penalty shouts as Giménez comes together with Benzema, the third sees Ceballos finally run himself down a blind alley. Ooh, this is interesting: looks like Vinicius is about to get a debut! 
84' Atlético make their final change, replacing midfielder Rodrigo with a striker in the shape of Nikola Kalinic.
82'   Filipe Luis flashes a shot just past Courtois' left-hand post, before suddenly Asensio is bursting forward for Real Madrid, with two passing options in front of him. He opts to go it alone towards the byline, then has his attempted cross cut out for a corner, which finally sees Ceballos fire a shot straight at Oblak.
82' On comes Vázquez for Modric.
79'   Blimey. All that Real Madrid pressure, and suddenly Griezmann picks up the ball on the edge of the box and has Juanfran advancing into the box in acres of space... but his pass is just deflected away from the right-back by an outstretched leg! Had Griezmann found Juanfran, that was a massive chance for 1-0 to the visitors.
77'   Carvajal shoots... Oblak saves! Ceballos dances in between a group of Atlético bodies on the edge of the box and feeds Modric, who tries to steal a yard of space to shoot before opting to lay the ball off to the arriving Carvajal on the right - but the defender's powerful strike is beaten out by the keeper!
75'   First Asensio, then Ceballos find themselves in crossing positions inside the Atlético box, but twice Los Rojiblancos manage to hack it clear! Real Madrid are preparing Lucas Vázquez on the touchline. It really does seem like a question of whether or not Atleti can hold on now. 
73'   Godín gets away with it there! The defender's pass is cut out by Asensio on the halfway line, and suddenly the Real Madrid winger is bursting through towards the away penalty area, with Benzema in acres of space and screaming for the ball to his left. However, Giménez is across quickly to block Asensio's attempt to find the Frenchman.
72' Atlético finally get themselves a prolonged spell of possession and work it to the left, where Filipe Luis delivers - but Sergio Ramos is in position to clear.
70'   Koke takes Carvajal's legs away and has little complaint when Martínez Munuera brandishes a yellow card. Another chance for Kroos to swing it into the box.
68' Atlético make a second change, midfielder Thomas Partey coming on to help stem the Real Madrid tide. Diego Costa is the man to make way. His league goal drought goes on.
68'   Now Atlético scramble it clear after pinball stuff in the box. Real Madrid are right on top.
66'   Great chance for Asensio! Kroos feeds a lovely angled ball into the box that finds the young Spaniard in acres of space at the back post, but Oblak blocks his attempt to dink it over the Atlético keeper!  
64'   There's a shooting chance for Modric! Ceballos feeds a sideways ball to get to the Croat into shooting territory for the first time tonight, but his effort drifts wide of Oblak's left-hand post. 
62'   Real promptly win a free-kick in the exact same area of the Atlético half, but Kroos' delivery is cleared.
61' Now Ramos goes into the book after catching Correa in the face, and Atlético have a chance to deliver a free-kick from the right flank. Griezmann flights it in... and Courtois grabs hold.
60' Simeone responds to Real Madrid's ascendancy in the 15 minutes played in the second half so far by withdrawing Lemar for Ángel Correa.
59'   Real Madrid come again and win a dangerous free-kick in the left-hand channel after Ceballos is brought down by Lemar, who earns himself a yellow card for his troubles. Kroos is standing over it... but so too is Casemiro, who runs up to the ball - and wallops it well over! 
58'   Benzema flops to the turf in the box after coming together with Giménez, but the man in the middle has no hesitation in saying no.
55'   It has pretty much all been Real Madrid ball in the Atlético half so far in the second half.
54'   Giménez is penalised for high feet in a challenge on Asensio, and it's a Real Madrid free-kick on the right, in a dangerous position that is ideal for Kroos to swing in. It comes to zip, though.
52'   Rodrigo wins Atlético a free-kick deep in their half after being scythed down by... Carvajal, who is on a yellow, and escapes a second one. "I think the referee has let him off the hook there," says TV co-commentator Maldini (not that one).
50' Ceballos again combines with Asensio, who lets the midfielder's pass run across his body before shooting towards the near post from the left-hand side of the box. Oblak is in position to scoop his effort up, though.
48' Juanfran is the first Atlético player to see yellow after an aerial challenge on Benzema.
47'   There's a great shooting chance for Casemiro! Benzema loses it as he tries to barrel his way into the Atlético box, and the loose ball falls straight to the Brazilian in space on the edge of the box... but he blazes high, wide and handsome!
46'   Ceballos is immediately in the thick of the action, releasing Asensio on the left before receiving the ball back... and playing it straight to a red and white shirt. With the former Real Betis man on the field, Real have set up in something more like a 4-4-2.
Peeeep! We're back up and running at the Bernabéu.
Indeed. Ceballos is on for Bale, who is understood to have picked up a little niggle in his groin.
The teams are on their way out for the second half, and it looks like Real Madrid are bringing Dani Ceballos on.
46'   Peep peep peeeeep! Half time at the Bernabéu, where both sides have had chances - particularly Atlético, who have spurned not one, but two one-on-ones.
45'   One minute of added time.
43'   "He's done a Karius," quips Carlos Martínez on Movistar+.
42'   Oblak, you are a lucky boy. The custodian tries to play out a pass-back first time, and succeeds only in hitting it straight at Asensio as the Real Madrid forward looks to close him down! The ball rebounds straight into Oblak's hands, and the Slovenian is the most relieved man in the Bernabéu.
41'   There's a decent effort from Bale... but it's not going to beat Oblak. The Welshman picks the ball up on the right and cuts inside a la Robben, before sending a low strike towards the far post, which Atlético's goalkeeper claims.
39'   Carvajal volleys towards goal from way out, and it's a tame effort.
37'   Again Atlético get themselves into a one-on-one situation, again Courtois saves! Kroos loses it to Lemar in the Atlético half, and the Frenchman bursts forward before feeding Griezmann. He looks up and plays a slide-rule pass that has Costa sprinting in on goal. He's pushed a little to the left by the fleet-flooted Varane, but should still score, surely... and doesn't. Courtois turns it behind for a corner, which comes to nought. 
35'   Atlético are popping the ball about very neatly, and get Juanfran into crossing territory out on the right. He skips past his man and fires his delivery in at great pace, but it's too close to Courtois.
32'   Atlético win a corner off Casemiro, which replays show hit the Brazilian's hand on its way out - and Los Rojiblancos waste no time in letting Mr Martínez Munuera know about that state of affairs. Is it VAR time? No it is not, it seems.
30' Carvajal is the first man into the book after abruptly halting Koke's advances across the halfway line. The right-back says he got the ball, and in no uncertain terms tells the referee so.
28'   Real Madrid almost have Benzema in for the opener! Carvajal scuttles forward down the right flank and zips a low cross into the box, where the Frenchman gets his right peg onto it... but Giménez gets himself in the way! Otherwise the ball was very possibly headed for the onion bag.
27'   Kroos swings a raking ball across to Nacho on the left flank... and the youth product miscontrols. Out for a throw.
23'   Saúl shoots on goal again... and it's just off target! Atlético get Filipe Luis into an excellent crossing position on the left, but his low ball towards Griezmann is cut out. Lemar then works it to Saúl, but his curling effort doesn't quite curl enough, and it's wide of Courtois' right-hand post.
22'   It's been a fine contest thus far.
20'   Now Real Madrid almost take the lead! Fresh from that Griezmann scare, the hosts win themselves a free-kick in the right-hand channel, which is perfect for Kroos to deliver into the box. Deliver into the box he does... and Bale sidefoots his cross off target when wonderfully placed at the back post! The ball flies across the goalmouth and just wide!  
19'   Courtois saved that with his head, replays show.
18'   What a chance for Griezmann! A lovely Koke ball suddenly has the striker in behind the Real Madrid defence and one-on-one with Courtois... but the keeper blocks his effort! You'd have put the proverbial house on the Frenchman tucking that one away.
16'   Griezmann again looks to find Costa, but the Hispano-Brazilian is run off it by two white shirts before he can get on the end of the through-ball. "Griezmann was again allowed to turn and play the ball with real ease," tut-tut our Spanish TV commentary team.
15'   Griezmann swings over a cross towards Costa at the far post, but it's well overhit, and the Frenchman holds his hand up in apology for the poor ball.
13'   Young defender Sergio Reguilón is sent out to warm up as a precaution, but Ramos is patched up quickly enough and is back on.
12'   ...which Sergio Ramos heads tamely into Oblak's hands. And, in the process, Ramos earns a nasty cut above the eye after clashing heads with Saúl as he connected with Toni Kroos' corner delivery.
11'   Be that as it may, it's been all Real Madrid possession ever since that promising Atlético spell in the opening minutes, and they now win a corner...
10'   "Real Madrid are too mono-paced so far," says Michael Robinson on Spanish TV. "They're not doing anything to take Atlético by surprise."
8'   That is more threatening to Atlético, though. Modric slides a similar ball to Bale to the one for Asensio minutes earlier, and the Welshman holds off his man to get a shot on goal - but he's too far wide and too off balance, and Jan Oblak plucks it out of the air with relative ease.
7'   Real Madrid need to get their foot on the ball once more, and promptly do thusly - albeit in deep areas that are less than threatening to Atlético, and in which their visitors are more than happy to watch them plop it about..
5'   Ufff! It's been a lively start by Atlético. First Antoine Griezmann goes for a spectacular, overhead effort that momentarily has Courtois scrambling towards his left-hand post, before Thomas Lemar almost slips the Frenchman in, but sees his cute little ball cut out.
3' Now it's very much Atlético's ball, a long spell of possession leading to a Filipe Luis cross that is slightly hurriedly cleared by Real Madrid, before it is worked to Saúl in shooting space about 25 yards out. He pings one at goal, but Thibaut Courtois beats it out.
1' It's white ball for the first minute, Luka Modric finally looking to get Marco Asensio scuttling into space in the right-hand channel of the box, but just overhitting his pass. 
Peeeep! And we are underway.
Before we get underway, Real Madrid's prize winners at FIFA's The Best Awards in London last Monday - headed up, of course, by The Best Men's Player winner Luka Modric - show off their gongs to the Bernabéu faithful.
Out come the teams! As has become rather customary in the derby, the Real Madrid fans have unfurled a big old banner with a message for their city rivals. "La capital pertenece al Real," reads this one. "The capital belongs to Real".
By the way, if at his late stage you're still wondering how you can watch the Madrid derby on the box, then wonder no further.
  This man starts up top alongside Antoine Griezmann - and, with no league goals for him since back in February, now would be a reasonably good time to break that duck. However, he does rather have form this season in the scoring-against-Real Madrid department.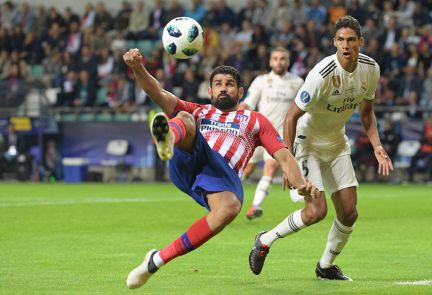 A win for Atlético, meanwhile, would see Diego Simeone's men pull level on 14 points with leaders Barcelona - who would all but certainly stay top on goal difference - having been a whopping seven points behind the Catalans just two weeks ago.
Over in Catalonia, Barcelona have followed up their midweek defeat to Leganés with a 1-1 home draw with Athletic Bilbao, a late Munir El Haddadi equaliser rescuing a point for the Blaugrana, who had gone behind to a first-half Óscar de Marcos strike.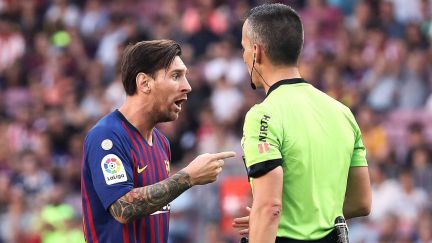 Brazilian wunderkind Vinicius is on the Real Madrid bench again, having been named among the substitutes for the first time at the Sánchez-Pizjuán in midweek.
Goalkeeper Thibaut Courtois starts in goal against his former club, where he spent three years on loan from Chelsea between 2011 and 2014, accumulating a medal haul that included a LaLiga title, a Copa del Rey (beating Real Madrid in the final at the Bernabéu) and a Europa League.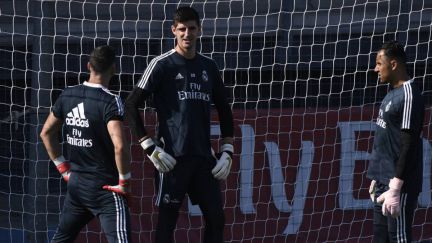 Hello and welcome to our live coverage of the Madrid derby between Real and Atlético!  Kick-off is in just under an hour's time, and we have team news!
Real Madrid vs Atlético: Madrid derby preview
Real Madrid host Atlético Madrid in 'El Derbi Madrileño' tonight (20:45 CEST) looking to avenge their UEFA Super Cup defeat to Diego Simeone's men, and end a run of nearly six years without a home league win over their city rivals.
Real went down 4-2 to Atlético in August's Super Cup in Tallinn - in Julen Lopetegui's first competitive game as boss of Los Blancos - and haven't defeated Los Rojiblancos in LaLiga at the Bernabéu since a 2-0 victory in back in December 2012.
Lopetegui's men are also out to get back to winning ways after Wednesday's comprehensive, 3-0 league thumping away to Sevilla - and, in the wake of Barcelona's 1-1 draw with Athletic Bilbao this afternoon, can leapfrog the Catalans into first place if they beat Atlético.
After winning just one of their first four LaLiga games this season, meanwhile, Atlético have now bounced back with two straight league victories - most recently against Huesca on Tuesday, goals by Antoine Griezmann, Thomas Partey and Koke sealing a comprehensive triumph.
That means that, having been sevent points off top spot just a fortnight ago, a win today would see Los Colchoneros move above Real and level on points with leaders Barça - who would, barring a thrashing at the Bernabéu, remain at the head of the table on goal difference.
Real Madrid vs Atlético Madrid: line-ups
Real Madrid: Courtois, Carvajal, Varane, Ramos, Nacho, Casemiro, Kroos, Modric, Bale, Benzema, Asensio
Atlético Madrid: Oblak, Juanfran, Giménez, Godín, Filipe Luis, Koke, Rodrigo, Saúl, Lemar, Diego Costa, Griezmann