Man United want Conte-Marotta for Mourinho-Woodward - report
With the Portuguese manager's position appearing to be on thin ice, Italian media reports that the Red Devils are looking to bring in a new backroom dream team.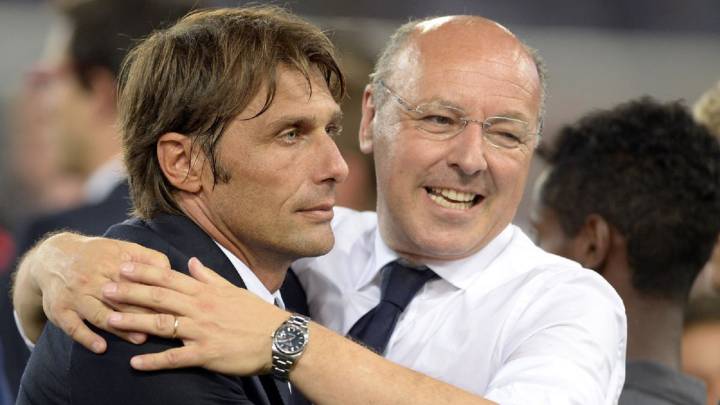 The front page of Italian newspaper Corriere dello Sport rings loud in England. "United" they cry, in a play on words that points to a growing possibility that Antonio Conte and Giuseppe 'Beppe' Marotta will cross paths once again, this time in Manchester.
Conte to follow Mourinho again
The meteoric rise of Marotta in the Juventus camp came to an end recently, with the prestigious director and CEO of the club opening a new chapter in his career after eight successful years. And with his good friend Antonio Conte having ended his contractual relationship with Chelsea in the summer, a new adventure potentially lies ahead for them together.
Corriere dello Sport's story follows the theory that the doors of the Manchester club are wide open, with the American owners targeting a change in direction as the almost-predictable third-season Mourinho woes have started to gnaw at the fabric of the club. The atmosphere around the Old Trafford changing room has seen tensions rise and with results and performances not improving, the potential of bringing in a new manager, along with a proven partner upstairs, is an exciting prospect.
Both joined to take the Vecchia Signora back to the summit of Italian football leading them to three Serie A titles, two Super Cups. Their tally of 273 points, made up of 83 wins, 24 draws and just seven losses made them the dominant force domestically and left only the unfinished business of the Champions League, despite coming very close.
Marotta-Conte for Woodward-Mourinho
This union of success, as is being reported, would result in the simultaneous removal and replacement of chief executive and manager, with patience seemingly disappearing for the Edward Woodward-Mourinho tandem. 'Marotta-Conte for Woodward-Mourinho', says Corriere dello Sport. The equation is clear, although it is believed that businessman Woodward could remain in an exclusively commercial role.
If this huge change in the sporting aspect of United is to take place, the media outlet points to one final factor. They say that Conte would not hesitate to take over where Mourinho has failed, following a relationship that soured while at Chelsea.