Keylor vs Courtois: head to head
Both keepers have been given their fair share of game time by Lopetegui. But if Real Madrid's poor run of form continues, the coach may at some point opt for continuity over equity.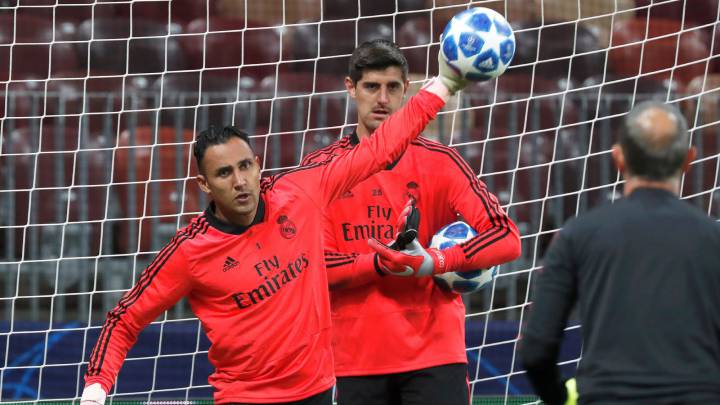 As Thibaut Courtois arrived at Real Madrid this summer, the media was rife with speculation about whether Keylor Navas would stay to fight for his place or move on, with the Belgian hotly tipped to take over duties between the posts at the Bernabéu.
But after four successful seasons in Madrid, in which he won three consecutive Champions League titles, it turned out that the Costa Rican keeper never had any intention of choosing flight over fight, and perhaps had more insight into where he stood with new coach Julen Lopetegui than those in the press.
When pressed on who would be his number one following Courtois' arrival, Julen Lopetegui refused to name names, and so far this season he has given both of them a relatively even amount of game time. The Costa Rican has played 480 minutes over five games, while the Belgian has competed in 540 minutes over six matches.
Navas has so far been favoured for all of Real Madrid's European encounters, playing in the European Supercup against Atlético Madrid and both Champions League fixtures against Roma and CSKA Moscow. In LaLiga, Lopetegui has given more prominence to Courtois, who has played six of the eight league fixtures, with Navas chosen for the remaining two.
Little seperating Courtois and Navas statistically
In terms of performance, statistically there is little between the two shot-stoppers. Of the five games Navas has played, Madrid have won three (Getafe, Girona, Roma) and lost two (Atlético in the Supercup, CSKA). With Courtois between the sticks, Madrid have won two (Leganés, Espanyol), lost two (Sevilla, Alavés) and drawn two (Atlético in LaLiga, Athletic Bilbao).
Navas has conceded six goals in five games, giving him a goal concession average of 1.2 per game; while Courtois has let in six from six – 1.0 goals per game. Both keepers have managed to keep two clean sheets – Navas against Getafe and Roma; Courtois against Espanyol and Altético. They are also even on the number of personal awards received: Navas picked up the award for Uefa Champions League goalkeeper of the year in August, while Courtois scooped FIFA's The Best award in September.
Continuity or equity?
With the international break around the corner, the two goalkeepers are set to head off to represent their respective nations: Navas faces two tough fixtures against Colombia and Mexico for Costa Rica, while Courtois travels back home to Belgium to face Holland.
With very little separating the two of them statistically, the selection headache for Lopetegui will continue when they both return for Madrid's crucial game against Levante in LaLiga on October 20 and Viktoria Plzen in the Champions League three days later.
The Basque coach may continue as he has done so far: choosing Courtois for LaLiga duties; Navas for Europe. But Madrid have lost three of their last four fixtures and are suffering their worst goal drought since 1995. And if the poor run of form continues, Lopetegui may eventually opt for continuity rather than equity in goal. If that happens, the Belgian will likely be the winner.