Netherlands 3-0 Germany match report: UEFA Nations League
Goals from Van Dijk, Depay and Wijnaldum gave the home side a resounding win over their arch-rivals.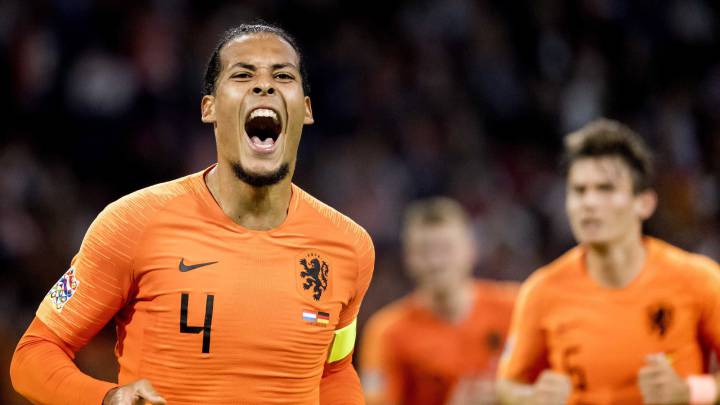 Netherlands vs Germany match report:
It was a game that ahead of kick-off suggested it could be fun. And that, fortunately for all those tuning in, certainly came to fruition. There were goals, several missed chances, a fast pace, and a little controversy to keep everything flowing for the full ninety minutes. In the end, the scoreline hints at a dominant home display from the Netherlands. There is no question that Ronald Koeman's men impressed, but this game was in the balance until near the final whistle.
Dutch delight in Amsterdam
Blows were shared by both sides in the early stages although it was the visitors who had a greater deal of control. Holland, having shown plenty of promise in their opening 2-1 defeat at the hands of recently-crowned world champions France, looked to feed in their creative forwards when the opportunity arose, and slowly gained more of the possession and territory from their more distinguished guests. The goal that the more-than fifty thousand spectators were hoping for came on the half-hour mark.
It came from a corner, swung in from the right by the always-lively Memphis Depay, and met by the Beşiktaş winger, Ryan Babel, out-jumping two defenders. His firm header had Neuer beaten but the crossbar came to the German rescue, at least for a moment. As the ball thudded down off the turf it was Liverpool's Virgil van Dijk who was first to react, nodding in the opener.
From then on the game took a rather familiar pattern. The home side were happy to soak up the German pressure - without it ever feeling like a backs-to-the-wall approach - while maintaining their threat on the counter, Depay often the one encouraged to hold a high position. Thomas Müller had a great opportunity to equalise before the break which could have changed the complexion of the tie. He didn't.
Late conclusion for Koeman's heroes
Chances came and went for both sides in the second half. Germany continued to try to make something happen with more of the play in their oppenents final third (aided further with the introduction of Leroy Sané and Julian Draxler) while Koeman's team were happy to pick off more direct chances. And it was the Lyon man, Memphis Depay who eventually made those breaks count on the 87th minute. Second half substitute Quincy Promes was released on the right with acres of grass to run into. He pulled a perfectly weighted ball across the goal for his supporting teammate to control and fire home. That was that.
There was still time for Depay to hit the bar on another break away before Wijnaldum put the icing on the cake. The Liverpool midfielder chose to go alone and showed the class and confidence of a star forward to create space and drill home past Neuer. A first win for the Netherlands over their neighbouring rivals in 16 years, and one that suggests Koeman may have put Dutch football back on the map.
Netherlands vs Germany live online: latest news
The Netherlands take all three points against Germany in an entertaining match, one that opens up the Nations League A Group 1. Thank you for joining us tonight and we look forward to seeing you again soon.
90'+3' Peep, peep, peeeeeeeeep! The final whistle blows on a cracking night in Amsterdam.
NED 3-0 GER | Options were on to pass to one of his strikers but the Liverpool midfielder drops a shoulder, shakes a hip, and then rifles home low into the far corner.
90'+3' GOAL!!! Wijnaldum adds the cherry on top.
90'+1'   CLANG! Depay does really well again to break forward and when the chance looked to have gone he smacks the ball against the bar. Neuer beaten.
90'+1'   There will be 3 minutes added.
89'   The Kroos corner is met with a strong header from...Van Dijk.
89'   SAVE! Cillessen pushes a Werner strike over the bar. The forward had a tight angle and was unlikely to bother the Barça man.
 NED 2-0 GER | As has been the constant threat since the goal, it's the counter-attack that does the damage. Promes set scampering away down the right and he rolls it perfectly into the path of Depay who had positioned himself well in the centre. He controls, and fires home in off Neuer.
87' GOAL!!! Depay doubles the Dutch lead
85'   The pace has momentarily dropped as Holland try to maintain possession just inside their own half. The white shirts soon descend on them and they are forced into a clearance.
82'   Matthias Ginter was injured in that last move and gets some treatment on the side. He trotts back on though and will continue.
82'   Another penalty shout for Germany. Waved away (correctly, I think) and then the delivery over the advancing defence has Werner caught offside.
81'   BREAK! Wijnaldum this time is the man to be at the end of the counter but his attempted curler with his right foot goes waaaaaaaay over.
78'   Shot, shot, shot. Block, block, block. Germany knocking at the door but the home defence is standing strong. If only there was a related proverb about a big wall and a brave Dutch lad keeping it intact.
75'   Despite the pressure, the threat of the orange counter remains. Koeman has told Depay to hang around the half-way line and a thump forward allows him to contest for, and win, the ball against two defenders. His pace takes him into a shooting position but Neuer gathers well.
73'   The Real Madrid man is fine and steps up to hit a free-kick from distance. Cillessen slides across to his right as the ball skips wide of his post. The Dutch holding on.
71'   The play is almost all in the Dutch half now as Germany chase an equaliser. Sané has made a positive difference and Groeneveld immediately gets a shot on goal after his introduction. De Roon tries to kill their play by, well, almost killing Toni Kroos!
68' Germany make another change too: Brandt on for Uth.
68' Sevilla lad Promes is on for Babel. Bergwijn also off for Holland with Groeneveld replacing him.
67'   Faint claims for a penalty from the men in black and white as Van Dijk slips in. Nothing given. Replay suggests it could well have been.
65'   CHANCE! And what a chance for Sané! Set free on the left side of the goal but pulls his drilled shot across and wide of the far post. That should have been the equaliser.
64'   The problem Germany have as they attempt to get back into this game is that the hosts look more solid at the back than they have done for some time, led by the magnificent Van Dijk. Oh wait...
62'   Manchester City's Leroy Sané is proving to be a good choice from Löw, looking threatening every time he gets the ball.
A reminder that if this score remains the same, France would lead the table on four points, Holland would have three, and Germany one.
59'   Cillessen trying the casual approach to dealing with a backpass and has Dutch hearts in mouths before clearing well. He knew what he was doing...I think!
58'   CHANCE! The two substitutes immediately combine to create a shooting space for the PSG man. High and wide, but positive play.
57' Ch-ch-ch-changes | Sané and Draxler on for Mueller and Can
52'   Three-on-two break for Holland but Bergwijn delays the pass and the chance disappears.
51'   Die Mannschaft gather a head of steam and create three half chances in the opposition area. Each, though, is dealt with well. Another threat comes from a corner but the header towards goal is blocked and cleared by the now-red-headed Babel.
48'   The obvious danger for Germany is the pace of their opponents on the break and that is exactly what happens. Depay, Babel and Bergwijn combine before the heavily-involved Dumfries takes a ping from distance. Neuer watches is to safety.
47'   Germany almost fashion a chance but strong defending prevent Werner's shot doing anything, and Cillessen tidies up.
46'   Some early composure from Holland as they feel their way back into the game.
We're off, the hosts doing the honours...
No changes. About to start again...
Teams about to head back out for the second half. Just scanning over those coming out to see if there have been any changes...
It's a match that's finely poised though, and it would take a brave person to put too much money on the final outcome.
Germany have had their chances, a couple of excellent ones that should have been finished off, but there has been an extra bounce about Koeman's team. Van Dijk is an absolute beast at the back, ably supported by De Ligt. Wijnaldum has done a great job at linking the play between defence and attack, and Depay is playing with a confidence that Manchester United fans would have loved to see more of.
Well, that's been an enjoyable first 45 minutes and, while it's been a relatively balanced match across the piece, it's tough to deny that Holland possible deserve their slender advantage.
Half-time | Netherlands 1-0 Germany
45'+1' Peeeeep! The referee blows for the break. 
45'   CHANCE! More delights from Depay who skips away from the covering German, then allowing Dumfries to deliver a cross. The header is glanced just wide of the far post. That should be that for the first half.
43'   Lovely play again from the home side (I'm enjoying much of what they're about). Wijnaldum picks out Depay on the edge of the German box and his deft first touch takes him away from the defender. He can't fully get hold of the shot which goes wide.
41'   Cillessen called into action but nothing to cause too much concern, a glanced header from the middle of the area.
38'   CHANCE! Müller has a great opportunity to level things up here. A switch of play from Can puts the Bayern striker in on goal but he hits the side netting. He'll be having a word with himself about that.
37'   Decent effort from Wijnaldum from outside the area but it slides wide of the post.
35'   The flow of this game has shifted and the orange tails are as up as a peacock who has just spotted an attractive hen. Germany need to change this 
33'   CHANCE! Almost two for the hosts there as Dumfries fires across a great ball from the right but Ginter nicks it away
31'   Koeman looks pensive on the bench but he must be delighted with the performance of his lads. They've looked a threat going forward and, a couple of exceptions aside, comfortable across the park.
 NED 1-0 GER | Ryan Babel meets a wonderful Depay corner well, but his header comes back off the underside of the bar and out. The Liverpool defender is quickest to react and nods home from close range as Neuer lay on the ground.
29' GOAL!!!  Virgil Van Dijk puts Holland ahead
26'   Dumfries decides that Kimmich has been on his feet too long and brings him down to earth, literally, and clumsily. Free-kick to Germany, but not in a dangerous position.
25'   Emre Can tries a little shimmie to get him into the area but loses control and the threat is gone. Good strength from the Juve man allows his side to keep possession but nothing else comes from it.
21'   Oops! Daley Blind can't get his legs to do what he wants and gives Uth the chance to get in an effort. It's blocked and Holland survives, no doubt with Koeman shaking his head.
19'   CHANCE! The Dutch win another free-kick with options to deliver into the area, this time from the left. Depay whips it deep and De Ligt gets a head on it. Easy for Neuer.
18'   This game is heating up nicely (in the footballing excitement, not nasty challenge type way!) and Germany get Cillessen working twice in quick succession. First Müller draws a great save from the Barça man as he takes a Kroos corner first time, then Uth tries his luck from further out.
15'   CHANCE! Timo Werner is set free by Müller and only has Cillessen to beat. He stabs his toe at the ball and it goes horribly wide. The RB Leipzig man should've done better!
13'   A poor challenge from Can on De Jong gives Holland a chance to swing in a free-kick from deep. They sides line-up along the 18-yeard box and the ball is fed in nicely by Dumfries behind the defence but just away from the stretching Babel coming in at the back.
10'   In terms of flow, Germany are giving the sense of having more control, with the hosts breaking when they can, as that last one from Steven Bergwijn showed. There is certainly enough quality across the pitch to suggest Holland can do even more though.
8'   The corner is again cleared well,  Matthijs de Ligt, and the orange forwards sprint away. Great covering at pace though snuffs out the attack.
7'   Another corner to Germany. Van Dijk again doing the defending, this time against his former colleague Emre Can.
6'   Not a blistering start here, possibly expected, but both sides look keen to get forward when the gaps appear. I have a good feeling about this being enjoyable viewing.
5'   First corner of the game goes the way of Germany. Van Dijk blocking the cross from coming in. The inswinger is dealt with well and cleared, pushing the visitors back to their own half.
2'   Löw has put his faith in the Schalke 04 striker Mark Uth but it's the orange shirt of Memphis Depay who almost gets the first chance. A nicely disguised ball from Babel put the Lyon man behind the defence but Neuer is too quick and gathers.
1'   Some nice composed passing between the white shirts comes to an end as soon as they try to do anything in the opposition half. The interception allows Holland to get a few touches but play switches back to the visitors...
Germany get us going...
#equalgame is being held by the players, intertwined in their positions for photos promoting positive messages. Will that continue after the whistle?
The home side proudly pump out their own national song... It's almost time for kick-off!
Germany get the first of the anthems out...
Germany XI: Neuer, Hector, Ginter, Hummels, Kroos, Werner, Can, Müller, Boateng, Kimmich, Uth
Netherlands XI: Cillessen, Dumfries, De Ligt, Van Dijk, Blind, De Roon, De Jong, Wijnaldum, Bergwijn, Depay, Babel.
As you are likely aware, these two countries have a mild (*cough*) rivalry which goes back many years. Check out this little video from the guys and gals at Copa 90 for some more background... 
Opposite number Joachim Löw is not dwelling on the drop outs from his squad (Rüdiger, Reus, Goretzka, Trapp, Havertz): "We've had a few drop-outs... Emre Cane, Bernd Leno and Serge Gnabry have all settled in well. We have prepared well for these games."
That optimism from the home side tonight is borne out from manager Ronald Koeman. Ahead of the match he spoke to the press: "It's time that we achieved something. My feeling is that we can do so this evening,"
It's been 16 years since the Dutch last tasted victory over their European neighbours, but tonight's game, on the back of a decent showing against France and some uncertainty in the German ranks, arrives with an opportunity to end that barren run.
Cüneyt Çakır will be the man in the middle for tonight's game, one in which historically officials have been kept busy. Who can forget that incident? Here's hoping there is none of that today.
Goedenavond and Guten Abend! Welcome to our live coverage as the Netherlands welcome Germany for the UEFA Nations League A, Group 1 clash. Two big names in world football that have had mixed fortunes over the last decade meet in what has several interesting aspects. I'll keep you abreast of everything related that happens ahead of the match and then all the action from the Amsterdam ArenA.
Netherlands vs Germany live online: preview
These two sides are looking to rebuild their reputations at the top table of world football. The Netherlands have been away from that company for longer, today's side ranked by FIFA at 17th, a significant improvement on their lowest ever position (36th) just a year ago, but a far cry from 2011 when they topped the charts. Germany fluffed their lines in this summer's World Cup, arriving in Russia as reigning champions, but are always in the same dining conversation as the big boys before every tournament.
Netherlands team news
There are no injury concerns for manager Ronald Koeman so it is merely a question of who to pick in his starting XI. Liverpool duo Virgil Van Dijk and Georginio Wijnaldum have been playing well for their club and are likely to form part of the Dutch spine, with Barça's Cilessen in goal. Up front, a former Red, Ryan Babel is expected to line up alongside Lyon star Memphis Depay and the highly-rated Sevilla man, Quincy Promes.
Germany team news
Joachim Löw has a number of players out, including Marco Reus, Antonio Rüdiger and Leon Goretzka. Leroy Sané is expected to take his returned place in the national team with Timo Werner leading the line. Neur will be hoping for a quiet night behind his trusty Boateng and Hummels, although variations across the eleven could be seen after the 0-0 opening day draw with France.