Brazil 1-0 Argentina match report: international friendly
Miranda headed home Neymar's corner deep into time added on to hand Brazil victory after a close, hard-fought match.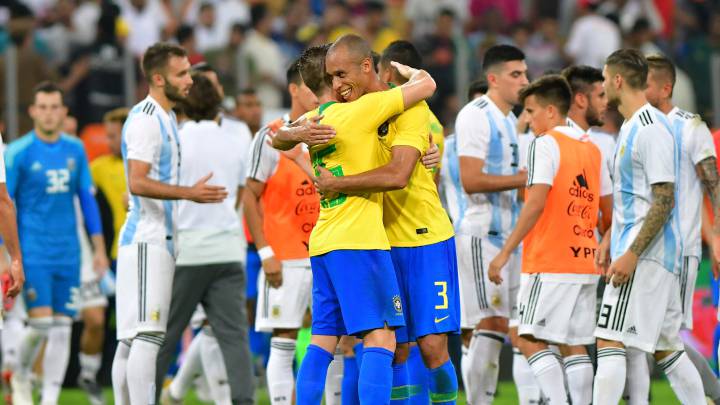 Brazil vs Argentina: match report
Brazil and Argentina finished their international breaks in Saudi Arabia in what turned out to be a pretty uneventful affair on Tuesday night. Uneventful that is until right at the death, when Miranda headed Brazil into a late lead with the Seleçao claiming victory in the Superclásico.
Lionel Messi was missing, of course, but Neymar played the full game and while he was fouled on a number of ocassions and never allowed to play, he rarely showed the spark that Brazil expect of him. He was, however, the best player on the field and a constant threat down the left even if he never reached his sparkling best.
Argentina sat deep in the first half and rarely got anything going in midfield or attack. In the absence of their superstar and talisman, Sacloni said they would have to play more as a team. They did that defensively but looked out of ideas in attack. Correa barely featured and Icardi and Dybala lacked chemistry.
Brazil threatened at times in the first 45, but the only effort on target was from Miranda - with Otamendi clearing it off the line and straight into the grateful hands of Sergio Romero.
The game grew more chippy in the second half and referee Felix Brych ended up giving out seven yellows in 45 minutes. It was high on fouls and cards but low on chances and quality too. Casemiro saw a free-kick deflected out for a corner and Richarlison drove a shot low to the back post that was put behind for the same.
Argentina were lacking a spark and Brazil weren't a whole lot better as Firmino and Gabriel Jesus both failed to inspire during their stints on the field. It would take a Neymar run into enemy territory before winning a corner to bother the scoreboard.
It came in the 93rd minute when Neymar sent the corner he won into the front post. Miranda headed home at the front post and Argentina had little or no time to respond. It would end 1-0 and while it was neither side's most glittering moment in their history, Argentine looked competent and Brazil continue to win despite not playing at their best.
Brazil vs Argentina: live updates
90'+5' That's it. Referee Brych blows his whistle and Brazil have won it.
90'+4'   Argentina with no time to respond. Into added time in added time.
90'+3' BRAZIL! GOAL! Neymar won the corner and he sends it in. Miranda turns it home. Sergio Romero came for it and didn't get close.
90'+1'   Four minutes to be added on.
90'+1'   Otamendia saves another one. Ball struck by Richarlison and Otamendi turns it around for a corner. The corner comes to nothing. 
88' Gio Simeone on for Icardi. 
88'   Alisson grabs the ball under the bar. 
86'   Corner and Fabinho picks it up but he runs it out over the endline.
84'   Neymar with a free now. Or is it? Casemiro actually ends up taking it. It's deflected wide off the wall.
83'   Richarlison with a nice more, but one too many as he is dispossessed on the edge of the square. Neymar picks it up and pops it towards Filipe Luis. Sergio Romero rushes off his line and clears. 
82'   Neymar absolutely launches one out wide. Brazil trying to find a way through. 
81' Tagliafico is off for Acuna. 
81'   Yet another foul on Neymar. There have been a few like that today. Battaglia the fouler this time. 
80'   No goals yet though and it looks like both teams getting further away.
80'   Game has turned into a typical late-stage friendly now. Loads of subs and pretty much mayhem. 
76'   Neymar puts it over the bar from the free. He puts it well over.
74'   Lucky not to be booked. Quite a cynical foul. 
74'   Salvio wins it on the right but Brazil win it back. Richarlison toppled over on the break and Firmino picks it up before Neymar is tripped up by Martinez. 
73'   Salvio replaces Lo Celso.
71' Miranda booked now. He jumps in on Pereyra and gives away the free.
70'   Lovely. Neymar with a brilliant free-kick and Arthur hits it on the volley. Wonderfully worked free-kick.
70' Saravia will have to go off. His replacement just ready to come on. 
70'   Neymar got the cross in but the referee brings it back for the free. 
69' Saravia slides in really, really late on Neymar. He's booked.
67'   Lo Celso tries to spring himself clear in the penalty area. He can't and Brazil break. Neymar gets it and he is dispossessed. Saravia the man who won it. Excellent from the defender as Neymar is left frustrated.
66' Referee found his cards at half time. He books Neymar now for a foul. 
65' Gabriel Jesus comes off for Richarlison. 
63' There's a booking for Correa. Filipe Luis fouled by his Atlético teammate.
61'   Correa crosses one and Icardi tries to head it home. Lo Celso ends up shooting and it's blocked.
61'   Icardi plays it through to the overlapping Lo Celso. Blocked. Argentina improving massively here.
60'   Paredes shoots from downtown. He was way out and it's just wide. Alisson left flapping an arm at that one but it was always drifting wide.
59'   Firmino with a fairly lawless tackle on Martinez. 
58' Lautaro Martinez is replaced by Dybala. 
56'   Arthur runs into trouble and loses it but he had his ankles kicked during the battle for the ball. He wins a free. Casemiro will be lucky not to be booked after a foul on Lo Celso.
55'   Ball just slightly delayed looking for Neymar and he's offside. He took it down with his back though, so at least that's something. 
53' Fabinho coming on for Danilo. He's playing right-back. 
52'   Icardi takes a shot and it's blocked out for a corner. Danilo down injured in the penalty area. He needs attention and not sure what it is that ails him. 
51'   Lo Celso fouled by Marquinhoes and then Tagliafico fouled by Jesus as the two Argentinian players wind up on the ground. 
48'   Neymar fouled as Brazil break. 
48'   There's just the second effort of the game. Correa crosses and Lo Celso heads it down into Alisson's waiting arms. 
46'   Ball sent in over the top and Jesus has to beat two defenders, which he can't do. Argentina clear. But Brazil are back on the ball.
46'   We are back underway for the second half. 
Team back onto the field. No changes for either side, it looks like. Surprised Argentina didn't make a change in attack but here we are.
The teams emerging out onto the field now. 
No sign of either team just yet. We had a minute or two of added time but not sure why the delay after the break? 
Brazil enjoying 59% possession. 
Miranda the only player to have a shot on target in that half. 
Neither Icardi or Dybala have ever scored for Argentina and you can kind of see why now? Very little link-up play. This side is average without Lionel Messi.
45'+2'   Half-time. Two even enough sides but Brazil have been slightly better. Icardi fairly anonymous for Argentina while Brazil's attacking three have been decent if not excellent.
45'+2'   Brazil keep the ball. They don't look all that keen on pushing for the opener now though.
45'+1'   Neymar into the wall and cleared. Into the second minute of added time now. 
45'   Free-kick just outside the box. It's shot and hits Pezzella and it comes off Saravia. Neymar steps up.
44'   Argentina playing well defensively. Coutinho clips one towards Neyma and it's cut out. 
42'   Argentina have shown little attack threat in a structured way. All just free and the odd, sporadic counter. 
42'   No goal yet. Alisson being squeezed a little bit again on the ball. Cleared and Brazil look for a way through again. 
40'   Neymar picks it up and slices through Argentina's defence on way towards goal. He shows a little too much of the ball and Argentina get it away.
39'   Brazil play it out from the back. More assured from Alisson although he's not under pressure. Brazil take it up the field. Argentina win it back. 
38'   Dangerous attack from Brazil. Gabriel Jesus down the left as he's sent through by Neymar. He shots and it's blocked back out to him. His second effort is blocked and eventually falls to Neymar. His shot is a mile wide. A proper country mile too.
37'   Argentina slowly starting to take over here. Brazil still looking like a threat though. 
36'   Neymar with a through ball to Coutinho but he's boxed out and Romero gathers. 
35'   Ball eventually makes its way down the right and sent in. Lo Celso is pushed in the back by Gabriel Jesus inside the area! Penalty, surely? Referee says no. 
34'   Tagliafico on the ball and sends it sideways. Argentina holding onto possession. Brazil have had better chances but fairly even so far.
33'   Argentina free. 
33'   We are back underway with Argentina on the ball. Dybala clipped by Filipe Luis as they tried to counter. Play called back. 
32'   Mexican wave makes its way around the stadium.
31'   Tite drilling some instructions into his players heads. Neymar chatting to him about something. They seem to agree on what has to be done.
31'   Water break. In October. 
30'   Dybala with a free for Argentina. He sends it towards goal. That almost goes into the top corner! What a strike but off target.
28'   Ball sent back in to the back post and Miranda slams a shot at goal. Otamendi heads it off the line and Romero grabs it.
27'   Late and needless tackle by Tagliafico on Jesus. The Man City attacker not happy but Brazil have another chance to send one in. Neymar does just that and Marquinhos tries to get a noggin to it but he can't.
26'   Neymar and Firmino break. Neymar looked to have been pulled back but he keeps battling and wins a throw. 
26'   Free for Argentina now. Paredes stands over it. He sends it towards the back post and Brazil win it back. Counter on!
24'   Free for Brazil and Casemiro fouls as it arrives. He pleads with the ref but the decision has been made. 
22'   So, so close. Alisson messing around with it and Correa closes in on him. He nearly wins it off him but the keeper manages to get it to a teammate. 
19'   Dybala fouled by Danilo in the middle. Argentina continue to try and get a foothold in this one. 
19'   Firmino sends a cross in but it's just over the head of the attacker arriving. Loads of Argentina jerseys around too. Filipe Luis attacks now and he sees his cross blocked before getting it again and sending it into Romero's arms. 
18'   A clip of Scaloni on the sideline and he's not happy. He wanted a penalty but he's very optimistic. 
17'   Casemiro sends another one out wide and this time Jesus does win it. He is tripped up and loses the ball as Argentina counter. Correa bundled over in the penalty area as he grabs his ankle. Casemiro the challenger but not a penalty. 
16'   Another chance. Danilo at the back post as Casemiro sends it towards him. Too high for the right-back.
14'   It is sent in and forces Icardi to clear. Corner! Neymar swings it in and Miranda heads it over. Some nervy moments for Argentina. 
13'   Dangerous from Brazil. Neymar picks it up and tries to clip it towards Jesus and it's cut out by Argentina. They win it back and Tagliafico upturns Jesus on the right. Chance for Brazil to send one into the mixer. 
11'   Sarabia drives clear under pressure from Brazil. They win it back and move forward. No attacking threat whatsoever from them. Neymar picks it up on the left and he's offside. 
8'   Casemiro makes a mistake as he fails to clear. Long, diagonal ball is sent back towards the edge of the penalty area. Lo Celso arrives and slams one wide. first chance for either side.
8'   Argentina win it back through Battaglia but he's fouled in the middle by a few Brazilian shirts. Fairly tame start so far. 
7'   Neymar nearly rolled back to Brazil. 
6'   Neymar fouled now by Paredes. He's rolling around on the ground. No contact but definitely a foul. 
6'   Neymar gets the ball deep in Brazil's half. Jesus is stopped abruptly by Tagliafico. 
5'   Neymar is toppled upside down by Saravia. Free in Brazil's half of the field. Much ado about nothing really as Neymar springs back up.
2'   Firmino gets the ball and it's put out for a throw. Agrentina still can't get near Brazil but they haven't done anything dangerous with their possession. 
1'   Brazil in possession. Marquinhos and Miranda getting some early touches. It makes its way out to Neymar but he's forced to go backwards. Brazil remain on the ball.
1'   We are underway! 
    Felix Brych is the referee for tonight's affair. 
    And now time for the Argentinian anthem. A few kids in the crowd with Messi signs. They won't get to see him tonight. He's probably on the loo somewhere. 
    "The placid shores of the Ipiranga heard the resounding shout of a heroic folk And the sun of Liberty in shining beams shone in the homeland's sky at that instant
    Brazil's national anthem's lyrics "have been described as Parnassian in style and Romantic in content" accordint to Wikipedia. 
    Brazil turn to face the flag as they sing the national anthem.
    It's really quite an impressive stadium too.
    The teams emerge onto the field and there's a sea of smoke from the flairs. Two massive jerseys sprawled across the pitch too. 
    Players in the tunnel. Brazil in their yellow jersey and ready to emerge onto the tunnel. 
    Mauro Icardi is playing his sixth game tonight. He has played against Uruguay, Uruguay, Venezuela, Ecuador, Colombia and tonight against Brazil. Can he get his first goal?!
    Malcom will have to wait for his debut, however, after being left out again. He made the bench against Saudi Arabia after his first call-up.
    Neymar, Jesus and Firmino start for Brazil up front in what is a lethal, dynamic attack. Coutinho behind them for good measure.
    Mauro icardi is the striker who starts for Scaloni's side despite speculation that it could be Gio Simeone or potentially Lautaro Martinez.
    Brazil XI: Alisson; Danilo, Marquinhos, Miranda, Filipe Luis; Casemiro, Arthur, Coutinho; Gabriel Jesús, Neymar, Firmino
    Argentine XI: Sergio Romero; Saravia, Otamendi, Pezzella, Tagliafico; Paredes, Battaglia, Lo Celso; Dybala, Correa, Icardi
    Team news coming in as we type.
    Hello and welcome to out live feed of the Brazil - Argentina friendly with kick-off from Saudi Arabia at 20:00 CET. 
Brazil vs Argentina: match preview
Brazil and Argentina renew their rivalry on Tuesday night in King Abdullah Sports City, which is located north of Jeddah, Saudi Arabia with kick-off at 20:00 CEST. Despite the absence of Lionel Messi, who is currently in the Argentinian news after Diego Maradona's bizarre outburst about him, there is still plenty of talent on display and with Neymar et al ready to line out for Brazil, it will sure to be a fiesta of football.
Managed by Tite, Brazil are still reeling after their World Cup failure when they were knocked out by Belgium. The manager says he is not entirely happy with their win over Saudi Arabia recently but they won so it's not all bad for the Samba boys. Neymar, who is taking to his captain's role well, said he was happier to see Gabriel Jesus break his duck against Saudi Arabia than if he had of scored five himself. He is pleased, however, not to be facing his former teammate with Messi out of the Argentina squad. In terms of injuries, Brazil are missing the likes of Thiago Silva, Willian, Paulinho and Fernandinho, which might open the door for Barcelona's summer signing, Malcom, who could be set to make his debut.
Argentina are, of course, without their bonafide star but that might not be a bad thing as we saw against Iraq when they demolished the opposition. They will be forced to figure out the game and how to win without just lumping it to the Barcelona attacker whenever they find the ball at their feet as explained by their own manager. Sergio Aguero, Gonzalo Higuain, Angel Di Maria and Marcos Rojo are all out for Lionel Scaloni and Gio Simeone could start with plenty of options up front. Lautaro Martinez recently scored his first goal for his country and could keep his place but Mauro Icardi will be ready to start if not.