Real Madrid 1-2 Levante match report: LaLiga 2018-19
Two early first half goals (Morales and a VAR awarded penalty from Roger) stunned Lopetegui's side, who set a club record goal drought before Marcelo's consolation strike.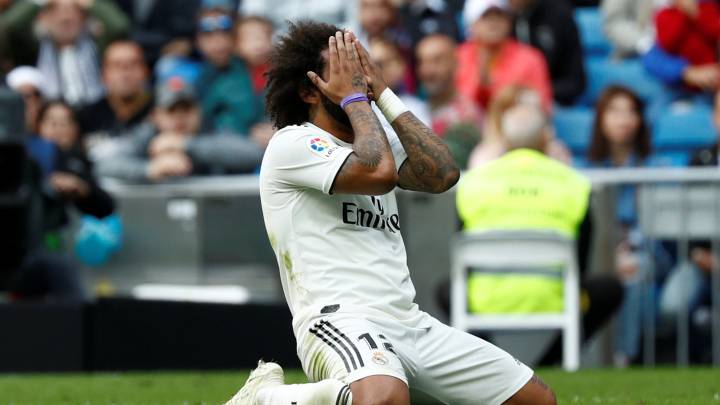 Levante pulled off their first victory at the Bernabéu and only the second in the Valencian club's history to pile further pressure on the slumped shoulders of Julen Lopetegui, who is surely now a man on borrowed time after overseeing Real Madrid's worst drought in front of goal since the institution's foundation in 1902 to cap a return of three losses and a draw in his last four Liga outings.
Paco López, the hero of The Frogs' leap up the standings to safety last season, arrived in Madrid with a clear plan and executed it to perfection. Packing his midfield to stifle Real's creative outlets and hitting on the break, the visitors went 2-0 up inside 13 minutes, a lucky enough number for Levante but the final statistic that will probably do for Lopetegui, whose grasp of the precariousness of his situation was apparently absent from his own pre-game preparations.
José Luis Morales capitalised on a catastrophic error by Raphael Varane to open the scoring, ghosting in behind the France international who had completely misjudged a hit-and-hope from the opposition half before rounding Thibaut Courtois and crashing a shot into the unguarded net.
Varane was under the spotlight again moments later when the referee signaled to the eye in the sky, which concluded that the Real defender had handled in his own area. Roger stepped up to take the kick and although Courtois guessed his intention correctly, the Belgium international's hand was not sufficient to stop a powerful shot that crept inside the post.
From there, Real's fate was utterly out of their hands and Lopetegui, who had benched Gareth Bale and Karim Benzema, powerless to decide his own fate. The Madrid manager has looked increasingly out of his depth and while his touchline exhortations looked good for the cameras, they had little effect on a team that are devoid of purpose and direction. A more telling pan to the stands showed Florentino Pérez examining his phone as chaos descended under him. A speed dial managerial list, perhaps?
Lopetegui's Real Madrid lost at sea
Real's defensive struggles were all to apparent throughout the game and Levante threatened every time they broke. The hosts can point to bad luck – and the vagaries of VAR – after having a goal disallowed and hitting the woodwork three times but Lopetegui's side only genuinely reacted with the introduction of Bale and Benzema, the old hands helping to steady the tiller after the break.
Benzema, particularly, climbed from the bench with purpose and his glorious effort deserved more than a rattle of Oier's upright but Real cannot complain about the eventual result. Marcelo eventually ended a barren spell unprecedented in Real's 116-year existence with a smash into the roof of the net after good work from the Frenchman and although a 10-minute period of ascendancy ensued, Lopetegui is not being paid a king's ransom to deliver a pauper's lunch.
Levante weathered the storm and could have made it 3-1 when Morales poked wide on the break in stoppage time but the clouds gathering over the Bernabéu have taken on a more permanent hue in recent weeks as Lopetegui has lurched from disaster to defiant press conference and back again. Levante were good value for their famous victory and nothing that unfolds in its aftermath should deflect from that but this Real Madrid are a pale shadow of last season's Champions League winners and in desperate need of a Churchillian chest-thumper to steer the club back on course.
Lopetegui is not that manager. He never was, and Pérez will have drawn his own conclusions from his lofty perch as his team departed the pitch to a chorus of jeers.
Real Madrid – Levante live online: as it happened
Thanks for joining us! 
90'+4' And that's it! Real lose again! Levante score only the second victory in their history at the Bernabéu as Real drop more Liga points. That's three defeats and a draw in their last four now.  
90'+3'   Morales! Levante break and the striker has the opportunity to hammer the final nail into Lopetegui's Real career but sends his shot just wide at the far post. 
90'+3'   Oier, under plenty of pressure, gets his gloves on it. 
90'+3'   Bale sends in a cross from the left but it clears everyone. Lucas plays it back to Marcelo who has a go but it's out for a corner. 
90'+2'   Real pump it forward but it goes straight through to Oier, who lights his pipe, pulls out his newspaper and eventually hits it upfield. 
90'+1'   Benzema goes flying in the Levante area but the ref signals a goal kick. Oier is in no hurry to take it... 
90'   Four minutes added! Real have four minutes to pull something out of the bag. The Levante bench, to put it mildly, does not agree.  
88'   The stadium holds its breath waiting for the fourth official's board to go up... Levante take th ebal lupfield and try to keep it there but Lucas dispossesses Morales. 
88'   The ball is in the back of the net.... but it's disallowed again! Mariano taps in from close range after he and Benzema go up for a challenge with Oier and it was either an offside against the striker or a foul on the keeper. Either way, 2-1 to Levante it remains. 
87'   There's a bit of pinball in the area as Real and Levante players fly into the same challenge and it breaks to Mariano, whose shot is well hit but finds Oier waiting for it. 
86'   Lucas clatters into Morales in midfield and Levante take the opportunity for a breather. The ball is played up to the fresh legs of Boateng and although he thinks he's through the flag is up. 
85'   Bale and Modric combine on the right, the Welshman sending in a cross but as so often this afternoon Levante are well positioned to clear. 
83'   It's Marcelo who delivers but Levante manage to get it clear. It's backs to the wall time for the visitors as Real push for an equaliser. 
83'   Benzema again attacking from the left channel and he's floored by Cabaco in a promising position for Madrid. 
81'   Benzema, who has been electric since coming on, tries to pick a way through but Levante hold firm. If Real are to avert disaster they could do with getting the ball to the number nine a little more often. 
80'   10 minutes remaining for Real to salvage something from this game. Marcelo spies another opening and unleashes a right-footer but this time it's into the nosebleed seats behind the Levante goal. 
78' Another change for Levante, Boateng coming on for goal scorer Roger. 
77'   Modric finds Benzema with a glorious ball but the striker is ushered away from goal. He plays it back to Modric and the Croatian has a go but it's wide.  
76'   Morales is operating as a lone striker now with the rest of Levante droppoing deep. The visitors break but they're running out of steam and Real cover the danger before hurling themselves upfield again. 
75'   Benzema! The Frenchman hits the post with a blistering effort after a nice interchange with Marcelo. Real looking for the equaliser here and Levante are clinging on. 
74' Postigo is down in the Real area getting some treatement. The whistles rain down as the Bernabéu smells a little gamesmanship but he's unable to continue and makes way for Chema. 
73'   Benzema has the bit between his teeth now and runs at the Levante defence, causing a headache before he's finally dispossessed. 
71'   It's a nice move, Benzema feinting to shoot but teeing up the Brazilian instead and he buries a right footed shot into the roof of the net! 2-1 to Levante now, 18 minutes left on the clock! 
70' Goooooooooool! Gooooooooooooool. Real pull one back! 
69'   Benzema glides into the area, a couple of stepovers, and wins a corner. But it's another poor delivery and Campaña hoofs it clear. 
68'   Real break through Marcelo and Benzema, the former whipping in a cross to Bale but it's a fizzing one and although the Welshman connects he skews it wide. 
67'   Mariano leaps powerfully to reach a cross but can't guide his header on target. 
66' Rochina off for Levante now, Doukouré coming on. 
65'   Another corner for Real... but its clobbered straight over everybody in the area and out on the far side. 
64'   Oier! What a save! Bale takes and it's a wonderful effort from the Welshman but the Levante keeper, who has been excellent this afternoon, makes a flying stop to deny Real. 
63'   Free kick to Madrid on the edge of the area, a decent chance here for Bale... 
62'   Jason does extremely well to clip the ball past Modric and gallops into the inviting green open space but play is hauled back for a previous foul. Real will have to watch that as they pile forward looking for an answer to Levante's two-goal advantage. 
61'   Bale! The Welshman has a crack from the edge of the area and he hits it well enough but Oier covers the shot well and gathers. 
60'   Lucas tries to clip the ball into Benzema but his attempted flick is poor and straight to a claret and blue shirt. Rather sums up this Madrid performance. 
60' Asensio and Isco go off for Madrid, Benzema and Ceballos come on. Last roll of the dice for the Real manager. 
59'   Rochina gets a rush of blood to the head and has a pop from distance but that's into the second tier. 
58'   It really hasn't been Real's afternoon so far. Isco gets the ball on the edge of the area and shapes to shoot but is closed down quickly and dispossessed. Levante have been quicker to pretty much everything today. 
57'   The resulting corner is whipped in to the near post and Courtois punches clear to make sure. 
57'   Roger! The Levante striker makes a bit of room for himself and has a go but it's deflected out for a corner. 
55'   Bardhi clips in a fine ball but Real clear the danger. Changes afoot for the home side by the looks of things. 
54'   Levante win a free kick as Isco goes through Morales like a hot knife on butter. Lucky to escape a card there, the Real midfielder. 
53'   Modric takes but it's poor and straight into the first man. 
53'   It's a decent delivery but Levante clear for a corner.... 
52'   Isco is over the free-kick. 
51' Cabaco goes in the book for hauling Asensio back on the break. First card of the game there. 
51'   Another dangerous Levante break and the ball is whipped in towards Bardhi but Modric is there to deny the Macedonian a clear shooting chance. 
49'   Modric! The Croatian has a crack and Róber gets a touch to flick it behind for a corner. Again Real don't make anything of the opoprtunity and Morales goes haring down the left again. He's dispossessed though and Real come forward again. 
48'   Casemiro pings in a cross but Levante clear easily again. Real are not enjoying much success via that route and it seems that Toni Kroos is about to come on as Lopetegui tries a different approach. 
47'   Varane cuts out a dangerous Toño cross and Bardhi is just hustled off the ball before he can wind up that right boot of his. 
46'   Mariano gets his feet in a tangle and is dispossessed on the edge of the area. Benzema warming up on the touchline. 
46'   It seems as though Odriozola is the player to make way. It's kitchen sink o'clock for Lopetegui. 
46'   And we're back underway! 
Gareth Bale is on for the second half. 
  Two shots on target from the visitors and two goals. Sometimes that's the way football goes. 
17 attempts on goal from Real Madrid in that opening 45 minutes but still the back of the net eludes Lopetegui's side. 
45'+3' And there goes the whistle for half time, swiftly accompanied by the sound of the Bernabéu venting their frustration towards their players. Lopetegui has 45 minutes to save his job, by our reckoning. And even a spirited comeback here may not be enough. 
45'+2'   The Bernabéu clamours for a penalty as Mariano goes down in the area but the ref is unimpressed. 
45'+2'   Real  work a nice move and it falls to Modric but he's closed down before he can get his shot off. 
45'   But Levante clear the danger again with little fuss. Three minutes tacked on. 
44'   Marcelo and Jason have a little word as the Brazilian attempts to take a quick throw. The ball is again slung into the mixer at the Levante end but there's nobody there to meet it. Mariano tries to get a shot off and it's deflected for a corner. Last chance for Madrid befor ethe whistle... 
43'   Gooooooooo.... oh no. It's been ruled out. Levante break again and Rochina touches the ball into the net but it's called back for offside. Real escape further punishment before half-time. 
42'   Lucas! The winger gets a one-on-one with Oier and the Levante keeper makes a fine save to keep the score sheet to zero. 
41'   Another corner for Madrid... 
40'   Casemiro does well to get a block in as Levante come again down the right. Real are in all shades of trouble at the back and the whistle can't come quickly enough for the home side. 
40'   Levante with another break! This time Morales gets away on the left and looks for Jason but just pulls his cross a little too far behind the midfielder. 
39'   Isco and Marcelo try to make something happen through the middle but the Malagan's final touch lets him down again. 
37'   Levante almost pick a way through again! This time it's Marcelo, throwing himself into a challenge, who prevents Roger from pulling the trigger. 
36'   Varane goes some way to making amends for his two early blunders as he ushers Morales off the ball in the area after Levante again popped up a long ball towards their target man. 
35'   Real take a quick free kick and Isco tries to play a ball through the Levante wall but it's cut out. A Marcelo cross is promising but Róber gets up well to glance a header behind the onrushing attackers. 
34'   Off the bar! It just will not go in! Ramos thunders a header onto the woodwork and Mariano then gets a bite of the cherry but his header into the floor is touched around the post. 
33'   Real win a corner, Odriozola correcting his mistake to force Rochina into the error. 
32'   Real are banging on the door, mostly via the left channel, but the claret and blue shirts are camped on the edge of the box and Lucas eventually tires of chess and has a pop, but it's straight at Oier and he gathers easily. 
31'   And it doesn't look much like that is going to change immediately with Levante looking pretty comfortable on the back foot at the moment. 
30'   As we reach the half-hour mark Real have now gone 439 minutes without scoring. The record is 464 from 1985. 
28'   Modric and Casemiro try to play their way out of a spot but Rochina's close attention leaves the Brazilian to pass the ball straight out for a throw. 
27'   Mariano called offside from a Courtois goal kick. It's not going well for the hosts and the Bernabéu is not happy at all. 
26'   Off the line! Postigo manages to hurl himself into the path of Marcelo's cross-shot. That could have gone anywhere but the goal continues to thumb its nose at Madrid. 
25'   Real get the ball back and look to build an attack. Levante aren't leaving much in the way of space in midfield though and the hosts are forced from side to side. 
23'   Levante looking to take the sting out of Real's attacking intent now. If they can take this score line into the dressing room at half time they'll be pretty pleased with themselves. 
21'   Oier! The Levante keeper is called into action as Lucas prods a ball goalwards. There wasn't sufficient sting on it to trouble Oier thought. The Frogs' number one then claws a Ramos header over the bar and gets enough on the resulting corner to deny Ramos again. He's earned his coin there. 
20'   Real are having difficulty playing it out of the back and Asensio is pickpocketed in midfield. There is abolutely no cohesion among the home side. 
18'   Another absolute defensive meltdown also lets Morales in for a clean shot but Courtois reacts quickest and manages to smother the danger. Real are a complete shambles at the moment. 
17'   And it's been chalked off! It looked as though there was a shade of handball in there but it's unclear what the ref has ruled it out for. Still, it remains 2-0 to Levante and Lopetegui is going absolutely potty on the touchline. 
16'   Gooooooooool! Madrid score from a corner! It's bundled over the line in a melee and it looks like Isco got the final touch. But it seems we're going to VAR again.... 
15'   And another ball over the top causes Varane a headache. He leaves it for Courtois, who has to come charging out and gets a clip for his efforts, limping back to his line with a grimace. 
14'   How do Real react to that? It's only 15 minutes in so the message from the touchline will be not to panic, but the thought must be occurring. 
13'   In fairness the Belgian did get a touch but not enough. Real will have to come back from two down now. Lopetegui is looking just a little worried on the touchline. 
13'   Gooooooooooool! It's there! Roger slots it past the dive of Courtois, who guessed right but couldn't get a paw on it. 2-0 to Levante! Incredible stuff! 
12'   Penalty! It's gone to VAR and the ref has pointed to the spot! 
12'   And it's Bardhi over it. 
11'   Ooooh, Varane penalised for handball right on the edge of the area. It's Bardhi time... although it may actually be a little too close for the Macedonian. 
10'   Another Levante ball over the top causes panic in Real's back line but Ramos manages to hook it clear. Nervy moments for Real. 
9'   It's Isco who takes, a training ground routine into Ramos on the penalty spot but the captain fluffs it and Mariano can't wrap his boot around the rebound. 
9'   Free kick to Real on the left. Asensio and Isco eyeing it up.  
7'   The boos are raining down in the Bernabéu already and Lopetegui is really on the line here. 1-0 to Levante and that's the umpteenth time Real have conceded first this season. They haven't recovered to win since the second week of Liga action away at Girona. 
6'   Varane misjudges a through ball from Levante's own half and allows Morales to senak in behind him. The striker takes a touch to round Courtois and hammers into the open goal. 
6'   Gooooooooooooool! Goooooooooooool. Levante open the scoring! 
5'   Madrid with a period of possession, probing the Levante back line. The visitors are dropping back in numbers when not on the ball and will be looking to hit on the break when possible. 
3'   Marcelo finds Isco with a lovely little ball but the Malagan magician makes an uncharacteristic error in control and clips it out for a goal kick. 
2'   Levante attack now and Morales goes down in the area under a challenge. There's a half-hearted penalty appeal but the Levante man is offside anyway. 
1' An  early Madrid attack breaks down as Lucas, making a rare start under Lopetegui, attempts to release Asensio but plays it straight to Oier in the Levante goal. 
1'   And we're off! Madrid in all white, Levante in their claret and blue. 
There's a bit of a homage to Augusto Herrerín, a Madrid legend, before kick-off, and a minute's silence for Serena, who found the net for Madrid in the 1966 European Cup final. 
The teams are heading out of the tunnel onto the hallowed turf and we're about to get our groove on. 
Madrid's goal drought is the worst that the side have embarked upon since roughly the time Noah was getting his tape measure out. Or 1985... but still, no goal by around the 20-minute mark and the Bernabéu will be inviting their side to do the old two-by-two to the exit door. 
Just 10 minutes to go until kick-off in the Bernabéu in what is being billed in some quarters as Lopetegui's last stand. He'll probably hang on until after the Clásico whatever the result today - little to be gained by having a new manager on the end of a stuffing in Camp Nou - but if Real don't carve out a result today that will be that for the former Spain coach we fancy. 
There'll be no Borja Mayoral for Levante today of course, Real Madrid having rather unsportingly inserted a clause in his loan deal that obliges The Frogs to cough up a not-inconsiderable sum of cash to have him available against his parent club. 
There may be a few goals in this one today, Madrid having bagged at least twice in 10 of their last 11 matches against Levante in all competitions. 
  Isco returns for Madrid today after his untimely lay-off and Lopetegui will be praying the Malagan magician can pick Levante apart in the Bernabéu. The midfielder was absent for the losses to Sevilla, Alavés and CSKA Moscow, which is probably not a coincidence. He climed off the bench to rescue Madrid in the 1-1 draw in San Mamés before his appendicitis. 
"The Real boss will have Marcelo and Gareth Bale available again and against the third-leakiest defence in the division a goleada will be demanded. Anything less may see Lopetegui seeking new employment before the weekend is out," was the AS Oracle's view on today's proceedings in his weekly predictions.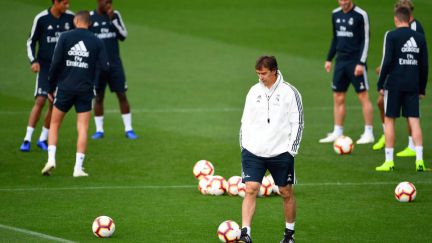 Levante XI: Oier; Cabaco, Postigo, Róber Pier, Jason, Rochina, Bardhi, Campaña, Toño, Morales and Roger.
Real Madrid bench: Keylor Navas, Nacho, Reguilón, Kroos, Ceballos, Benzema and Bale. 
Real Madrid XI: Courtois; Odriozola, Varane, Ramos, Marcelo; Casemiro, Modric, Isco; Lucas Vázquez, Asensio and Mariano.
As you gather your thoughts and contemplate what's in store, here's a round-up of some of the pre-match Real Madrid news, featuring Isco, goals (or lack thereof), pressure (crisis), Ramos and Asensio...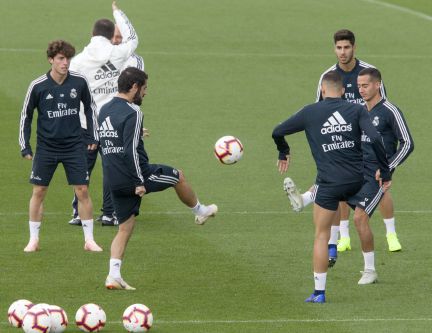 Hello and welcome to our live coverage of Real Madrid-Levante from the Santiago Bernabéu as we get back into the swing of it after the international break.