Real Madrid news Santiago Solari press conference
"A team of champions" Following the forced departure of Julen Lopetegui as Los Blancos' manager, new interim coach Santiago Solari spoke to the press.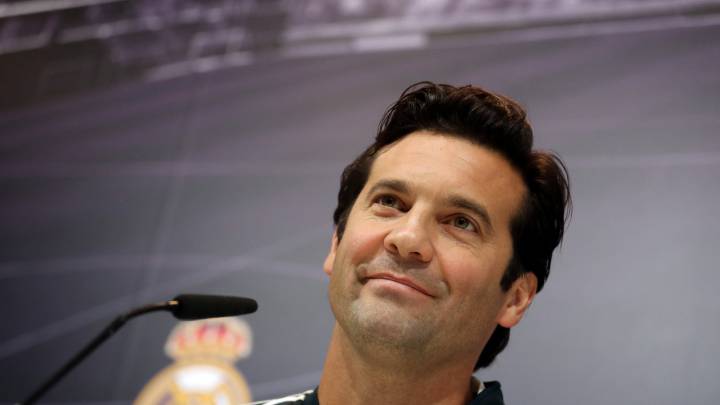 Real Madrid press conference: Santiago Solari
Well, that's it from here. Thanks for joining us and we can now watch to see how the Solari interim phase plays out...
  Solari's played that fairly sensibly, not promising too much (which could have bitten him in the future) but stating that there is a hunger to fix things, and suggesting the Melilla game will be taken very seriously by "Madrid's warriors". The other thing he didn't do was rule himself out of the job in the longer term.
The key take away from the press conference is that Solari is staying grounded, knows he has a good group of players, and they are all desperate to turn this very difficult period around.
And like that...he's gone! Short, sharp presser with not a whole lot to go on.
"We have to go out to win, with a group of champions that feel hurt. We need to go out and change that."
Asked what words he needs to give his players to turn things around. His answer again is guarded: "That's for the dressing room"
More questions about the young Brazilian Vinicius is batted back with a reminder that he's a young player and needs time.
Solari pretty much avoids answering a question regarding the speculation about him taking over after the Levante game. Then adds: "This is a team of champions. At times it can be difficult and that's when you see the character in the players."
  Next game is Melilla and the people want to know his thoughts. "We'll go into it with everything we have. We're really excited about it." Solari actually mentions the dangly part of a man's anatomy at this point, saying they go "to play with two balls". A classic Spanish phrase 'con dos cojones' to express strong character. Expect to see that in headlines later!
Who told you that you you'd be manager? "That's a private matter"
Will you be managing for long? "I'll do what I can. I've been at this club doing other things, playing, sweating. Madrid is bigger than us all. I just want to be part of it"
Will Vinicius be part of the team? "He's a part of the squad like anyone else"
"In life, we're all just passing through. It's the same for players, they have different aspects but they go into every game trying to do the right thing"
Asked whether he has spoken to Lopetegui he said that it was a private thing. Said it will be tough following Zidane
  "They were a bit hurt but want to turn things around. It's a group of winners," he said before adding, "They [the Madrid players] are a team of warriors, who have won lots of trophies."
He is welcomed in and asked how he sees the team
Here comes Solari...
It's worth pointing out, that the first team's potential gain, is Castilla's loss, at least for the short term. Solari's 11th position finish was followed by 8th and the team currently sit in 5th as he moves on.
The interim coach has spoken on numerous occasions before about his style and background. In terms of those who have had an influence on him, he named Diego Simeone, Claudio Ranieri and Vicente Del Bosque...as well as his grandfather. 
Things look to be happening here which suggests maybe just another hour or so to wait (just kidding!). In very much related news, the Madrid player voted the best defender at the World Cup, Rafael Varane, has been confirmed as having a groin injury that could have him out for a month. Not ideal news for Madridistas...although some could use it as an excuse for that first half in the Camp Nou!
Formations, wing-play, attacking press,... forget all that! You're more interested in where the surname Solari came from, aren't you? Well, it means 'land exposed to sun' which suggests some of his ancestors were farmers in northern Italy. Now you know. (And I'm totally not just trying to fill space until this press conference starts!)
Everyone is patiently awaiting the arrival of the man who knows what happened when his former teammate Zidane stepped up. Three Champions Leagues later and the club are deemed to be in a crisis. Our Robbie Dunne gave his view on how it seems to have unravelled at the Bernabéu...and hopefully we'll be started by the time you've finished reading it. (PS feel free to add your own views to the comments section)
OK, it's almost time for the questions to start...
Solari has had a full and interesting career, but did you know that he was once voted the Sexiest Player of the Year? This accolade was bestowed on him in 2002 by Spanish TV station Canal+. He was asked about it at the time: "I thank the people who voted for me, but I'm sure it was rigged. We'll see if I'm offered another career in the film industry when I leave."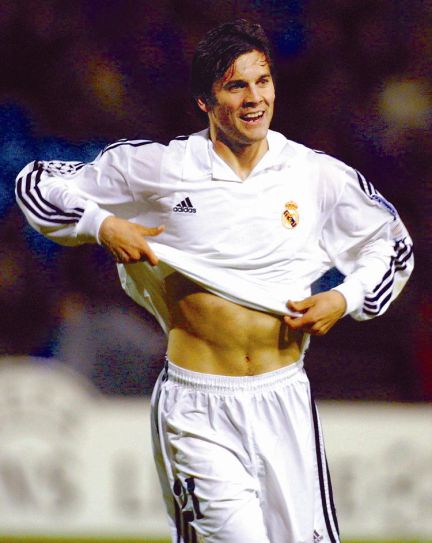 *I say 'almost certainly' because Madrid could have appointed a full-time successor to Lopetegui by the time Saturday's Liga match comes around. Rules state that they have two weeks to officially name their new man, who could, of course, be Solari if he can quickly get a tune out of the talent at his disposal.
Following the Copa del Rey first-leg, Solari will (almost certainly*) be selecting his first first team for the not insignificant challenge of Valladolid, owned these days by another Madrid legend...Ronaldo!
So, with a game tomorrow night in the Spanish enclave of Melilla (situated on the northern coast of Africa), how much pressure is actually on Señor Solari? He'll no doubt play a second string squad against the relative minnows, but will know that he cannot take any chances. A comprehensive win (despite being expected) would certainly help build a much-needed positivity at the club.
In his first season the team finished 11th in the Spanish third tier, Segunda B, and then improved to eighth in his second full campaign. 
A return to the Spanish capital was the choice for Solari's managerial debut. Taking control of Madrid's youth team was his first taste of being the 'gaffer' and then he was promoted to Castilla, Madrid's second team.
Back to Solari's career, which didn't end with Los Blancos. Spells at Inter Milan, San Lorenzo, Atlante and Penarol completed his playing time, and along the way he collected 11 caps for La Albiceleste. Then is was time to try his hand in management...
Unlike recent cases, the decision was made that Solari will speak after, not before, the training session. The doors have now been closed and we it has been confirmed that the new boss will speak at 13:00 CET.
  In total, Solari played 167 games for Madrid, scoring 16 goals along the way. It's probably fair to say he was a lesser light in the shining land of Galácticos.
And that move to Real Madrid proved successful as the player picked up a Chmapions League winners medal in 2001/02, beating Bayer Leverkusen in the final. One that Zinedine Zidane scored that historic volley in Hampden Park.
  Atlético Madrid decided he could do a job for them in midfield and so he moved to the Spanish capital just before we reached the year 2000. Then he got rid of the red in his shirt to be fully covered in white across town in the Bernabéu. 
The Argentine was born in 1976 and had a playing career that took him from, among others, Newell's Old Boys (yes, where a certain Leo Messi developed) to the start of his professional career in 1996 with River Plate.
How much do you know about Solari? Not much! OK. Let us give you a little summary of the temporary 'gaffer' in the time it takes for him to put the players through some exercise routines...
Plenty hoods on show on this miserable 'dreich' morning as the players knock the ball around. Solari wanders about, certainly smiling and appearing positive, as are the players (there are cameras on them after all!)
The 11am training session is underway...
I don't have much time just now to get into the history of Solari's coaching style - and obviously he's not been plying his trade at the elite level until now - but he has been known to flex between a variety of systems. 4-2-3-1, 4-1-4-1 and 4-3-3 are all in his repertoire, and he enjoys attacking down the wings. AS English will be bringing you plenty more on that as the games arrive for the new man.
It's a gloomy, rain-filled morning in the Spanish capital today, likely very appropriate for the departed Julen Lopetegui who's stock in the bright summer's sunshine ahead of the World Cup was in great standing. Oh how things have changed over the last four months or so. 
  We expect the statement and questions to kick-off following Solari's first training session at 11:00 local time in Madrid (CET). The session is open to the press for 15 minutes.
Good morning and thanks for joining us for our live coverage of the Real Madrid press conference, as Santiago Solari speaks for the first time to the media after his appointment as interim first team boss.