Angry Neymar blasts ref's "lack of respect" in PSG-Napoli game
"I condemn him for the way he treated me," said a frustrated Neymar, who had another run in with Dutch referee Bjorn Kuipers.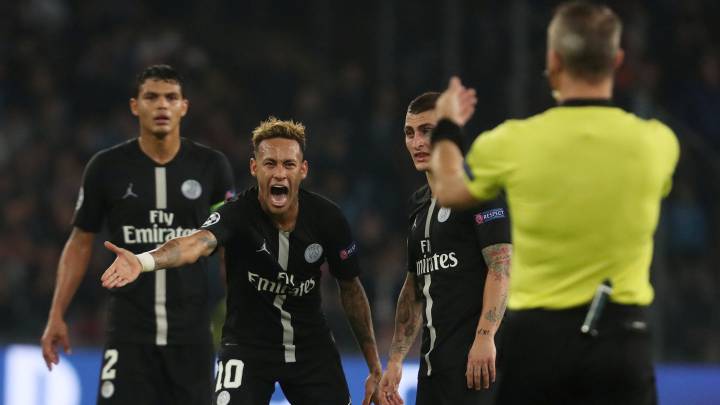 PSG missed a golden opportunity on Tuesday evening to put themselves ahead of Napoli and Liverpool in Group C of the Champions League after they only managed to draw against the Italian club away. Currently lying third in the group with five points and with only two games left to play, the French champions have now left themselves a tricky path to the last 16.
Last night's result was particularly irritating for Neymar. The Brazilian striker was not satisfied with claiming a draw away to Napoli and vented his frustrations after the game.
"It is difficult to speak at the moment, but I think it's not a good result. We have come to win. Our team shouldn't think about drawing. We have to think only of victory," he said.
"If we drew, we do not have to leave here satisfied… I'm not satisfied. I'm going home very angry and very irritated. We wanted the victory. We tied, and now it's time to think about the finals."
Neymar hit out at referee Bjorn Kuipers in the wake of Paris Saint-Germain's 1-1 draw with Napoli, branding the official "disrespectful" after being shown a 90th minute yellow card.

Sour grapes from the Brazilian or does he have a point? 🤔 ⚽️ pic.twitter.com/JhUPsnG7DO

— CaughtOffside (@caughtoffside) 7 November 2018
Neymar has another run in Björn Kuipers
A large part of his anger was directed towards referee Björn Kuipers for not awarding what he believed was a clear penalty for PSG. The Brazilian striker was also upset by the way the referee addressed the players, which he cited as his reason for losing his temper with Kuipers during the game.
"There is no complaint about the mistakes that can be made, the referee is a human being and can make mistakes, even if it is clear as the penalty was," said Neymar.
"The way he has treated the players was a lack of respect, which is why I lost control and had a few words with him. He has to respect all the players. He's not above everybody because he has a whistle and a card. I condemn him for the way he treated me. I hope people above him [take action]."
This is not the first time that Neymar and Kuipers have had a run in. During the World Cup group phase game between Brazil and Costa Rica, the Dutch referee ordered Neymar to stay silent, as a result of the Brazil player shouting insults at him in Portuguese on three occasions during the game, something which was picked up by the television cameras.