D'Onofrio: "They're treating Gallardo like a criminal"
River Plate's president feels that the four-match ban which will stop Marcelo Gallardo from attending the Copa Libertadores final on is too harsh a punishment for the coach.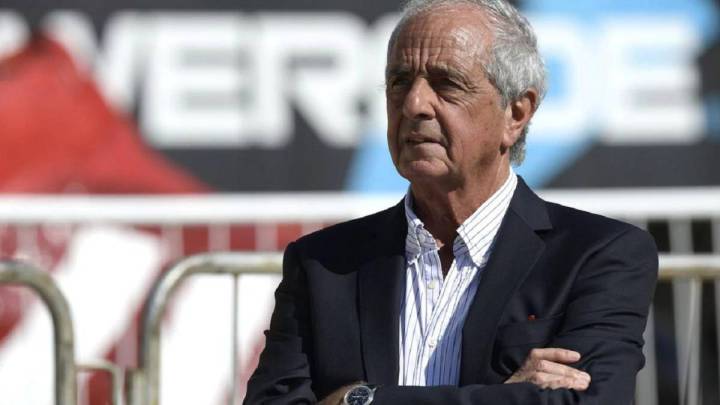 River Plate president Rodolfo D'Onofrio feels that the four-match touchline ban handed to coach Marcelo Gallardo which will impede him from entering La Bombonera for Saturday's Copa Libertadores final against Boca Juniors is akin to treating him like a delinquent.
"I think it's excessive, way over the top", D'Onofriono told Rádio Rivadavia's La Oral Deportiva programme. "You can't treat him like a criminal by stopping him from entering the ground. I cannot understand why they prohibit someone from entering the stadium just for returning to the pitch late".
Gallardo was hit with a one-match suspension and fined when his River Plate side were a few minutes' late returning to the pitch for the second half of the semi-final first leg against Grêmio. He then breached tournament regulations which impeded him from having contact with his players by leaving the press box to talk to his players in the changing rooms at half-time in the return leg. That earned him a three-match ban which means he will watch his team contest the final on television.
"Crazy" rule needs to be changed
D'Onofrio is furious with the decision: "The Argentinean constitution clearly states that any person is free to move wherever they want - anyone is free to go to a football ground and watch a game of football. Where does it say anything about the right to refuse admission? When someone is a delinquent or presents a danger to security maybe but to apply that to Gallardo makes no sense. Together with Daniel Angelici we have petitioned [AFA president] Claudio Tapia to get rid of the rule about late reentry and just fine the coach. Gallardo is very respectful, it's a law and it should be obeyed but it needs to be modified. It's madness, crazy".