Celta Vigo 2-4 Real Madrid: Solari makes it four wins in four
Goals from Karim Benzema, Sergio Ramos, Dani Ceballos, and an own goal from Cabral gave Los Blancos an important three points from Balaidos.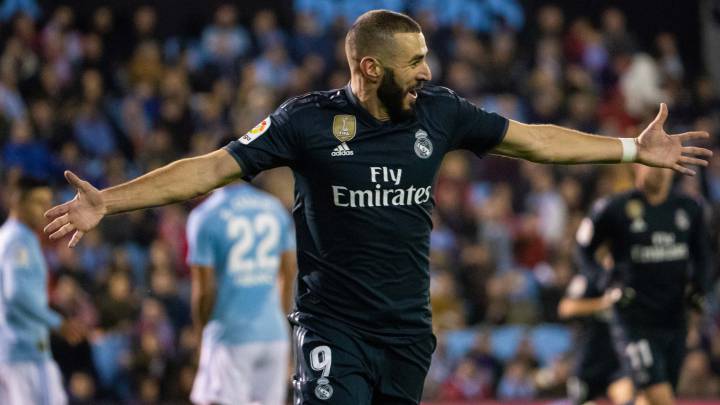 This game away to Celta Vigo was billed as Santiago Solari's first real test as interim manager following expected wins over Mellila, Valladolid and Viktoria Plzen after taking over from Julen Lopetegui. And his trip home from Galicia following the 2-4 victory will be with a smile on his face as wide as that of a student proving his worth.
Celta Vigo vs Real Madrid: match report
Madrid's starting line-up must have given hope to their hosts, a team that sat just three points below them, and with two of LaLiga's hottest strikers, Iago Aspas and Maxi Gomez, lying in wait. The leadership of Sergio Ramos - at least on the pitch - has been a subject of concern in some quarters, and alongside him there was the inexperienced pair of Odriozola and Reguilon, while Nacho has rarely been first choice. The opening exchanges were shared, and then up stepped Karim Benzema to get the night's scoring underway.
When you're a striker under pressure to get back scoring, it's said that any type of goal can get the confidence back. But that is often not the case. When it's a perfectly-timed run, a delicious control on the turn, and a well-placed strike past the keeper, then that can claw back some of the good feeling. And so it proved as the Frenchman chased hard and took up good positions throughout the first half. He was also the creator of the clearest chance which Toni Kroos failed to finish.
Celta, for their part, matched their more illustrious opponents throughout most of the first period and had their chances to change the tone of the match. In fact, had a Yokuslu header been a couple of centimetres further inside the post four minutes before Madrid took the lead, it most certainly could have been a different story. A few flutters aside, we went into the break with just the single goal advantage. By that point, however, Solari had been forced to substitute the injured Casemiro and Reguilón.
The second half began fairly balanced and then Benzema turned the tie even more in the favour of the visitors. A shake of the hips turned the defender, that allowed him to nutmeg his way past, and then as he fired towards goal the ball took an incredible deflection of goalkeeper Alvarez onto the post, and then in off the covering Cabral. 'Does Solari have Zidane's fortune?' some were asking. Five minutes later, with still half an hour to play, Celta's tails were up. Pressing and pushing to get something they deserved, and the goal did indeed come, from a lovely volley from Mallo.
There was a feeling that the home team were going to get something out of the game after that goal, and when Nacho became the third casualty for Madrid, replaced in the 71st minute the pressure, and noise, was building. Then, the game killer. Odriozola found himself on a scamper into the opposition area and the ref deemed him to have been fouled. Penalty given, and captain Ramos dinked another Panenka into his collection.
As a contest this game was over. There was still time for Cabral to receive a second yellow and hit the showers early, Dani Ceballos to ping in an unstoppable drive into the top corner, and Brais Mendez to fire past Courtois in the final action of the match. Solari has four wins out of four, and although there is still plenty work to do to convince anyone that this team is a serious challenger for the Liga title, he's more than likely done enough to get the green light to continue. Barça's loss at home to Betis means there's just four points between them, and momentum can do crazy things in football...
Celta Vigo vs Real Madrid: minute-by-minute
Thank you for joining us and we'll be back soon with more live football...
Celta Vigo 2-4 Real Madrid | Goals from Benzema, Cabral (OG), Ramos and Ceballos make it a relatively comfortable night for Los Blancos in the end.
90'+4' Peeep, peeep, peeeeeeeep! Full-time at Balaídos and Solari passes his first real test.
Celta 2-4 Madrid | Brais with a fine finish into the corner leaving Courtois with no chance. The whistle is about to go...
90'+3' Goooaaallllll!! Celta nick another at the death.
Celta 1-4 Madrid | Stepping in from the midfield the young Spaniard lets fly and the ball rockets into the top right corner. Sweet as you like!
90'+1' Goooaaaaallllll!!! Ceballos with a stunning finish!!1
90'   Four minutes to be added
88'   Just when it seemed like this game may have an exciting finish, the penalty and then sending off seem to have killed the hope.
85' Red card! Corner to Celta as they look to get back into this. The clearance falls between players and the already-booked Cabral goes in clumsily on Odriozola. Ref shows him the second yellow, and the red.
Sergio Alvarez clearly thought the cheeky pen was a possibilty and half divded but couldn't stand up quick enough to catch the ball as it dipped in to the centre of the goal.
82' Goooaaaaalll!! Sergio 'Panenka' Ramos does it again
80'   Penalty! Odriozola decides to lead the charge into the area and after losing control of the ball is caught (according to the ref, anyway)
78'   The visitors have, through their own decision or from the play of their hosts, stepped back a few yards as a unit. A break away is as much as they seem to be hoping for
74'   Madrid do well to build the play and steady things for a few minutes as they see their hosts' tails are up. 
71'   Lucas Vazquez appears to be the man helping out at the back for Madrid. Celta need to get pressure on that backline as often as possible to open up its frailties.
Nacho tried to run his knock off but like Casemiro and Reguilon before him, he can't. Asensio comes on and Solari has no more cards to play.
67'   Odriozola with a fabulous run on the right wing and his cross to the six-yard line is almost turned home by Benzema. Oh wait, is the defender injured as he fired it across? Solari not having the luck it seems here...
66'   More worrying news for Solari as Nacho seems to be needing to go off. Three forced changes is a manager's nightmare, giving him much less scope to affect the game tactically.
64'   The home team, and the crowd, have lifted their performance since Madrid's second goal. Maybe feeling harshly done by, the movement when in possession is sharper, and chances are on the verge of being created.
Celta Vigo 1-2 Madrid | What a finish from the full-back! Taking the cross from the right on the volley with his right foot at the near post. The ball flies past Courtois.
61' Gooooaaaallll!! Celta back in this through Mallo
58'   Very good defending from Sergio Ramos, just when it looked like the Celta strikers could be in. Gomez collected the direct ball well and then fed in Aspas who tried to create a shooting chance but Los Blancos' captain stepped in and removed the danger.
  Celta 0-2 Madrid | Great play again from the Frenchman. A shimmy, a nutmeg and a strike which Alvarez can't stop with his legs, which then diverts into the net via Cabral's face. 
56' Goooaaaaaallll! Another for Karim!
53'   Celta awarded a free-kick in a dangerous position to cause some problems. The ball is swung into the crowd of players but the looping effort is gathered by a tall, leaping Belgian with gloves on.  (Javi Sanchez shown yellow card for foul)
51'   Clang! Benzema again. His effort this time from the left side of the Celta area evades Alvarez but comes back off the upper surface of the crossbar.
50'   Chance! Aspas pulls himself away from the defender at the back post and throws a head at the cross. It bounces just wide of the post, and he's gutted not to have stuck that away.
49'   The visitors have a short, but sustained period of tidy possession leading to Modric finding Bale in on the right. His cross is blocked and Celta head up field.
47'   Madrid are quick to win the ball back and then give it away again. The pressure from both sides pays off with neither side making much progress.
Celta get the second half going
The teams are heading back out onto the field and it will be interesting to see if Celta boss Antonio Mohamedhas made any plans to test the recently introduced Javi Sanchez at left-back...
Happy to be leading and pleased to continue the clean-sheet minutes for another 45 will be Solari. Less enjoyable are the two enforced changes during that first half. Casemiro and Reguilon both play key roles for his side, with the young full-back in particular impressing in the absence of Marcelo. 
Celta too will ponder their missed chances that could have given that half an alternative feel, the Yokuslu header off the post and a couple of important saves from Courtois likely in the mind of the fans at Balaídos as they munch on their bocadillos.
Half-time | Celta Vigo 0-1 Real Madrid: Karim Benzema's finely taken goal in the 22nd minute is the difference in this game but Madrid will also look to that clear chance for Kroos, where the French striker had done all the ground work to create it.
45'+3' Peeeep! Half-time is here and Madrid go in with that slim goal advantage. Nothing particularly impressive from either side, Celta will be disappointed to be trailing, and all to play for in the second 45.
45'+1'   We're into the first of three (only three?!) minutes of injury time and Madrid make another forced substitution. Javi Sanchez comes on for Sergio Reguilon for an injury he's picked up. That's two subs before half-time for Solari.
45' Another booking as Junca decides to join his fellow defenders walking a tightrope. Only Roncaglia clean
43'   That turnover in possession ends with a clean strike at goal from Mendezwhich Courtois does very well to get down to and deflect away.
42'   Madrid get us going again and keep the ball moving around the middle of the park while sky blue shirts chase and harry. The pressing works and Celta win the ball back.
40' Another couple of cards handed out, both to Celta players: Cabral and then Mallo, the latter for taking out Gareth Bale who needs some on-pitch attention.
37' Reguilón is shown a card after doing absolutely nothing. Faked reaction from the challenging Celta player earns him the yellow. Crazy!
35'   Chance! It's a hands on mouth reaction from Toni Kroos after that miss. A great no-look pass from Lucas Vazquez puts in Benzema and the striker skips passed the challenge then cuts the ball back from the goalline. As it rolls to Kroos everyone is expecting him to slot home but he skies it over.
33'   Header chance for Benzema at the back post but the tight attention paid to him by goalkeeper Alvarez and covering defenders is enough to put him off.
31'   The battle in the middle third is building with possession changing hands. Kroos then feels aggrieved at a hand across his body and Undiano Mallenco agrees, awarding him a free-kick.
28'   A chance at either end. Madrid's corner is close to causing bother in the area before the Galicians break foward at pace. Fran Beltran is the man at the end of the move who gets a shot away but the dark shirts descend and block well.
25'   Maxi Gomez has just shown Sergio Ramos that he's up for the fight tonight. As they await the high ball, the Uruguayan sticks his shoulder into the Spaniard's side, sending him flying to the ground. A message.
Celta 0-1 Real Madrid | The Frenchman takes down the ball from Kroos beautifully as it comes over his shoulder, killing the pace on it. As Alvarez comes out to him the striker picks his spot. Lovely goal.
23' Gooooaaaaaallll! Karim Benzema 
21'   Bale is set free on the left and again looks for an early cross. It's low and well cleared from the penalty spot back into the midfield.
19' Ceballos comes on for Casemiro
19'   CLANG! Corner for the hosts is swung into the busy area and a glanced effort from Yokuslu comes off the foot of the far post and is cleared by Ramos. A massive let off for Madrid as the change is made.
17'   A loose ball from the struggling Brazilian in the middle of the park allows Celta to break towards goal. Ball is blocked and cleared for a corner as Casemiro shouts at the bench to take him off before he does something else.
16'   Ceballos getting his kit on on the bench which suggests Casemiro's earlier knock is not run-offable.
14'   Gareth Bale receives the ball on the left touchline and fancies his chances at taking on the two covering Celta men. Head down, sprint, cross. Straight into Alvarez' arms with no Madrid teammate in close proximity. More thought required from the Welshman in those circumstances.
13'   Courtois called into action as Gomez sneaks in round the back of the defence. The angle was against him and so he went for power instead of finesse. The big Belgian blocked well.
11'   Great ball in from the right from Lucas Vazquez and Bale meets it in the centre. He was up well but not high enough to keep the effort below the bar. That right wing is certainly looking a target for Los Blancos early on.
10'   After that stoppage we can already expect to see a little extra stoppage time after the first half. Casemiro trots back on gingerly.
7' Nasty collision there between Casemiro and Maxi Gomez. It's the Brazilian who comes off worse and is needing some treatment. There didn't look to be any malice in the challenge and the Madrid man is likely to be back on soon, post-magic sponge.
5'   Chance! Now it's Celta's turn to look dangerous. The ball is driven across the front of Courtois' goal and just needs a tap in from Aspas but the striker miscues. Goals are coming in this game!
3'   Benzema again. He's picked out well on the edge of the area in space, but drags his shot wide. Open start to this game.
2'   Chance! The first opportunity falls the way of the visitors. A useful run down the inside right channel from Modric allows him to pull the ball back to Benzema whose firm strike is saved well by Alvarez
1'   Real Madrid in their dark shirts and shorts playing from right to left from our viewing position. 
  We're off!!
The teams are out and have been through the usual formalities. It's almost time...
Two of LaLiga's top scorers will be aiming to keep up their fine form against a Madrid backline that is still to convince. Aspas and Gomez have a combined 14 goals this season, something that will be on the mind of Sergio Ramos who is the only first choice defender starting tonight.
As we head into this match, Celta sit down in 14th place on 14 points, while Madrid are in sixth but with only three more points in the bag. The chance to join their illustrious visitors on 17 points just adds to the incentive for Antonio Mohamed's side.
If your watch is not ticking along on CET, check out our handy guide to when you need to tune in, as well as some complementary viewing options.
Hello and welcome to our live coverage of our Sunday evening game as Celta Vigo welcome Real Madrid to Balaídos in Matchday 12 of LaLiga Santander. Kick off in Galicia is 20:45 CET.
Celta Vigo vs Real Madrid: match preview
Real Madrid travel to Balaídos looking for their fourth win in a row. Following the perceived 'crisis' at the club under Julen Lopetegui, this run with interim manager Santiago Solari would, in normal cicumstances, be seen as a massive turn around. The manager, the players, and any sane Madridistas, will know that tonight's game is the first real test of the new reign.
Celta Vigo
The home side have been a solid bet for most of this season when in amongst their own fans, losing just once this season. And with Iago Aspas and Maxi Gomez up top, they have enough to cause a suspect Madrid defence problems. They'll see no reason to sit back, given the form of their opponents and will fancy their chances of an upset.
Real Madrid
Solari knows how important three points are tonight. Although the points cannot lift his side to a higher position in the league, it would mean that they would finish the weekend just four points off league leaders Barça. Melilla, Valladolid and Plzen have given Los Blancos a tidy 11-0 net score, although the latter two games certainly had moments of concern. Marcelo and Varane remain out injured while Vinicius will hope for more playing time off the bench.