Brazil 1-0 Uruguay: Neymar penalty the difference
Neymar's 76th-minute penalty was enough to give Brazil victory over fellow South Americans Uruguay in a friendly at the Emirates Stadium.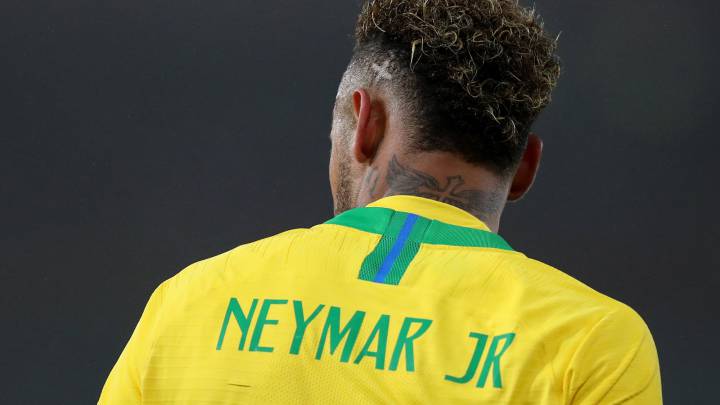 Brazil 1-0 Uruguay: as it happened
FT Brazil 1-0 Uruguay
90'+2' That's all ... Neymar decides the match with a solitary penalty from the spot. 
90'   Next up for Brazil... Cameroon next Tuesday in Milton Keynes as Uruguay face France in Paris 
89'   Filipe Luis handles....danger for Brazil with Suarez to take the free. Poor strike from the Barça player as we´ll have 2 minutes of time added on.  
89'   Into the final minute ... looks like time has passed Tabarez's men to get anything fom the match ? 
87'   Lemos clears a Richarlison delivery.... good 15' from the Everton player. 
87'   Neymar has recieved plenty of attention tonight as we head into the final few minutes of the match 
85' Cavani carded for a rash challenge on Neymar
URU: Vecino off with Valverde on
84'   Brazil boosted in confidence following the goal with Uruguay losing the early impetus
82'   What a delivery from Neymar as he fires a perfect ball through to Richarlison as the Everton man misses a chance to put Tite's side 2 up 
Suarez (Mathias) off with Lemos on for Uruguay
80' The game is getting tetchy now as Caceres becomes the 7th player in the book tonight 
77' Filipe Luis clattered by Luis Suarez.... Luis Suarez earlier carded by the ref following his appeal over the spot kick 
URU: Rodriguez on for the sky blues with Gaston Pereiro
Brazil 1-0 Uruguay
Goooooool do Brasil. Gol do Neymar !
Neymar to take .... The PSG man slides home .... Brazil 1-0 up 
Danilo caught by Laxalt and it would appear to be a correct call. 
74'   Uruguay have looked so solid and organised tonight as the ref awards a penalty for Brazil 
72'   Suarez almost finds Suarez as Miranda intervenes for Brazil.... excellent break from the men in sky blue 
69'   Neymar finds Richarilson but the Everton player lobs the ball rather than drive a cross into the box. The former Fluminense player has made an immediate impact.
69'   Tite will be angry with his defenders this evening with the rear-gaurd giving the ball back to Uruguay on countless times tonight
Everton player Richarlison to enter the fray for Brazil....Douglas Costa the player subbed
66'   Torriera getting attention as more changes are imminent on the Brazil bench 
65'   Neymar gets a shot on target and the ball is spilled by Campaña in the Uruguay goal but the Independiente keeper manages to grasp the loose ball.
63'   Less than half an hour remaining as the crowd get a little restless with a lack of goal mouth incident
61'   Neymar wriggles past three sky blue shirts but hounded out by Mathias Suarez
60'   Suarez looks for Vecino but the ball just overhit...Great battling performance from the Barcelona striker tonight 
58' Allan set to come on for Brazil as R. Agusto makes way
57'   Total confusion as Neymar and Filipe Luis fail to understand one another ....ball cheaply given back to Uruguay 
55'   Brazil have been poor it has to be said in this opening spell of the second 45'. Uruguay now in total contral and possibly time for Tite to make changes
53'   Brazil fans on Twitter far from happy with what they're being served up this evening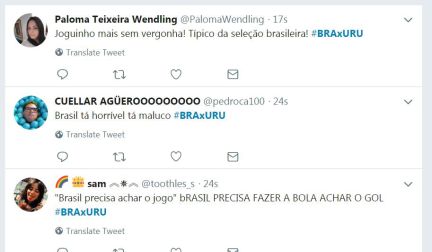 52'   Good play again for Uruguay with a great start from Tabarez's men to this second half as they win another corner kick
50'   Vecino latches onto a croos but just heads over as Brazil give the ball away again.  
49'   Danger for Brazil as Luis Suarez prepares to strike....Decent effort from the Barça striker as Alisson gets down well to push wide 
49' Pereiro strikes but fouled by Miranda just outside the Brazil box   
48'   Uruguay XI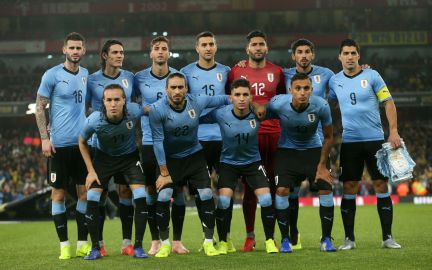 46' No changes at the break but expect that soon to change
Off we go ...Brazil start the action
46' Both sides are back on the pitch at the Emirates.... 
Possession stats at the interval: Brazil 61% - 39% Uruguay
The whistle sounds as Uruguay finish slightly on top at the end of the half but a first 45' that saw clear domination from the Canarinho. Quick brea and we'll be back with the second half.  
44'   Last minute of the half...Uruguay finish the half the stronger side as Cavani forces Alisson into action after latching onto a fine delivery from Suarez. 
Competitve game here in North London which has really yet to fully catch fire.... Very likely we'll see a glut of changes after the break too. 
42' Walace now carded.... The Hannover player clips Suarez....   
41' Another yellow... Neymar fouled by Inter Milan's Vecino  
40'   Another rash challenge as Doulas Costa and Danilo contrive to pull down Laxalt. Costa booked for his part. 
37'   Two cards for Uruguay now which is a rarity in a friendly game 
36'   Poor challenge from Suarez (Mathias) on Walace which earns the Defensor Sporting player a card
35'   Uruguay look neat and composed on the ball but just lack the final pass to break through the yellow wall of Brazilian defenders
33'   Filipe Luis collides with Cavani but the PSG striker is okay to continue
33'   Brazil star Neymar during the game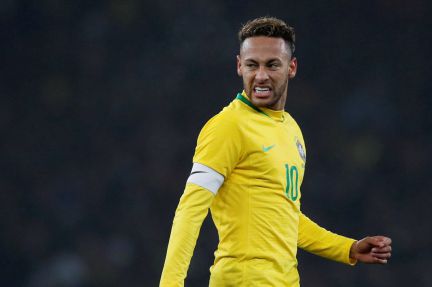 31'   Corner for Brazil as Wallace sees his shot deflected...Corner hit as Wallace heads wide 
29'   Filipe Luis swings and fires a right footed effort which he fails to get on target ...just 2 senior goals for Brazil as he wins his 38th cap. 
27'   Cavani beats the offside trap but fails to get any purchase on the header....
24'   Best chances of the game falling to Suarez and Neymar so far ... Brazil well ahead on "possession points"... 
23' Torreira carded for a rash challenge on Neymar
21'   Boos ring out after some sustained possession from Tabarez's men.... good passage of play from Uruguay as the press Brazil back. Ball falls to Suarez and forces Alisson to touch over.  
Brazil line up ahead of the International Friendly between Brazil and Uruguay at Emirates Stadium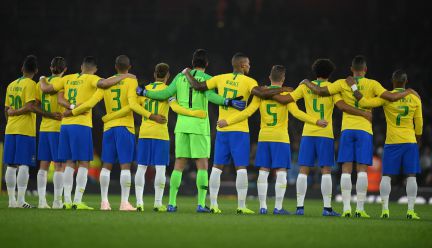 18'   200.000 Brazilians reported to be living in the UK.... with many of those residing in the Greater London area. Uruguay fans fewer in number in North London tonight.
16'   Noise building from the fans at the Emirates ... not quite a full house but a good 40.000 plus I'd hazard.  
14'   Brazil now pressing Uruguay back with "Los Charrúas" struggling to get the ball into the opposition half as Neymar goes close for the men in yellow
12'   Brazil push again as Douglas Costa breaks into the opposition area...once again the linesman has the flag up for offside
11'   Neymar has the ball in the net but it's ruled out for offside (correct call) 
Rain coming down now in North London as chants of "Bra-sil, Bra-sil" break out  
8'   Brazil XI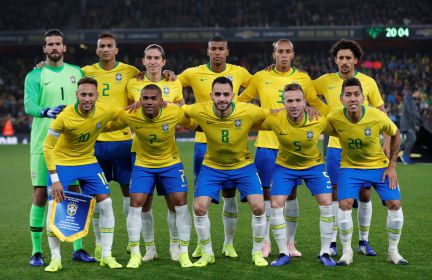 Campaña in for the injured Muslera .... the young keeper plays in Argentina with Independiente 
5' Neymar to take... goes for goal but palmed away from Campaña in the Uruguay goal
The PSG man too fast for Betancur
5' Brazil now beginning to establish a pattern to the game moving the ball around briskly. Neymar wins a free for Brazil.
4' Big roar from the fans as Neymar gets his first touch of the night
Very quiet from the supporters.... big crowd at the Emirates but as is the case in international games, no recognised fan areas....
2' Scrappy start as the ball bobbles abouts with neither side able to get any spell of possession together. 
1' Uruguay get us underway tonight ... 
Aldyr Schlee was the person the tribute was paid for ...
Teams line up for minutes silence
Match official is Craig Pawson tonight (Eng)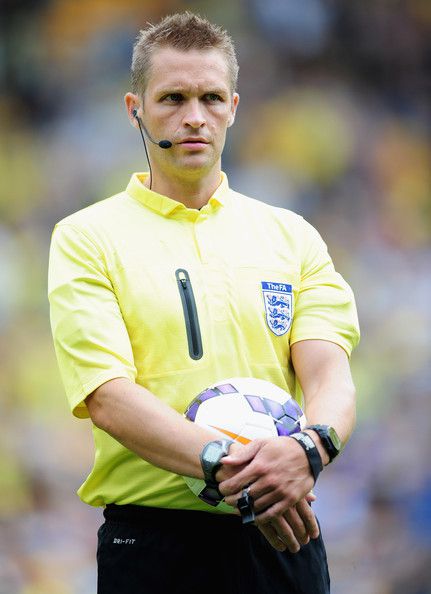 and now ...of course ...the Hino Nacional Brasileiro...
Sorry ... first up Uruguay's "Orientales, la Patria o la Tumba" .....
The sides take to the pitch .... in what seems to be a pretty full Emirates Stadium.... national anthem time... first up Brazil  
Neymar on free kick practice duty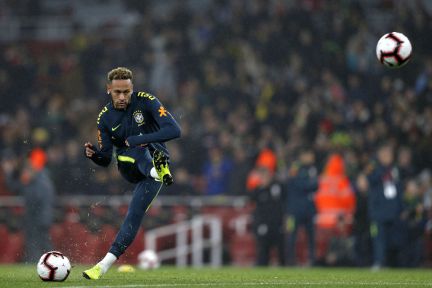 Luis Suarez trains ahead of Brazil-Uruguay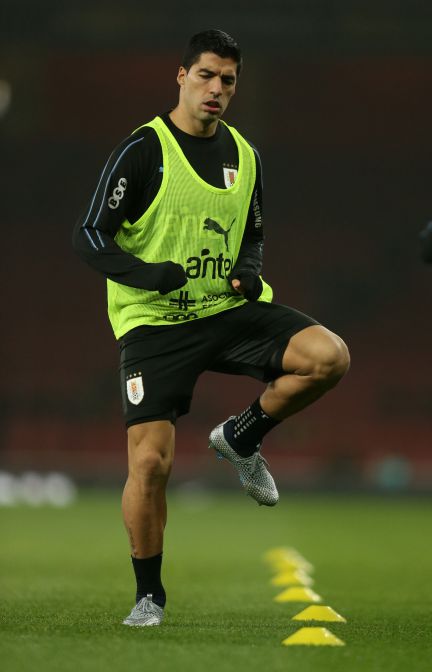 Brazil fans ready ahead of the match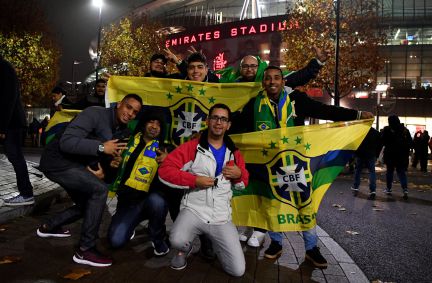 A misty night in the English capital with a nippy temperature of 9C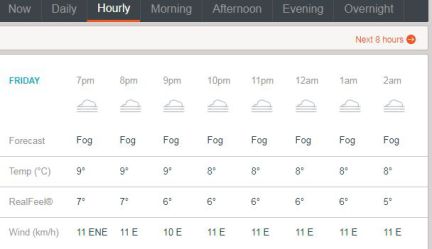 Brazil tonight in their classic kit...yellow shirts and blue shorts. Uruguay too in their home kit of sky blue shirts and black shorts.
an impressive starting line-up and bench from Tite tonight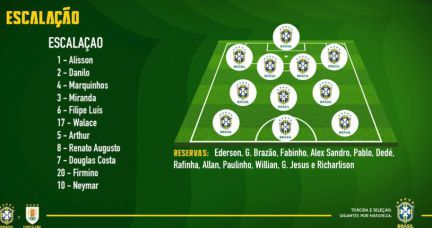 Hello and welcome to our live coverage from North London as Brazil face Uruguay. Kick off at the Emirates at 2100 CET.
Brazil - Uruguay live: preview
South America comes to North London as Brazil face Uruguay at Arsenal's Emirates Stadium.
Tonight's clash in London is the 76th time in history that Brazil have faces their neighbours with the men in yellow winning the game 35 times and have only been defeated 20 times with the remaining games drawn affairs.
Some big names expected to grace the North London playing surface with Uruguay boasting the likes of Suarez, Cavani, Betancur and Laxalt. Brazil too are expected to field some household names with Coutinho, Firminho, Alisson and Neymar Jr.