Mayweather vs Nasukawa fight "back on"
No kicking will be allowed at the Saitama Super Arena in Tokyo on 31 December.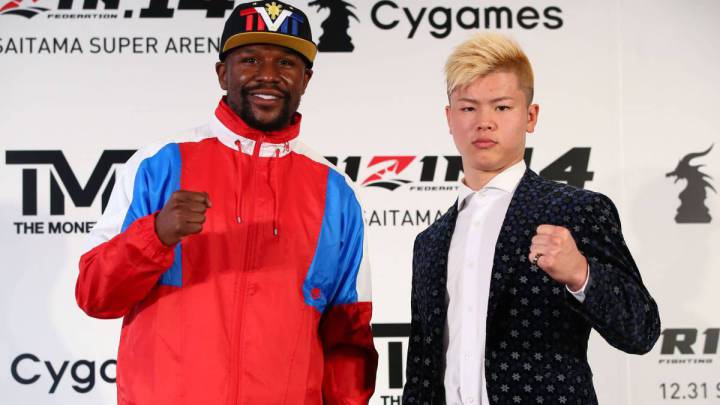 Floyd Mayweather Jr has said he will face the Japanese kickboxer Tenshin Nasukawa in a "boxing exhibition" at the Saitama Super Arena in Tokyo on 31 December, despite declaring a week ago that the fight would not take place.
The bout was initially announced on 5 November, but just two days later the former five-weight boxing world champion denied he would be participating, arguing that he had not heard of Nasukawa until that week.
Promoters announced on Friday that the misunderstanding had been solved, and that the fight will indeed go ahead.
Mayweather: "A little boxing exhibition"
Talking to American broadcaster TMZ, the 41-year-old Mayweather confirmed that the fight is "back on", and that it would be a "nine-minute boxing exhibition" with "no kicking".
"I went over there and there happened to be a huge press conference," Mayweather said. "I didn't want to throw a lot of my people under the bus. So I basically told them, 'This isn't going to work out'.
"There's no official fight. It's an exhibition. A small, nine-minute exhibition. No kicking. It's going to be the highest-paid exhibition ever. Just for promoting this event I've made seven figures.
"It's a no-brainer. Just because I'm retired, I still make appearances around the world and make a ton of money."
In August 2017, Mayweather extended his unbeaten record to 50 wins with a victory over UFC star Conor McGregor.
Earlier this year, he was named by Forbes as the world's highest-paid celebrity, beating actor George Clooney into second place.