River Plate Copa Libertadores Champions 2018
River Plate triumphed in extra-time in the Bernabéu, striking twice with Boca Juniors down to 10 men.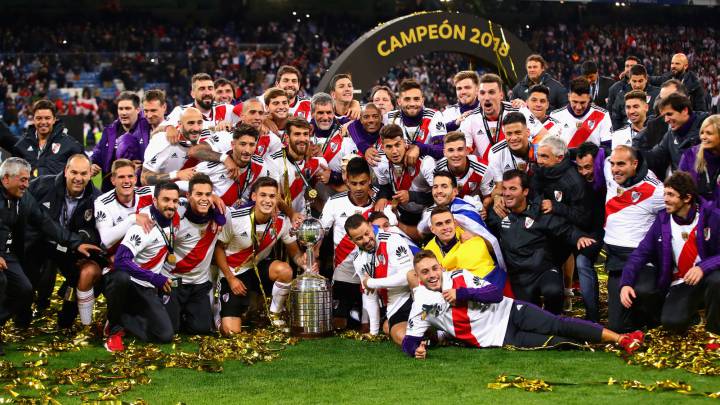 Follow River Plate's semi-final against Al Ain live at the Club World Cup.
River Plate 3-1 Boca Juniors: match report
It was the game that never wanted to end. And for Boca, they'll be wishing they could have prevented the way it did. River Plate, on the other hand will replaying the Copa Libertadores that took place in the Santiago Bernabeu forever.
Originally postponed twice, Real Madrid offered their stadium for the game and both sides didn't so much as accept their fate but travelled to Spain while they still argued over the venue.
Once CONMEBOL put their foot down, it became apparent that the biggest game in Agrentinian club football would be taking place many miles from the South American country where both of its competitors were from.
The game, once it kicked off, was as sloppy as the long days leading into it. Boca had better chances but you could always sense that if River Plate could find their footing, they wanted to play football and knew if they could turn it into a football match, they would win.
Boca had the two best chances of those opening rounds when Pablo Perez, the man whose injured eye went viral after he got glass in it from the original bus attack, was the benefactor who could not finish either of them. The captain swung his foot at the first chance at the back post but didn't make clean contact with Armani making a handy save.
Dario Benedetto's free was deflected into his patch shortly afterwards and he swiped at the ball again but it was deflected wide of the post.
A sloppy opening half was saved by Dario Bendetto and a lovely move, which saw him slot past Armani in River's goal. Seven passes, starting from the back, including one lovely defense splitting effort from Nandez, saw them take the lead with no chance for River to respond.
Boca had the lead and that was when it all went wrong for them.
They came out in the second half and forgot how to play football. Either that or they opted to sit and try to break up play but it didn't work for them.
River equalised when Pratto, who felt he should have had a penalty earlier when Andrada caught him late but the ref whistled for a high foot by the striker instead, was fed by Ignacio Fernandez and he slotted home with the keeper missing in action after going in search of the ball.
And now, the game that looked like it would never start, looked like it might never end.
In extra-time, however, Wilmar Barrios slid into Exequiel Palacios and they were reduced to 10 men at the start of that added 30.
They accepted at that stage that they would have to suffer to bring it to penalties but River Plate wanted it over before then. Second half substitute, Juan Quintero, made sure of it too as he drove a left-footed effort in off the crossbar and sent River fans into raptures.
It was a kitchen sink job for Boca for the last 10 minutes with keeper, Esteban Andrada, turning into a de facto outfield player complete with dribbles up the field and a couple of cameos into the opposing penalty area.
That was how the game would end though too when River broke and Gonzalo Martinez raced clear only to tap home in extra-time of extra-time. Amidst the commotion that came with the goal celebration, the referee blew his whistle and we finally had a winner to, arguably, the craziest game of football that almost never happened.
It wasn't ideal given the venue change and the horrible scenes outside of the Monumental two weeks ago but once the game got started, the two teams offered up a feisty, agricultural affair that fit the ham-fistedness of the organisation around it.
River Plate, the winners of the game neither side wanted the ignonimy of losing, won't mind how it transpired or where it was played with a few days of partying before they jet off to the Club World Cup in just a couple of weeks' time.
Most of the memories of what happened around the game will fade in time, but that win and the way they did it, will last forever.
River - Boca live online: match updates and commentary
120' GAME OVER!
120' Martinez the man who got the third goal.
120'   GOAL! Keeper up for the corner and River counter. 3-1. Winners of the Copa Libertadores. 
120' Two yellows. Tevez and Casco booked.
120'   But it took a deflection. 
120'   That was THE chance. Jara hits the post. 
120'   Boca down to nine now and it shows. 
120'   Boca have one more chance. 
118'   Ball into the box and it's headed down to Armani.
117'   This is mental. Pratto takes off and it's a shot. Andrada saves and Boca lose it again.
116'   Ball into the box. It bounces around and the nerves! Shot comes in and it bounces in front of Armani, who saves. 
115'   Cross in and it's headed over. Another corner. 
114'   CORNER! 
114'   River looking for another. Keeper grabs it, drops it and takes off up the field.
112'   Boca with a chance but it's too long for Nandez to get to and it's out for a goalkick.
111'   Fernandez off for Zuculini.
111' Tevez replaces Buffarini.
110'   Nearly had an own goal. Ball sent in and it's headed down to Armani.
108'   Lovely left-footed effort after a nice move. 
108'   GOAL! Quintero. What a finish. That should do it. Surely. What a strike as it goes in off the post.
108'   This game is destined for penalties. 
106'   Ball snet inside to Fernandez but Boca bodies being thrown in front of everything that moves. They manage to clear it.
106'   Second half of extra-time! 15 minutes and it will finally end.
106'   That's it for the first half of extra-time.
106'   Into extra-time in extra-time.
105'   River with another half chance. Ball clipped inside and Alvarez, who is the closest River player, clashes with Gago. Free for Boca.
104'   Another dangerous ball in and cleared for a corner.
103'   Wide this time for River Plate. They really are looking the more likely. 
103'   Alvarez gets the shot away. 
101'   Another shot for River but this one is fired over the bar. Andrada taking his time over this one.
101'   Ball headed up in the air a couple of times before Armani grabs it. 
99'   Andrada down now with an injury to his knee.
99'   Quintero fires the shot over the bar as it falls to him outside the box. 
99'   Corner for River Plate. 
97' Palacios is taken off for Alvarez.
96' Jara on for Villa.
95'   Pavon with a really nice run up the field but he loses it. Maidana nearly gifts it to Avila and he does pick it up but Avila's pass it blocked.
92'   He went in on Palacios with the most nasty of studs up tackles on the man. 
92' River playing all the football here. Barrios with another foul and that's a second yellow. He's gone.
91'   We are back underway for the first half of extra-time.
90'+5' GAME OVER! Extra-time it is.
90'+5'   Boca win it back and Barrios gets it. Once last attack for Boca as it is sent forward. Cleared and that's it.
90'+5'   Ref keeps playing on now as River advance the ball. 
90'+3'   Extra-time beckons. Nandez down on the ground getting treatment for cramp. Time has run out here but referee is letting it run for now.
90'+3'   Barrios plays the ball forward. Nobody there for it though.
90'+2'   Three minutes of added time.
90' Last change for Boca. Gago comes on for captain Pablo Perez. Emotional for him. 
89'   River pushing for the goal. Enzo Perez gets a yard and strikes but that's blocked and Boca clear. River Plate straight back up the field.
87' That is the most obvious yellow card of all time. Barrios literally pulls the attacker down. 
86'   Ball in behind is cut out by Boca and it's cleared. 
84'   Clearance takes a lucky bounce and it's out for a goal kick.
83'   Maidana cleans Avila out of it now from behind. Advantage played but there was none. Poor challenge. 
81'   Another free now as Abila is taken down. Free comes in and that's a mile over the bar.
81'   This game is turning into a complaining fest here. 
80'   That was so confusing. How was that not a penalty?
79'   Indirect free kick for that? I don't think I've ever seen that before. 
77'   Looked like there was contact there. Nandez with the strike and Maidana blocked it with underneath his foot but he caught the foot of the attacker. That's a penalty I think. 
75'   What a challenge that as Pratto runs inside. Izquierdoz with the two footed effort and Boca carry on up the field.
73' Montiel is replaced by Mayada.
73'   Buffarini wins the ball back for Boca and gets fouled. Time for another change.
73'   River back in possession. 
72'   Nandez fouled but he recovers and gets the ball to Barrios. Ball inside again but River defend it well and it's a goal kick.
71'   Boca chasing shadows now but they win it back thanks to a sloppy pass out wide. 
70'   Ball at Armani's feet and he launched clear. 
70'   Cross comes in from the left and it's headed away. 
69'   River Plate with the momentum now too. 
68' GOAL! Pratto gets his reward. That has been coming. Ball in from the right and he knocks it home. 1-1 on the night. 3-3 on aggregate. The keeper was all over the place. 
67'   Boca have completely given up playing football now and just defending. River no clear chances just yet.
65'   Ball comes in from the right and Pratto heads it while falling backwards. That's easy for Andrada.
64'   Barrios down injured. A late tackle by Casco again. He has had a few in this half.
62' Benedetto being taken off now. He is replaced by Abila.
61'   Another clash of heads. This has been the most stop-start game of football in history. 
59'   The result of that earlier play was a free for the keeper as it was dangerous play from the striker. His foot was high so it made sense.
59'   Goal kick now for Boca. 
58' Quintero is coming on for Ponzio. 
56'   Andrada jumps into Pratto and catches him late. Pratto quite clearly got the ball first and took the striker out of it. No penalty? Referee taking his time here as Andrada gets medical treatment. He caught a knee to the head. 
55'   River he more proactive team now but no chances yet.
53'   It was a hand ball in fact that he was blown for.
53'   Benedetto is fouled now by Maidana as he jumps in front of the striker. Free from outside the penalty area.
53'   There was a kick in the back of the left for Nandez there by Casco as the ball went out over the line. Free for Boca but that might have been worse.
52'   Shot comes in from Palacios this time. Takes a deflection, or maybe two, and that's saved by the keeper.
50'   Andrada drives a kick-out up the field. 
49'   So close. Pratto takes a one-two and fires just wide. So close and River have a real impetus about them now.
47'   Headed over by Maidana. He has had a busy night tonight. 
46'   We are back underway and River start off on the front foot. Cross in from the right by Montiel and it's deflected out for a corner.
Really even game so far but Boca have been better, well, because they're winning. But even prior to that, they defended better and had much better chances themselves with Perez going close twice.
45'+2'   HALF-TIME! 
45'+1'   A chance now for River as they win a corner. Some slick moves by Casco and he crosses but it's blocked.
45'   Maidana barges into a challenge and absolutely takes Benedetto out of it in the process. Nasty one but the two of them appreciate that they were going full tilt for the ball. 
44' GOAL! GOAL! GOAL! GOAL! Boca pick it up through Pavon and Benedetto is clean through on goal. He shoots past Armani. Lovely finish. 
44'   Boca make an absolute mess of it! Twice. Almost. 
42' Slide on Perez and we have an injury. Perez down injured and he is rolling around in agony. Referee giving him absolute no attention whatsoever but the rolling on the ground earns Pablo Perez a yellow.
40'   Earlier ball from Barrios ontp Benedetto. The striker was waiting for it as Armani sprung to action.
40'   That cross from the right was perfect. Armani jumps out off his line and punches clear. River counter and it's Martinez who flashes it over. 
38'   Slight lull now after a hectic opening half an hour or longer. River Plate in possession. Boca have had the better chances. Hard to tell who is the better side here.
38'   Pavon tripped and falls on the ball. A hand ball as he lies over the ball and catches the defender's leg. 
36'   Ponzio with the ball out wide and it's out for a goal kick.
35'   Pavon controls a ball out to the left with his chest and Boca try to build an attack. River cut it out though. 
32'   Casco was the man who looked to have been nudged in the back for the penalty shout. No chance though.
32'   Corner taken and it's a yellow card as soon as the ball is kicked. Free as Pablo Perez is crashed into.
31'   River Plate up the other end. They want a penalty but they have to suffice for a corner. 
31'   Pablo Perez gets the ball and that's wide. What a chance. The free kick came in and it was blocked out to Perez, who was waiting for it. He hit it with his left and it is deflected out for a corner. But it must have hit Benedetto as he tried to head it home.
30'   Benedetto to take. The ref organises the wall. A few Boca players in it too. This could be a trick play. 
28' Looked like he got the ball there though. Anyway, it's a free for Boca just outside the box.
27'   Dangerous one. Yellow for Ponzio. Mistake at the back and Nandez jumps in to take it back before the late challenge arrives. 
27'   We have action and a yellow card. 
25'   Yet another Boca free now from way deeper this time. Sent forward and it's sent back where Boca pick it back up again. 
23'   Villa Cano with the free but he'll need to recalibration his depth after that one.
23'   Sent in but way to deep and it beats everyone. A few bodies on the ground in the area too but no free. 
23'   Neat move by Villa Cano and he's fouled by Maidana, who leaves a leg in. Free for Boca out on the left as they have a chance to whip it in again. Boca building here.
21'   Drove deep to the back post and headed back towards danger before going wide. 
21'   Free for Boca in the middle, close to the centre circle. It's headed out and bobbles around in the box before Maidana heads out for a corner.
20'   Corner. It's low and to the edge of the box. It's Fernandez with the strike. He shoots over with plenty of Boca bodies there to block it anyway if it was on target.
20'   They have the ball fairly high up the field but not really doing much with it. There's a ball into Pratto and it shoots off a defender's leg and out for a corner.
19'   A pass inside is cut out by Perez and it's out for a throw. River in possession still as their fans sing them on! More River fans in the stadium by a long way.
17'   Palacios down the right now as he goes backwards as River continue to look for a way through. Boca sitting deep for now and waiting for a chance to counter.
16'   There's a foul by Buffarini on Martinez this time. Free from 40 yards out, or maybe more. River trying to plot their first real chance.
14'   Another foul as Nandez is fouled this time by Martinez. 
10'   The corner is whipped in and it falls to Pablo Perez at the back post. He hits a semi-scissors kick and it's into Armani's hands.
10'   Cross in from Olaza and Maidana nearly puts it into his own net. Corner in the end as it lands of the roof.
9'   Pavon runs on to a long ball down the left. He loses it though with Montiel back to snuff him out. 
9'   Poor pass Barrios across the field as he misjudges where his teammate is going to be.
8'   Another free for River. Foul by Perez this time on Martinez. Quite a few fouls by Boca so far. 
7'   Boca back on the ball. Whistles from the River fans whenever their opponents hold the ball for longer than a couple of seconds. 
6'   Enzo Perez with an agricultural clearance up into the air. 
5'   Corner in and headed out. But Martinez picks it up and moves it forward. Goal kick as he can't keep control of it after a heavy touch.
3'   Magallan with a late tackle and that's a free for River Plate just outside the box. It's sent in and Izquierdo heads out for a corner.
2'   Perez back up after a slight delay and we are ready to restart with a Boca free. They have possession and move the ball forward. Some meaty challenges going in here to start.
1'   Okay, we do have a free now. Enzo Perez takes Pablo Perez down and he writhes in pain on the ground.
1'   Boca Juniors start a counter and the player hits the ground. No free. 
1'   We are underway. 
    The teams change sides. There is pure tension here as the two captains shake hands. 
    We are ready for action. All going to plan so far as the two teams captains go up for the toss. 
    The teams are on the field and the Argentinian national anthem plays. What an atmosphere.
    Teams in the tunnel. Two police officers with them with riot shields.
Not sure if this is a joke or not but this is entirely fitting with everything that has happened during this whole saga. 
    Griezmann rocks up to the Bernabéu to watch the game sporting a Boca Juniors shirt.

    Warm-ups underway inside the Bernabeu. 

    Wilmar Barrios and Dario Benedetto are the two players to watch for Boca Juniors tonight. Benedetto was the seen as the solution to Argentina's problems under Jorge Sampaoli and Barrios, who was one of Colombia's best players during the World Cup, has been linked with a move to a big European club with Real Madrid mentioned. 
    River Plate XI: Armani, Montiel, Maidana, Pinola, Casco, Pérez, Ponzio, Palacios, Ignacio Fernández, Gonzalo Martínez, Pratto.
    Boca XI: Andrada, Buffarini, Magallán, Izquierdoz, Olaza, Nández, Barrios, Pérez, Pavón, Benedetto, Villa.
    The footage from outside the stadium proves things are really heating up. The singing and the colours and many of the good elements of this wonderful game on display! 
    Hello and welcome to our live online coverage of the Copa Libertadores! This game is finally going ahead and we will bring you team news, updates from the stadium and whatever else happens on and off the field tonight in Madrid. Team news soon and kick-off at 20:30 CET.
River Plate vs Boca Juniors live online: preview
After weeks of speculation about the venue and tension over taking the game out of Argentina, the Copa Libertadores is before us. With all that speculation came an opportunity to move the game to a presumed safer environment. And the Santiago Bernabeu will be the home of the biggest game in South American football and the biggest game, possibly, in Argentinian football history. Kick-off from Chamartín is at 20:30 CET. The police are on high alert as the two sets of fans descend on the stadium and we search for an end, finally, to the game of all games.
For the 'home side', River Plate, former Atlético Madrid attacker Rafael Santos Borre will miss out due to suspension as the rojiblancos remain linked with a move back into the market for him. Meanwhile, Nicolas de la Cruaz remains out with an injury. Ignacio Scocco, Rodrigo Mora and Juan Quintero could all make it but will be game time decisions.
Boca have less to worry about with Frank Fabre their only absentee and he has been out for some time with a February return date touted after a knee injury. Cristian Pavón is back after missing the last five league game in the Argentinian top flight too, which comes as a boost. They have their captain Pablo Perez back after his scare before the second leg, which was part of the reason why it was called off.