AS celebrates female athletes at 2018 awards gala
The annual AS Awards gala took place in Madrid on Monday, which this year was exclusively dedicated to female athletes.
Sports personalities from Spain and around the world gathered in the Westin Palace Hotel in Madrid on Monday for the annual AS Awards. This year's gala was solely dedicated to women, with awards exclusively handed out to top female athletes from a broad range of sports – from football, basketball and athletics, to boxing, karate and kitesurfing.
Venezuela athletics star Yulimar Rojas scooped the AS Americas award. The 23-year-old competes in the high jump, long jump and triple jump and is the current world indoor and outdoor triple jump champion.
"It's exciting to be recognized by prestigious Spanish media like this one and I am sure that the prize will bring nice things for the future," said Rojas at the awards ceremony.
The Caracas native is no stranger to Spain, where she regularly spends long periods training with her coach and a nine-time world champion Iván Pedroso, who was also present at the gala.
"She is a wonderful and confident girl who will have great achievements," said Pedroso. "She's a star of world athletics. It's great to be here with her today."
Rojas is now focusing on preparations for Tokyo 2020, where she is hoping to bring home some gold to Caracas.
Other AS award winners
Other winners on the night included: Gisela Pulido, the kitesurfing star who became a freestyle world champion at 10 years old in 2004 and has 10 major titles to her name; boxer Joana Pastrana, who became the IBF world champion in June; Carolina Marín, who became the first woman to win three singles titles at the World Badminton Championships earlier this year; and 2012 Olympic weightlifting champion, Lydia Valentín.
In team sports, Spain's women's basketball team, bronze medallists at the World Cup in Tenerife, Atletico Madrid's Women's Champions League runners up, and Spain's U-17 Women's World Cup winners, were also recognised at the event.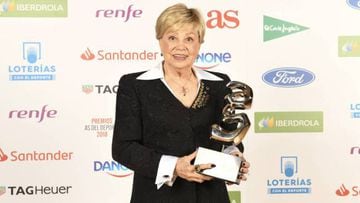 The night was capped off with the AS Legend lifetime achievement award, which was handed to former gymnastics star Larisa Latynina. During her illustrious career, the 83-year-old Ukrainian won nine Olympic gold medals, as well as nine World Championship and seven European Championship golds. With 18 medals in total from three Olympic Games in 1956, 1960 and 1964, she still holds the record for most Olympic medals won by a woman.
"I want to thank AS and all its journalists for their excellent memory. Because so many years have passed since I won those medals," said her interpretor and son-in-law, who translated her words into Spanish. "Thank you very much and Merry Christmas."