MMA
Tenshin Nasukawa aims to take down Mayweather
"Ninja Boy" will face the North American at the Saitama Super Arena in Tokyo on 31 December.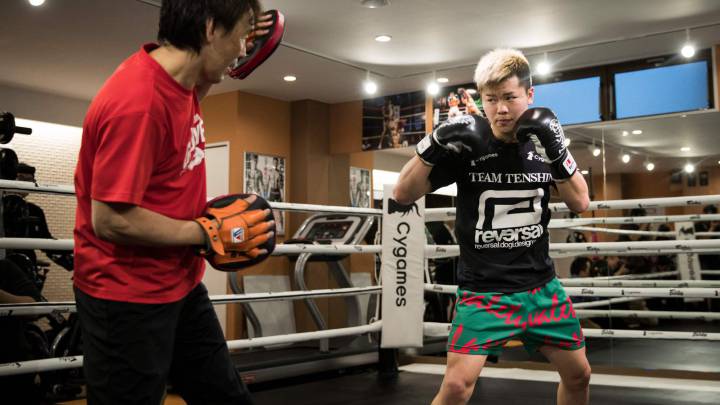 Japanese kickboxer Tenshin "Ninja Boy" Nasukawa said on Tuesday he intends to use the element of surprise to defeat boxing superstar Floyd Mayweather in their encounter later this month.
'I want to kick his ass,' the 20-year-old baby Japanese fighter told reporters after a training session in the city of Matsudo near Tokyo.
Nasukawa is due to fight Mayweather at the Saitama Super Arena in Tokyo on December 31, in a bout in which no kicking will be allowed.
"I can change the world with my fist," Nasukawa said. "I want to make surprise moves".
Kickboxing prodigy
Nasukawa is considered something of a prodigy in the Japanese fighting circles.
He has already been punctuated by some notable wins, defeating the veteran Muay Thai champion Wanchalong PK Saenchaigym with a first-round knockout at the age of 18, chosen as the 2016 knockout of the year by Combat Press (http://combatpress.com/2017/02/combat-press-2016-kickboxing-awards-knockout-of-the-year-tenshin-nasukawa-vs-wanchalong/).
As an amateur, the Japanese amassed a record of 99-5 before turning professional in kickboxing.
This is a young Tenshin Nasukawa, training with us when he was just 18yr, and now about to fight Floyd Mayweather on the New Years Eve RIZIN show! What a rise this kid has taken and we are so proud of him and his team and coaches! pic.twitter.com/T1Wp0KPuum

— AKA Thailand (@AKAThailand) 5 November 2018
He is the current RISE featherweight World champion; also, he is ranked the #8 bantamweight in the world by Combat Press (http://combatpress.com/2018/11/combat-press-kickboxing-rankings-november-2018/).
Mayweather's 50-0 boxing career will not be the only unbeaten record on the line on New Year's Eve, as the Japanese holds a 27-0 in kickboxing and 4-0 in MMA.