La Real pile pressure on Solari with first away win since 2004
Follow all the action live online from the Santiago Bernabeu as Real Madrid play Real Sociedad on Sunday 6 January 2019 with kick-off from 18:30 CET.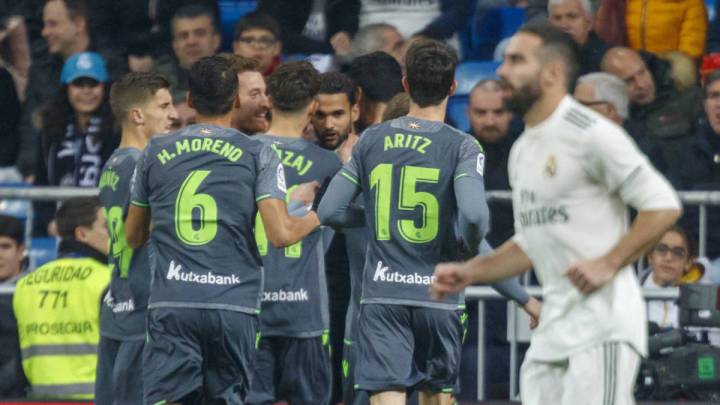 Real Madrid 0-2 Real Sociedad: match report
Real Madrid have tried to win twice now in 2019 and failed on both of those occasions. With the memory of Santi Cazorla's late equaliser still lingering in their minds, Real Sociedad came to the Santiago Bernabéu and inflicted further damage to a side lacking confidence and a title challenge that was over before it really began.
A third minute penalty by Willian Jose was followed up by an 83rd minute Ruben Pardo header to seal the deal on Sunday evening in the capital, which could leave Real Madrid as much as 10 points behind Barcelona should their rivals win in Getafe on Sunday night.
The game was just a couple of minutes old when Mikel Merino, who is slowly working his way back into the side, strode forward and forced Casemiro into a rash challenge inside the box. The referee pointed to the spot before the midfielder had hit the ground after contact was made and within a minute, Thibaut Courtois was picking the ball out of the back of the net. Willian Jose, who made one solitary appearance for los Blancos' first team when he was younger, hit the roof of the net with his strike to give the visiting side a surprise lead.
Real Madrid created more chances for the remainder of the half but Benzema blazed wide and Vinicius' clipped effort was saved by Rulli to ensure Imanol Alguacil went in at half-time during his first game in charge with the lead.
Sergio Ramos had a penalty appeal turned down in the first half too when a cross landed at the back post and clumsy former teammate Asier Illarramendi fell into his back causing him to fall forward. He had a point but it was worse than it looked and VAR seemed to agree because they didn't need another look.
0-1 it was to the txuri urdin and they had everything to lose in the second half.
The game did open up but Real Madrid were failing to finish the chances they made and were relying too heavily on 18-year-old Vinicius for inspiration. He assumed the task but as the sole creater and finisher on his side, his mission was doomed to failure.
That vague feeling of hope started to metastasise on 61 minutes for the visitors when Lucas Vazquez was booked for the second time for a foul on Mikel Merino. Real Madrid, who are already struggling with keeping up with their opponents, were down to 10 men for a half an hour, and Sociedad's chances started to stack up.
Vinicius wanted a penalty when he sprinted clear and darted right before being hauled down by Geronimo Rulli but replays showed the keeper got the top of his glove on the ball even if the Real Madrid manager said it was a "textbook penalty" after the game.
Real Madrid continued to threaten but Ruben Pardo, on for the impressive Mikel Merino late on, headed home a Willian Jose cross after the Brazilian had blazed wide minutes earlier, which would have put the game to bed.
Santiago Solari said "we did everything we could but the ball just wouldn't go in" and but once Real Madrid went behind, they looked skittish in front of goal and further back. The sending off certainly didn't help but Real Madrid and Solari have plenty to figure out with Real Betis and Sevilla on the horizon.
Real Madrid vs Real Sociedad live online: updates and commentary
90'+3' The referee blows full time on this one. 
90'+3'   Willians Jose has it on a plate. Oyarzabal plays it to him. And he misses by a mile! Would have been icing on the cake but the game's over anyway.
90'   Benzema launches a right-footed shot low and towards goal. Saved by Rulli. Fairly easy really.
89'   Free for Real Sociedad and they are really taking their time over this one. Januzaj will take but he plays it backwards. Just a matter of seeing out the clock for them now. 
88' Isco clips the leg of Ruben Pardo and he gets booked. Nice counter brought to a halt by the midfielder.
87'   Isco shoots and it's deflected out for a corner.
87'   Modric shoots over the bar.
86' Muñoz is replaced by Zubeldia.
83' GOAL! That should definitely do it now for Real Madrid's chances here. Willian Jose with the cross into Pardo's path and he heads it home. Easy in the end against 10-man Madrid.
81'   That's the last change for Real Madrid. 
80' Kroos off for Ceballos.
80'   Januzaj plays it to Zurutuza but he's too far out the field to shoot and loses it. Real Madrid get put under pressure and lose it again though and Courtois is forced to launch a clearance into the air. 
80'   Vinicius with another one of those crosses that also look like shots. It floats over the bar and wide. 
78'   Clearance by Rulli is headed down by Ramos. Real Madrid regain possession. 
77' Marcelo goes off for Reguilon. 
77'   Modric foul on Zurutuza. 
76'   Januzaj again. Another blocked effort. 
76'   Sergio Reguilon warming up for Real Madrid and looks ready to come on.
75' Modric is booked for protesting.
75' Modric to Isco and he slips as he shoots. Sociedad break and the ball makes its way to Januzaj. He is stripped of the ball by Ramos and Januzaj handles the ball.
73'   Merino replaced by Ruben Pardo.
73'   Zurutuza breaks into the box and it's out for a corner. Referee gives an offside though.
72'   Vinicius down the left again and he sends in a cross. Cleared. 
71'   Isco out on the right and he crosses. Blocked for a corner.
68'   Aritz Elustondo replaced by Zaldua.
68'   Vinicius breaks clear and he is whistled late for a push in the back. Game is opening up now and that's dangerous for both sides. 
67'   Januzaj drives forward and Courtois saves with his feet. 
66'   Vinicius with a chance now and Rulli saves. It falls to Ramos and he can't get a shot away. Real Sociedad survive another scare. 
64'   Vinicius drives straight through and Rulli off his line. He gets a hand to it somehow! Incredible as that was either a goal or a red card if he didn't get his fingernail to it.
64'   Lovely ball inside to Merino and he has acres of space. Shoots and Courtois saves. 
63'   Lovely control by Modric but his shot is blocked. 
61' Lucas sent off. His second yellow after he catches Merino. 
60'   What a move from Real Sociedad. Again, they draw Real Madrid in, spread it out to the left and then attack. Brilliant stuff before Januzaj's shot is blocked. Would have been a contender for goal of the season.
58'   Real Madrid with the lion's share of possession now. Sociedad chasing shadows but it's all in fairly tame areas of the field. No real creativity from los Blancos yet aside from one or two moments from Vinicius.
57' Isco coming on for Casemiro. He gets his last instructions from the manager now before the change. 
56'   Isco ready to come on here.
55'   Marcelo looks for Vinicius and it's a nice pass too. Back to Rulli from Moreno though and he clears. 
53'   Carvajal with the cross and Benzema heads into Rulli's hands. Moreno caught with a forearm and he's down grabbing his noggin. 
53'   Januzaj leaves Vinicius behind and cuts inside. Strikes with his left and that's just wide of Courtois' post. 
52' Yellow for Marcelo as he takes Januzaj down on the counter.
51'   Vinicius links with Benzema and he makes his way across the penalty area. He shoots but it's just wide. Best chance Real Madrid have carved out in the game. 
50'   Cross by Zurutuza and it falls to Oyarzabal. His first shot is blocked back out to him and his second shot flies over the bar. Really good chance for the visitors.
50'   Illarra fouled by Ramos. 
48'   Ball in from the corner for Real Madrid. Varane with a couple of chances but it's blocked each and every time. Vinicius down the right and his cross drifts out of play for a restart.
47'   Modric with the shot. Blocked for a corner.
47'   Isco is warming up.
46'   Not really a great start for Real Madrid. Sociedad attack down the left and the cross arrives. Out for a corner. 
46'   We are back underway for the second half! 
No changes for either side. They're both back on the field.
53,412 fans at the Bernabeu today. The second worst of the season.
45'+1'   Half-time. Some fairly serious whistling from the fans! 
45'+1'   Zurutuza with the cross but it's out for a goal kick. Offside from Vinicius from the clearance. He was clean through too! 
45'   Lucas clips one inside. It goes closer than he probably even imagined. It beats Rulli and it hits the post. 
44'   Real Sociedad with a nice spell now to end the half. They lose it through some sloppy play and then win it back. Ramos puts it out for a corner. They'll be happy with that. Can't imagine Real Madrid looking forward to the boos and whistles at the break if it stays like this.
42'   Illarramendi wins the ball back and then wins a throw. Pure frustration from Carvajal as he kicks the ball off innocent Muñoz. 
41' Yellow for Lucas Vazquez. He launches himself into the challenge and gets booked. It was Oyarzabal he caught.
40'   Real Sociedad get the ball in a nice position and they give it up. They're afraid to send it into the box in case they are caught on the counter. 
39'   Corner and Casemiro heads over the bar. 
38'   They're under increasing pressure here. 
38'   Ball sent in again and it bobbles around in the box but Real Sociedad get it away. 
36' Willian Jose jumps in on Carvajal. Yellow for him.
35'   Vinicius coughs up the ball down the left. Real Madrid continue to attack. Carvajal crosses and it's headed out for a throw.
35'   Ball sent across to Vazquez. We are awaiting a shout from VAR but it's not coming. 
34'   Vazquez sends one into the box and Ramos is pushed in the back. He wants a penalty but the referee says no. 
34'   Vinicius again down the left but he is being well marked. Out for another corner. 
33'   Januzaj spins and then puts it out for a goal kick. 
33'   Real Sociedad really confident on the ball again. They win a throw this time.
32'   Getting a little too close for comfort at the back for Real Sociedad. They avoid another scare. 
31'   Casemiro shoots inside the box and gets taken down as he does. Falls to Modric and he shoots but that's blocked for a corner. 
30'   Marcelo looks for Vinicius and he can't make it to the endline before the ball. 
29'   Vinicius with a little move inside and crosses low. Blocked out for a throw. 
28'   Referee won't let it be taken yet as Januzaj launches it to the back post and Hector Moreno commits a foul on Casemiro. Willian Jose strikes but it wouldn't count anyway. 
27'   Some really nice possession by Real Sociedad. They're throwing around the ball with confidence on the rare occasions they actually get the ball. Oyarzabal cross and that's a corner. 
26'   Throw now for Real Sociedad as they win the ball back. 
24'   Lucas with a chance and he has to suffice for another corner. Headed down by Varane and Oyarzabal is fouled by Lucas in the end. Breather for the visitors.
24'   Real Sociedad play the ball all the way across the line to Muñoz and drive forward. Nice tactic but Willian Jose misses the ball as he tries to pass it to the man streaking down the left. 
22'   Casemiro buys himself a foul under pressure and Real Madrid continue with the ball. 
21'   Modric with an effort from outside the box. Forces a good save from Rulli and Vinicius is offside from the follow up. 
21'   Another Real Sociedad throw in their own half. Real Madrid put them under pressure and win it back. Benzema shoots and it's deflected out for a corner. 
20'   There's a corner for Real Sociedad. Courtois catches it without having to move his feet. 
19'   Real Sociedad are playing with fire at the back. They've not been put under too much pressure by Real Madrid but it is there and one slip could make the difference.
17'   Lucas takes on Muñoz down the right and he wins himself a corner. Kroos out to take and it's short to Lucas. Crossed to the back post and Vinicius fouls Illarra.
17'   Real Madrid settle on it now in their own half. Game's intensity coming in waves. Nerves from both sides. 
15'   Ball sent across the field and in search of Lucas but Muñoz chests it down. Ball forward is cleared in search of Vinicius and it finds him. He tries to chip it over Rulli and it's saved. Cleared as it dribbles towards goal. Real Madrid increasing intensity now.
14'   Marcelo to Vinicius and it's out for a throw for Real Sociedad. Some anxiety creeping into Real Madrid's play. 
13'   Januzaj spins and looks for Oyarzabal. The right back spot was vacant and he had room to run into but the pass is too close to Courtois. He clears. 
12'   Vinicius crosses and it is headed out. They win it back and Marcelo crosses. Blocked away again as Real Sociedad pretty comfortable now at the moment. 
10'   Real Sociedad get it away but Real Madrid dominating possession now. Benzema gets a chance. It falls to him in a perfect position and he blazes wide.
9'   Kroos sends in a free after Carvajal is fouled. 
7'   Januzaj crosses and it's cleared. Rulli put under pressure and he kicks it out for a throw. 
7'   Oyarzabal breaks down the field now and has room to run into. Looks for the pass inside but it's out for a corner to the visitors. 
6'   Real Madrid with the ball now as Real Sociedad chase them. No chances yet for the home side though. 
4'   Clipped in and a Real Madrid man on the ground but the referee doesn't even think about a penalty. Cleared by Real Sociedad. They're full of beans here in the opening few minutes.
4'   Free for Real Madrid now as Vinicius is hauled down. 
3' GOAL! Willian Jose scores against his former club. 
3'   Casemiro fouls Mikel Merino inside the box and we have a penalty. Really well done by Merino. 
2'   Real Sociedad playing around with the ball at the back and Rulli eventually clears. Real Madrid pick it up and start....
1'   We are underway at the Santiago Bernabeu! Here's to a very happy and exciting 2019 of football. 
    Illarra and Ramos pose for a photo now, which is the sign that we are ready for action.
    Two teams in the tunnel now and it's all smile on King's Day here in Madrid! Must have recieved plenty of presents earlier.
    Just a few minutes to kick-off now and plenty of excitement as to how Real Madrid respond after the recent slip against Villarreal and with Real Sociedad's new man in charge. 
    Sergio Ramos is looking for a goal to make it a century as a professional footballer with Spain, Sevilla and Real Madrid.
    Meanwhile, Gareth Bale is out for two weeks after suffering another soleus injury. It's a problem he has had time and time against since arriving at the Santiago Bernabeu.

    Marcelo has not been himself this season and the stats back up that perception. He doesn't attack as much and his combatitive streak is almost non-existent.

    Keep an eye on this one too. Real Madrid, once they fall behind, they find it hard to get out in front and stay out in front!
    Meanwhile, Brahim Diaz is getting set to be presented as a Real Madrid player next week. He will take Borja Mayoral's squad number and should arrive straight into the first team ready for minutes (the main reason he left Manchester City).
    Real Sociedad have only beaten Real Madrid once in the last 18 games. Not a stat to induce confidence in the visitors today.
    There is still a chance for Isco to make a difference today but he'll have to do so off the bench. With Bale and Asensio out, it was almost certain that he would be given a chance but Solari prefers Vinicius.

    Real Sociedad XI: Rulli, Llorente, Moreno, Illarramendi, Merino, Oyarzabal, Januzaj, Willian, Aritz, Zurutuza, Muñoz.
    Still no Isco even with Asensio and Bale out injured. 
    Real Madrid XI: Courtois, Carvajal, Varane, Ramos, Marcelo, Casemiro, Kroos, Modric, Lucas Vázquez, Benzema, Vinicius.
    Real Madrid had a successful trip to the Club World Cup at the end of December and played against Villarreal on Thursday, which was their first game of the year. Real Sociedad sacked Asier Garitano during the break and will play their first game under Imanol Alguacil and their first game of 2019. There are few tougher places to go in world football than the Santiago Bernabeu in search of points.
    Hello and welcome to our live online coverage of Real Madrid versus Real Sociedad in LaLiga at the Santiago Bernabeu.
Real Madrid vs Real Sociedad live online: preview
Real Madrid have already kicked off their 2019 with a draw when they travelled to play Villarreal last Thursday. Real Sociedad are playing their first game of the new year and will play their first game under new manager Imanol Alguacil after they sacked Asier Garitano after just six months over the Christmas break. It's 5th versus 15th on Sunday evening in the capital with neither sides showing their best sides in recent weeks.
Santiago Solari's comment about "not underestimating draws against Villarreal" went down like a lead balloon at his press conference before the game. He is without Gareth Bale and Marco Asensio for Real Sociedad's visit and while he has Marcelo and other experienced heads, the Brazilian has been under a lot of criticism recently for his performances. Solari defended the player at his presser on Saturday and said he is very important but he will need to put in a 90 minute shift on Sunday to stave of further criticism.
Real Sociedad took the unusual decision to sack Asier Garitano the day after Christmas but they probably figured they needed to make a change to start the new year if they were not fully committed to their coach. The 47-year-old, Alguacil, played for La Real for years and coached at the club after he hung up his boots so it's a matter of picking a man who knows the club and who can get them away from the relegation zone. A point, or more, against a faltering Madrid side would help in convincing the players and the fans that he is the right man for the job. As far as injuries and absentees goes, Theo Hernandez can not play because of the fear clause in his loan deal and the new manager has called up Aihen Muñoz to the first team in his place.