UAE go top of Group A after impressive display against India
Goals by Mubarak and Mabkhout earned hosts United Arab Emirates a 2-0 victory over India in Asian Cup Group A on Thursday.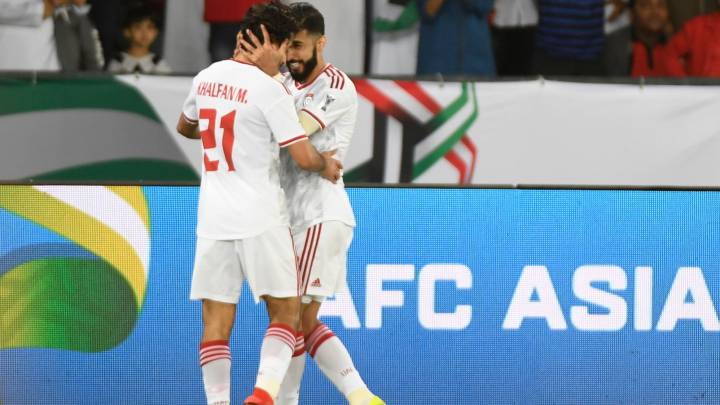 Check out the full schedule for the AFC Asian Cup Round of 16 fixtures
A fascinating game in Abu Dhabi sees the local fans bouncing home, although there was certainly a massive Indian presence here too making plenty of noise themselves, when their side gave them something to cheer. In the end UAE ran out worthy winners, but things could have been so different.
India came out in the first half hour and looked like they may steamroller UAE, creating several clear opportunities. But we've seen enough football to know that if you don't take the chances when they come, you could regret it. And so they did.
UAE had shown no threat whatsoever until the closing stages of the first half, and then the goal arrived. From then on, there was only really one team in this contest, concluded late on with a second. We brought you the whole game live and you can relive it all below...
India vs UAE: how it happened
Full-time | India 0-2 UAE
90'+4' And that's that!! The game ends and UAE take all three points.
90'+2'  CLOSE!! Brilliant dead-ball delivery from the left and Ahmad fires onto the crossbar. That should be the last play of the game...
90'+1'  I'd like to say that India were pushing for an equaliser and were caught on the break but that would not be fair to the way this second half has gone. 
India 0-2 UAE (Mabkhout)
89' GOOOAAAAALLLL!!! Mabkhout kills this game off! He steadies himself in the area, with one defender in his way and then picks his spot. Lovely finish and not undeserved.
88'   India win the ball back in their own half but as they look to burst forward the winger is isolated. That must be disappointing for their manager and fans.
86'   For all India look to be a little impotent in this second half, much of this is down to UAE's closing and control. 
85' Mubarak off, Ismail Matar on
83'   Poor, almost lazy play out on the left from India, crossing into the nearest defender. Surely they are not going down without a fight.
81'   Decent ball into Essa's box there from Kotal but it's too far in front of his teammate and goes safe. India need a spark from somewhere.
79' Jackichand Singh flies off the bench to replace Udanta
78'   A couple of corners for UAE don't cause much trouble for India, who are about to bring on the man named after a famous kung-fu film star. 
76' Abdulrahman runs off and Ahmad is on for the final fifteen minutes or so.
75'   My word! First Mubarak misses a great chance to double the lead and then Al Hamadi hits the inside of Sandhu's post. That could have been that!...but this game is still very much in the balance.
73' Bose goes into the book for a foul.
72'   Both sides are pressing high up the pitch and forcing errors. UAE almost caught trying to play across their backline just inside their own half, but they escape with plenty of green grass between them and Essa had India picked it up.
70' Rowllin Borges comes on for Thapa 
68'   A few minutes of not very much is then ended with India going direct down their own right wing. Strong, composed play at the back from UAE, though, ensures that there is little danger likely. Another substitute coming up for India.
63' Esmail went off just a few moments ago and was replaced by Majed Hassan. The new man was just given a 'firm' introduction to the game by Lalpekhlua.
63'   Good pressing from the Tigers on the UAE defenders forces a clearance, and turnover in possession. India know the onus is on them to make the play, and that leaves them susceptible on the break.
61'   That possession from UAE ended with some neat play from Bandar wide on the right. His tempting cross was gathered impressively by Sandhu at full stretch.
60'   Almost all the play is now in the UAE half. Blue shirts aim to build the play in the wide areas then work it into shooting positions. This time the defence does well and UAE have a few moments of controlled possession, moving it from one side to the other. 
57'    Bandar with a tremendous challenge inside the UAE area as India threaten once again. The noise from the large number of Indians in this crowd is another tremendous element to the game.
54'   CHANCE!! Even closer!!  Udanta Singh from the identical location of UAE's goal, after a great one-two, with an almost-identical effort. The ball hits the underside of the bar and bounces down and away. So, so close.
54'   CHANCE! Only inches stopping Lalpekhlua from equalising as India step up the play.
52' Mubarak is getting some treatment and then as play restarts we see the first caution of the game. Kuruniyan for some unsportsmanlike conduct
50'   Despite all the chances created by India in the first half-hour of this game, if you glance across at our stats section at the top of this page, you'll note that UAE have had around two-thirds of the possession. Still just the one shot 'on target', but what a crucial one.
49'   That throw is flung deep into the area but India clear and look to hit on the break. Nothing comes of it and UAE again move forward.
48'   UAE get plenty of bodies forward to meet the cross from wide on the right from Saleh but it's well blocked and out for a throw.
47'   The injured Jhingan who received treatment just before the break remains on the field. The first minute sees UAE looking more confident than they did an hour ago. What a difference a goal makes.
46' There's a change at half-time:  Narzary off for Lalpekhlua 
We're back underway...
Well, as it stands, the UAE have four points, India and Thailand have three, and Bahrain just the one. But as the teams trot out onto the field, much of that could be altered. 
The goal came out of very little. A long ball down the left channel was reached, thanks to some dilly-dallying from the Indian defenders, by the scampering Mabkhout, who held it up well and then rolled it into the path of the supporting Mubarak. He controlled and then hit it sweetly high across into the far side of the net.
That all changed in the closing stages, though, and, just when I was thinking they'd be happy to get to the break with the scores level, they go and up the pace in the final third. Pressure mounted, chances came, corners caused problems...and then a side-netted strike was quickly followed by the only goal of the game so far...
Well, what a half that was, and what a scoreline to pique interest in Group A. For much of the first 45 minutes India looked to be controlling the game, creating a number of clear-cut chances. UAE couldn't find an effort to trouble Sandhu and were restricted to shots from distance (most of them rather disappointing)...
Half-time | India 0-1 UAE
45'+2' Erm, those two minutes are up with nothing else to comment on due to the injury. Into the changing rooms the teams go...
45'+1'   We have two minutes announced for stoppage time...
45'   Play stopped for a blood injury. Jhingan is getting some treatment and everyone takes a breath.
44'   CHANCE! India almost make an immediate response but the shot from the ever-dangerous Chhetri runs just wide of the far post. 
India 0-1 UAE (Mabkhout)
42' GOOOOAAAALLL!!! That pressure from UAE has paid off. Another move has Mabkhout into the right-hand channel of the Indian area and somehow he picks out the far side of Sandhu's goal. What can India offer now?
38'   CHANCE! Another chance from UAE as Ali Salmeen hits the side netting. The last few minutes have seen a complete switch in the dominant team.
37'   CHANCE! Nothing from the first UAE corner but then a second has Indian hearts in mouths. The partial clearance is met with a rasping drive from Ali Salmeen flies high.
34'   A chance here for UAE to bother that Indian goal as they are awarded a free-kick wide on the left. Decent delivery but it's Hali who heads wide for a corner.
32'   As is forming a pattern here, UAE get another break direct from a goalkeeping clearance. Esmaeel eventually gets the shot away from around 30 yards...and that 0 shots on target stat remains firmly in place as fans in the cheap seats duck for cover. Poor!
30'   Halder's effort is going wide but Ismail nudges the ball towards Eisa who then kills any danger. India still dominating the attacking play with no efforts yet on target for UAE. 
26'   Eisa involved again as he collects a high free-kick into his area. Blue shirts were close looking for scraps but there's no mistake from the keeper.
25'   Anas clears well after Al Hammadi appears to threaten the India penalty area. Rare breaks from UAE certainly suggest there is a game on here but their potency feels much weaker. Let's see...
23'   CHANCE! What a save from Eisa as Chhetri gets a header from just a few yards out at the back post. It was a fabulous cross in from Thapa after Udanta led Saleh on a merry dance in the corner. 
21'   Mabkhout blocked excellently by Kotal and his follow-up shot is then watched carefully by Sandhu as it bobbles wide of his post.
16'   Desperate measures there from Salmin as he takes a pot shot from almost halfway. That's unlikely to bother the Indians.
14'   India have their foot on the pedal here and add more pressure by winning the ball back in the midfield but give away a foul to break the play.
12'   CHANCE! Ashique again! This time released through the middle and Eisa does brilliantly to come out top in the 1on1. That opening goal is definitely not far away.
11'  Ashique tries his luck from distance as he spotted Eisa off his line. Not this time.
8'   Jhingan gets space for a header from a Thapa ball in, but he guides it just wide of the post. I feel a goal may not be too far away given how this game has opened up (don't blame me, of course, if this game ends 0-0!) 
5'   Khalfan with a great run, skips past Bose in the Indian defence but there's too much on the ball and Sandhu collects easily. Interesting pressing from UAE.
2'   UAE get us underway and the first real action sees Salmin put it into the mixer but Sandhu punches clear. Mabkhout struggles to control the ball on the break as a nervy Indian start is seen.
We are go as Cesar Ramos blows his whistle...
That's the national anthems gloriously out of the way, now we are all set for the game. And don't think India will be sitting back for a draw. There boss had these words ahead of the game: "We are not coming here for a draw. We are coming to win the game and our target is to qualify from the group stages. We had taken the first step against Thailand and now we have to take the next one"
It's worth noting that India came into this tournament having played one of the fewest number of friendlies compared to the other sides. It didn't seem to affect them in the opener and now much is expected. Can they join Jordan, who earlier qualified for the last 16 with victory over Australia? We're about to find out...
Although starting on the bench tonight, UAE player Juma spoke ahead of the game stating the importance of that famous '12th man': "Indians are expected to enjoy the support of their large community in the UAE. We are counting on our fans in this important game." In an attempt to help with the backing the Football Association of the UAE has purchased 5,000 tickets and giving them out for free. Now there's an idea!
The referee for today's game is Cesar Ramos who comes from Mexico. He has been on FIFA's books (in a lawful way, we believe!) since 2014, and was one of those short-listed to blow the whistle for the World Cup final in Moscow last year.
It's possible then that Zaccheroni sees Khalil as his impact player, with the scorer of the goal against Bahrain keeping his starting place on the bench. In fact, the only change made by the Italian is to bring in Ismail Ahmed in defence, with Fares Juma making way.
Well, it's no surprise that Constantine has put his faith once again in the team that gave him such an excellent start in the competition. The man who scored two, Chhetri, will be targeting more goals, and has the armband on as well for tonight, while Pronay Halder, and Anirudh Thapa will hope to control the middle of the park.
UAE XI: Eisa; Ahbabi, Mubarak, Al Ahmed, Saleh; Al Hammadi (C), Salmin, Abdulrahman, Esmaeel; Mubarak; Mabkhout
India XI: Sandhu; Kotal, Jhingan, Edathodika, Bose; Singh, Halder, Thapa, Narzary; Chhetri (C), Kuruniyan 
It looks as though the team news is out...
For those of you who recognise today's stadium, it could be because we recently saw Real Madrid lift their third consecutive Club World Cup in here. The capacity of this arena is 43,000 (more than both Chelsea and Everton in the Premier League) and it will play host to the final of this tournament.
Check out our preview below and if you're wondering about other ways to follow this match - to compement this live feed, of course - look no further than our handy guide. India vs UAE: how and where to watch
Stay with us as we build up to this rather crucial second match for each of these sides, one which could go a long way to deciding who goes through to the last 16 in the competition. More on the qualification process to come.
Hello and a very warm welcome to our live coverage of India vs the United Arab Emirates in Group A of the 2019 AFC Asian Cup. Kick-off is at 20:00 local time in Abu Dhabi, 17:00 CET.
India vs UAE: match preview
After a convincing 4-1 victory over Thailand in their opening group game, India come into this fixture confident of securing their place in the knock-out phase of the 2019 Asian Cup. The United Arab Emirates, on the other hand, played out a 1-1 draw with Bahrain in their opener, and know that with Thailand securing all three points earlier today against Bahrain, a win here would put them in a strong position to qualify.
India: team news
The Blue Tigers are off to a flyer in this year's AFC showpiece tournament, and Sunil Chhetri will be hoping to add to his brace against the hosts. Manager Stephen Constantine is likely to name the same side, looking for more of the same creativity down the flanks from Halicharan Narzary and Subhasish Bose combining on the left, and the Udanta Singh-Pritam Kotal link-up on the opposite wing. Thailand's goal was from a set-piece and that is something that the defence will be mindful of in today's encounter.

UAE: team news
Alberto Zaccheroni may throw Ahmed Khalil into his starting line-up today after the substitute's late strike from the spot earned his side a valuable draw against Bahrain. The Italian knows that his team comes into this match as underdogs, but that a strong home support can provide that sometimes crucial '12th man'. As well as the scoring impact of Khalil in their last game, Saif Rashid was introduced at the beginning of the second half and gave an assured performance in the middle of the park. He too could be used from the off against India.