South Korea lay down Asian Cup marker with Son to the fore
The Taegeuk Warriors beat China 2-0 to top Group C, the arrival of the Spurs star giving Paulo Bento's side an extra dimension in the UAE.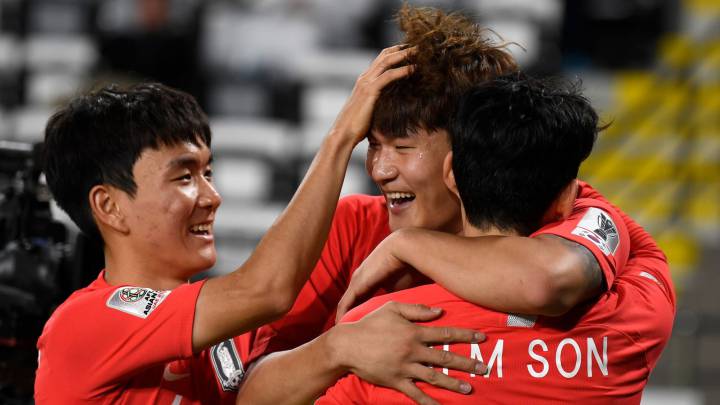 South Korea vs Qatar: Bento calls for clinical quarter-final performance
Check out the full schedule for the AFC Asian Cup Round of 16 fixtures
South Korea vs China live online: as it happened
90'+3' And there's the whistle! South Korea top Group C ahead of China, who will play Thailand in the last 16. Bento's side will have to wait to learn the identity of their opponents., who will be a third-placed team drawn from Groups A, B and F. 
90'+2'   Sub Koo Ja-cheol stretches his legs with a 40-yard run but there's little support from his teammates, most of whom have run themselves into the floor this afternoon. 
90'+1'   Three minutes added. Korea playing at walking pace now, China still plugging away but it looks as though the Dragons won't be getting on the score sheet now. 
89' Gao Lin goes into the book and the Guangzhou Evergrande striker is furious, berating the referee and protesting his innocence. Looked like a 50-50 in fairness. 
88'   A couple of minutes now for Korea to run the clock down. 
87' Son finally being persuaded to call it a day, the Korean talisman heading off to a huge ovation. Augsburg midfielder Koo Ja-cheol comes on to replace him.  
86'   Korea have taken the sting out of the game now and are happy to just knock it about and run the clock down with an eye on what is almost assuredly a last 16 game against a third-placed team in a few days. 
84'   China are playing a very high line as they push for a goal and that is an invitation to Korea to hit on the break. 
83'   Son whips the free-kick in towards Kim Moon-hwan at the far post but puts a little too much on it and it's out for a goal kick. 
82'   Son goes on a driving run, checks his run, twists and turns, and wins a free kick on the left hand side. 
80'   The free from Jung Woo-jung is straight into the wall. Son looking to see out the full 90 minutes then. Probably Bento's idea is to try and get his captain on the score sheet ahead of the last 16. 
79' Korea make a change before the free kick, Lee Chung-yong going off. 
77' Hearts in mouths for Korea as Son goes down in a heap, Zhang Linpeng in the book for a trip on the Korea captain.  Son is fine to continue though. 
76'   China throw out on the right but Korea are as effective in defence as they are electric in attack and Lippi's men again fail to pick a way through. 
75'   Clever work from Son, who picks out Hwang Hee-chan with a corner. The Hamburg youngster had more time than he thought and he snatched at his shot, which flies wide. 
74'   Hwang Hee-chan buys himself a yard and unleashes a fierce effort that a last-ditch challenge pings out for a corner. 
73'   Korea still pressing hard in the China half and another throw is the result. Pretty much the entire Korea team are in the opposition half now and China are hanging on grimly. 
72'   Son dances into the area and tees up Kim Jin-su, who takes a swing but it's deflected out for a corner. 
71'   Substitute Ji Dong-won makes a decent run on the right and has Son in the middle calling for it but dallies just a little too long and is swarmed by white shirts. 
70'   60-40 in possession in favour of Korea, Lippi still holding off on his subs, keeping a firm eye on the knock-outs. Bento is also making the "calm down, calm down" gesture on the touchline, telling his players there's little point in pushing themselves to much with the result pretty much in the bag. 
68'   Son is almost through but has Liu Yiming for company and the China defender makes a splendid challenge to thwart the Spurs man, who was one-on-one there. 
67'   China are still trying to make something happen but Korea are standing firm, a clean sheet a priority for Bento and his side. 
64'   What a run! Kim Moon-Hwan, who is wining his fifth cap today, drifts inside, takes a few China defenders out with some deft footwork, glides across goal, checks and tries to curl one into the far corner. It's just wide though. What a goal that would have been! He's only just out of university, the 23-year-old. 
62'   Son leaves it for Hwang In-beom, who hits a decent effort straight at Yan. The China keeper fails to smother it as he pops up in front of him but the onrushing red shirts can't turn it in and China clear. 
61'   It gets a bit scrappy in midfield after the stoppage but Korea win a free-kick in Son range about 25 yards out. 
59' Lippi makes another change, Gao Lin coming on for Wu Xi, who appeared to twang his hammy while taking that pop a minute ago. 
58'   Wu Xi! The Jiangsu Suning midfielder is through but his first touch lets him down and he skies his shot. 
57'   Jung Woo-young! The defender gets up and plants a powerful header goalwards but its too high. Another chance for Korea as they look to inflict China's worst-ever defeat at the tournament, which currently stands at a 3-0 loss to Uzbekistan. 
56' Change for China as Zhi heads off to be replaced by Chi Zhongguo. 
55'   China are really on the ropes now and Korea look hungry for more. The red shirts are pouring forward as they look to put this one to bed with plenty to spare. Bento holding off on changes as he waits to see what occurs. 
54'   Hwang Ui-jon! The Osaka striker finds himself in a scoring position but gets the ball stuck under his feet and tries an audacious back-heel to compensate. That should have been three... 
53'   China have never beaten Korea at the Asian Cup and it seems as though Paulo Bento will ensure that run continues here today. 
52'   China with an uphill task now, Lippi with a decision to make: stick and settle for second or risk some of his key players like Gao Lin before the knock-out stages. 
50' Gooooooooooooooal! Korea make it 2-0! Son delivers a wicked cross and Kim Min-jae rises above the China defence to power a header past Yan! What a thumper that was, but the delivery was equally inch-perfect. Korea firmly in the driving seat now. 
49'   Korea win a throw as  Zhao Linpeng clobbers a header out under little pressure. From there Korea earn a corner... 
47'   Decent attack from China, but Yu Dabao is ushered off the ball and it's out for a goal kick. 
46'   And we're off! The second half gets underway. 
Whoever tops the group will avoid Thailand in the first knock-out round but perhaps of more concern will be the quarter-finals, where one of Iran and Iraq could await the second-placed side in Group C. All to play for in the second half and we're about to get underway. 
A pulsating half of football from both sides but Korea are by far the more accomplished side. China with some work to do after the break to get back into this. 
Seven shots from Korea in the first half, with five on target, to China two and one. Lippi will probably shuffle his deck before too long as he seeks to pull noe back that could hand his side a softer last 16 tie. 
45'+1' Free kick to Korea and they take their time over it with an eye on the clock. And that's it! Half time in Abu Dhabi. 
45'   One minute added. 
44'   Kim Jin-su almost gets caught out with a little unnecessary showboating at the back but Korea manage to get it clear as China press for an equaliser. Lippi's side making some headway at the end of the half. 
43'   63 percent possession over the course of the half for Korea. They've had the better of the chances as well and China are slightly fortunate to be only one down. 
42'   Hwang Ui-jo is clean through but takes too long to decide whether to pick out Hwang Hee-chan charging in at the far post or have a pop himself, giving Shi Ke the opportunity to deny him the chance to do either with a thumping challenge. 
40'   China look to build a period of possession as the half winds down. They won't to concede a second before the break as changes are inevitable after the first 45, Son one of the more likely to come off for Korea. 
39'   Yan is out quickly to deny Lee Chung-yong, who was clean through but the China keeper has been excellent coming off his line today, saving his side a couple of times with his quick reading of danger. 
37'   A draw today will be enough for China to top Group C on goal difference and Lippi has some options on the bench. At the moment his side lack that extra bit of quality in the final third. 
36'   Free-kick to Korea as Zhao Linpeng gets stuck in in midfield. Son tries to thread the ball through to Hwang Ui-jo but it's slightly too heavy, drawing a clap and a rueful smile from the Korea striker. 
34'   Son shows his class with a deft flick in midfield to take out a China marker and the ball is lofted over the top into the area for the Spurs man to latch onto the return. He takes a swing and catches Liu Yiming, who goes down in agony. Accidental, but that would have stung a bit. Right on the ankle. 
33'   Taken quickly into the area but Korea are hard to catch napping and clear with little fuss. 
32'   China nick it in midfield, move forward but find a wall of red shirts as Korea's well-drilled players drop back en masse. Corner to China. 
31'   Korea happy to stroke it about for a bit as they look to run China out of puff. 
30'   Kim Min-jae looks like a decent player. The Korean young player of the year skips past a challenge to bring it out from the back, showing all the poise of a central midfielder. Definitely one to watch, the 22-year-old Jeonbuk Hyundai Motors defender. 
29'   Paulo Bento shakes his head and puffs out his cheeks on the touchline as a Korea attack breaks down. The Portuguese wants that comforting second goal before half time. 
28'   Yu Dabao! The China striker is through but plants a tame effort straight at Kim between the Korea sticks. 
27'   China corner but goalscorer Hwang Ui-Jo is there to head it clear. Good all-round performance from the striker today. 
25'   China coach Lippi has rested his entire first-choice front line for this one with an eye on the knock-out stages and it's difficult at the moment to see where his side will find a goal. Korea meanwhile look able to score at will and Son again warms Yan's gloves with a distance effort. It's no problem for the Shanghai SIPG keeper, who looks like having a busy afternoon on his hands. 
22'   Woodwork! China stands off Hwang UI-jo on the right and the Gamba Osaka man picks his spot, curls an effort past Yan and it pings back off the post! Glorious stuff from Korea, who carved China apart there. 
21'   Hwang Hee-chan! What an effort from the Hamburg youngster, who draws a fine, flying save from Yan. Corner to Korea. Son takes but therer's nobody in a red shirt within five yards of it and China go industrial on the clearance, bopping it into the stands. 
20' And China take no notice, Zhang Chengdong getting his name noted down for an elbow. Lippi is furious on the touchline. 
19' Zhao Xuri goes in the book for an ankle bite. Ref making a point there as he wags his finger and looks pointedly at both sides. 
18'   Jingao! The China midfielder really should have scored there! Played in bu a beautiful ball over the top from Zhi, the Shandong Luneng Taishan forward snatches at a shot under pressure and it's over! Let off for Korea there. 
16'   China win a corner and Korea keeper Kim makes a fine save from a direct effort! He needed to be alert to tip that over the bar.  
15'   Plenty for China to do now. Both sides are qualified of course, but top spot will mean avoiding Thailand in the next round with the Group C winners facing a third-placed team from Groups A, B or F. 
13' Hwang Ui-jo is selected to take, the Gamba Osaka striker doing a tippy-toe run up and hammering the ball low into the corner past the dive of Yan, who guesed correctly but couldn't stop the shot. 1-0 to Korea!  
12'   Penalty! Penalty to Korea! Son is floored by Shi Ke and the ref has no hesitation and points to the spot! 
11'   The Chinese press forces Korea all the way back to Kim Seung-gyu, Andrés Iniesta's Vissel Kobe teammate, and Korea start from the back again. China are really struggling to nick the ball from the red shirts at the moment. 
10'   That's three decent chances for Korea now, with Son at the heart of all of them. China clinging on in the early stages, Korea seemingly able to attack at will. 
8'   Close from Korea! Son taking an age to take, the usual tussling in the area going ignored by the ref. When he does, defender Kim Min-jae rises highest and has a free header but powers it past the post! 
7'   Corner to Korea with Son over it. 
5' It's been 58 years since South Korea last lifted the Asian Cup and Son will be  key to their chances in the UAE. Pretty much everything is going through the Spurs man at the moment and he strides forward, looking for Hwang, who takes a heavy touch and the chance goes begging. Looked as though both players thought they were offside there. 
4'   China launch a break and it almost finds it way across the area to Yu but Korea manage to hook it clear. Early signal of intent from Lippi's side there, who will be lookng for quick transitions today. 
3'   Chance for Korea! Hwang Hee-chan is through on goal but China keeper Yan Junling is out like a whippet to smother the danger. 
2'   Korea in more or less total control in the opening exhanges. China are pressing hard but have yet to get their foot on the ball in any meaningful way. 
1'   Korea making the early running and a few neat passes around the area finds Son in the box but he decides against pulling the trigger, looks to play it back and the move breaks down. 
1'   Korea in red today, China resplendent in all-white.  
1'   Here we go! South Korea get us underway! 
The preamble is underway and a few last minute instructions from Bento to Son, who played for Spurs just three days ago and starts today after arriving just a short while ago. 
The teams are preparing to come out and we're about to get underway in Abu Dhabi! 
Both sides have scored in all of their Asian Cup fixtures so far during the 2019 tournament but China will be without Wu Lei, who bagged twice against the Philippines, with Beijing Sinobo Guoan striker Yu Dabao, who has scored in both games for China in the UAE, to lead the line today.  
The Al Nahyan Stadium has a capacity of 16,000 and it's likely to be a sell-out today as two of Asia's heavyweights go toe-to-toe. Plenty of locals likely to turn out just for the chance to watch Son in action as well. 
As ever, we've put together a handy guide as to how and where to watch this one. 
Both sides have already qualified for the knock-out stages so there will be some changes to the sides but both coaches ahve indicated they will going for the win to ensure top spot and a kinder draw in the next round. 
Hello and welcome to AS English's live coverage of the Asian Cup 2019 Group C fixture between South Korea and China.